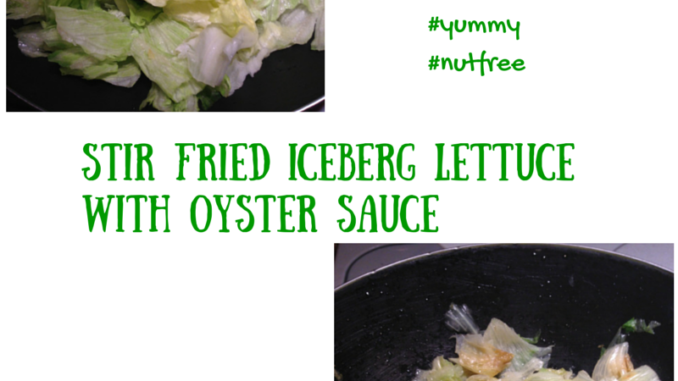 Stir fried iceberg lettuce with oyster sauce couldn't be simpler to make and so delicious to eat.
A little bit of oil, add lettuce and stir fry until wilted and finish with a drizzle of oyster sauce. For many years, I avoided oyster sauce because my children's allergy test results to shellfish were ambiguous and I avoided out of caution. I tried a lot of different alternatives to using oyster sauce, one at at time.
a drizzle of soy sauce – good, flavorful but watery
stir fry with a few tablespoons of broth – very delicious
a few drops of sesame oil – yum
stir fry with garlic – too strong for the mild tasting lettuce
stir fry with ginger – also too strong in flavor
add to boiling water and drain when wilted – preferable to stir frying with garlic and ginger
Even though it sounds very odd to cook iceberg lettuce, it's very uncommon to eat raw vegetables in Chinese cuisine. One can find cooked lettuce at the bottom of a clay pot of beef stew or under a delicious braise of shitake mushrooms, completely smothered with a delicious sauce and still a little bit crunchy. And there is nothing as simple and delicious as stir fried iceberg lettuce with oyster sauce which leads to some thoughts about oyster sauce and which brands might be allergy friendly.

Which Brands of Oyster Sauce Are Allergy Friendly?
Lee Kum Kee: I am brand loyal to their Lee Kum Kee Premium Oyster Sauce
 (affiliate link) with a picture of a lady and a boy in a row boat (not to be confused with their Panda line of oyster sauce). It's the brand that my mom buys and the only one that tastes just right to me. A closer examination of ingredient labels is very revealing as to what makes their premium brand superior to many other oyster sauces. Lee Kum Kee's Premium Oyster sauce is the only one that lists oysters as its first ingredient whereas other brands of "oyster flavored sauce"  list water and sugar as the first few ingredients. I don't want to buy "oyster flavored sauce" that is mainly made of water and sugar, I want "oyster sauce" with lots of flavor. We use the premium oyster sauce without issues but for the purposes of this blog, I've emailed and called Lee Kum Kee for clarification regarding specific products several times, and as of today, I still haven't heard back from them which is disappointing. However the allergen information posted on their FAQ is helpful, clear and specific with details about how they prevent cross-contact and how they analyze for peanut residue. If you have additional concerns, please follow up with them by calling their Los Angeles office (let me know what you find out in the comments below). If you have access to an Asian market, the product retails for $4-5 a bottle.
Most of our products do not contain milk, eggs, nuts or peanuts. We clearly list the top nine major allergens on the ingredient list if they are included in the product. The nine major allergens are soy, wheat or other gluten-containing grains, peanuts, eggs, milk (dairy), tree nuts, shellfish and crustaceans, fish, and sesame. For your own safety, please check the ingredient list on the label before purchasing a product.

Our manufacturing facilities handle peanuts and their derivatives. We have implemented nut handling policies and procedures to ensure that peanuts and sesame are kept in a segregated storage area, with its own tools and containers. We schedule the production of these peanut and sesame products at the end of each production week and follow careful cleaning procedures. Therefore, cross contamination is minimized. In addition, we analyze the peanut residue in the next production batch to ensure that no peanuts are carried over to other products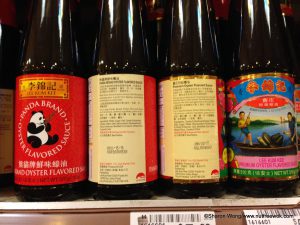 Kikkoman: Some people might feel comfortable with Kikkoman products and according to their allergen information chart, peanuts and tree nuts are not in the product, but peanuts are in the facility. Generally oyster sauce will contain soy, wheat, gluten, shellfish, and corn but definitely check their allergen information chart and contact them if you have additional concerns not answered by viewing their chart. They have three kinds, with a blue label, with a green label, and with a red label. I tried the green label because it is preservative free and MSG free. I bought a bottle Kikkoman Green Label Oyster Sauce
 (affiliate link) to try and it tastes good, but not what I'm used to.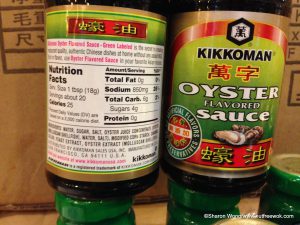 Wan Ja Shan: People with shellfish allergies or who prefer a vegetarian option can look for mushroom flavored vegetarian oyster sauce, which is a common substitute for oyster sauce. Wan Ja Shan makes a Vegetarian Mushroom Oyster Sauce and they informed me via email, "Our whole facility doesn't process any ingredient containing Peanuts and Tree Nuts in our production." If you have other allergen concerns, I encourage you to contact them for further clarification. The Wan Ja Shan Mushroom Oyster Sauce tastes good but is watery compared to regular oyster sauce. Lee Kum Kee also makes a mushroom oyster sauce, but I haven't tried it and can't comment on the taste, but if I had to choose, I would choose Wan Ja Shan because I know that the risk of cross contact is very minimal.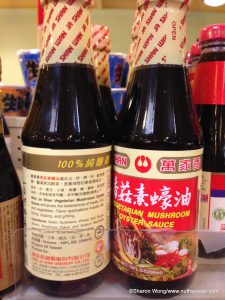 Other Substitutes for Oyster Sauce?
Oyster sauce tastes sweet and salty, the oysters give it a little umami boost, and it's viscous so perfect for adding flavor without watering down a sauce. If one were allergic to the ingredients of oyster sauce (oysters, soy, wheat, corn, etc..) then I would consider a combination of options that would give you similar results such as my list of soy sauce substitutes, soy free soy sauce recipe, or soy sauce plus a little bit of sugar and a cornstarch slurry (or tapioca flour or potato starch), or try the alternatives listed above. Be creative.
Make Your Own Oyster Sauce
I found a write up about an oyster sauce taste test and at the bottom there are two methods for making your own oyster sauce, which one can do only if they are not allergic to oysters and other shellfish. The method is basically boil a pint of oysters with half a cup of water or chicken stock for about 30 minutes, add about 3 tablespoons of soy sauce, some sugar, some spices, some rice wine, and then strain and store in a refrigerator. The oyster solids can be used for an omelet or fried rice. The oyster sauce can only be stored for one week which seems like a lot of work and expense but might be worthwhile if you want to control the ingredients, avoid preservatives, MSG, and caramel coloring.
Be an Allergy Aware Consumer
I have done my best to find out the allergen information for the products mentioned. But it's important realize that manufacturers can change ingredients, add new products, change their manufacturing processes at any time without warning. Even though we use these products, everyone has different allergies, I recommend checking for yourself whether these oyster sauces will work for you. Manufacturers are not required by the FDA to disclosed allergen advisories such as whether an allergen is manufactured on shared equipment or in the same facility, they are only required to disclose whether a product intentionally includes an allergen. I find that some manufacturers might email a general reply but do not respond to follow up questions. That leaves us in a difficult situation but we can slowly effect change by taking the time to call and ask our questions, express any concerns, and use our spending power to support the companies that have allergen information posted on their websites, who return phone calls, and who respond to emails. For more information on allergen advisories and reading labels, refer to my earlier blog post about food label reading. 
Related reading: What's in Nut Free Wok's Cupboard
This recipe as written is free of peanuts, tree nuts, egg, dairy, and fish. It can be easily adapted to be free of top 8 allergens by using a soy free soy sauce recipe instead of oyster sauce.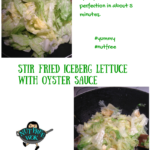 Stir Fried Iceberg Lettuce with Oyster Sauce
This recipe as written is free of peanuts, tree nuts, egg, dairy, and fish. It can be easily adapted to be free of top 8 allergens by using a soy free soy sauce recipe instead of oyster sauce.
Ingredients
1

head of iceberg lettuce

1

teaspoon

olive oil

1

tablespoon

oyster sauce
Instructions
Select big, dense, heavy for its size iceberg lettuce that looks fresh and free of pinkish discoloration.

Peel and discard wilted outer leaves, use a knife to cut out the core.

Wash, tear into medium sized pieces 2-3 inches square, drain in a colander.

Heat up a wok or large stock pot on medium heat for a few minutes.

Add olive oil to the wok, swirl to coat, add lettuce and stir fry until the wok stops sizzling.

Cover and check every two minutes, stirring until the lettuce looks slightly wilted (takes 4-6 minutes).

Drizzle with oyster sauce, stir to mix, and serve immediately.
Thanks for reading, are you following Nut Free Wok?
The
best way
to see every post or recipe is to subscribe to 
Nut Free Wok's email subscription
 (be sure to respond to the confirmation email). You will to be notified by email next time I publish another post or recipe and I won't send you spam or share you email with anyone.
If you enjoyed this post, please use the social media buttons below to share with others. I am on Facebook, Twitter, Pinterest, and Instagram as @nutfreewok and it's great to chat and interact on social media too.
Disclosure/Disclaimer:
I may mention the names of stores and/or brand names of products that I use because readers ask and I share products and sources which I use and think may be helpful to readers, all opinions are my own. Please note that manufacturing practices and ingredients can change at anytime without notice and readers are always responsible for assuring allergen safety before buying or consuming foods. NutFreeWok.com is a participant in the Amazon Services LLC Associates Program, an affiliate advertising program designed to provide a means for sites to earn advertising fees by advertising and linking to Amazon.com. Thank you for your support! I am disclosing this in accordance with the Federal Trade Commission's 16 CFR, Part 255: "Guides Concerning the Use of Endorsements and Testimonials in Advertising."