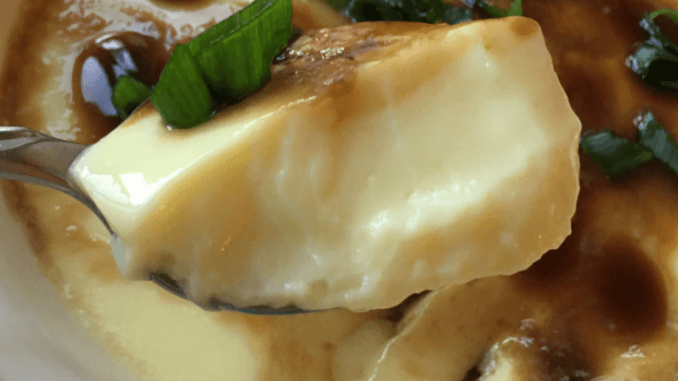 Chinese Steamed Egg Custard is exactly as it sounds: it's a savory steamed egg custard. It is easy to prepare on busy weeknights and very comforting. Some people have a difficult time making these eggs appear and taste smooth and silky. I can share with you what my mom taught me. This post was updated on 9/4/2023 with minor edits for clarity.
Disclaimer: Please check that all ingredients are suitable for your allergies and be sure to ask your medical care team regarding any allergy related questions (I do not share medical advice). As an Amazon Associate I earn from qualifying purchases.
Jump to Recipe
What is Chinese Steamed Egg Custard?
Have you ever tried or heard of Chinese Steamed Egg Custard before? Sometimes it's called Chinese Steamed Egg or Egg Custard or Steamed Water Egg because it's literally steamed water and egg, jing shui dan. Japanese and Korean cuisines have their own respective variations called chawanmushi and gyrran jjim. A Chinese steamed egg custard looks like jiggly yellow gelatin or like flan. There are other variations but this is the most basic version.
If one is not allergic to eggs, then Chinese steamed egg custard the perfect dish to make when you need a little comfort food. Or when all you have in the fridge are bits of leftovers and rice and want something fresh, hot, and steamy. Or when you are too tired to cook, this dish requires 2 minutes of hands-on time and within 15 minutes from start to finish, you're done with minimal clean up. If you prefer to limit how many eggs you eat for health or dietary reasons, this is a great dish to try because you're doubling the volume of the egg and halving the calories.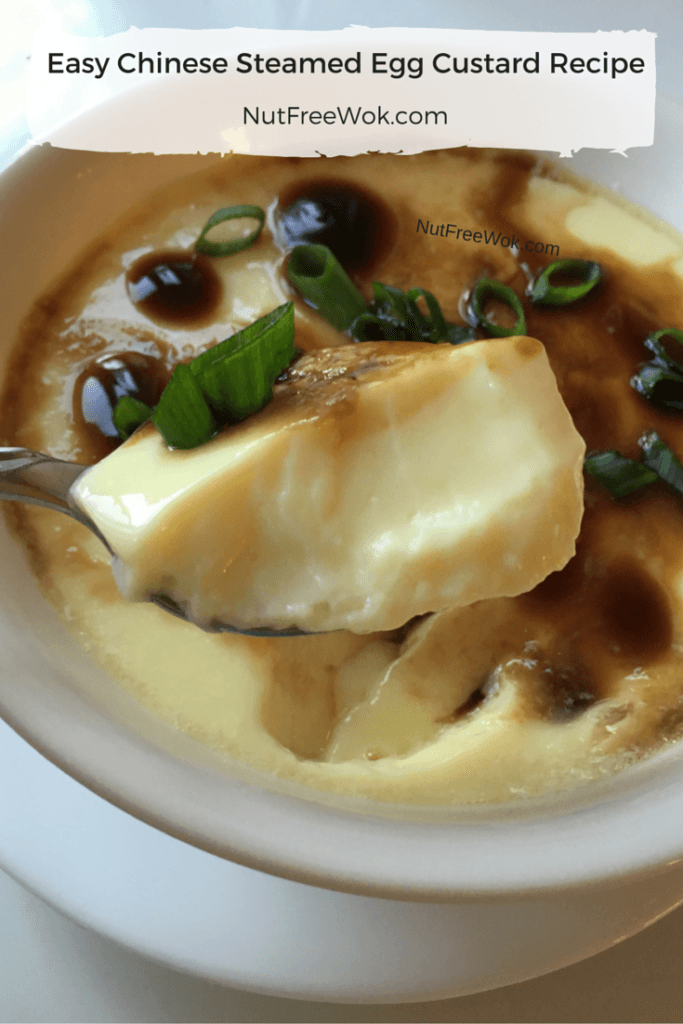 Get Ready to Steam!
You will need a soup or cereal bowl with about 16 ounce capacity and a small plate that will fit upside down and snugly over the cereal bowl. You might already have something that would work, it's important that the rim of the plate overhangs the cereal bowl slightly. I use Corelle 18 oz cereal bowls (affiliate) along with a 6 3/4 inch bread and butter plate (affiliate links, if you want the same bowls and plates, it may be more cost effective to buy a set).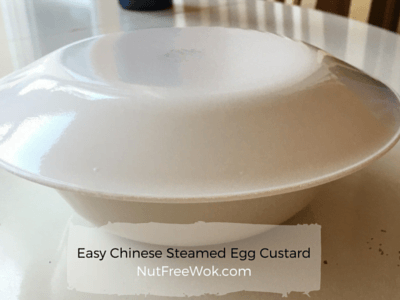 If you do not have a stock pot with a steamer insert, then you will need to find a pot that is tall enough for the cereal bowl to rest on a steaming rack with the lid on and wide enough for you to put the filled cereal bowl into the pot without touching the sides and burning yourself. Try out this set up when everything is empty and cold. I use a large All-Clad braiser with a dome lid and an inexpensive steaming rack stand (affiliate links).
If you need to buy a steaming rack stand, then consider how long you typically steam things and the height of your pot. If you steam things for 10-15 minutes then a short rack about 1 inch tall is sufficient and gives you the most flexibility with the size of your pots. But if you typically steam things for 30 minutes or more, you will need more water thus a taller steamer rack and a larger pot. Be sure to check out my post how to set up a steamer: Steamy Cooking Tips: How to Steam Chinese Recipes.
Fast and Easy Two-Minute Prep
Once you have figured out which bowl, plate, pot, and steamer rack to use, you basically boil water, mix your egg with water and place in the steamer for 10-12 minutes. Check for doneness by carefully lifting the bread and butter plate without allowing any of the condensation to drip onto the egg. Give the bowl a slight jiggle, check to see if the egg is set. If it seems that the outer edges are set like gelatin or tofu, but the center still looks a little watery, then reassemble your bread plate cover, pot lid, and steam for 2 more minutes. Finish by drizzling your choice of oyster sauce (my favorite) or soy sauce.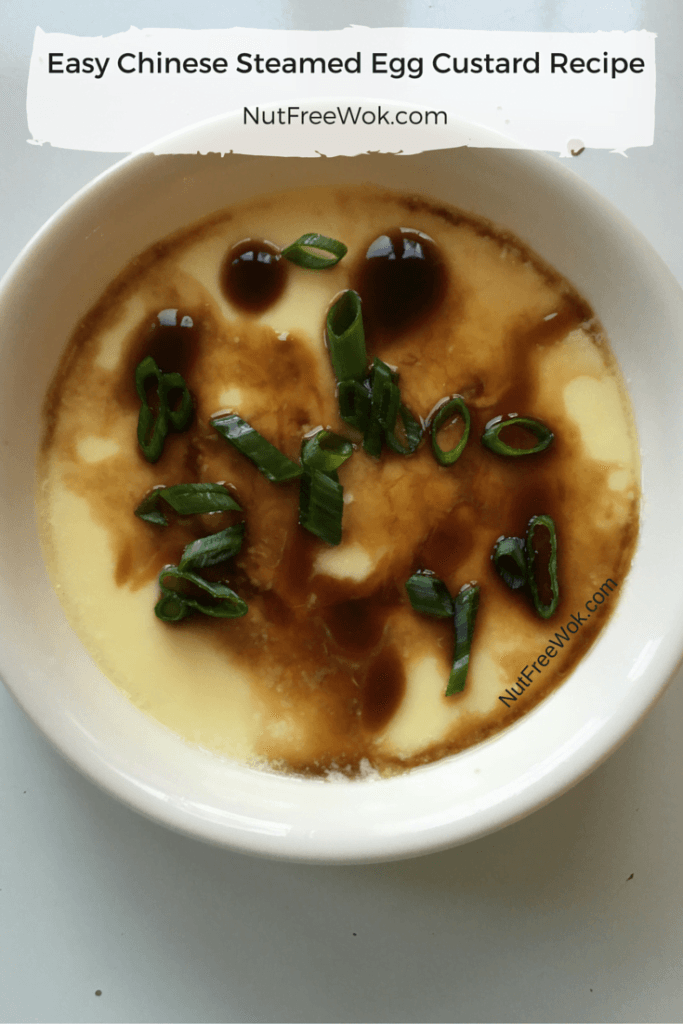 Allergy Aware Asian Fare
This recipe as written is free of peanuts, tree nuts, dairy, and fish and sorry, there is no allergy substitute for egg in this recipe.
If you are soy free, you can opt to use a soy free soy sauce or other soy alternatives instead. OR you can flavor the egg by substituting the water with chicken broth and then omit the sauces.
If you are gluten free, you can make a simple substitution of using gluten free soy sauce.
If you are vegetarian or shellfish free, consider using a mushroom flavored "oyster" sauce, which doesn't contain oysters.
If you none of the above suggestions work, you can flavor the eggs with a safe for you chicken or vegetable broth instead of water but you might experience some variations in the cooking time due to the salt content of the broth.
If you are interested, be sure to check out what ingredients I use and have in my kitchen cupboards.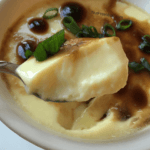 Chinese Steamed Egg Custard Recipe: Easy Weeknight Dish
Chinese Steamed Egg Custard is exactly as it sounds: it's a savory steamed egg custard. It is easy to prepare on busy weeknights and very comforting.
Ingredients
2

large eggs

3/4

cup

water

or broth

1

teaspoon

oyster sauce

soy sauce, or soy sauce alternative (more if desired)
Instructions
If this is your first time making this recipe, see the main recipe post regarding instructions to find the correct sized bowl, plate, and pot with steamer rack.

Add about 1 inch of water (lower than the level of the rack) to a pot with a steamer rack and bring to a boil at medium high heat.

Crack two eggs into a cereal bowl and gently beat it until you can't tell the yolks apart from the whites.

Add water and gently stir (avoid making a lot of big bubbles) and let the mixture rest.

When the water comes to a rolling boil, carefully uncover the lid to avoid being scalded, place the bowl of eggs into the steamer, and cover the bowl with an upside down bread and butter plate, cover the steamer and steam for 10-12 minutes.

Check that the eggs are set by removing the lid and plate and jiggle the bowl a bit, if the egg looks like it's set unevenly, then cover with the plate and the lid and steam for 1-2 more minutes.

Drizzle with 1 teaspoon of oyster sauce or soy sauce or soy sauce alternative (use more if desired).
It's your turn! Have you ever had Chinese Steamed Egg Custard? Do you have a favorite variation? Make it and tell me what you think in the comments. I am always interested in knowing how Nut Free Wok recipes turn out for you.
Thanks for reading, please help Nut Free Wok!
The best way to see every post or recipe is to subscribe to Nut Free Wok's email subscription (be sure to respond to the confirmation email). You will be notified by email next time I publish another post or recipe and I won't send you spam or share your email address with anyone.
If you enjoyed this post, please use the social media buttons below to share with others. I am on Facebook, Twitter, Pinterest, and Instagram as @nutfreewok and it's great to chat and interact on social media too.
Disclosure/Disclaimer:
I may mention the names of stores and/or brand names of products that I use because readers ask and I share products and sources which I use and think may be helpful to readers, all opinions are my own. Please note that manufacturing practices and ingredients can change at anytime without notice and readers are always responsible for assuring allergen safety before buying or consuming foods. NutFreeWok.com is a participant in the Amazon Services LLC Associates Program, an affiliate advertising program designed to provide a means for sites to earn advertising fees by advertising and linking to Amazon.com. Thank you for reading!