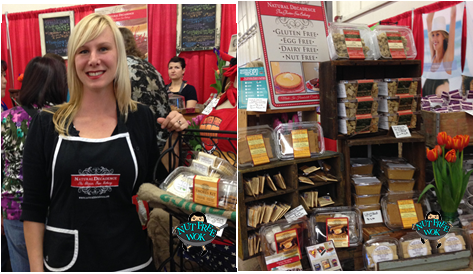 This post has been updated on 4/26/16 because one of the bakeries previously mentioned went out of business. Affiliate disclosure: some of the links in this posts are affiliate links. They do not affect your price, but they do help support this blog, thank you.
Zest Bakery is a local gluten-free bakery in San Carlos, CA. They created an incredible presentation to celebrate the GFAF Expo as well as shared very tasty samples of cake, wow! It is a gluten free bakery and each morning they prepare orders that are the most allergen restricted first and are able to make dairy free, vegan, grain free, or sugar free cakes in a variety of cake flavors, frostings, fillings, and sizes. One caveat is that they bake with nuts during the holidays but are careful to limit cross-contact. Update: I recently saw a post of an almond cake, my guess is that they no longer limit themselves to baking sweets with nuts only during the holidays. Be sure to check out my post about nut free bakeries in the US and Canada.

Natural Decadence is a gluten, dairy, egg, and nut free bakery located in northern California. My absolute favorite product is their Lemon Pie which I tried last year and kept looking in stores, but couldn't find and I assumed they aren't carried in the Bay Area yet. 12 months later, I asked the nice ladies at Natural Decadence and I find out that their pies are kept in the freezer section of Whole Foods Market! Whoo-hoo! I'm so excited that there is a safe store-bought pie I can buy to take with me to a party for my boys. Rosa, one of the owners is really wonderful and I loved hearing about how restaurants buy her gluten free pizza dough and then she spends time with the restaurant's staff working with them about cross-contact.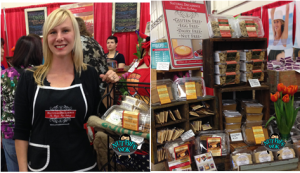 The Natural Candy Store is an online candy store that sells candies that are allergy friendly and free of artificial ingredients. They passed out delicious samples of Surf Sweets and after the show, they shipped the extra samples to me as a donation for an event at my son's school. Whoo-hoo, thank you! I want to give a huge shout out to Surf Sweets (affiliate link) who also sent additional samples for a school event so that every child can have a yummy allergy friendly treat, that's free of top-8 allergens, free of artificial ingredients and GMO's. It's a treat couldn't get any better!
Home Free (affiliate link) makes crispy cookies that are made in a dedicated factory free of nuts, eggs, dairy, wheat and gluten. They're really good and one of my son's favorite cookies to take to events to share or enjoy by himself. Even though he can't have a cupcake or cookie like everyone else, Home Free cookies tastes good to him and makes him feel happy, worry-free, and not deprived, and that is peace of mind which makes me happy. Thank you Home Free for a great product!!
Because there is so much to share about the expo, I've created separate mini-posts:
Allergy Aware Asian Fare Highlights
Yummy Crunchy Munchies and Other Savory Delights
Thanks for reading, please help Nut Free Wok!
The best way to see every post or recipe is to subscribe to Nut Free Wok's email subscription (be sure to respond to the confirmation email). You will to be notified by email next time I publish another post or recipe and I won't send you spam or share you email with anyone.
If you enjoyed this post, please use the social media buttons below to share with others. I am on Facebook, Twitter, Pinterest, and Instagram as @nutfreewok and it's great to chat and interact on social media too.
Disclosure/Disclaimer:
I was selected as an official GFAF Expo blogger and received tickets to attend the event as well as samples and products to try. All opinions are my own. I may mention the names of stores and/or brand names of products that I use because readers ask and I share products and sources which I use and think may be helpful to readers, all opinions are my own. Please note that manufacturing practices and ingredients can change at anytime without notice and readers are always responsible for assuring allergen safety before buying or consuming foods. NutFreeWok.com is a participant in the Amazon Services LLC Associates Program, an affiliate advertising program designed to provide a means for sites to earn advertising fees by advertising and linking to Amazon.com. Thank you for your support!