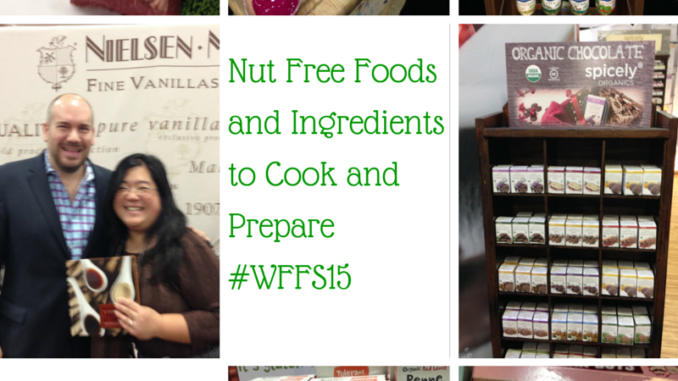 These are the best nut-free, gourmet cooking ingredients from the 2015 Winter Fancy Food Show.
Updated post on 8/17/2023 with minor edits. Also note that as of 1/1/2023 sesame is now considered a top allergen. Some are top 8 safe but I have not checked about sesame. If sesame is an allergen that you avoid, please double check all products even if they were previously considered safe.
Disclaimer: Please check that all ingredients are suitable for your allergies and be sure to ask your medical care team regarding any allergy related questions (I do not share medical advice). As an Amazon Associate I earn from qualifying purchases.
Nut-Free Ingredients for Cooking
I organized these nut-free food finds into different sections, savory ingredients for you to make your main dishes, sweet ingredients are perfect for snacks and breakfasts, extracts/spices for flavors, and baking ingredients, which includes pizza crusts and a gluten-free flour blend.
Savory Cooking Ingredients
Lone Mountain Wagyu – They sell pasture raised wagyu beef (same breed as the famous Kobe beef from Japan!) with products with different cuts for different budgets, ranging from $69 per filet mignon to $12 per pound of ground beef. They ship the frozen meat in a foam cooler and lots of dry ice. Since they process only beef, they are

top 8 allergen free

and gluten free. They sent samples of their summer sausage and ground beef and they're so delicious, I made Wagyu Sausage Lettuce Wrap with them!
Wild Planet – They sell a variety of

fish

(tuna, sardines, salmon, anchovy) and shrimp. According to their FAQ, there is no gluten or soy in their products, their products are free of additives, and low in mercury. I've been purchased their canned sardines at Costco a few times and was even more impressed when they sent tuna samples which were much higher in quality and better in taste compared to conventional canned tuna. This is a great option for those who do not have fish or shellfish allergies. They sent samples and I made a tuna dip, which was promptly inhaled by our family and they are so good, my son made some for breakfast the next day.
Tolerant Foods – They make pasta from either red lentils or black beans,

top 8 allergen free

, organic, non-GMO, kosher, vegan, gluten free. Some people with a peanut allergy can be allergic to beans, which are in the same legume botanical family. Be sure that you or your loved ones can tolerate both black beans and red lentils before using. I will update with what I think of the taste after I cook some of the samples.
Sweet Ingredients
Pitiya Foods – (formerly Pitaya Plus) This company makes Pitaya smoothie packs from dragon fruit as well as 6 other fruits. I happen to love dragon fruit and buy it once in awhile when they're fresh at the Asian market, see my dragon fruit salad recipe, so delicous! The added value of these smoothie packs is that they are frozen and ready to use and made from the red ones which might have more antioxidants than the white ones. Their products are vegan, dairy free, gluten free and kosher. Since I originally wrote about them in 2015, they have added a coconut product which they process in a different season from their other products and they have an allergen management protocol to reduce cross-contact risks. Top 9 allergen free (including sesame), except for coconut.
Belgian Boys – Packaged liege waffle, waffle chips, crepes and pancakes are all made in a facility free from nuts. They definitely look fabulous and one of my favorite brands to sample over the years! They do have a stroup waffle (a waffle cookie) that is made on shared equipment with nuts in a different facility. Add some fruit, yogurt, and/or syrup and breakfast is ready.
Extracts/Spices
Baking Ingredients
Smart Flour – They make gluten-free pizzas and pizza crusts. All of their pizzas are wheat, gluten, and soy free. Their facilities do not use peanuts or tree nuts but are not certified nut free. The premade pizzas are topped with

dairy

but the crusts are dairy free and vegan. I've tried samples before and they're very good, the crust is thin and crispy, the topping is very saucy and flavorful. Because one of my sons is allergic to tomato, I'm looking forward to making some fabulous tomato free pizza for him using their crusts.
Cup 4 Cup – They make peanut, tree nut, soy, egg, shellfish, fish, wheat, and gluten free flour blends and baking mixes. It seems easy to use as the binders helpful for gluten free baking are already included in the blend. Their products are gluten free and mostly allergen free except people with severe milk allergies need to be aware that

milk

is in the same facility and in some products. Call or email them if you need clarifications regarding milk allergens.
More Winter Fancy Food Show Nut-Free Recommendations
Disclosure of Material Connection: I received one or more of the products or services mentioned above for free in the hope that I would mention it on my blog. Regardless, I only recommend products or services I would use personally and believe will be good for my readers. I am disclosing this in accordance with the Federal Trade Commission's 16 CFR, Part 255: "Guides Concerning the Use of Endorsements and Testimonials in Advertising."
Thanks for reading, please help Nut Free Wok!
If you like this recipe, please be sure to give a 5 star rating, leave a comment, and share this post! Your support means a lot to me.
Subscribe to Nut Free Wok's email subscription (be sure to respond to the confirmation email). You will be notified by email next time I publish another post or recipe and I won't send you spam or share your email address with anyone.
Disclosure/Disclaimer:
I may mention the names of stores and/or brand names of products that I use because readers ask and I share products and sources which I use and think may be helpful to readers, all opinions are my own. Please note that manufacturing practices and ingredients can change at anytime without notice and readers are always responsible for assuring allergen safety before buying or consuming foods. NutFreeWok.com is a participant in the Amazon Services LLC Associates Program, an affiliate advertising program designed to provide a means for sites to earn advertising fees by advertising and linking to Amazon.com. Thank you for reading!