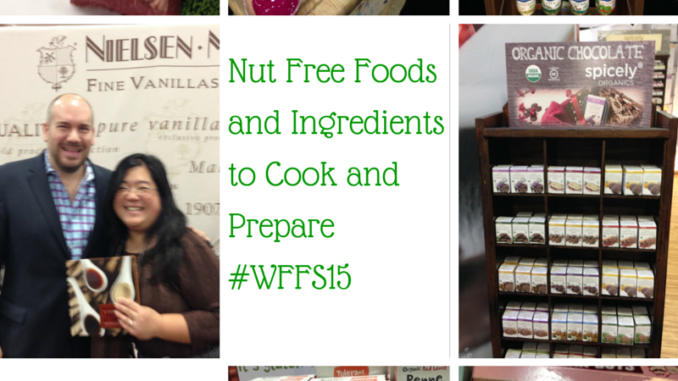 Part 3 of Allergy Friendly Products at the Winter Fancy Food Show 2015
More great allergy friendly food finds from the Winter Fancy Food Show 2015. As mentioned in my previous post,  readers are 100% responsible for for their own safety before buying or consuming any foods. My intention is to highlight products which are peanut and tree nut free but there might be details that slip past me, ingredients and manufacturing practices change without notice, and I have no control over the websites linked. Allergies to the top 8 allergens, peanut, tree nuts, egg, dairy, soy, wheat, shellfish, and fish account for 90% of all allergic reactions but people can be allergic to any food, including ingredients in foods that are considered allergy friendly. Since everyone has allergies to different foods and has different levels of severity, I cannot predict whether any or all of the following food finds would be appropriate for readers. Use this resource as a guide to start your own research, I followed up with each manufacturer by phone or email (except where noted) and only included those which seem consumer friendly, responsive, or with some allergy aware wording on their website or packaging. Please take the time to visit the websites of the brands or products that interest you and consult with your medical care team if you have any questions.
Gourmet Nut Free Foods WFFS15, allergy friendly foods and ingredients to cook and prepare
Lone Mountain Wagyu – They sell pasture raised wagyu beef (same breed as the famous Kobe beef from Japan!) with products with different cuts for different budgets, ranging from $69 per filet mignon to $12 per pound of ground beef. They ship the frozen meat in a foam cooler and lots of dry ice. Since they process only beef, they are top 8 allergen free and gluten free. They sent samples of their summer sausage and ground beef and they're so delicious, a more detailed review and recipe coming soon!
Pitiya Plus – This company makes Pitaya smoothie packs from dragon fruit. I happen to love dragon fruit and buy it once in awhile when they're fresh at the Asian market. The added value of these smoothie packs is that they are frozen and ready to use and made from the red ones which might have more antioxidants than the white ones. Their products are vegan, dairy free, gluten free and kosher. Made in a fruits only facility with pitaya, mango, pineapple, and banana (possibly on different lines, contact them if you have concerns). Top 8 allergen free
Nielsen Massey – Top 8 Allergen free, gluten free, GMO free, and kosher extracts and related vanilla products. I was concerned their Pure Almond Extract which their representatives were very thorough and patient to help me understand that the almond extract is nut free because it consists of bitter almond oil, derived from stone fruit pits. I can't wait to try their samples and share a more thorough review at a later time.
Spicely – Organic, non-GMO, top 8 allergen free herbs and spices in little green boxes. At the show, I discovered they make allergy safe tea and chocolate as well. I buy and use their 5 spice powder in my recipes for BBQ Pork Char Siu and 5 Spice Chicken in a Slow Cooker.
Lite House – They sent some instantly fresh herbs samples which are all made in an herbs only facility, therefore their line of herbs are top 8 allergen free. I will share a review about the herbs in a separate post. All of their products are made in a peanut and tree nut free facility and as an example, their Thai Peanut salad dressing is made from sunflower seeds but some of their dressings do contain other allergens, be sure to read their labels carefully.
Salt Works – They make gourmet flavored salts and for every product you can see their Certificate of Authenticity and Kosher Certification, top 8 allergen free. I walked by this booth several times before I finally stopped to take a look, I'm so glad I noticed them. The disclosures are exemplary and detailed.
Tolerant Foods – They make pasta from either red lentils or black beans, top 8 allergen free, organic, non-GMO, kosher, vegan, gluten free. Some people with a peanut allergy can be allergic to beans, which are in the same legume botanical family. Be sure that you or your loved ones can tolerate both black beans and red lentils before using. I will update with what I think of the taste after I cook some of the samples.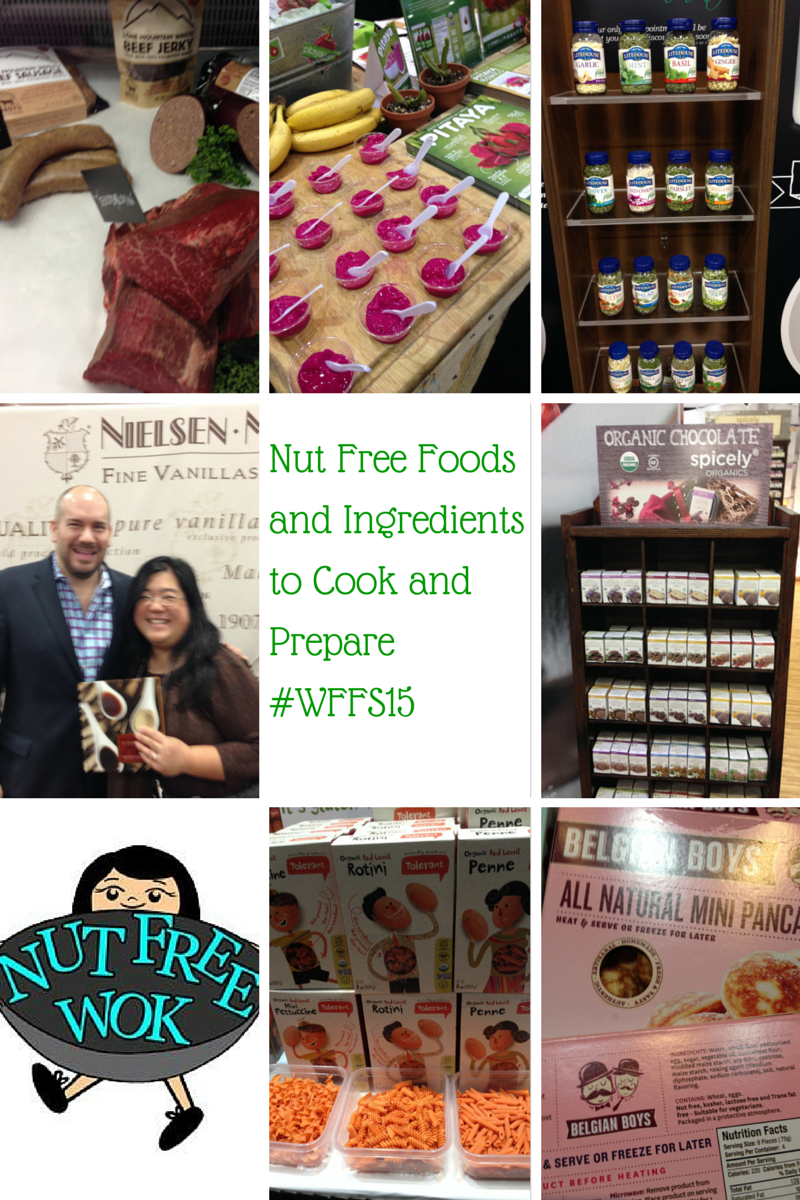 Smart Flour – They make gluten free pizzas and pizza crusts. All of their pizzas are wheat, gluten, and soy free. Their facilities do not use peanuts or tree nuts but are not certified nut free. The premade pizzas are topped with dairy but the crusts are dairy free and vegan. I've tried samples before and they're very good, the crust is thin and crispy, the topping is very saucy and flavorful. Because one of my sons is allergic to tomato, I'm looking forward to making some fabulous tomato free pizza for him using their crusts.
Cup 4 Cup – They make peanut, tree nut, soy, egg, shellfish, fish, wheat, and gluten free flour blends and baking mixes.  It seems easy to use as the binders helpful for gluten free baking are already included in the blend. Their products are gluten free and mostly allergen free except people with severe milk allergies need to be aware that milk is in the same facility and in some products. Call or email them if you need clarifications regarding milk allergens.
Wild Planet – They sell a variety of fish (tuna, sardines, salmon, anchovy) and shrimp. According to their FAQ, there is no gluten or soy in their products, their products are free of additives, and low in mercury. I've been purchased their canned sardines at Costco a few times and was even more impressed when they sent tuna samples which were much higher in quality and better in taste compared to conventional canned tuna. This is a great option for those who do not have fish or shellfish allergies. They sent samples and I made a tuna dip, which was promptly inhaled by our family and they are so good, my son made some for breakfast the next day.
Belgian Boys – Packaged liege waffle, waffle chips, crepes and pancakes are all made in a facility free from nuts. I missed the samples at the show so I can't tell you if they taste good, but they definitely look fabulous! They do have a stroup waffle (a waffle cookie) that is made on shared equipment with nuts in a different facility.
Part 4 of Allergy Friendly Products at the Winter Fancy Food Show 2015 click here—> Allergy Aware Asian Fare at WFFS15
Disclosure of Material Connection: I received one or more of the products or services mentioned above for free in the hope that I would mention it on my blog. Regardless, I only recommend products or services I would use personally and believe will be good for my readers. I am disclosing this in accordance with the Federal Trade Commission's 16 CFR, Part 255: "Guides Concerning the Use of Endorsements and Testimonials in Advertising."
Love this post and want more?