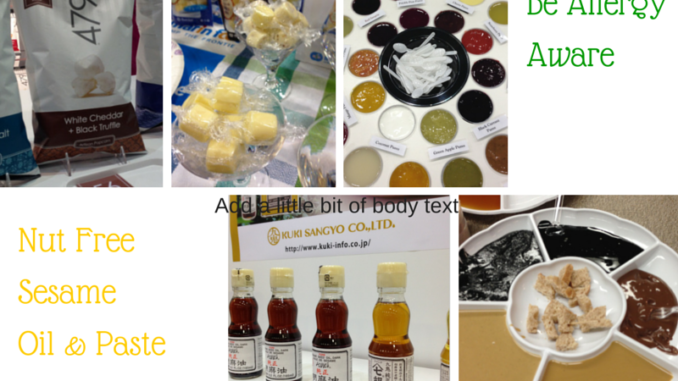 An alternative title for this post might be "Almost Allergy Friendly Products at the Winter Fancy Food Show 2015." These companies make great food that aren't 100% peanut free or tree nut free but I would consider buying because the company's response to my concerns have been adequate and the risks are within my comfort zone. This is a list that might interest readers who don't have food allergies but like GREAT food. This post was updated on 8/20/2023 with minor edits to the post and image and I removed sections about companies that are not actively in business.
Disclaimer: Please check that all ingredients are suitable for your allergies and be sure to ask your medical care team regarding any allergy related questions (I do not share medical advice). As an Amazon Associate I earn from qualifying purchases.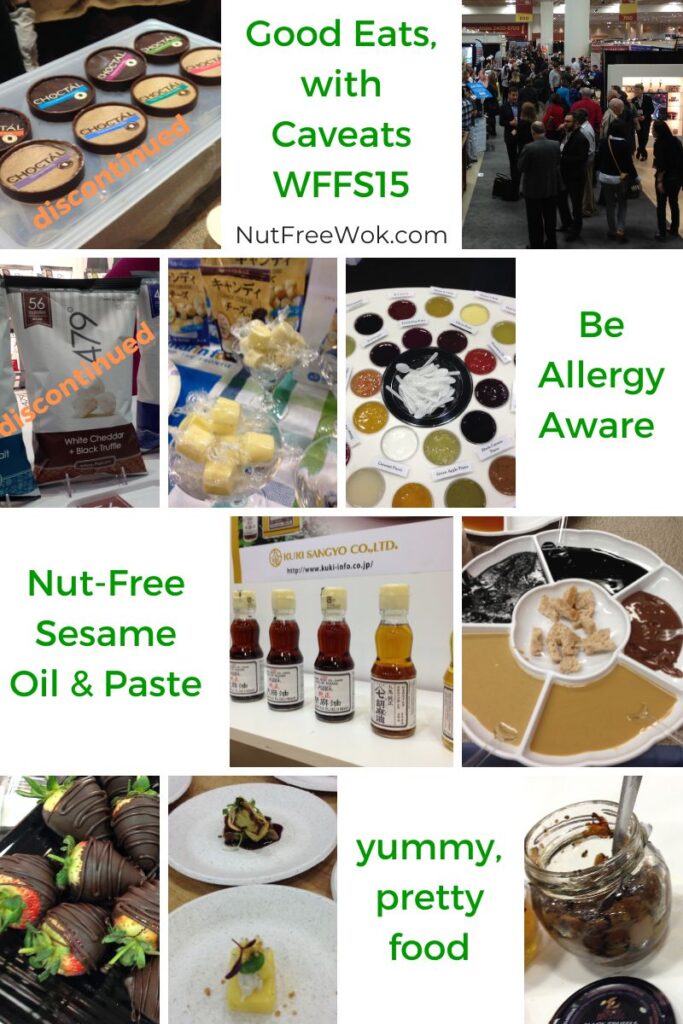 Good Eats (With Allergy Caveats)
Perfect Puree – Their beautiful samples attracted my attention and the taste was amazing and fresh. Then I was a lucky winner at Perfect Puree's booth during the Fancy Food Show and received a jar of frozen puree of my choice. Even though they process coconut and lychee in their facility, I appreciate their responsiveness to check with their Quality Assurance manager, and that they have procedures in place to prevent cross contact. After much consideration, we picked mango puree, which arrived frozen and packed with dried ice, and we ended up making the best mango sorbet from the puree.
DennyMike's – They make sauces and seasonings and served samples of really great pulled pork. Their manufacturing facilities are nut free and gluten free but in light of the recent cumin and paprika recalls, I expressed concern to the owner, Denny, about whether their products might be affected by the widespread cumin and paprika recalls and he said he will follow up with some research and allergen testing, if necessary and let me know. Kudos to Denny, so stay tuned.
Candy Cheese – I looked at these and couldn't figure out if it was cheese shaped like candy or candy that tastes like cheese. Since my son loves cheese I stopped to talk with them. Apparently people in Japan like pre-wrapped tiny portions of cheese and they package it to look like candy to appeal to their cultural preferences. The Candy Cheese have different flavors: plain, black pepper, wasabi, and almond. The large bags of the plain candy cheese are made on nut free equipment and the owner graciously gave me a large bag for my children to try. My sons enjoy a lot of different kinds of cheeses such as sharp cheddar, smoked gouda, and colby jack so in contrast, they thought the cheese tasted ok but were amused by the packaging.
Kuki – Their sesame oil is beautiful. They make a light colored oil from unroasted sesame seed and the color of the oil intensifies with the amount of roasting of the seeds. According the manufacturer: "Yes. We are free from peanuts and tree nuts. We do use purchased soy bean oil in the same facility as sesame oil, but the production line is completely separated, so there are no chance of contamination. Sesame seeds and sesame paste are produced in the different facility (sic) where only sesame seed products are produced. They do not use any allergens." Be mindful that there is an increase in sesame allergies and use these products only if one is definitely not allergic to sesame.
Maruhon – Sesame oil and sesame paste made in a sesame only facility, confirmed in person and via email. Their tray of sample sesame oil and sesame products smelled wonderful, I had to stop and try them. One of their representatives saw me get excited over black sesame paste as it tasted like a black sesame dessert my parents used to make when I was a child. Maruhon is the brand that I used to use before life with food allergies and it was great to rediscover them. Be mindful that there is an increase in sesame allergies and use these products only if one is definitely not allergic to sesame.
Feel Good Foods – I had previously raved about Feel Good Foods because their gluten free frozen egg rolls are still amazing but the chance of cross contact with peanuts has now increased because one of their entrees now include peanut as an ingredient. This is a great example of how a manufacturer can change ingredients or manufacturing processes at any time. Their commitment is to be a fantastic gluten free food manufacturer and that they do well.
WFFS15 Conclusions & Recap
The Fancy Food Show is not an allergy aware event nor does it make any promises to be suitable for people with food allergies. I found dozens of nut-free or allergy friendly brands out of 1700 vendors, there were many others I talked with before, during, and after the event, and I decided not to mention them for reasons such as possible cross-contact with nuts, poor communication, and/or not responding to emails or inquiries.
I loved to see many healthy, organic, non-GMO options that are emerging as gourmet fancy foods. I discovered that I love black truffles, truffle oil, etc. now I get what the truffle fuss is all about, I tried foods prepared by a Peruvian chef, and I fell in love with chocolate covered strawberries. I hope I will have a chance to attend again next year.
More Allergy Friendly Products at the Winter Fancy Food Show
Thanks for reading, please help Nut Free Wok!
The best way to see every post or recipe is to subscribe to Nut Free Wok's email subscription (be sure to respond to the confirmation email). You will be notified by email next time I publish another post or recipe and I won't send you spam or share your email address with anyone.
If you enjoyed this post, please use the social media buttons below to share with others. I am on Facebook, Twitter, Pinterest, and Instagram as @nutfreewok and it's great to chat and interact on social media too.
Disclosure/Disclaimer:
I may mention the names of stores and/or brand names of products that I use because readers ask and I share products and sources which I use and think may be helpful to readers, all opinions are my own. Please note that manufacturing practices and ingredients can change at anytime without notice and readers are always responsible for assuring allergen safety before buying or consuming foods. NutFreeWok.com is a participant in the Amazon Services LLC Associates Program, an affiliate advertising program designed to provide a means for sites to earn advertising fees by advertising and linking to Amazon.com. Thank you for reading!