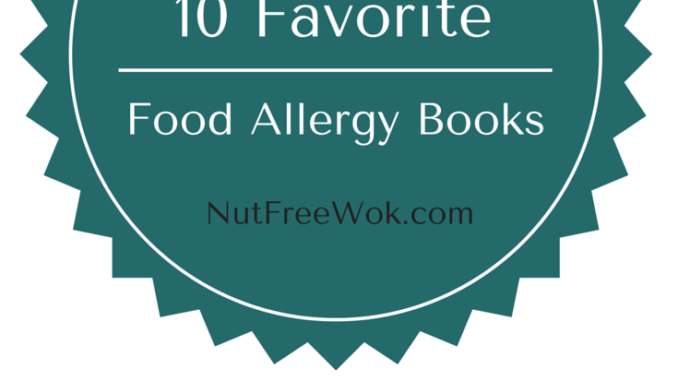 I share my list of my 10+ Favorite Books About Food Allergies to help you to be as informed as much as possible about food allergies. You can borrow these books from a public library or buy them so you can engage with them as you wish.
In 2023, it's even more important to rely on trusted and respected resources for information. Our health, our lives, and our families depend on understanding food allergies. This list of food allergy related books are some of my favorites and might be helpful for those who want to learn more about food allergies.
Disclaimer: I do not share medical advice, please consult with your medical care team if you have any questions. This post contains affiliate links, as an Amazon Associate I earn from qualifying purchases.
Update (August 25, 2023): I updated the post and added some new books so there's more than 10 books now.
Learn about Food Allergies from Allergists and Other Experts
I learned almost everything I know about food allergies from reading books from the library. Back in 2006 when my younger son was first diagnosed, there wasn't much information online. I looked for authoritative books written by allergists because I knew nothing about food allergies. And I read food allergy picture books to help my children to understand some basic concepts without frightening them.
When managing a life threatening allergy, it's so important to have the best information available. All of the following food allergy books are written by well respected allergists and will help you to better understand food allergies and related conditions. Read at least one so you can talk with your doctor and understand the nuances necessary to manage food allergies. Please remember that your doctor knows you or your loved one best, so it is important to follow your doctor's instructions and ask questions if you have any questions.
The End of Food Allergy: The First Program To Prevent and Reverse a 21st Century Epidemic

(affiliate) by Dr. Kari Nadeau and Sloan Barnett (affiliate link). I received a copy from the publisher to review and highly recommend Dr. Nadeua's book. Dr. Nadeau is my son's much loved food allergy trial doctor at Stanford and she has written a comprehensive book about food allergies and food allergy immunotherapy. It's a must read book to better understand what is food allergies and written by one of the most reknown allergists in the world. 

2023 paperback version: The End of Food Allergy: The Science-Based Plan That Turns Food into Medicine (affiliate) I received a promo copy from the publisher, Avery Books, and enjoyed reading the book again. I still highly recommend it for the overview of how to manage food allergies, food allergy treatments, how the climate can affect food allergies, as well as many ideas on how to be more involved.
Food Allergies for Dummies

by Dr. Robert Woods (affiliate link) is easy to read and contains all the information you will need. Life with food allergies is complex and you might find it helpful to re-read or flip through this book from time to time to deepen your understanding.
Food Allergies: A Complete Guide For Eating When Your Life Depends On It

by Dr. Scott Sicherer. (affiliate link) This book is written in a question and answer format and answers a wide range of questions based upon Dr. Sicherer's extensive pediatric allergy practice at Mt. Sinai in New York. It's very easy to read. Edit to note that Dr. Sicherer has updated his book (first edition has a red cover), his second edition has a teal cover. I haven't read it yet but it's always best to have the most updated information.
A Little Bit Can Hurt: The Shocking Truth about Food Allergies – Why We Should Care, What We Can Do

by Dr. Donna DeCosta, MD (affiliate link, Donna is also my friend, opinions are mine). This is an eye-opening book for those who want to understand what is it like to live with a food allergy. The book is a collection of essays by food allergic individuals and their families followed by thought provoking questions to consider. The main take home message is that food allergies must be given serious consideration and reassurance that people can still thrive with a little bit of planning. (disclosure: I received a copy to review, opinions are my own).
Cute Children's Food Allergy Books
I updated this blog post to add a section on children's food allergy books. Allie the Allergic Elephant and The Peanut Free Cafe were my favorites when my kids were little, and I'm sure they will be yours too. Can I Have Some Cake and Everyday Cool with Food Allergies were published more recently and what I needed 10 years ago.
The Peanut Free Cafe by Gloria Koster (affiliate link) – Is perfect for kids about to enter school and how the peanut free table became a fun table to sit with friends. I think that the book sets a positive tone about food allergies and good one for teachers to read with students.
A Book For Parents of Children With Food Allergies
Feeding Eden: The Trials and Triumphs of a Food Allergy Family by Susan Weissman. (affiliate link, Susan became one of my friends, opinions are mine). The first time I read Susan's book I didn't know her but it was as if she knew me and our family's challenges of nailing down a diagnosis and finding solutions. It took me awhile to resume reading it again, but over time I laughed, cried, and celebrated with Susan. This book is a good one to read if you want to feel like you are not the only food allergy parent that struggles or if you want to understand the heart and mind of a food allergy parent who is desperate to keep their child healthy and safe.
Related reading: Sharon's Favorite Asian Cookbooks & Authors
What are your favorite food allergy books? Please tell me in the comments.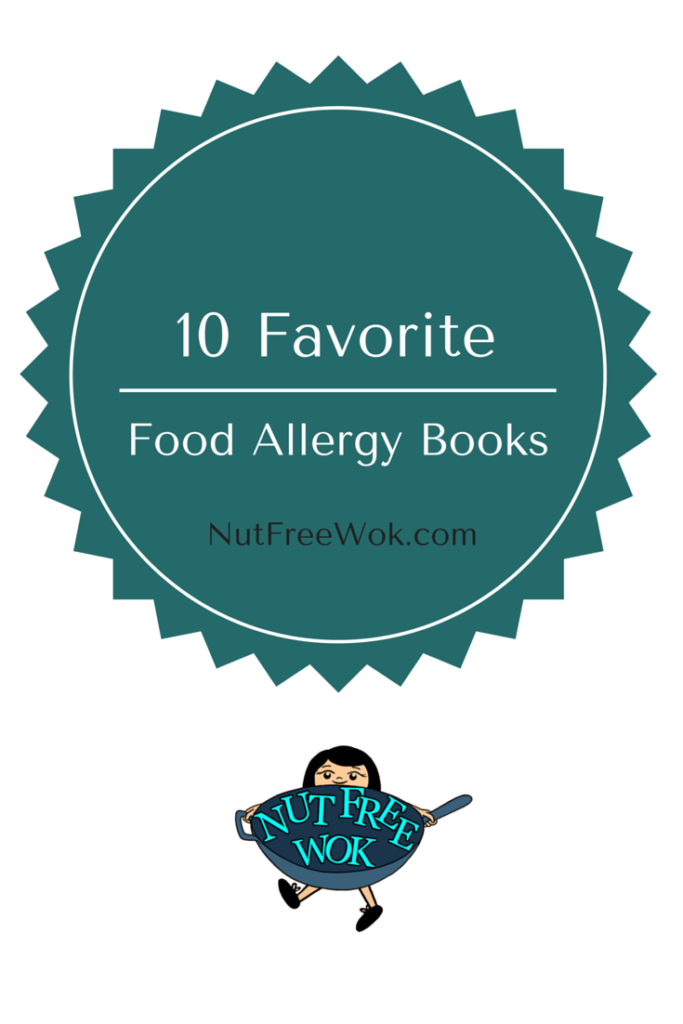 Thanks for reading, please help Nut Free Wok!
The best way to see every post or recipe is to subscribe to Nut Free Wok's email subscription (be sure to respond to the confirmation email). You will be notified by email next time I publish another post or recipe and I won't send you spam or share your email address with anyone.
If you enjoyed this post, please use the social media buttons below to share with others. I am on Facebook, Twitter, Pinterest, and Instagram as @nutfreewok and it's great to chat and interact on social media too.
Disclosure/Disclaimer:
I may mention the names of stores and/or brand names of products that I use because readers ask and I share products and sources which I use and think may be helpful to readers, all opinions are my own. Please note that manufacturing practices and ingredients can change at anytime without notice and readers are always responsible for assuring allergen safety before buying or consuming foods. NutFreeWok.com is a participant in the Amazon Services LLC Associates Program, an affiliate advertising program designed to provide a means for sites to earn advertising fees by advertising and linking to Amazon.com. Thank you for reading!