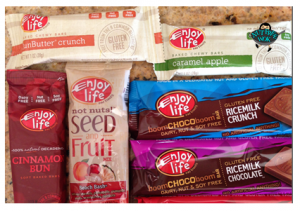 Gluten Free Allergen Free Expo Recap, San Francisco 2014
Update: I enjoyed attending the GFAF Expo in San Francisco in 2014. I love to try different gluten free and allergen friendly products and learn. I wish GFAF Expo would come back to the Bay Area!
Disclosure: This post may have affiliate links, which do not affect your final cost but helps to support this blog. Thanks!
I had such a fantastic time at San Francisco's 2014 Gluten Free Allergen Expo a few weeks ago.  I was thrilled to hang out with Sandi from Fearless Dining on Saturday and Connie from SF Bay Area Food Allergy Network on Sunday. I loved meeting and chatting with the authors such as Debbie Adler (Sweet Debbie's Organic Treats, affiliate link), Erica Dermer (Celiac and the Beast, affiliate link) , Kyra Bussanich (Sweet Cravings, affiliate link), and Tammy Credicott (Make-Ahead Paleo, affiliate link). They're all wonderful and lovely to talk with but their passion about their specialties and desire to help others is inspiring.

There were so many vendors at the expo and it was great to see some of our favorite brands as well as new ones which had some tasty samples. Upon returning home, I posted many pictures and comments on Nut Free Wok's Facebook page. Later I tried to organize the pictures into an album which inadvertently deleted my descriptions and readers' comments! I was so disappointed but resolved not to do that again and to recapture some of my thoughts in a blog post.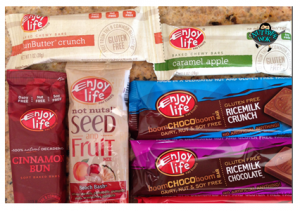 The Expo is 100% gluten free but some of the samples do contain nuts. It helped tremendously that the vendors were organized by Gluten and Allergen Free on one side of the large hall and Gluten free on the other and each vendor had an allergen chart to indicate whether their products contained any of the top 8 allergens plus a few others. Well done GFAFExpo!! Overall there were so many food manufacturers with samples to try, authors and magazines who were there to share their publications and advice, and non-profit and support group types of organizations to help those with celiac disease.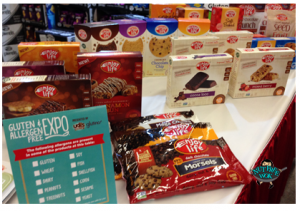 Cheers to Enjoy Life for being one of the sponsors of the event! In case you haven't heard about Enjoy Life, their products are free of the top 8 allergens, gluten free, and made in a dedicated factory. They had a huge booth with lots of different products to try and were so wonderful! Attendees had a red carpet area to take pictures with friends and if they choose to post on social media with the hashtag #eatfreely, they're entered into a drawing for an Enjoy Life gift. Our family loves their Plentil chips, Fruit and Seed Mixes (affiliate link, also look for them at Costco), and chocolate bars best. New product alert: dark chocolate chips (affiliate link), need I say more?
Because there is so much to share about the expo, I've created separate mini-posts:
Allergy Aware Asian Fare Highlights
Yummy Crunchy Munchies and Other Savory Delights
Thanks for reading, please help Nut Free Wok!
The best way to see every post or recipe is to subscribe to Nut Free Wok's email subscription (be sure to respond to the confirmation email). You will to be notified by email next time I publish another post or recipe and I won't send you spam or share you email with anyone.
If you enjoyed this post, please use the social media buttons below to share with others. I am on Facebook, Twitter, Pinterest, and Instagram as @nutfreewok and it's great to chat and interact on social media too.
Disclosure/Disclaimer:
I was selected as an official GFAF Expo blogger and received tickets to attend the event as well as samples and products to try. All opinions are my own. I may mention the names of stores and/or brand names of products that I use because readers ask and I share products and sources which I use and think may be helpful to readers, all opinions are my own. Please note that manufacturing practices and ingredients can change at anytime without notice and readers are always responsible for assuring allergen safety before buying or consuming foods. NutFreeWok.com is a participant in the Amazon Services LLC Associates Program, an affiliate advertising program designed to provide a means for sites to earn advertising fees by advertising and linking to Amazon.com. Thank you for your support!