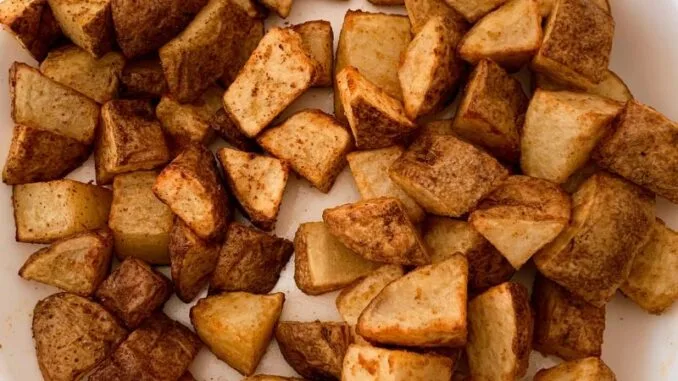 I love potato home fries for breakfast and I am amazed they are so easy to make in an air fryer. I'm a newbie air fryer user and I think an air fryer is easy to use and saves me time and energy. Okaysou, the company that gave me an awesome air purifier to review, recently sent me their Dance 430 Smart Control Air Fryer to review. All opinions are mine
Disclaimer: Please check that all ingredients are suitable for your allergies and be sure to ask your medical care team regarding any allergy related questions (I do not share medical advice). As an Amazon Associate I earn from qualifying purchases.
Jump to Recipe
I Made A Lot of Home Fries…
The first thing I made in the Okaysou's Dance 430 Smart Control Air Fryer (affiliate link) was garlic potato home fries. When I go out for breakfast, I love some home fries but they're often too oily for me and since eating out is so expensive, I am motivated to learn how to make them at home. And if you know me, everything about Breakfast.Must.Be.Easy. I am not a morning person and tested my recipe mid-day.
I referred to some other air fryer home fries recipes and tried cooking them at 400°F for 20 minutes and when I checked them at 10 minutes they were way too brown. They were cooked through and borderline burnt but not tasty enough to enjoy.
In my next attempt, I cooked them at 350°F for 10 minutes. They looked good at the halfway point and this batch of home fries were cooked through, soft, but a little bland, without the crispy texture here and there.
My favorite batch were cooked at 375°F for 12 minutes. They had a little bit of crispiness at the edges, looked good with a golden brown color, fluffy on the inside like a baked potato but slightly crispy on the outside and not oily.
But I didn't stop there. I made a batch with chopped onions because I like carmelized onions with my home fries. However, the chopped onions can fall through the holes in the air-fryer's perforated non-stick plate, I added foil to line the plate.
Apparently the foil either insulates the potatoes from the heat or it blocks the air flow because it took a long time to cook the potatoes. The potatoes were edible after 18 minutes of cooking time and were better after 2 additional minutes. It's good except when I want to prioritize my time and need to reduce energy use.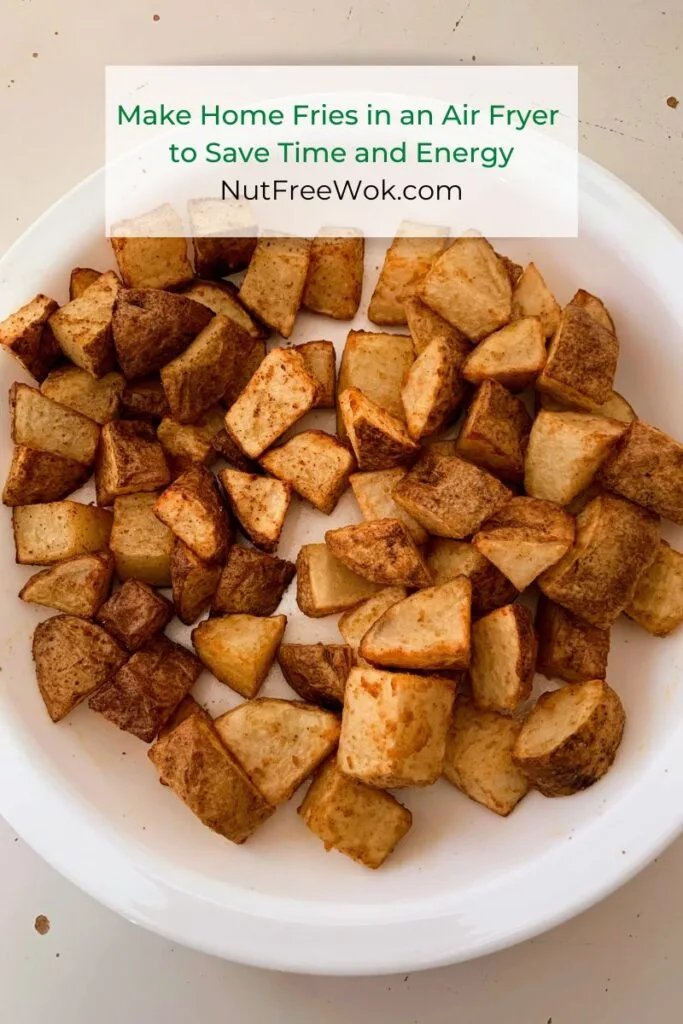 How Can an Air Fryer Help Save Time and Cost?
Using an air fryer saves time because it's much less work than my usual method of parboiling some potatoes in a pot and then frying them in a frying pan. We save time on hands-on cooking time, wash fewer pots and pans, and free up precious minutes to make or drink coffee.
An air fryer is basically a counter top convection oven, with a heating element and a fan to help circulate the hot air for maximum efficiency. I had to consider whether using an air fryer can also help me save money by reducing our energy usage because we pay premium electricity rates on weeknights.
According to the Dance 430 manual, we can convert oven baking instructions by 1) lowering the temperture by 25°F and 2) reducing the cooking time by 20%. Most air fryer models use about 1.4 kwh and preheating takes 3-5 minutes, and you reduce the cooking temperature and cooking time. In contrast, an oven uses 2.3 kwh, preheating an oven takes 10 minutes or more.
Using an air fryer seems to use less energy than an oven over less time, so it might be a great alternative to using an oven in some situations. If you want more ideas on how to save energy costs, the US goverment has some great energy-saving tips.
Is Cooking with an Air Fryer Healthy?
I can hear all the Chinese moms and aunties tsk-tsking and saying "yeet hay," which refers to a Traditional Chinese Medicine (TCM) concept of building up "heat internally. When people say they are 'Yeet Hay', it typically means they are experiencing symptoms such as sore throat, canker sores, acne, fatigue."
Balanced meals. I'm not a TCM expert but I think that we can enjoy moderate amounts of crispy crunchy or other "yeet hay" foods in moderation and balance our meals with lots of other healthy foods such as fruits, vegetables, soup, and drinking enough fluids.
Eat in moderation. Due to the size of an air fryer, you're limited to whatever amount you can fit in the basket, which is approximately the size of a salad plate for this 4.3 quart air fryer. It's the perfect size for 2-4 servings depending on what you're cooking.
Add variety safely. Using an air fryer is an opportunity to add variety when we usually have too many food allergy restrictions. Plus people with food allergies (or other dietary restrictions) appreciate knowing exactly what is in our food.
Okaysou Dance 430 4.3 Qt. Smart Control Air Fryer Review
The air fryer is easy to use right out of the box after I read the manual. The control panel is easy to program manually and there's a simple one touch reheat button. There are presets for french fries, cake, steak, bacon, chicken, vegetables, fish, and shrimp which are all adjustable as needed. I haven't tried all the functions yet but will let you know.
The basket and plate are made of non-stick metal so it's easy to clean. The basket is dishwasher-safe but it's easy to handwash. I love that the perforated plate allows any excess oil to drip into the basket, after it cools down, I just wipe the basket with a paper towel and wash with soap and water.
The Okaysou Dance 430 seems to be at the right price point for 4 quart sized air fryers. I recommend checking on Amazon (affiliate link) since prices vary from day to day as well as the Okaysou website (affiliate link) for their promo specials. The Dance 430 is covered by a two year warranty for the air fryer.
Since this is my first air fryer, I can't compare with other air fryers. However, I'm quite happy with Okaysou's Dance 430. After making so many home fries, I bought some frozen tater tots, spring rolls, and fish nuggets to air fry for lunch. That gives me so much more confidence to try some more from-scratch recipes in the air fryer. Let me know in the comments your favorite things to cook in an air fryer.
Allergy Aware Air Fryer Potato Home Fries
This recipe is free of the top 8 allergens plus sesame as written. Adjust or omit the seasonings to suit your tastes and allergies.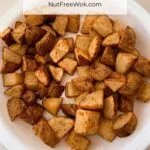 Make Potato Home Fries in an Air Fryer to Save Time and Energy
I love garlic home fries for breakfast and it's so easy to make in an air fryer. I've never used an air fryer before and I found using an air fryer to be easy and saves me time and energy.
Ingredients
2

cups

russet potatoes

cubed (approximately 10 ounces, 2 large, or 3 medium)

1

teaspoon

garlic powder

1

teaspoon

paprika

1

teaspoon

olive oil

or other neutral oil

¼

teaspoon

salt
Instructions
Preheat your air fryer (400°F for 3 minutes (or per manufacturer's instructions).

Combine the cubed potatoes, garlic powder, paprika, and olive oil in a medium sized bowl until thoroughly mixed.

Add the potatoes to the air fryer basket, return to the base, and program the air fryer to cook at 375°F for 12 minutes and set a separate timer for 6 minutes.

When the timer chimes, use a heat resistant spatula to stir the potatoes, and continue to air fry for the remaining time.

At the end of 12 minutes total, check that they are golden brown and cook an extra minute as needed. Sprinkle with salt, toss, and serve immediately.
Recipe Notes
This recipe is easy to double to make 4 servings. However, air fry only 2 cups of cubed potatoes at a time until they're done and air fry a second batch. 
Thanks for reading, please help Nut Free Wok!
The best way to see every post or recipe is to subscribe to Nut Free Wok's email subscription (be sure to respond to the confirmation email). You will be notified by email next time I publish another post or recipe and I won't send you spam or share your email address with anyone.
If you enjoyed this post, please use the social media buttons below to share with others. I am on Facebook, Twitter, Pinterest, and Instagram as @nutfreewok and it's great to chat and interact on social media too.
Disclosure/Disclaimer:
I may mention the names of stores and/or brand names of products that I use because readers ask and I share products and sources which I use and think may be helpful to readers, all opinions are my own. Please note that manufacturing practices and ingredients can change at anytime without notice and readers are always responsible for assuring allergen safety before buying or consuming foods. NutFreeWok.com is a participant in the Amazon Services LLC Associates Program, an affiliate advertising program designed to provide a means for sites to earn advertising fees by advertising and linking to Amazon.com. Thank you for reading!