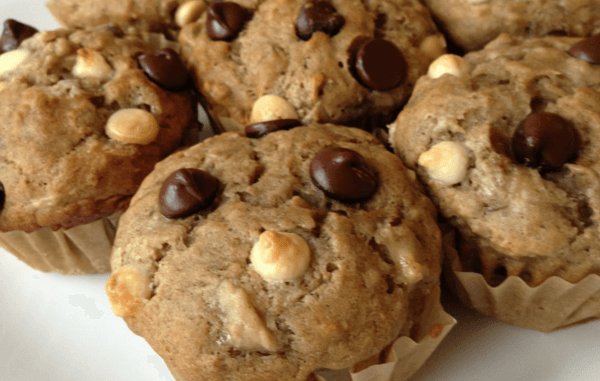 Nut Free, Egg Free Banana Chocolate Chip Muffins
I'm finally sharing my secret Nut Free, Egg Free Banana Chocolate Chip Muffins recipe! I saved this recipe so that I could enter it into a baking competition at the San Mateo County Fair and earned a 2nd place ribbon.
I admit I was a little disappointed that my banana chocolate chip muffins did not taking first place but still am happy that I placed at all considering all the misadventure in the 12 hours leading up to the submission deadline. Even though the muffins are nut free and egg free, it's not lacking in taste or texture at all. The muffins are moist, lightly sweetened, and tastes slightly decadent with melty chocolate morsels.
I love banana bread and have made many delicious banana bread recipes. But I don't like it when they taste overly sweet or feels oily, so I've tried adapting different recipes with more whole grains, less fat, and less sugar. However, I struggled to make the banana bread adapted recipes egg free, as my early egg free versions were gummy and dense.
I studied many banana bread recipes to learn what makes a banana bread recipe better. By using very ripe bananas, one can use less butter. Mash bananas for better consistency, but pureed (or overly mashed bananas) result in a watery consistency and perhaps a gummy texture. Use yogurt instead of milk (which results in a slick crust) or sour cream (too rich). Use melted butter for better texture rather than creaming the butter into sugar.
As a result, I came up with a no-fail recipe that my family, friends, and neighbors love. These nut free, egg free banana chocolate chip muffins are moist, light and taste best when warm and fresh out of the oven. If you happen to have any leftovers, reheat in a microwave for 15 seconds or less to have the same warm from the oven taste with melty chocolate chips. This recipe can also be baked in a loaf pan for 50-55 minutes as well, but I like the built in portion control and consistency of baking muffins.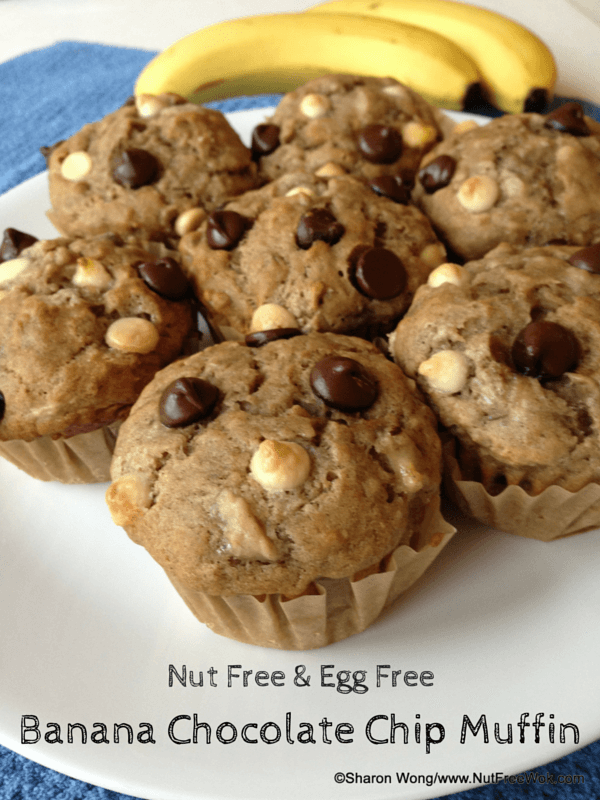 Baking Contest Misadventures
Since I had previously won first place with my recipe for Olive Oil Orange Chiffon Cake, I felt confident about my Nut Free Egg Free Banana Chocolate Chip Muffin recipe and I wanted to have the recipe evaluated by judges. Does it taste good on it's own merits compared to traditional banana bread recipes using eggs and nuts? I wanted to know whether my healthy and allergy adaptations taste good or have I created a weird recipe? I wanted some objective feedback to make sure that the nut free, egg free, and low fat recipe would taste good even to those who don't have food allergies.
I bought some beautiful bananas about 10 days before the entry deadline and all of the bananas were eaten up before any spots even appeared. Either the bananas were very good or my family was trying to be helpful to eat up the bananas so they wouldn't go to waste as they sometimes do. About a week before the competition, I bought more bananas but they remained yellow-green and no one touched them even after 3 days. I quickly learned about how to speed up ripening bananas but they never did get to that perfectly ripe state for eating and very ripe stage that begs for banana bread.
Since I didn't have any ripe bananas, I didn't make practice batches and did not discover until 10 pm the night before the muffins were due that I was out of flour and yogurt and it was too late to go shopping. I woke up super early the next morning to buy ingredients, and baked the muffins. But they tasted off and I realized that I used baking powder instead of baking soda! With one hour left until the deadline, I made another batch, packed up still hot from the oven muffins, and dropped them off at the county fair just in time. It was an exciting morning and I wouldn't have planned to cut it that close but as a result, the muffins were still warm and the chocolate chips were melty during the closed judging, perfect.
I ended up winning a 2nd place winning despite my baking misadventure. I learned that if I want to compete in baking contests, it helps to 1) make sure I have all the necessary and correct ingredients ready and 2) bananas are an unpredictable ingredient to use for a recipe that is highly dependent on a specific level of ripeness somewhere between perfect to eat and slightly fermented!
Sugar and Spice and Everything Nice with Nielsen Massey
Typical banana bread recipes call for 1 cup of sugar and 1 stick of butter but this recipe uses half those amounts and still tastes great. What's the secret? I add a small amount of cinnamon to bring out the sweetness of the muffins and I use organic sugar which I think tastes sweeter and better than regular sugar. I also use vanilla extract to add flavor and sweetness without adding more sugar.
The muffins had a lovely flavor boost after I tried Nielsen Massey's Madagascar Bourbon Vanilla Extract after they shipped a bottle for me to try. I met Nielsen Massey at the Winter Fancy Food Show and as I explored their booth, I was intoxicated by the delicious scents of their extracts. I've been missing out on some really high quality cooking and baking ingredients which happen to be allergy safe as well. Nielsen-Massey products are top 8 allergen free and certified organic, GMO, kosher, and gluten free. I asked them numerous question about the safety of cross contact with their almond extract and I learned that their almond extract is derived from bitter almond, the pits of stone fruits. I love the transparency and disclosure on their FAQ, more companies should do the same!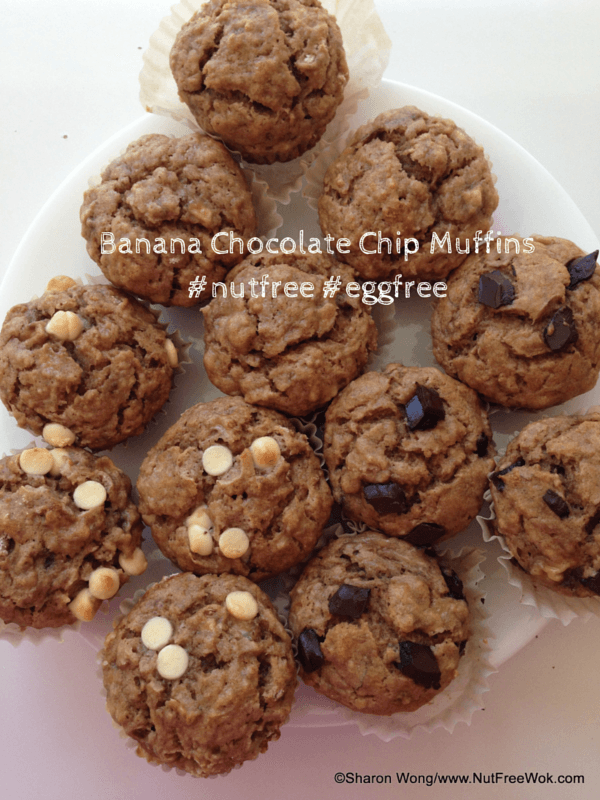 Choose Your Chocolate Wisely
The addition of chocolate chips totally makes this recipe extra special however chocolate chips is the one ingredient that must be purchased with extra care because it has the highest risk of cross-contact with nuts. If you are new to food allergies, it is so important to heed allergen advisories such as "made on shared equipment with ___" or "made in the same facility with ____" and even in the absence of an allergen advisory, it still could be processed on shared equipment or in the same facility and cause a reaction in those who are very sensitive. If this is all new to you, be sure to check out my post about reading food labels.
When we first learned about food allergies, I did not know about the potential for chocolate to have cross contact issues and gave them to my younger son and he developed an aversion to chocolate probably due to traces of peanuts and tree nuts! However, he is fine with white chocolate chips which is why some of my muffins have white chocolate for him and some have chocolate chips. The white chocolate chips bake beautifully and I love how the edges and tips of the chips come out slightly browned. I stock up on white chocolate chips when Trader Joe's sells their white chocolate chips during the holidays (always call Trader Joe's customer service regarding allergen cross contact before using a product for the first time).
My favorite top 8 allergy safe brands include PASHCA (lots of variety of flavors) and Enjoy Life (love the variety of shapes, mini, morsels, and mega chunks). I also use chocolate chips by Guittard and Trader Joe's for my family since we aren't restricted by dairy, gluten, and soy allergies.
Allergy Aware Adaptations
Egg free: I use Ener-G Egg Replacer as an egg substitute. It's a top 8 allergen free and gluten free product and the key to success is using warm water and whisking it until it's very frothy, almost like a meringue before mixing it into the banana mixture. I save time by using an immersion blender to whip it up quickly.
Dairy free: You can easily adapt this recipe to be dairy free by using your favorite dairy free yogurt and replacing the butter with a dairy free equivalent, I happen to like Earth Balance's Buttery Sticks, they seem to bake well and taste good (we are not a dairy free family, please verify whether Earth Balance's product is milk free before using). I have tried the recipe with olive oil and canola oil as well with just as good results.
Wheat or gluten free: I haven't been able to make the recipe wheat free yet. I tried using Trader Joe's gluten free flour and it did not work as a 1:1 substitute but one friend suggested using Cup For Cup, which is nut free but I suggest asking more questions if one has a severe milk allergy.
This recipe as written is peanut, tree nut, egg, soy, fish, and shellfish free. Please always check all ingredient labels before using and when in doubt, call the manufacturer.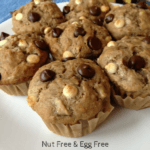 Nut Free Egg Free Banana Chocolate Chip Muffins
These nut free, egg free banana chocolate chip muffins are also light and taste best when warm and fresh out of the oven. If you happen to have any leftovers, reheat in a microwave for 15 seconds or less to have the same warm from the oven taste with melty chocolate chips.
Ingredients
3

large ripe bananas

2

tablespoons

of Ener-G Egg Replacer + 6 tablespoons of warm water

1/2

cup

organic sugar

1/2

cup

yogurt

any plain or vanilla variety

1/4

cup

melted butter

1

teaspoon

vanilla extract**

2

cups

of all purpose flour*

1

teaspoon

baking soda

1/4

teaspoon

salt

1/2

teaspoon

cinnamon

optional

1/4

cup

plus 2 tablespoons of nut free chocolate chips**
Instructions
Preheat oven to 350 degrees Farenheit and line a 12 cup cupcake/muffin tin with liners.

Use a potato masher to mash the bananas in a large bowl until they are no longer banana shaped, but still chunky.

Use an immersion blender or a whisk to beat the Ener-g Egg Replacer and warm water until frothy and add to the banana mixture.

Add sugar, yogurt, butter, and vanilla extract to the bananas and mix.

In a medium bowl, whisk the flour, baking soda, salt, and cinnamon (if using) and add to the banana mixture.

Combine the banana and flour mixtures quickly by hand with a spatula until it mostly mixed (it's okay if there are still a few large lumps of flour).

Mix in 1/4 cup of chocolate chips and be careful not to overmix.

Evenly scoop the batter into each muffin liner (about 2 heaping tablespoons each) and sprinkle the tops of each muffin with a few chocolate chips.

Allow the batter to rest on the counter for 5-10 minutes, meanwhile use a toothpick to mix any large lumps of flour and to push the chocolate chips slightly into the dough.

Bake for 25 minutes (time may vary) and the muffins are ready when a toothpick inserted comes out mostly clean with a few crumbs on it.
Recipe Notes
*You can also use 2 cups of whole wheat white pastry flour OR 1 cup of whole wheat flour + 1 cup of all purpose flour)
**See blog post for product recommendations
Baking for Brunch
Sometimes I end up with too many ripe bananas and/or I need to bake for an event. But if I feel too much pressure or am not yet fully awake, I just can't double a recipe correctly in my head. So I am sharing a double recipe.  –> Banana Chocolate Chip Muffins for Brunch
Affiliate links:
Many readers ask about which brands I buy and use, which I believe are peanut and tree nut free. Please note that we all have different allergies and what works for me, might not work for you. You are responsible for verifying safety before using or consuming by reading the labels. The Amazon affiliate links do not affect your price but helps to support this website, thanks!
Enjoy Life Mega Chunks Gluten Free Non-GMO Semi-Sweet Chocolate — 10 oz Each / Pack of 3
Enjoy Life Dark Chocolate Morsels, 9 Ounce
PASCHA Organic Dark Chocolate Baking Chips – 55% Cacao, Semi-Sweet – 8.75 oz
Nielsen-Massey Madagascar Bourbon Pure Vanilla Products Extract 2 oz.
Thanks for reading, please show your support for Nut Free Wok!
The best way to see every post or recipe is to subscribe to Nut Free Wok's email subscription (be sure to respond to the confirmation email). You will to be notified by email next time I publish another post or recipe and I won't send you spam or share you email with anyone.
If you enjoyed this post, please use the social media buttons below to share with others. I am on Facebook, Twitter, Pinterest, and Instagram as @nutfreewok and it's great to chat and interact on social media too.
Disclosure/Disclaimer:
I may mention the names of stores and/or brand names of products that I use, I have not been paid or solicited by any of the above companies to mention them. I share products and sources which I use and think may be helpful to readers, all opinions are my own. Please note that manufacturing practices and ingredients can change at anytime without notice and readers are always responsible for assuring allergen safety before buying or consuming foods. NutFreeWok.com is a participant in the Amazon Services LLC Associates Program, an affiliate advertising program designed to provide a means for sites to earn advertising fees by advertising and linking to Amazon.com.