Product Review: Way Better Snacks
Our family tries to eat healthy most of the time but we need a crunchy munchy snack now and then. Everything I serve my kids must be nut free and allergy safe, but the kids love it if tastes good and I love it if it's healthier than most snack foods too. Let me be the friend that tells you about Way Better Snacks (http://gowaybetter.com/) which hits all those points very well: allergy safe, better for you, and tastes great. I brought home some tortilla chip samples from the Winter Fancy Food Show and before I allowed my sons try them, I made sure the samples were allergy safe and Way Better Snacks (WBS) was sent me some products to try a few months ago (see disclosure below). Apparently in the chaos of packing and cleaning for my home renovation projects, I forgot to take pictures of the products WBS sent me so I bought some for a Cinco de Mayo party and took pictures.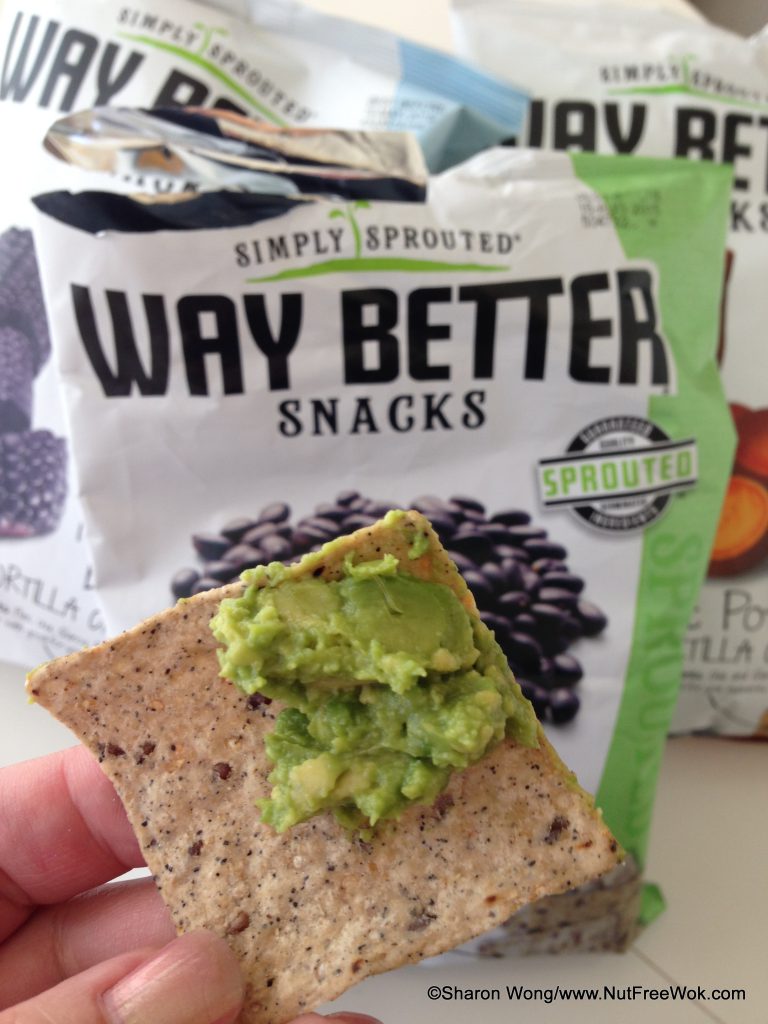 Way Better Allergen Safety Info
I wanted to know if the tortilla chips were safe. Their website has all of the ingredients used to make all of their tortilla chip varieties and my children weren't allergic to any of the ingredients. According to their FAQ, all of their products are peanut and tree nut free. Next I needed to know about potential cross contact and Jon, WBS's office manager, kindly sent me a copy of their Allergen Checklist for Food Suppliers or Manufacturer.
On this list they track the top 8 allergens (peanut, tree nuts, milk, egg, fish, shellfish (crustaceans), soy, wheat) plus sesame, mustard, sulfites, and gluten.
They want to know whether each of the allergens are 1) present in the product, 2) present in other products on the same line, and 3) present in the same manufacturing facility.
And they ask their suppliers if they have procedures to prevent cross contact.
This kind of information is an allergy parent's dream come true. It's apparent to me that Way Better Snacks understands the needs of their consumers with food allergies and other restrictions and are prepared to disclose potential risks of allergen cross contact so that a consumer may make an informed decision. I think this should be an industry standard, what do you think?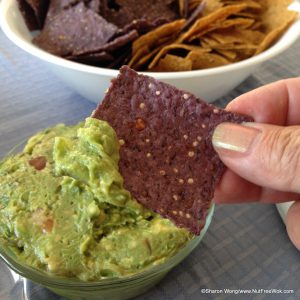 Way Better Nutrition
Way Better Snacks makes tortilla chips, crackers, and pita chips with sprouted seeds, grains, and beans. Seeds, grains, and beans are fantastic ingredients to eat if one is not allergic to them. Sprouting them causes them to germinate and apparently increases vitamins and minerals, antioxidants, digestibility, and nutrient absorption, which you can read about in detail on WBS's website. I am not familiar with the benefits of sprouting but I can tell from reading the nutrition facts that it has a lot of fiber and protein, free of GMO, MSG, transfat, high fructose corn syrup, and with some organic ingredients, all of which I like in a snack.
Way Better Taste
Tortilla chips: The chips were great and even impressed my son who normally doesn't like tortilla chips. They're fresh, light, and crispy. One can really taste the key ingredients of each variety. Target only stocks the Sweet Potato chips once in awhile. My local Whole Foods Market stocks a few more flavors. If it's not available in your area, you can order it online through Amazon. Way Better Snacks Tortilla Chips, Multigrain, 5.5 Ounce (affiliate link) is available as an Add On product (for when you just need to spend a few more dollars to receive free shipping) for a reasonable price (around $3). Update: my package of chips was a bit flat perhaps due to being knocked about during shipping. Amazon was great about giving me a refund.
We had friends come to our house during the Cinco de Mayo weekend and I made lots of quacamole and bought several bags of WBS tortilla chips, what a feast! I wanted to share my very simple recipe which turned out to be remarkably similar to  Chipotle's recipe except I leave out the jalapeno peppers.
Pita Chips: Their pita chips, delightfully called Pita-Ahhh Chips were good in and of themselves. They seem more like a cracker because they're thin and crunchy but not like a pita chip, which is typically two layered. We liked the Toasted Garlic flavor the best among the three flavors. I would recommend the Pinch of Sea Salt pita chips for dipping/scooping a hot artichoke or similar dip or as a base for a fancy appetizer.
Crackers: Way Better Snacks sent me Rosemarry Me & Olive Oil Sprouted Barley Crackers and Mustard and Cheddar Way Better Crackers. The crackers are flavorful and smell nice. They have a nice texture, light but not mushy, slightly crunchy, thin and crispy. Both boxes were inhaled within a day (sorry no pictures!) so I can safely say my guys loved them. I haven't seen them in my local stores yet.
Way to Go!
There's a lot to like about Way Better Snacks. Nut Free and top 8 allergen friendly, you can always contact them for information about any allergen concerns and they might even send you coupons. Their snacks are kid approved for taste and mom approved for being high in fiber, protein, and nutrition. I wish all their products were available in my local stores but one can order cases of their products from Way Better Snack's website. It has taken me awhile to share my review because renovating a home is time consuming and some neck and shoulder pain slowed me down. I'm better now after going to physical therapy for nearly two months, just in time for phase two of our home project over the summer! I'm sure that I will be buying Way Better Snacks over the summer as a part of our on the go meals and picnics since I won't have access to my kitchen half the summer. Yay, for nut free snacks and companies who take food allergies and other food restrictions seriously. Way to go, Way Better Snacks!
Check out some of my other fabulous food finds at the Winter Fancy Foods Show! I have multiple posts about them because I found THAT many! —> Fancy Food Show allergy friendly finds!
Thanks for reading, are you following Nut Free Wok?
The best way to see every post or recipe is to subscribe to Nut Free Wok's email subscription (be sure to respond to the confirmation email). You will to be notified by email next time I publish another post or recipe and I won't send you spam or share you email with anyone.
If you enjoyed this post, please use the social media buttons below to share with others. I am on Facebook, Twitter, Pinterest, and Instagram as @nutfreewok and it's great to chat and interact on social media too.
Disclosure
Way Better Snacks sent me some samples to try in exchange for a review on the blog. I share products and sources which I use and think may be helpful to readers, all opinions are my own. I may mention the names of stores and/or brand names of products that I use, I have not been paid or solicited by any of the above companies to mention them.  Please note that manufacturing practices and ingredients can change at anytime without notice and readers are always responsible for assuring allergen safety before buying or consuming foods. NutFreeWok.com is a participant in the Amazon Services LLC Associates Program, an affiliate advertising program designed to provide a means for sites to earn advertising fees by advertising and linking to Amazon.com.