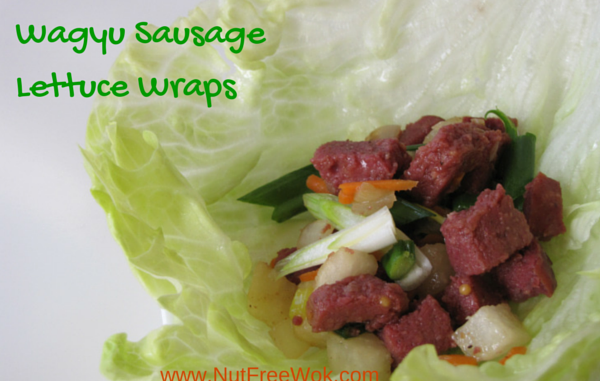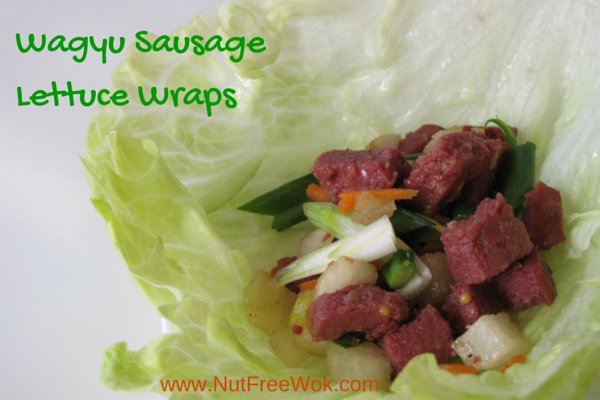 Lone Mountain Wagyu Review
Even if I didn't find Lone Mountain Wagyu's booth at the Fancy Food Show with my eyes, I would have eventually found them with my nose! They grilled mouthwatering steaks and sausages that smelled so good and tasted even better. Lone Mountain Wagyu raises 100% full blooded wagyu cattle in New Mexico, their cattle is pasture raised, fed an all-vegetarian diet of grasses, and raised humanely for better quality meat. The food allergy mom in me loves that their meat is processed in a meat only facility so the chances of cross contact with other allergens are minimized. Would I like to try their summer sausage, beef sausage links, and ground beef and share a recipe? YES, of course!!!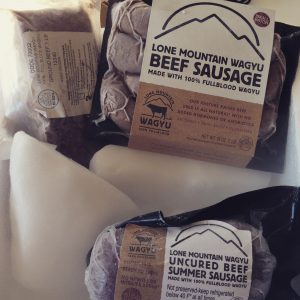 The meat soon arrived at my house in a large and sturdy foam cooler filled with large chunks of dry ice and the products were still cold and frozen solid. If I were to plan out an order, I would either order more or share an order with a local friend in order to maximize the use of the foam cooler. Lone Mountain Wagyu has options for customers at every price point, from $12.50 per pound for ground beef to $69 for an 8 oz filet mignon and everything in between. One might think that $69 per steak might seem very costly but it's a fraction of the cost of flying to Japan and a reasonable amount compared to dining in a steakhouse. I would definitely splurge on steaks for a special occasion and a more moderately priced 3-4 pound chuck roast for $55 is not much more than what I would pay for organic beef. Of the three products that I sampled, the ground wagyu beef is my favorite for its versatility and wonderful beefy taste. I buy the highest quality and freshest organic ground beef when I make Beef Rice Noodle Rolls and the wagyu ground beef was perfect.
Wagyu Sausage Lettuce Wrap Recipe
One can use any chopped meat and chopped vegetable to make a lettuce wrap. I thought it would be fun to make a lettuce wrap recipe with the wagyu summer sausage and complemented it with chopped jicama as the two primary ingredients for the filling. Usually people use diced water chestnuts in lettuce wraps but water chestnuts are a very perishable vegetabke and too much work to prepare. Jicama is more readily available, faster to prep, and has a crunchy sweetness that complements savory dishes. The summer sausage is very large and makes a lot of filling, so I suggest that you will need two heads of lettuce to make about 16-20 lettuce cups or use one head of lettuce and enjoy any remaining filling over rice. The sausage also has a lot of beefy flavor and is slightly peppery, so go easy on seasonings and sodium. Since I received one sausage, there are no do-overs but if I could, I would chop everything smaller. When I had leftovers the next day, I added a spoonful of cooked white rice in each lettuce wrap and it was very satisfying and delicious.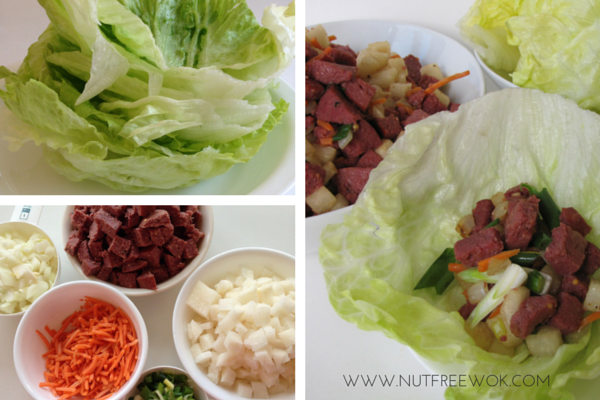 This recipe as written is free of peanut, tree nut, egg, dairy, and fish. It can easily be adapted to be free of the top 8 allergens by using a soy free soy sauce.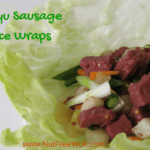 Wagyu Sausage Lettuce Wrap Recipe & Review
This recipe as written is free of peanut, tree nut, egg, dairy, and fish. It can easily be adapted by using a soy free soy sauce to be free of the top 8 allergens. This dish goes well with rice, either on the side or a small amount in the lettuce cup.
Ingredients
1

sweet yellow onion

chopped

2

cloves

garlic

minced

1

cup

carrot

shredded

2

cups

jicama

peeled and diced

1/2

cup

scallion

chopped, plus extra for garnish

1

Lone Mountain Wagyu summer sausage or equivalent

1

teaspoon

oil

1

tablespoon

oyster sauce

1

tablespoon

soy sauce

16-20

lettuce cups

2-3

cups

steamed rice

optional
Instructions
Peel and prepare vegetables: chop onions, mince garlic, peel and shred carrots, peel and dice jicama, chop scallions, set aside.

Use scissors to cut and remove the plastic casing around the sausage.

Dice the sausage into small pieces, set aside.

Heat wok or large frying pan at medium high heat for a few minutes.

Add oil and swirl to coat.

Add onions and stir fry until soften (a few minutes).

Add garlic and carrots, stir fry for a few minutes.

Add jicama, scallion, and chopped sausages, stir fry until heated through ( a few minutes)

Add oyster sauce and soy sauce, stir fry for another minute or two until the entire mixture is well seasoned.

Serve the filling with lettuce cups and steamy hot rice on the side so that they can fill their own lettuce cups.
Related Reading:
Disclosure of Material Connection: I received samples from Lone Mountain Wagyu and I am free to share my opinion. The opinions I have expressed are my own. I may mention the names of stores and/or brand names of products that I use because readers ask and I share products and sources which I use and think may be helpful to readers, all opinions are my own. Please note that manufacturing practices and ingredients can change at anytime without notice and readers are always responsible for assuring allergen safety before buying or consuming foods. NutFreeWok.com is a participant in the Amazon Services LLC Associates Program, an affiliate advertising program designed to provide a means for sites to earn advertising fees by advertising and linking to Amazon.com.  I am disclosing this in accordance with the Federal Trade Commission's 16 CFR, Part 255: "Guides Concerning the Use of Endorsements and Testimonials in Advertising."
Thanks for reading, are you following Nut Free Wok?
The
best way
to see every post or recipe is to subscribe to 
Nut Free Wok's email subscription
 (be sure to respond to the confirmation email). You will to be notified by email next time I publish another post or recipe and I won't send you spam or share you email with anyone.
If you enjoyed this post, please use the social media buttons below to share with others. I am on Facebook, Twitter, Pinterest, and Instagram as @nutfreewok and it's great to chat and interact on social media too.