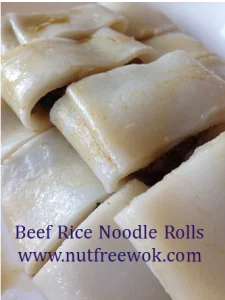 I always wanted a plate (or two) of Beef Rice Noodle Rolls or beef "cheong fun" when my parents and I used to go to San Francisco's Chinatown for brunch and then grocery shopping every weekend. I just loved the steamed rice noodle rolls with filling and drizzled with a sweet soy sauce.
Disclaimer: Please check that all ingredients are suitable for your allergies and be sure to ask your medical care team regarding any allergy related questions (I do not share medical advice). As an Amazon Associate I earn from qualifying purchases.
What are Beef Rice Noodle Rolls?
Servers pushed their carts around the restaurant and we selected steamy baskets of savory bites or little plates of delicious desserts. I always looked for the carts that had plates covered with a stainless steel plate cover because they contained my favorite dim sum dish, "cheong fun," a rice noodle roll. The rice rolls can be plain or filled with shrimp, beef, BBQ pork, or vegetables and drizzled with a sweet soy sauce right before serving. I once saw a cook make them through a restaurant window and saw that it's easy, so I decided to learn how to make them at home and beef rice noodle rolls is an easy one to try first especially since beef is a non top 8 allergen.
Making Cheong Fun At Home
One of my favorite dim sum cookbooks is Ellen Blonder's Dim Sum: The Art of Chinese Tea Lunch (affiliate link). Her recipes are well-written and I enjoy her personal stories and original water colors of ingredients and dim sum. I decided to try out a recipe for Rice Flour Rolls with Beef from her cookbook. I chose to leave borax powder out, which is an optional ingredient that makes the sheets glossy, elastic, and easier to handle but I hesitate to use it (and reminds me of the old laundry detergent, 20 Mule Team Borax).
The texture and flavor of the rice flour sheets were great but the sheets cracked and were difficult to roll up, so I needed to create a little more tenderness and elasticity by adjusting the recipe. I found another recipe for the rice flour sheets from Recipe Source and the resulting sheets were almost translucent, easy to handle and roll. Although the rolls from the Recipe Source lacked the slightly chewy bite to them that many of us adore, the resulting recipe is a hit at our house.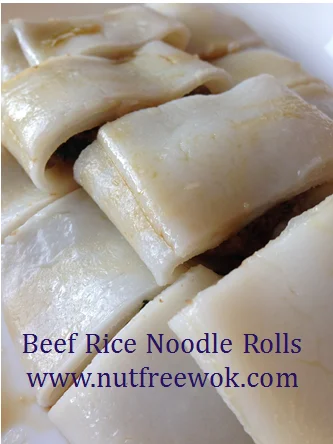 Recipe Tips
Rest the batter: After mixing the rice flour batter, wait 30 minutes so that the flour can hydrate. When I rush and don't let the batter rest for 30 minutes, the first batch will have cracks and sometimes the sheet falls apart but the later batches will be perfect.
I have used rice flour, tapioca starch (also known as tapioca flour), and wheat starch purchased from Asian markets however it's nearly impossible to contact overseas manufacturers to confirm regarding allergen cross-contact. I usually buy Erawan Brand. I also buy Flying Horse, which is distributed by Walong Marketing, and I've confirmed that their flours are made in a rice only facility.
Other possible brands that you might find online or at your local supermarket include rice flour from Arrowhead Mills and tapioca starch from Edward & Sons but non-Asian brands might need a whirl in a blender first. People following a wheat restricted diet can try substituting wheat starch with an allergen safe potato starch instead. Alternatively, I collect the potato starch when I make latkes and use the potato starch to make shrimp cheong fun.
Allergy Aware Cheong Fun
This recipe is free from peanuts, tree nuts, egg, shellfish, fish, and dairy as written.
If allergic to soy, use my recipe for Soy-Free Soy Sauce Recipe. If avoiding gluten, use tamari sauce instead of soy sauce. People who are wheat allergic can use potato starch instead of wheat starch or refer to my shrimp cheong fun recipe for instructions on how to collect potato starch from potatoes.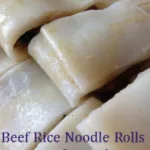 Beef Rice Noodle Rolls, Delicious Dim Sum!
I always wanted a plate (or two) of Beef Rice Noodle Rolls or beef "cheong fun" when my parents and I used to go to San Francisco's Chinatown for brunch and then grocery shopping every weekend. I just loved the steamed rice noodle rolls with filling and drizzled with a sweet soy sauce.
Total Time
1
hour
15
minutes
Ingredients
1 1/2

cups

rice flour

4

tablespoons

tapioca starch

4

tablespoons

wheat starch

1/2

teaspoon

salt

2

tablespoon

olive oil

plus more for brushing pans

1 1/2

cups

room temperature water

1

cup

boiling water

8

oz.

lean ground beef

use the freshest and highest quality meat you can for the best flavor

2

tablespoons

fresh cilantro leaves

chopped

2

tablespoons

cornstarch

2

teaspoon

soy sauce

1/2

teaspoon

baking soda

1/2

teaspoon

sugar

1/2

teaspoons

sesame oil

optional

2-3

tablespoons

cold water

1

tablespoon

soy sauce

1

tablespoon

water

1/4

teaspoon

sugar
Instructions
Combine the rice flour, tapioca starch, wheat starch, and salt. Add olive oil and 1 1/2 cup room temperature water and stir with a whisk until the batter is smooth. Stir in the boiling water, set aside and allow the batter to rest at least 30 minutes.

Mix together ground beef, cilantro, cornstarch, soy sauce, baking soda, sugar, and sesame oil (if using). Add water and stir until the meat almost resembles a paste, add an extra tablespoon of water if needed. Use a spatula and divide the beef into 6 sections, set aside to marinate.

Stir together 1 tablespoon soy sauce, 1 tablespoon water, and 1/4 teaspoon sugar and set sweet soy sauce aside until ready to serve.

While the batter is resting and the meat is marinating, brush two 9×9 inch metal baking pans with oil or use non-stick cooking spray.

Use a large pan with a tight fitting lid and pour enough water 3/4 to 1 inch deep, check that the pan will be deep and wide enough.

Use a small metal steaming trivet or shape aluminum foil into 1 inch balls. Add enough water so that the water level is higher than the rack and that there's still enough room for the baking pan under the lid (I use a 14 inch All Clad 4 qt. braising pan with a domed lid), bring the water to boil.

When the batter and filling are ready, place one baking pan into the hot water bath and allow the pan to warm up slightly, stir the batter and use a ladle to pour 1/2 cup of the batter into the pan, tilt the pan until the batter is spread evenly.

Cover and steam for 1 minute until set, use a spatula to shape 1/6th of the beef mixture flat approximately 1/4 inch thick, 1 1/2 inch wide and 8 inches long. Carefully transfer the flattened piece of beef on to the rice flour sheet down the center of the pan. Cover and steam for an additional 4-5 minutes.

When the beef is cooked through, take the pan out and place on a dish towel (this soaks up the drips and keeps the rice flour sheet warm and pliable).

Immediately place a second baking pan into the steamer, check that the pan is floating and add more water to the steamer as necessary.

Stir the batter and repeat steps 7-10 above to steam a second rice noodle roll.

In the meantime, use a silicone spatula to carefully loosen the first rice noodle sheet at the edge that is closest to the beef and second spatula to loosely fold the sheet over the beef, loosen the other side and fold that over, transfer the roll onto a serving plate and set aside.

Prepare the first pan for a second round by washing and spraying with non-stick cooking spray. Flatten another piece of beef. Repeat until all the batter and filling are used up.

Plate three rolls per serving dish. Right before serving, steam the finished rolls in the serving dish for a few minutes to warm them up. Cut each roll cross-wise into 4 pieces and serve with a light drizzle of the sweet soy sauce, to taste.
Recipe Notes
Calories are an estimate. Usually the sweet soy sauce is drizzled on for flavor and not consumed. Use a reduced sodium soy sauce and drizzle sparingly for those who are watching their sodium intake.
More Cheong Fun Recipes
I really love cheong fun and shared some other variations.
I can't make enough cheong fun for my family so I shared a recipe using a large electric skillet to steam a classic recipe, cheong fun with Chinese sausages and dried shrimp.
And then I thought about using equipment we might already have and decided to share a recipe for making cheong fun with char siu (BBQ pork) using a perforated pizza pan.
I also shared a shrimp cheong fun recipe from the Nom Wah cookbook and what's unique about that recipe is making my own potato starch.
You can mix and match the recipes, pick how you want to steam the cheong fun, pick either my rice noodle recipe or the Nom Wah recipe, and then pick a filling.
Thanks for reading, please help Nut Free Wok!
The best way to see every post or recipe is to subscribe to Nut Free Wok's email subscription (be sure to respond to the confirmation email). You will be notified by email next time I publish another post or recipe and I won't send you spam or share your email address with anyone.
If you enjoyed this post, please use the social media buttons below to share with others. I am on Facebook, Twitter, Pinterest, and Instagram as @nutfreewok and it's great to chat and interact on social media too.
Disclosure/Disclaimer:
I may mention the names of stores and/or brand names of products that I use because readers ask and I share products and sources which I use and think may be helpful to readers, all opinions are my own. Please note that manufacturing practices and ingredients can change at anytime without notice and readers are always responsible for assuring allergen safety before buying or consuming foods. NutFreeWok.com is a participant in the Amazon Services LLC Associates Program, an affiliate advertising program designed to provide a means for sites to earn advertising fees by advertising and linking to Amazon.com. Thank you for reading!