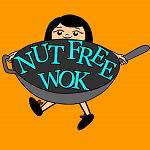 Welcome to my blog, Nut Free Wok!
I am so glad you found my blog, Nut Free Wok. I hope that you will find my food allergy mom experiences helpful and enjoyable to read as I write about recipes, cooking techniques, Asian ingredients, and other food allergy related information.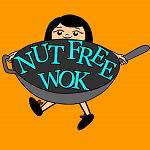 Writing a blog is a personal experience for me. I was born and raised in San Francisco by my Chinese immigrant parents. One of my earliest memories was watching my dad pour cake batter into a tube pan and later we ate a slice of delicious, sweet homemade cake. That was when my fascination with cooking began. When I was school-aged, I asked my mom for recipes and to teach me how to cook. My mom told me to stay by her side to watch and learn because she didn't use written recipes. I wish I also had the opportunity to watch my grandmother make a braised goose that was moist, tender, filled with the most delicious morsels of savory stuffing spilling out of its cavity. It was a special occasion dish that I had tasted only one time at a family gathering but had no idea on how she made it.
A few years ago, my family and I were enjoying lunch together in our sunny kitchen when my older son asked me to write down his favorite recipes for him so that he could make those dishes for himself one day. At the time, only my younger son was diagnosed with food allergies and it was helpful for me to realize that providing written recipes would give both sons some independence from relying on others to prepare allergy-safe food for them later in life.
I agreed to write recipes for their favorite foods but I procrastinated on getting started. It wasn't until I had the wonderful opportunity to attend the very first Food Allergy Bloggers Conference (2013) that I realized during the recipe development session that I didn't know of any other food allergy blogs about Asian food. I shared my idea of an allergy-aware Asian food blog at the conference and after receiving a lot of positive feedback that this niche topic would be welcomed, I decided it was time to start this blog. I want to create access to Asian food for people living with food allergies, to transform cultural and language challenges into success, and to connect generations within my family through shared food experiences. Thank you for reading and I hope you enjoy the recipes and food allergy related information I will be sharing.
If you enjoyed this post, please use the social media buttons below to share with others and subscribe to Nut Free Wok's email subscription to be notified by email next time I publish another post or recipe.
Follow me on social media today! I am @NutFreeWok on Facebook, Twitter, Pinterest, and Instagram!