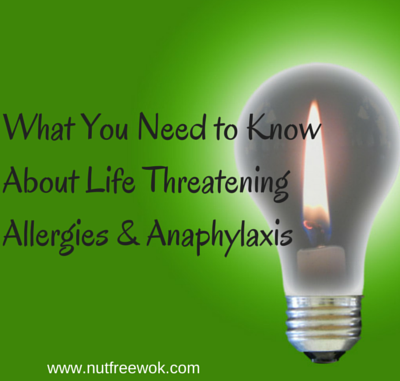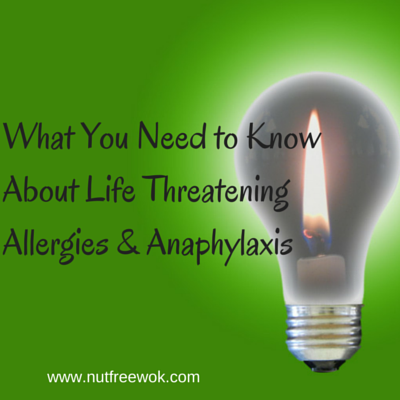 What You Need to Know About Life Threatening Allergies & Anaphylaxis
Do you want to learn more about life threatening allergies and anaphylaxis but don't know where to start? Did you or a loved one received a prescription for an epipen and are wondering what now? Are you concerned about a student, a classmate, or a co-worker and want to learn how to support them? This page is for you, there's a lot of information out there so consider this a starting point. I've compiled a list of my favorite resources to help you find the information you need and noted my favorite sections. Bookmark this page as I will continue to update with more resources as I think of them and please share with others if you think it's useful.
Understanding Food Allergy is a 2.5 minute video, shared by the National Institute of Allergy and Infectious Diseases,  explains food allergy and offers tips on how to manage the condition.

Sources for Additional Information & Support
Each of the following sites are incredible resources with reliable information and many features that you may like. Spend a few minutes browsing through their pages and I have noted what I personally like about each organization.
Asthma and Allergy Foundation of America (AAFA) has a wealth of information available online, an online support group, and has been instrumental in helping states to strengthen legislation which support those with allergies and asthma.
Allergy & Asthma Network has a page for those who are newly diagnosed and information in Spanish. I really love partnering with my local, ACE ( Anaphylaxis Community Experts), a local medical professional who volunteers to provide anaphylaxis education to the community.
Food Allergy Research Education (FARE), formerly known as FAAN before it merged with FAI, has a lot of information but most notably they have created Food Allergy Field Guide for those who have received a new diagnosis of food allergies. Your doctor can order the folder (which includes an adorable door hanger and a kitchen magnet) or you can download and print the resources.
Food Allergy & Anaphylaxis Connection Team (FAACT) founded in 2014 by Eleanor Garrow-Harding with the support of an incredible board members of doctors and advocates. They provide a lot of education, support, and resources for the food allergy community.
Kids with Food Allergies (KFA) is a division of AAFA and has a great recipe collection as well as informative and interesting free webinars every month. They are right there with us when it comes to advocacy for food allergy and asthma related legislation.
AllergyHome is a website created by two allergists, Dr. Michael Pistner and Dr. John Lee with a lot of information and resources. What is Food Allergy? is one of my favorite videos to share with teachers and classrooms.
American Academy of Allergy Asthma and Immunology is a professional organization of allergists and you can use their "Find an Allergist/Immunologist" to find a qualified doctor to help you with proper diagnosis and management. One of my favorite features is their "Ask the Expert" page where you can search for answers to questions that you might have and ask questions.
Centers for Disease Control and Prevention by the US government has a page with information about food allergies. The CDC's "Voluntary Guidelines for Managing Food Allergies in Schools and Early Care and Education Programs" is a very useful reference document.
All About Epinephrine
Learning to Read Ingredient Labels is a Crucial Skill to Avoiding Food Allergens
Allergen Avoidance Tips by Kids with Food Allergies lists the top 8 allergens and some of the possible names they might have and what kinds of foods include those allergens.
If you have any non-top 8 allergens, I recommend calling food manufacturers regarding any vague terms such as "natural flavor" or "spices."
Allergen advisory statements are not required and completely voluntary which I describe more in my blog post about allergen advisories. 
School Accommodations
Sharon's Bookmarks 
Make Personal Connections
This is probably the most important resource, making personal connections in real life. If you have a local support group meetings, attend them. Get some names and phone numbers and set up coffees or playdates with moms you connect with. Maybe you have a friend that you've met on social media, arrange to have a phone call and talk by phone if you live too far away from each other. Or consider attending a food allergy conference, advocacy event, food allergy walk, or other events where people who are in the same situation as you gather.