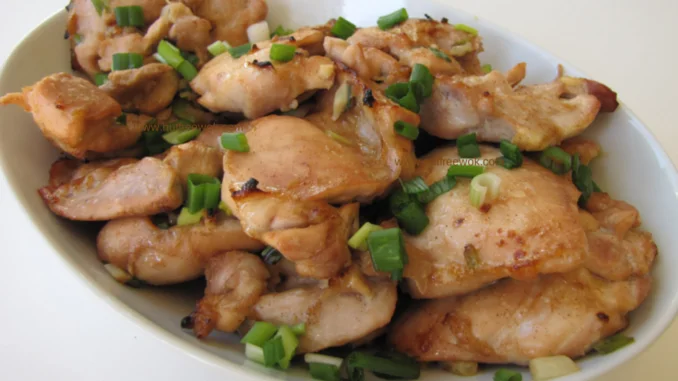 These broiled teriyaki chicken thighs are juicy and tender to eat and they're fast and easy to prepare at home for a quick weeknight meal or for special gatherings. I also have an Instant Pot variation of this recipe, Instant Pot Chicken Thighs with Teriyaki Sauce Recipe & Review. If you happen to have chicken drumsticks, I have a similar recipe Super Easy Chicken Drumstick Recipe.
This post has been updated with minor edits on 7/30/2023.
Disclaimer: Please check that all ingredients are suitable for your allergies and be sure to ask your medical care team regarding any allergy related questions (I do not share medical advice). As an Amazon Associate I earn from qualifying purchases.
Jump to Recipe
Delicious Chicken Thighs
I love to eat Broiled Teriyaki Chicken Thighs, they're tasty and tender pieces of chicken marinated with a sweet and salty sauce. They're usually grilled and then basted with a glaze, but my recipe has more flavor, less fat, faster prep, and maximum efficiency to get a meal on the table quickly.
I use scissors to trim off the excess fat from the boneless, skinless chicken thighs.
It takes about 10-15 minutes to marinate the chicken and in the meantime you can preheat the oven, prep a baking pan, make other dishes, etc..
Once you put the chicken under the broiler, you need to set a timer for 4 minutes and then check the chicken to see if there's a little bit of browning and then flip it over. Check again in 4 minutes. Dinner is cooked within 8-10 minutes.
My Broiled Teriyaki Chicken Thighs are a such a great dish to bring for a potluck and leftovers can be the base for another meal such as Pineapple Chicken Fried Rice. We have pre-cooked chicken this way and vacuum sealed it to take with us on road trips for an easy heat and serve meal.
I love this recipe so much and it was feautred in an article on NBC News: Meet the Mom Behind the Nut Free Wok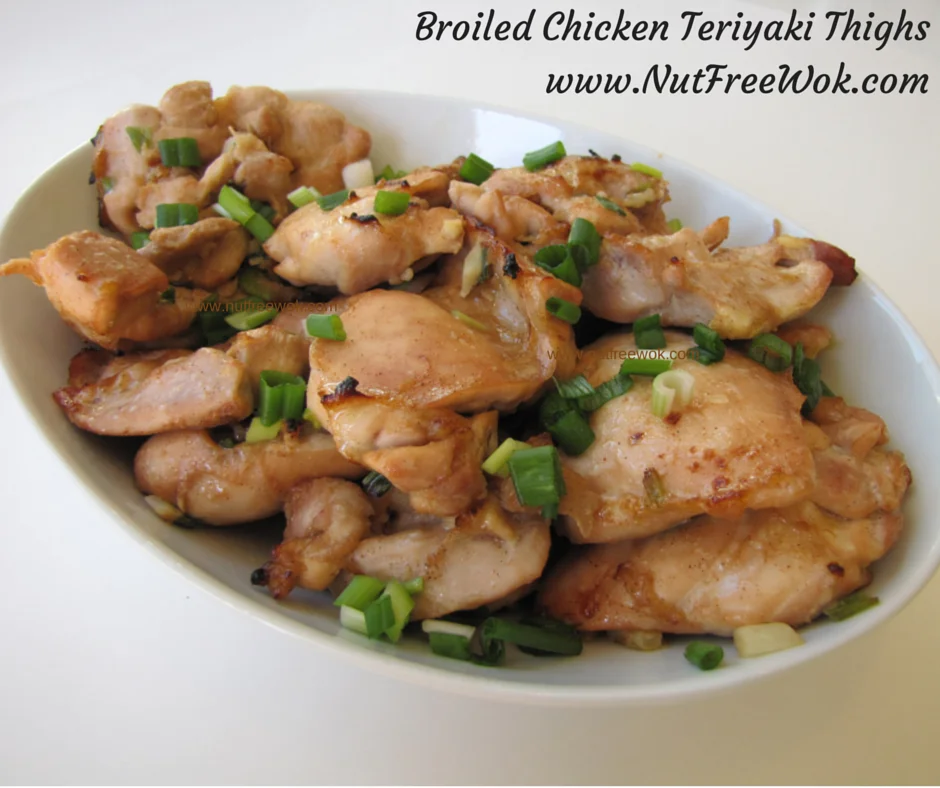 Allergy Aware Chicken Teriyaki
I've always used Mr. Yoshida Original Gourmet Sauce because it was the only brand I could find that didn't obviously contain sesame.
My son has since outgrown his sesame allergy but I recently learned and shared in a recent post about my conversation with a Mr. Yoshida's customer service representative and want to caution readers with allergies with any non-top 8 allergens, such as spices, to be careful as Heinz will not disclose exactly which "spices" are used for proprietary reasons.
Other companies make teriyaki sauces and if you contact them, they are willing to disclose allergen information for the safety of their customers (in no particular order): San-J, Wan Ja Shan, Kikkoman. For a complete list of ingredients that I use, check out what is in my cupboard.
This recipe is peanut-free, tree nut free, dairy free, shellfish free, fish free, and egg free, as written.
It also does not contain sesame, but I recommend checking the ingredient label of your teriyaki sauce.
You can also make your own teriyaki sauce from scratch to be sure that the sauce is 100% nut-free and sesame-free. If you also avoid soy, you could try making your own soy-free soy sauce first.
If you like this recipe and have an Instant Pot, you can also make Chicken Teriyaki in the Instant Pot for your convenience. It's a great alternative when you're traveling or when you are cooking for a crowd and already have something in the oven.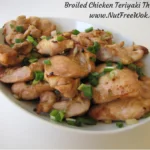 Broiled Teriyaki Chicken Thighs
Easy for a quick meal at home or on the go. Leftovers are a great foundation for other meals.
Ingredients
3

pounds

chicken thighs, boneless, skinless

10-12 pieces, 2 trays

1/3

cup

teriyaki sauce

1

scallion

thinly sliced (optional)

1

clove

garlic

minced (optional)
Instructions
Use scissors to trim off the fat from the chicken thighs and place the thighs into a large bowl. Add sauce, scallion and garlic (if using) and marinate for 10-15 minutes.

Check that the top rack in the oven is 4 inches from the broiler element and preheat the broiler on high for a few minutes.

In the meantime, line a large baking sheet with foil for easy clean up.

Place chicken pieces on the baking sheet and discard marinade.

Spread the pieces out so that they lie flat and do not overlap.

Broil for 4-5 minutes until the chicken starts to brown. Then turn over each piece of chicken and broil for another 4-5 minutes (time varies, see recipe notes).*

The chicken is ready when both sides look caramelized (golden brown, with a few brown spots), remove and transfer to a serving platter with the sauce in the baking pan.

Serve with rice and a favorite vegetable side dish.
Recipe Notes
*The first time you make this dish watch the timing and flip them over when you see a little bit of browning. My original recipe took 6-7 minutes to brown on each side and since then I've had to replace my stove which takes considerably less time (noted) and it takes 4-5 minutes on the first side (usually 5 minutes) and 4-5 minutes on the second side (usually 4 minutes), depending on the chicken thigh size and how long they have been out of the refrigerator. 
If you have an Instant Pot or pressure cooker, I have adapted this recipe for the Instant Pot in a new recipe.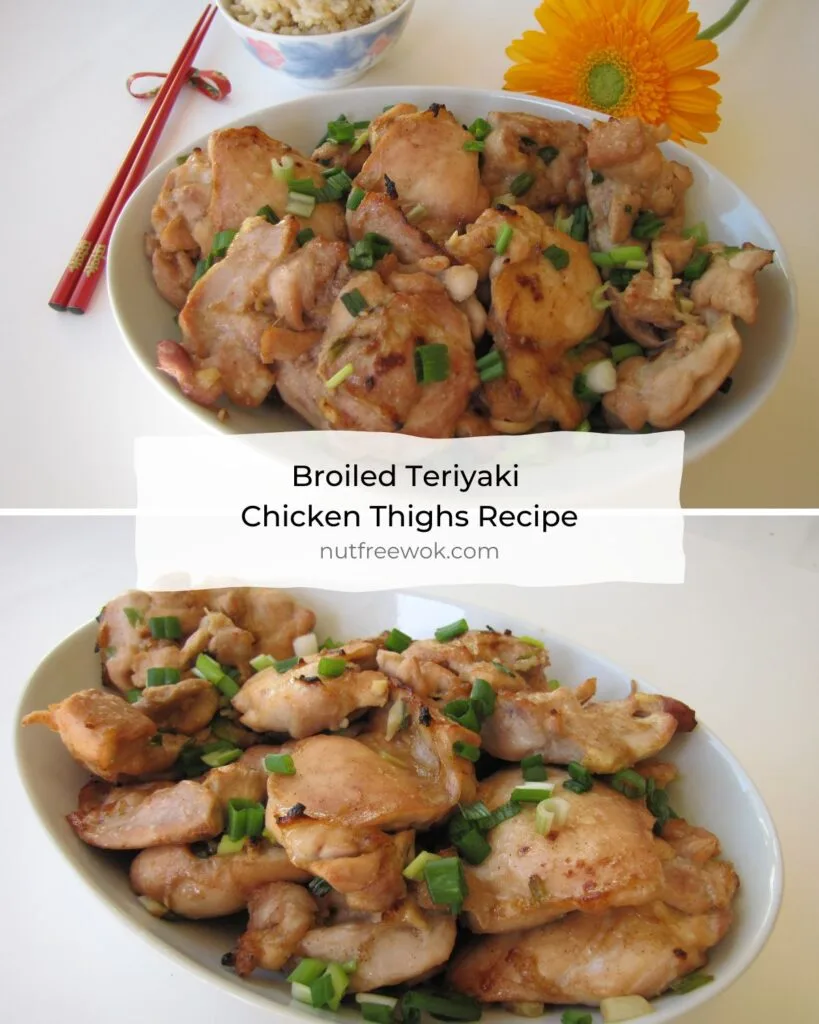 Thanks for reading, please help Nut Free Wok!
The best way to see every post or recipe is to subscribe to Nut Free Wok's email subscription (be sure to respond to the confirmation email). You will be notified by email next time I publish another post or recipe and I won't send you spam or share your email address with anyone.
If you enjoyed this post, please use the social media buttons below to share with others. I am on Facebook, Twitter, Pinterest, and Instagram as @nutfreewok and it's great to chat and interact on social media too.
Disclosure/Disclaimer:
I may mention the names of stores and/or brand names of products that I use because readers ask and I share products and sources which I use and think may be helpful to readers, all opinions are my own. Please note that manufacturing practices and ingredients can change at anytime without notice and readers are always responsible for assuring allergen safety before buying or consuming foods. NutFreeWok.com is a participant in the Amazon Services LLC Associates Program, an affiliate advertising program designed to provide a means for sites to earn advertising fees by advertising and linking to Amazon.com. Thank you for reading!