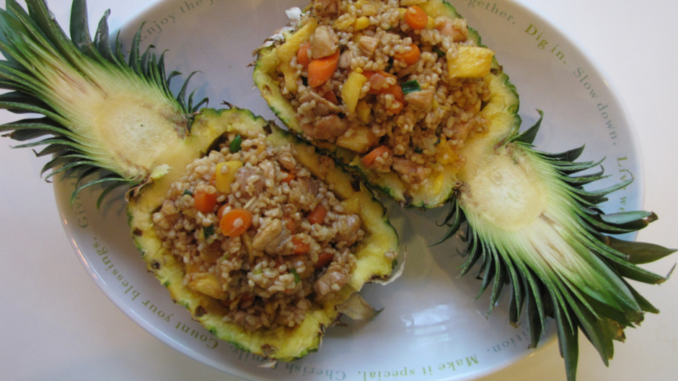 Chicken Pineapple Fried Rice Recipe
This Chicken Pineapple Fried Rice Recipe is easy to make and comes together easily with some freshly cut pineapple and leftover rice and Broiled Teriyaki Chicken Thighs. It's as tasty as it is beautiful and has been featured on NBC's website.
BC (before children) Date Night Inspiration
Flashback to 14 years ago, my husband and I enjoy a date night at a Thai restaurant and we ordered a Chicken Pineapple Fried Rice. Besides being delicious, the presentation is memorable: the fried rice is served in a pineapple bowl, a pineapple cut lengthwise with the flesh scooped out, complete with the leafy top. It's so beautifully presented and delicious but not something my children can safely enjoy as Thai restaurants are off-limits.
I recently published a recipe for Ginger Fried Rice and one of my sweetest friends asked for a regular fried rice recipe. I completely understand where she's coming from because as food allergy parents we long for what we cannot have, carefree times of spontaneously ordering foods we like to eat at a restaurant rather than ordering within the boundaries of safe ingredients at an allergy aware restaurant.
I happened to have leftover brown rice, broiled chicken teriyaki thighs, and cut fresh pineapple, most of the ingredients needed for making Chicken Pineapple Fried Rice, so I'm happily obliging my sweet friend's request for a regular fried rice recipe! You can use any kind of rice (long grain, short grain, jasmine, brown or white, but it's important to use leftover rice that has been refrigerated overnight. Otherwise your fried rice will be a little bit soft and extra moist.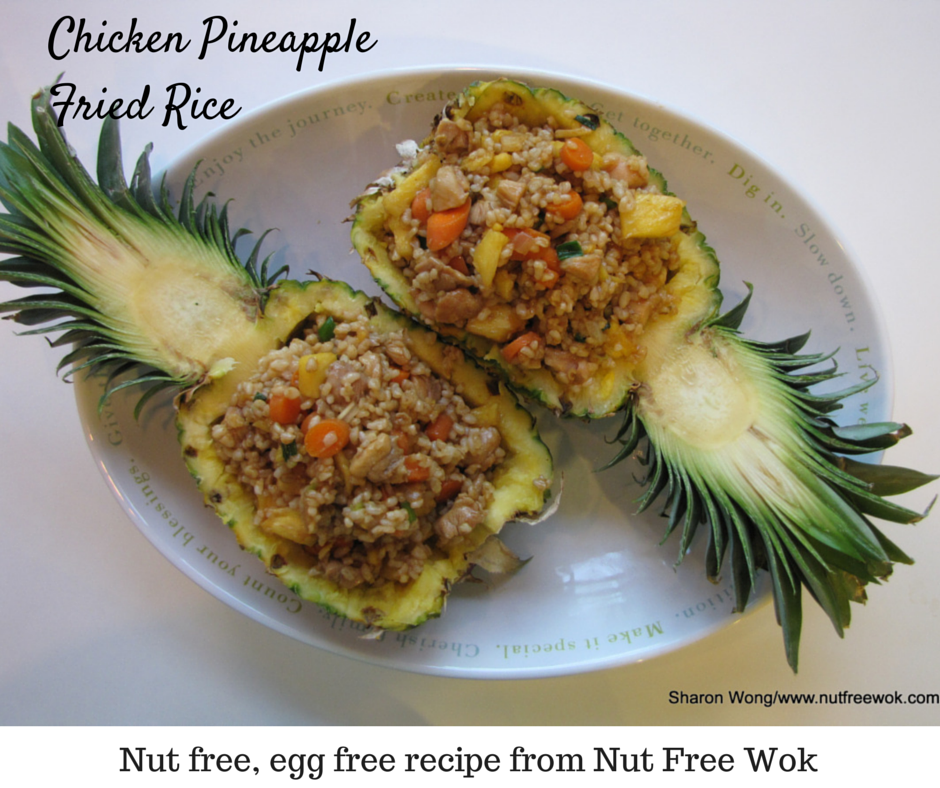 Due to limitations of what I had on hand and food allergies, I very loosely adapted a recipe from Rasa Malaysia which includes instructions for using eggs. Just so you know, a more traditional recipe might contain eggs, shrimp, cashews, fish sauce and some spices that would take some effort to find allergen free. I think this impromptu adaptation was pretty good and I love the sweet and sour flavors from the pineapple. A little bit of Red Boat fish sauce next time will give it quite an authentic taste. The recipe can be completely free of the top 8 allergens by substituting soy sauce and fish sauce with coconut aminos or other soy sauce alternatives.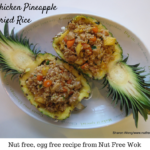 Chicken Pineapple Fried Rice Recipe
This pineapple chicken fried rice is a delight to the tastebuds as well as to the eyes. For better results, use cooked chicken and leftover fried rice that's been chilled overnight. This is a great one pot meal for 4 or a side dish for 6-8 people.
Ingredients
1

tablespoon

olive oil

2

garlic cloves

minced

1/4

cup

chopped onions

1

cup

chopped carrots

I used baby carrots to save time

5

broiled chicken thighs (skinless, boneless)

chopped

2

cups

chopped pineapple

4

cups

cooked brown rice

1 1/2

tablespoon

soy sauce

or alternative

Salt and pepper to taste
Instructions
Heat up a frying pan or wok on medium high heat (about 5 minutes).

Add olive oil, minced garlic and chopped onion, saute until fragrant (1 minute).

Add chopped carrots, chicken, and pineapple, saute until the carrots are softened (5 minutes).

Add the rice, breaking up any large clumps of rice.

Add soy sauce and stir fry until everything is heated through (3 minutes).

Adjust seasoning to taste and serve immediately.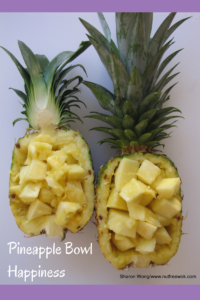 If you enjoyed this post, please use the social media buttons below to share with others and subscribe to Nut Free Wok's email subscription to be notified by email next time I publish another post or recipe. 
Disclosure/Disclaimer:
I may mention the names of stores and/or brand names of products that I use, I have not been paid or solicited by any of the above companies to mention them. I share products and sources which I use and think may be helpful to readers, all opinions are my own. Please note that manufacturing practices and ingredients can change at anytime without notice and readers are always responsible for assuring allergen safety before buying or consuming foods. NutFreeWok.com is a participant in the Amazon Services LLC Associates Program, an affiliate advertising program designed to provide a means for sites to earn advertising fees by advertising and linking to Amazon.com.