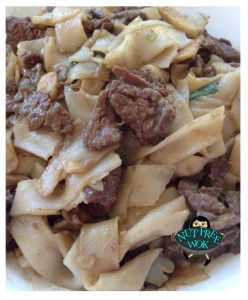 Beef Chow Fun Recipe
One of our family's favorite dishes to order in a Chinese restaurant is Beef Chow Fun – "dry" style or "dry-fried", not the "wet" style with gravy. Beef Chow Fun is a  tasty stir fry of thinly sliced beef, wide rice noodles, and bean sprouts, characterized by the noodles being a little bit charred, all the rice noodles, beef, and bean sprouts are well seasoned and all stir-fried together, without any gravy like sauce. A well-prepared Beef Chow Fun "dry-fried" or "gone chow" could be considered an indication of the overall quality of the food at a Chinese restaurant.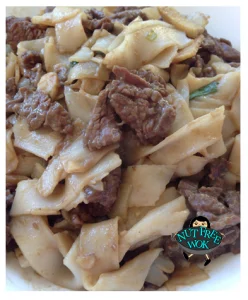 Chinese restaurant food has a certain taste that is hard to duplicate at home and that is due to something called  "wok hei" (鑊氣) also known as "breath of the wok" achieved by using a wok on a super hot commercial stove. To be completely honest, my beef chow fun could never be like a Chinese restaurant as I don't have a super hot commercial stove but a ceramic glass electric range which cannot accommodate a round bottom wok. Eventually I will buy a flat bottom carbon steel wok to try out but in the meantime, here's a pretty good Beef Chow Fun that's Allergy Aware Asian Fare, healthier, and pretty tasty.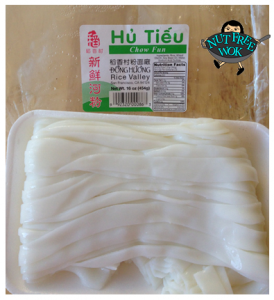 There are two kinds of rice noodles you can use, fresh or dried. The fresh rice noodles will yield really delicious chow fun but are harder to find unless you live in an area with Asian markets. I usually buy Dong Huong Rice Valley in the Bay Area. We've eaten their products for years but for this recipe write up, I called to check about allergens and cross-contact. No one could speak English and my Cantonese vocabulary lacks words for "anaphylaxis" and "cross-contact." I managed to find out that they make only rice products, they either use soy or vegetable oil, and their only other top 8 allergen in the facility is shrimp*.  For this recipe buy  "chow fun" noodles or rice sheets and cut the sheets into strips. Check for freshness by gently poking the noodles, they should be soft and used the same day purchased. If the noodles have been refrigerated, use an additional 2-3 tablespoons of broth in the recipe as needed. *Edit: Thanks to my friend Irene for pointing out that the noodles contain Wheat Starch.
The dried rice noodles are good alternative if you can't find the fresh ones. They're easier find in conventional supermarkets or online. I bought the Bahn Pho XL width by Flying Horse brand simply because the distributor, Walong, has an 800 number printed on the package. I was able to confirm that the facility only makes rice flour products, no products contain nuts or sesame, but some products use soy oil. The ingredient label indicates rice flour, salt and water. However, always check the labels carefully. I found a similar rice product made in the US and it had a tree nut allergen advisory! Soak in hot water for 20 minutes or until pliable.
Of all the Beef Chow Fun recipes that I looked at for inspiration, I think Martin Yan's recipe is most authentic but using fresh rice noodles and flap steak is fantastic. My recipe omits oyster sauce but if one is not allergic to oyster sauce, add 1 teaspoon for wonderful flavor and rich color to the noodles. The sesame oil is truly optional. If one needed to be gluten or soy free, I have a separate post on soy sauce alternatives. This recipe includes instructions on how to slice the beef but in case you're interested, I created a How-to on buying and slicing beef for stir fries in general.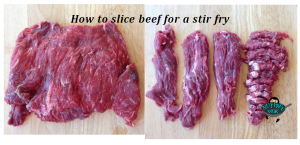 Recipe is peanut free, tree nut free, egg free, dairy free, shellfish free, and fish free as written. 
Beef Chow Fun Recipe
Ingredients
1/2

lb

beef flap steak

approximately 1/2 of a steak

2

teaspoon

soy sauce

1 1/2

teaspoon

corn starch

1 1/2

teaspoon

mirin or Chinese rice wine or dry sherry

1/4

teaspoon

baking soda

1/4

teaspoon

sugar

1/8

teaspoon

sesame oil

optional

1

package

16 oz "chow fun" rice noodles

3

cups

of bean sprouts

approximately 1/2 package

1/2

cup

sliced yellow onion

approximately 1/4

2

green onions

cleaned, cut into 1 inch pieces

1/2

inch

slice of ginger

peeled, cut into thin slivers

2

cloves

garlic

sliced

1/4

cup

broth

any flavor

2

tablespoons

soy sauce

1

tablespoon

olive oil

divided

Non-stick cooking spray as needed
Instructions
Cut beef flap along the grain into 2-3 strips approximately 1 1/2 to 2 inches wide.

Cut strips against the grain into bite size pieces and transfer to a bowl.

Add to the beef 2 teaspoons soy sauce, corn starch, mirin, baking soda, sugar and sesame oil (if using), mix and set aside to marinate for at least 30 minutes.

Soak fresh chow fun noodles in a bowl of cool water for 10 minutes and then gently separate any large clumps of noodles (you don't have to separate every noodle).

Drain the noodles in a colander and set aside.

Rinse bean sprouts, microwave in a bowl for 1-2 minutes until hot but still crisp, and set aside.

Combine broth and remaining soy sauce and set aside.

Preheat wok or frying pan until a drop of water evaporates in 1-2 seconds, add 1 teaspoon of oil, swirl to coat, and add non-stick cooking spray as needed.

Add yellow onions, ginger, and garlic and stir fry for 1-3 minutes until onions are soft.

Add beef and green onions and stir fry until beef is evenly browned, transfer to a clean serving dish.

Add another tablespoon of olive oil, swirl to coat, and additional non-stick cooking spray as needed.

Add chow fun noodles and let them cook for 1 minute without stirring.

Gently stir by lifting the noodles and turning them over.

Add bean sprouts and broth and soy sauce mixture, let them cook for another minute without stirring.

Add cooked beef and gently stir until everything is mixed, the sauce is absorbed and the noodles are soft and pliable (2 minutes).

Serve and eat immediately.
Recipe Notes
If you are using dried noodles, use 1/2 a package (7 oz), soak the noodles for 20 minutes in hot water until pliable, gently separate noodles, and drain. Use an additional 2-3 tablespoons of broth in the recipe if using refrigerated fresh rice noodles or dried noodles.
Love this post?
I am on social media too, follow me on Facebook, Twitter, Pinterest, Instagram, and Google+ today!