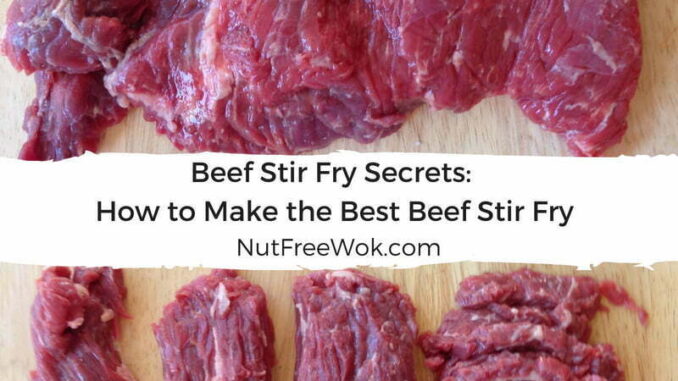 The secret to making the best beef stir fry is to buy the right cut of meat and to prepare it well. Learn the essentials to make beef stir fry like a Cantonese home cook.
Disclaimer: Please check that all ingredients are suitable for your allergies and be sure to ask your medical care team regarding any allergy related questions (I do not share medical advice). As an Amazon Associate I earn from qualifying purchases.
Which Cut of Beef for the Best Beef Stir Fry?
When I want to make a beef stir fry, I usually look for Beef Flap Steak in Asian markets with a butcher's case. In Cantonese it's called "chow gno yook" which loosely translates to "stir-fry beef." It's usually thick on one side and thin on the other side and the striations run from the thick to the thin side. The steak is soft but it can be fibrous or coarse if you cut it the wrong way, so it's important to slice the bite size pieces across the grain.
If I don't make my way to an Asian market, I usually look for Flat Iron Steak for my beef stir fry at supermarkets with a butcher's case. If your butcher doesn't have flat iron steaks in their case, order the day before. I was shocked to discover that sometimes the butchers use flat iron steaks to make ground beef, which makes great ground beef but what a waste of a fantastic steak. Flat iron steaks have a finer and more tender texture, which I like very much.
Both cuts of meat cost about $8-9 per pound. I personally prefer the taste and tenderness of flat iron steaks but beef flap meat is more traditional and much easier to stir fry with because it is much more forgiving of any variations in timing, such as overcooking.
How You Slice the Beef Matters!
Use a paper towel to pat dry the meat and then discard the paper towel. Regardless of which cut of meat you use, the strategies of slice meet for a beef stir fry are the same. I have a piece of beef flap meat pictured. Identify the grain and depending on the size and thickness of the meat, cut the meat along the grain into 3 to 4 strips, about 1 1/2 – 2 inches wide. Then cut the strips across the grain into thin slices (approximately 1/4 inch thick).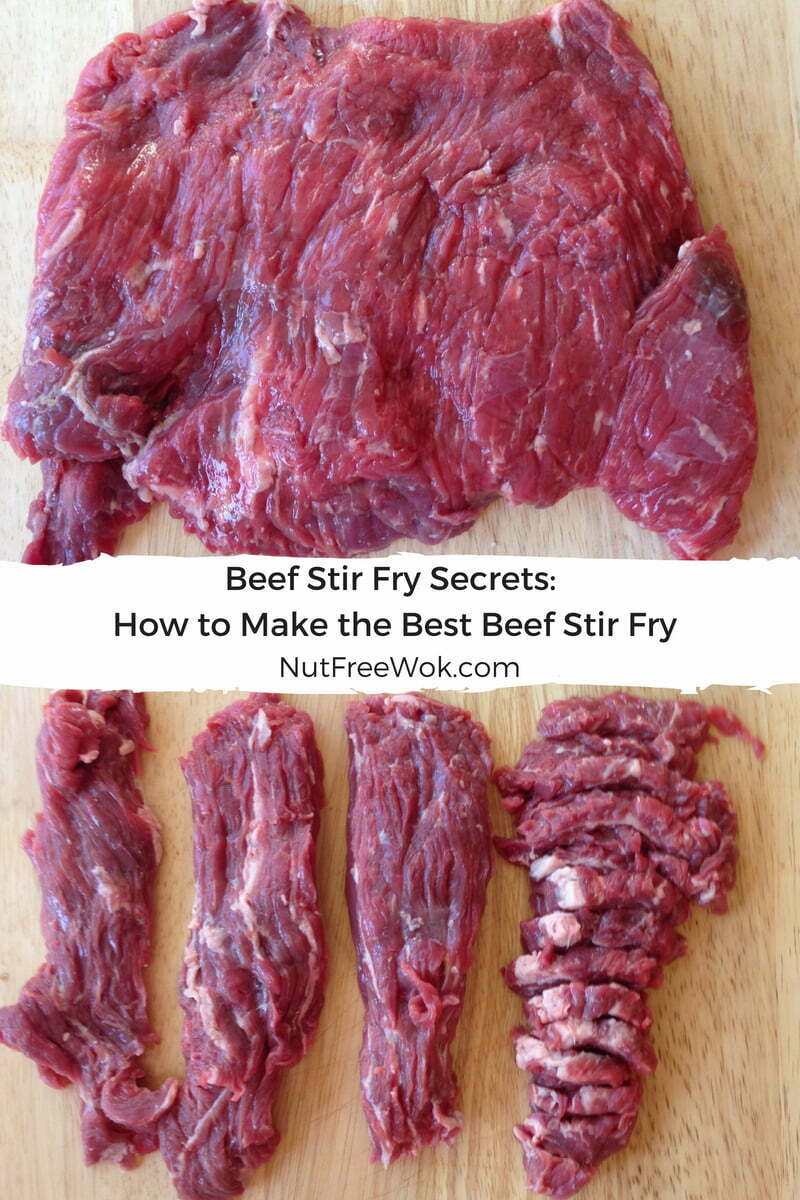 Pin this for later so you can remember my best beef stir fry tips later! –> See the Pin on Pinterest!
What's the Secret to Flavorful and Tender Beef Stir Fry?
My mom taught me to marinate beef for beef stir fry with at least soy sauce, oyster sauce, and sugar. You can also add a sprinkle of white pepper, minced garlic, and some Chinese rice wine but they're optional. After you add them and mix it up, add some cornstarch which is so crucial to help seal in the flavors and ready for almost any beef stir fry recipe. If you need help with finding nut free ingredients, be sure to see what's in my cupboard!
Now that you know how to slice and prep meet for a beef stir fry try one of my favorite recipes, you must head over to read my recipe for Asparagus Beef Stir Fry for even more beef stir fry tips. If you want to practice you beef prep skills, try making Beef Chow Fun. And even though I'm Chinese-American, I still use some of my beef stir fry tips and techniques when I make Beef Jap Chae.
Equipment Recommendations:
Cutting Boards: Wooden or Plastics? That debate has been ongoing for years, plastics can go into the dishwasher and are easier to wash compared to wooden cutting boards. However over time there's concern that bits of plastic will get into your food.
The latest best practices recommended by Consumer Reports are 1) to use separate boards for meats and produce, 2) to disinfect with either a dishwasher or dilute bleach, and 3) to replace them if they begin to look worn.
I like to add a damp kitchen towel or a few large rubber bands under my cutting boards to prevent them from slipping around.
My current favorite cutting boards are 1) an olive wood board from Trader Joe's, available during the winter holiday season and 2) OXO Good Grips cutting boards (affiliate) because there are little rubber feet that prevent the board from sliding and there's a drip catcher.
Knife: I use either a sharp chef's knife, a Chinese cleaver, or a santoku knife. It's best to use the sharpest knife you can safely use and keep your fingers out of the way!
If you have a chef's knife, make sure it's sharp so that it can cut thin slices for you.
I also like using a cleaver that I won from celebrity chef Martin Yan, it's super sharp but no longer available in stores.
And I also like using a santoku knife (affiliate link) which has little depressions along the side of the knife to keep the food from sticking so it's easier to make clean cuts.
Skillet: I recently purchased an All Clad non-stick skillet (affiliate link) with a glass lid and I'm so happy with it. I've thrown away many non-stick frying pans because they wear out after a few months but this one looks like new even though I've used it almost every day since Christmas. It is big and roomy so you can make a meal for a family of four easily, it also retains heat very well so that you can get better results without overheating the PFOA free pan, and the lid makes it easy to check on things without lifting the lid and releasing the steam.
Thanks for reading, please help Nut Free Wok!
The best way to see every post or recipe is to subscribe to Nut Free Wok's email subscription (be sure to respond to the confirmation email). You will be notified by email next time I publish another post or recipe and I won't send you spam or share your email address with anyone.
If you enjoyed this post, please use the social media buttons below to share with others. I am on Facebook, Twitter, Pinterest, and Instagram as @nutfreewok and it's great to chat and interact on social media too.
Disclosure/Disclaimer:
I may mention the names of stores and/or brand names of products that I use because readers ask and I share products and sources which I use and think may be helpful to readers, all opinions are my own. Please note that manufacturing practices and ingredients can change at anytime without notice and readers are always responsible for assuring allergen safety before buying or consuming foods. NutFreeWok.com is a participant in the Amazon Services LLC Associates Program, an affiliate advertising program designed to provide a means for sites to earn advertising fees by advertising and linking to Amazon.com. Thank you for reading!