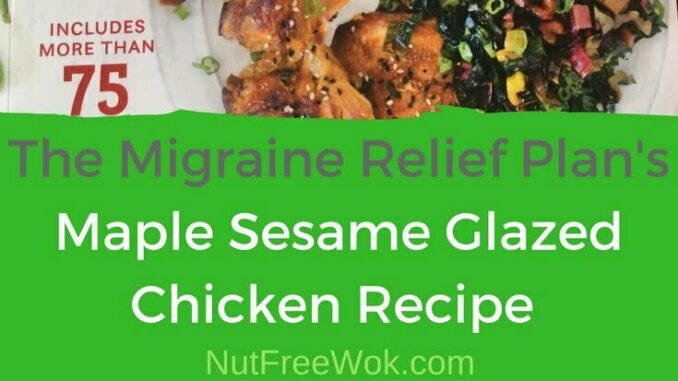 The Migraine Relief Plan's Maple Sesame Glazed Chicken Recipe 
Some of my friends who are managing food allergies also have migraines and I thought it might be helpful to introduce Stephanie Weaver's book,
The Migrain Relief Plan

and her nut-free, soy-free recipe for Maple Sesame Glazed Chicken.
Disclaimer: I received a copy of the book to review and have permission to share Stephanie's Maple Sesame Glazed Chicken. All opinions are mine but should not be considered medical advice, please consult your medical care team if you have any concerns. This post might have affiliate links which do not affect your purchase price but helps pay for a soy latte every so often, thank you!
My friend, Stephanie Weaver, MPH, CWHC, very kindly sent me a review copy of her book, The Migraine Relief Plan: An 8 Week Transition to Better Eating, Fewer Headaches, and Optimal Health (affiliate link) to read, review, and try a recipe. I picked Maple Sesame Glazed Chicken because we like chicken and the recipe looks so healthy and delicious.
All of her recipes are free of nuts, citrus, soy, gluten, salt, cheese, sugar, and onions with many recipes which are vegetarian/vegan, dairy-free, egg-free, and/or grain-free, which are very allergy friendly. The plan also eliminates caffiene, MSG, common preservatives, alcohol, added sugar, and aspartame.
Many of my friends mention that they have migraines and I thought they just have a bad headache. I was so naive until one day I had a headache that was excruciating, all I wanted to do was to lie down in a fetal position with an eye mask, waiting to either fall asleep or for the pain to pass. I didn't see a doctor to confirm but suspect that might have been a migraine.
Now I have a lot of empathy for my friends who have migraines regularly. I hope that Stephanie's book will help, it seems like The Migraine Relief Plan is worth considering. She outlines "an 8 week transition plan to better eating, fewer headaches, and optimal health" (cool tagline). and it seems to be a gradual and gentle plan so that the lifestyle changes are easy to start and sustain.
The Migraine Relief Plan
The 8 week plan breaks down big changes into smaller tasks that one can implement one week at a time. Then each of the follow weeks, one incorporates additional goals each week so that by the end of the 8 weeks, one would have a new set of habits and foods to eat.
Week 1, learn how to track your food, drink, sleep, symptoms, movement and sleep so you have a baseline and begin to build awareness.
Week 2, go thru your freezer and Stephanie includes suggestions on how to evaluate what will work or won't work for you.
Week 3, do the same thing with the shelf-stable items in your cupboard and pantry.
Week 4, clean out the fridge and start replacing your snacks which is such a brilliant easy change.
Week 5, transition your breakfast
Week 6, transition your lunch
Week 7, transition your dinner
Week 8, eat at a restaurant on plan and she includes a lot of tips on how to order and communicate with servers
The next section of The Migraine Relief Plan is about how to maintain the plan and explores topics such as taking care of our bodies, detoxing our body, home and work environments, etc.. The book includes more than 75 allergy friendly recipes which are all nut free, soy free, and gluten free. Many of the recipes are also vegetarian/vegan, egg free, and/or dairy free.
My review is a very brief overview of her plan, but Stephanie gives in-depth scientific reasons to explain why the plan might work and what to do if it doesn't help. If readers are suffering from chronic migraine headaches and already avoid nuts, soy, and gluten because of food allergies or intolerances, you already have a headstart on making some lifestyle changes to try Stephanie's plan to see if it will bring some migraine relief.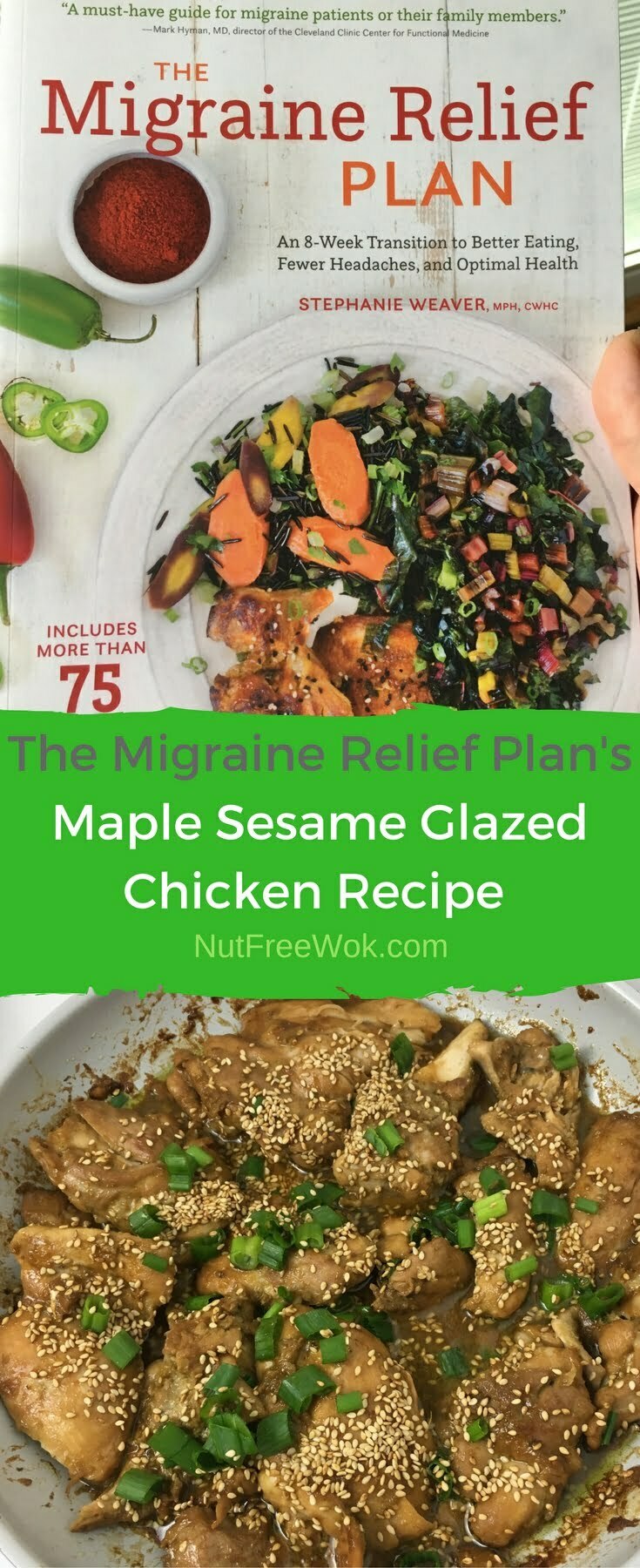 Maple Sesame Glazed Chicken Recipe
I decided to try making Maple Sesame Glazed Chicken, not knowing what to expect because it used techniques that I haven't thought of or tried before. I made a marinade in my blender using the white parts of scallions, vinegar, maple syrup, paprika, and sesame oil and then marinated the chicken for a few hours. Then brown the chicken with coconut oil (I used olived oil) on both sides and then add the rest of the marinade and chopped scallion greens and simmer for 10 minutes. Garnish with toasted sesame seeds and chopped scallions.
I have never used paprika with my children and didn't know if it would be too spicy so I used 1/2 teaspoon instead of 1 teaspoon. The chicken was very mild, I think I can be more bold next time with a full teaspoon of paprika.
I don't have coconut oil and decided to substitute with olive oil, which is allowed on the plan.
It was eyeopening for me to cook without soy sauce or even without a soy sauce-like ingredient. The chicken was delicious and flavorful without any added salt or sugar. My husband liked the sweetness and flavor of the maple syrup and we all liked the crunch and texture of the toasted sesame seeds.
Allergy Aware Maple Sesame Glazed Chicken
This recipe is relatively free of allergens except for coconut oil, sesame oil, and sesame seeds. Coconut is considered a tree nut by the FDA but is botanically classified as a drupe, which is a fruit. I easily substituted coconut oil with olive oil, which is also allowed on The Migraine Relief Plan.
Sesame Allergy: If you avoid sesame due to an allergy, it's easy to leave out the sesame oil and sesame seeds. Sesame has a unique flavor but you can try to substitute with something similar but allergy safe such as sunflower seed butter, perilla seed oil (has a grassy flavor, use just a fraction) and sprinkle with an alternate seed (check with your allergist!) for a crunchy texture such as chia seeds, chopped sunflower seeds, pumpkin seeds, etc..
Support Sesame Seed Allergy Advocacy
My son outgrew his sesame allergy when he was 6 or 7 but it was the most stressful allergen to avoid because sesame seeds bounce around and cross-contact is inevitable. Sesame is considered a non-top 8 allergen and at the top of the list for common allergens. The FDA also doesn't require sesame to be called out but could fall under ambiguous labels such as "spices" or "natural flavors." You can lend your support by visiting Kids With Food Allergies' call to action regarding sesame labeling and add your comments to the FDA's page.
This recipe is free of peanuts, tree nuts (except coconut), milk, egg, soy, wheat, fish, and shellfish as written.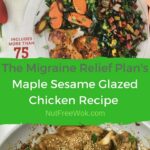 Maple Sesame Glazed Chicken
This recipe is shared with permission from Stephanie Weaver, author of The Migraine Relief Plan. It's free of the top 8 allergens except for coconut, which can be substitute with olive oil. People allergic to sesame can still enjoy this recipe by omitting the sesame oil and sesame seeds.
Total Time
1
hour
10
minutes
Ingredients
1

bunch green onions

2

tablespoons

white vinegar

2

tablespoons

pure maple syrup

2

tablespoons

toasted sesame oil

2

cloves

garlic

1

teaspoon

smoked paprika

1

teaspoon

garlic powder

1/2

teaspoon

ground ginger

2

pounds

boneless

skinless chicken thighs

1

tablespoon

coconut oil

2

tablespoons

dry toasted tan sesame seeds
Instructions
Remove the roots and tips from the green onions, cut the white parts into chunks and put them into a blender, slice the green parts thinly and set aside.

To make the marinade, add the vinegar, maple syrup, toasted sesame oil, garlic, smoked paprika, garlic powder, and ginger into the blender and blend, along with the white parts of the onion, until smooth.

Put the chicken in a large bowl, pour the marinade over the chicken, cover the bowl with plastic wrap and marinate in the refrigerator for at least 30 minutes and up to overnight.

Heat the coconut oil in large nonstick lidded skillet set over medium heat until shimmering, add the chicken pieces and cook for 5 minutes on each side, or until browned.

Drizzle any remaining marinade from the bowl over the chicken and sprinkle the reserved sliced green onions, stirring to coat the chicken, then partially cover the pan with a lid and reduce the heat to medium low, cook the chicken for 10 minutes.

Turn the chicken, cook for 10 more minutes, leave a small opening between the lid and the pan so that some of the steam can escape.

Remove the lid from the chicken pan to check for doneness, cook until done (check by cutting the chicken or using a meat thermometer to check for 165ºF), sprinkle with toasted sesame seeds, remove from heat.

Serve right away or store in the refrigerator for up to 3 days.
If you decide to order this book, please let me know if you feel better after 8 weeks.
Sign Up for Emails from Nut Free Wok!
The best way to see every post or recipe is to subscribe to Nut Free Wok's email subscription (be sure to respond to the confirmation email). I won't send you spam or share your email address with anyone.
Disclosure/Disclaimer:
I may mention the names of stores and/or brand names of products that I use because readers ask and I share products and sources which I use and think may be helpful to readers, all opinions are my own. Please note that manufacturing practices and ingredients can change at anytime without notice and readers are always responsible for assuring allergen safety before buying or consuming foods. NutFreeWok.com is a participant in the Amazon Services LLC Associates Program, an affiliate advertising program designed to provide a means for sites to earn advertising fees by advertising and linking to Amazon.com. Thank you for your support!