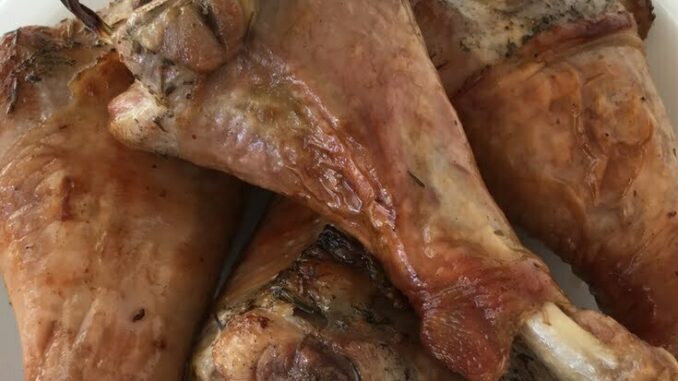 Do you ever wish for more turkey drumsticks at Thanksgiving dinner? My solution is to roast enough turkey drumsticks for everyone at our family's Thanksgiving dinner.
Disclaimer: I am a brand ambassador for Rodelle and receive products to use and review. Please check that all ingredients are suitable for your allergies and be sure to ask your medical care team regarding any allergy related questions (I do not share medical advice). As an Amazon Associate I earn from qualifying purchases.
Jump to Recipe
How I Celebrated Thanksgiving the First 30+ Years of My Life
In order to understand why Roasted Turkey Drumsticks For Everyone has become my Thanskgiving motto, you have to understand my first impressions of Thanksgiving. I have a huge extended family and usually the host family would make or buy the bulk of the entrees and family members would make or buy side dishes and desserts. Usually someone buys a deep fried turkey from a Chinese take out place or roast a turkey until it's very well done.
Instead of eating our turkey with cranberry sauce or mashed potatoes or gravy, we had our dry slices of turkey with roast duck, BBQ pork, roast pig, Chinese vegetables, stir fries, stews, and braises of every sort, white cut chicken (made on the stove), lettuce wraps with minced pork and dried oysters, sticky rice, sweet potatoes, etc.. We had a feast with Chinese food but the turkey was a nod to the occasion rather than the highlight of the meal.
My First Roasted Turkeys
My husband and I hosted Thanksgiving for our parents and a few friends after we got married. Someone really wanted to bring a store bought turkey and no one enjoyed it. I took a free cooking class at a store at the mall and learned all about brining, trusseting, and basting. I bought an organic turkey and I thought it was The Best Turkey Ever. It was evenly cooked, the dark meat was juicy, the white meat was cooked thru and flavorful. I loved it and but my family didn't feel the same way and I ate turkey leftovers for weeks.
Every year I would ask my family, "What would you like for me to make for Thanksgiving? How about turkey?" They would say something to the effect of "please keep it simple, we really like it when you make salmon (or roast duck or chicken drumsticks) and sticky rice." In 2015 I bought and roasted a duck but when I carved it, it looked and tasted like a big chicken! I don't understand what happened because "it" didn't come with its head or feet. A fake duck? A chicken trapped in a duck's body? I still don't know what to think.
So for Thanksgiving 2016, I decided to make only turkey drumsticks as our only main entree. I roasted 12 turkey drumsticks for 7 people and we only had 3 turkey drumsticks leftover. SUCCESS! Everyone had their own yummy drumstick, I didn't have to deal with mystery poultry or eat leftovers forever. Win, win, win!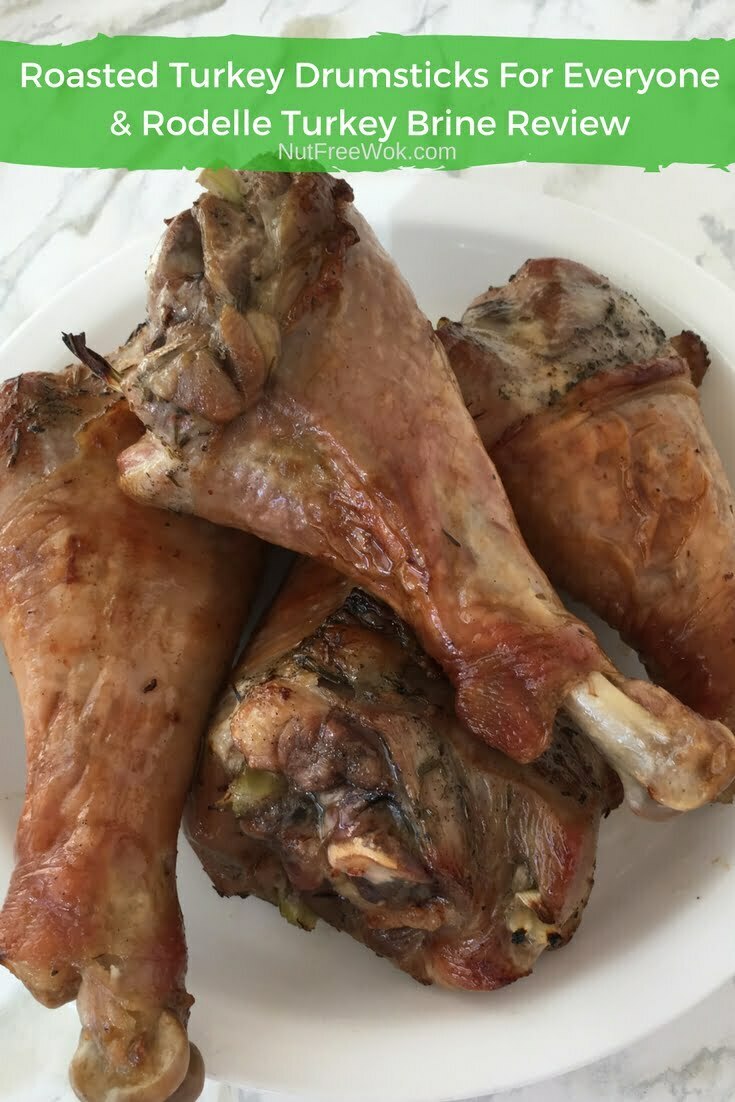 Rodelle Gourmet Turkey Brine Review
If you've never tried brining your turkey before roasting, you have to try it. A brine is a solution of salt and spices and you soak your turkey in it overnight and soaking your turkey in brine is an easy way to add flavor and moisture to the turkey.
One of the reasons I love being a brand ambassador for Rodelle is that they are allergy safe for my family. Rodelle even has an allergen statement on their website, "Rodelle does not utilize peanuts or tree-nuts on its production floor or in its products. Contact us for any other allergen questions!" Allergy safe brine works for me because I know how hard it is to find a pre-made brine mix that is nut-free.And it's even better when the brine makes the turkey taste good.
One 13 oz container of Turkey Brine is enough for an entire 18 pound turkey. Four turkey drumsticks weighs about 4-5 pounds, which would need about 1/4 of the container combined with 8 cups of water. It's so delicious but we have some family members who are on a low sodium diet so I use a little less of the turkey brine.
I use about 1/4 cup of Rodelle's Gourmet Turkey Brine for 4 drumsticks. Bring 2 cups of water to boil in a small pot and add 1/4 cup of the brine and then stir to dissolve and let it steep for 5-10 minutes.
Before you add the brine to the turkey legs you have to let the brine solution cool down and I usually do it 1 of 3 ways depending on how much time I have.
Add two cups of cold water and let the brine to cool to room temperature OR
Add two cups of cold water into the pot and then place the pot of brine solution in a cold water bath in your sink OR
Fill a 2 cup measuring cup with ice, add water up to the 2 cup line, and add the ice water to the brine and wait until the brine mixture is at room temperature.
Rodelle's Gourmet Turkey Brine uses the following ingredients (updated* 11/14/17): Salt, Sugar, Cranberries, Exhausted Vanilla Beans, Allspice, Apple, Black Pepper, Garlic, Orange Peel, Rosemary, Thyme, Bay Leaves and Sage. Some people have expressed concern about pink peppercorn because it's botanically related to cashew and some people might cross-react to it even though pink peppercorns are not a nut, check with your doctor if there is any concern. *Update: Rodelle no longer uses pink peppercorn in the Turkey Brine! 🙂
I love it that Rodelle recently launched a new product, Gourmet Brine which does not use pink peppercorn as an ingredient. The new Gourmet Brine contains Salt, Sugar, Cranberries, Exhausted Vanilla Beans, Allspice, Apple, Black Pepper, Garlic, Orange Peel, Rosemary, Thyme, Bay Leaves and Sage. I haven't tried it yet but will look forward to using it all year round!
Is Pink Peppercorn an Allergen for People with Cashew Allergies?
I had touched upon this topic in my review of Videri Chocolate: "Pink peppercorns are NOT nuts but they are botanically related to cashews and some people with cashew allergies might react to it. Before anyone throws out their pink peppercorns, not everyone allergic to cashews will react to pink peppercorn so if you have any concerns, be sure to discuss with your doctor before making any changes to your diet."
Dr. Sicherer writes in Allergic Living "Many foods share common ancestry or have similar proteins, but this does not necessarily translate to allergy…Based on limited information, this ingredient may be a risk for people with cashew allergy."
According the AAAAI's Ask the Expert, it's difficult to draw a definitive conclusion as there are many allergenic proteins in cashews that are also present in other closely related foods besides pink peppercorn and people might or might not react to them (emphasis are mine).
Rodelle Fall Essentials Giveaway! (completed!)
To help you with your holiday baking and cooking, Rodelle Vanilla and I have picked out the following items to share with one lucky reader.
If you can't wait to win, you can buy them from your local stores or shop Rodelle's products on Amazon (affiliate link).
Allergy Aware Roasted Turkey Drumsticks
This recipe is free of peanuts, tree nuts, eggs, soy, fish, shellfish, and wheat as written.
If dairy allergic, substitute with an allergy safe buttery non-dairy alternative. I usually use Earth Balance buttery sticks when cooking or baking for someone with a milk allergy.
You could also omit the buttery spread, but note that the skin won't turn golden brown so definitely look for the meat shrinking from the bone or use a meat thermometer to check for doneness (180ºF is safest, 165ºF and then tent with foil until it reaches 170ºF will taste better).
I first saw this idea of inserting a celery stick into the drumsticks on All Recipes (which I can't find otherwise I would link to the recipe) and we don't know why. But it was one way to sneak in veggies when my kids were little, it was tasty so I kept inserting celery sticks into the turkey drumsticks. If anyone knows the reason, please let me know.
Try to buy turkey drumsticks approximately the same size, they usually vary between 1 to 1.25 pounds each. If they're mostly 1 pound each then they will be ready after 90 minutes. If some turkey drumsticks are visibily larger, then they will need an extra 15-20 minutes in the oven. It's just easier if they're all ready at the same time. The drumsticks are ready when the skin is golden brown and crispy and the meat shrinks a little bit and exposes the bone.
This recipe is also party ready. You could easily double or triple the recipe. You can make a large batch of brine and brine the turkey drumsticks in a large stock pot in your refrigerator. But if you are short on space, just brine them in plastic bags and tuck them in the empty spaces of your refrigerator in a large bowl or container (just in case the plastic bag breaks).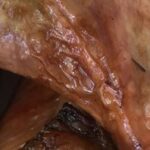 Roasted Turkey Drumsticks For Everyone & Rodelle Turkey Brine Review
This recipe is easy to double or triple by brining 4 drumsticks per 1 gallon plastic bag. Or you could brine them in one large container if you can easily fit the whole thing in your refrigerator.
Ingredients
1/4

cup

Turkey Brine

approximately 1.67 ounce

4

turkey drumsticks

4-5 pounds total (try to buy evenly sized drumsticks)

1-2

stalks of celery

cut into 3 inch sticks about the thickness of chopsticks

Salt & pepper

2

tablespoons

butter

melted
Instructions
Bring 2 cups of water to boil in a small (2 qt) sauce pan and add turkey brine, stir to dissolve, remove from heat and let the mixture steep for 5-10 minutes.

Add 2 cups of cold water and allow the brine solution to cool to room temperature (wait or cold water bath in the sink).

Rinse turkey drumsticks (check for blood clots and feathers) and drain in a colander in the sink.

Place a 1 gallon sized resealable bag in a large bowl and fold down the sides, arrange the turkey drumsticks in the bag.

When the brine solution is at room temperature, add the brine solution to the drumsticks, and partially seal up the plastic bag.

Check that the turkey meat is submerged in the brine solution and add 1-2 cups of water as needed, seal up the bag while squeezing the air out of the bag at the same time, refrigerate overnight in a large bowl in case the bag gets punctured.

About 2 hours before you want to eat, preheat your oven 350ºF, line a rimmed baking sheet with foil for easy clean up, rinse the turkey legs, pat them dry with paper towels, and place them on the baking sheet.

Lay the drum stick on its side and insert a sharp knife in through the top to cut a slit and insert a celery stick, repeat with 2-3 celery sticks per drumstick.

Bake in the oven for 30 minutes, brush with 1 tablespoon of melted butter, and turn them over and brush again.

Bake for 30 more minutes and brush with the rest of the butter.

Bake for another 30 minutes and check for doneness; drumsticks which are about 1 pound each will be ready after about 90 minutes total, the skin should look golden and crispy and the meat should be pulling away from the bone slightly; larger drumsticks will need additional time, approximately 4-5 minutes per ounce (a 1.25 pound drumstick will need another 15-20 minutes).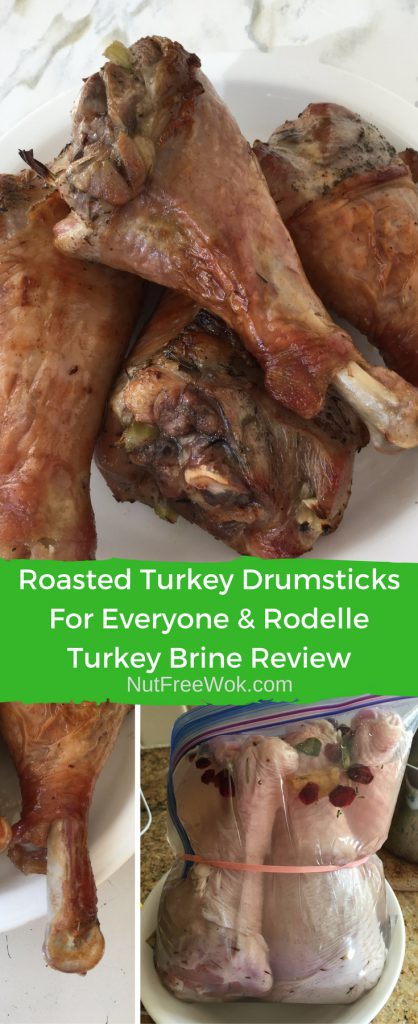 What's your favorite Thanksgiving dish, side, or dessert? Let me know in the comments! Happy Thanksgiving!
Thanks for reading, please help Nut Free Wok!
The best way to see every post or recipe is to subscribe to Nut Free Wok's email subscription (be sure to respond to the confirmation email). You will be notified by email next time I publish another post or recipe and I won't send you spam or share your email address with anyone.
If you enjoyed this post, please use the social media buttons below to share with others. I am on Facebook, Twitter, Pinterest, and Instagram as @nutfreewok and it's great to chat and interact on social media too.
Disclosure/Disclaimer:
I may mention the names of stores and/or brand names of products that I use because readers ask and I share products and sources which I use and think may be helpful to readers, all opinions are my own. Please note that manufacturing practices and ingredients can change at anytime without notice and readers are always responsible for assuring allergen safety before buying or consuming foods. NutFreeWok.com is a participant in the Amazon Services LLC Associates Program, an affiliate advertising program designed to provide a means for sites to earn advertising fees by advertising and linking to Amazon.com. Thank you for reading!