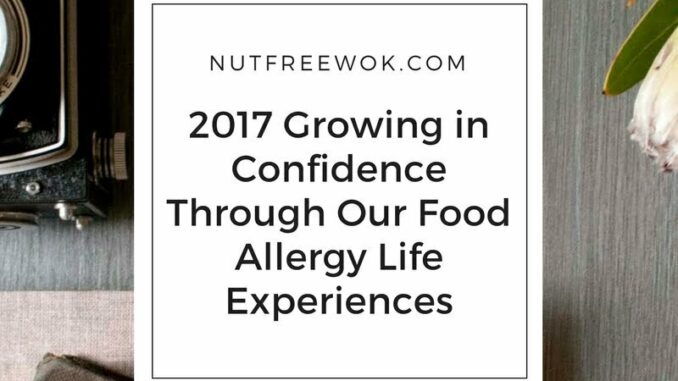 As I think about everything that happened in 2017, one theme emerged. Our family is gaining confidence through our food allergy life experiences, which is so important since we have teenagers who are getting ready to become adults with food allergies.
Disclosure: I mention companies or organizations in a recap of my year with updates simply because they were a part of our life but this post is not sponsored, see disclosures in linked posts. All opinions are my own and I share what might be helpful to readers but do not offer any medical advice. Please contact your medical professional if you have any questions or concerns. I am happy to announce I have started a home based business.
Scouting Disneyland for a School Trip
One of my biggest food allergy life experiences of 2017 was to see how far can my apron strings stretch. We took our children to Disneyland for the first time during winter break. My son's high school music department had plans to perform at Disneyland in March. We wanted to take them so my son could familiarize himself with the park and learn how to navigate eating at the park. I wrote a blog post about our trip so that he could have a handy reference.
It was hard for me to let go but my husband and I did everything we could to set him up for a successful trip. We went to Disneyland and coached him, we talked with his teacher, who relayed the information and extra medications to the chaperone. It was a confidence building food allergy life experience for all of us.
What we did not anticipate was that his trip coincided with the Disney California Adventure Food and Wine Festival. My son is a foodie at heart and explored the vendor booths which showcased their best dishes. He felt comfortable about managing his food allergy, asking questions and deciding for himself what was safe or not to eat. He had a great time and enjoyed his meals at the festival and around the park.
Spring Break College Tour in Southern California
We took our sons on three college tours around southern California during spring break. I found someone to talk with in one of the cafeterias at one of the universities and was impressed with how the school has a system in place to accommodate students with food allergies and other dietary restrictions.
The university has a system for the students to order their food, they want them to advocate for themselves, and to be responsible about carrying their epinephrine auto-injectors. While I am a big baby about sending my sons off to college, I am confident that the food allergy situation will work out next year. In the meantime, I will alternate between putting my head in the sand and thinking about how to coach my older son through his next food allergy life experience.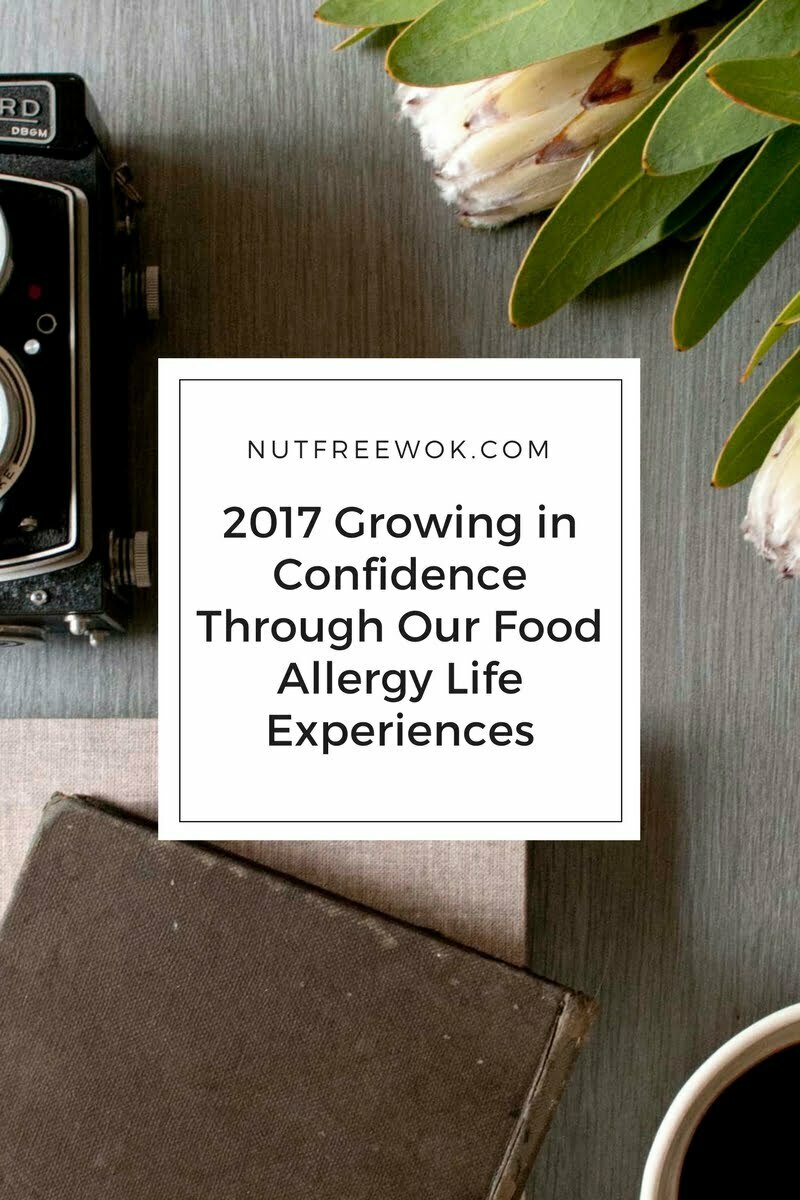 Empowered Families and Teens at FARECon
I was honored to be a guest speaker at FARE's food allergy conference in San Antonio and amazed that I was asked to give a demonstration on how to prepare allergy aware Asian fare. I thought a lot about how to keep participants safe, creating at least a top 8 menu, and making it fun. I demonstrated how to make cucumber and avocado sushi rolls, fresh spring rolls and two kinds of dipping sauces, an Asian peanut free dipping sauce with sunflower seed butter and a light dipping sauce with fish sauce. I also felt like I did the impossible when I developed a nut-free version of an almond jelly dessert for the conference.
As a mom, I want to see my children be able to thrive despite their food allergies and to navigate through life with confidence. The best part about FARE's conference is seeing other children, tweens, teens, and young adults with food allergies enthusiastically enjoying themselves and feeling empowered in a supportive and informative setting. Clearly we as a community are doing the best we can to build confidence and empower our children through their food allergy life experiences.
I loved meeting other parents, speakers, and advocates and learned so much. You can read about what I learned during some of the sessions in my recaps published in Gluten Free & More magazine.
I <3 New York
We were in New York City during the week of July 4th and the sights, entertainment, and restaurants were spectacular. My husband did a lot of research and found great places to eat that were nut-free or at least allergy aware. It's one of our favorite and empowering food allergy life experiences, to be able to navigate a big city despite living with food allergies.
We will never forget the time we needed to stay in New York City for an extra 24 hours because turtles were mating on the runway and rain delays resulted in a cancelled flight. Despite the inconvenience, it was a great opportunity for my children to experience travel related inconveniences so they can learn how to manage these situations on their own and still be prepared and allergy safe.
One thing I learned from the trip is the importance of packing extra allergy safe snacks and medications for unexpected events and keeping them with us. Another one of my travel habits is to pack all of our remaining clean clothes into one suitcase and leave room for our overnight items such as toiletries, pajamas, etc.. That helped us quickly settle in for a few hours before catching our flights home the next day.
Food Allergy Clinical Trials Update
My son was one of the lucky kids who participated in a phase 2 peanut patch trial. I had shared his 24 month results before. and at the end of the 3rd year, his tolerance remained the same and he could eat 2 peanuts without any issues. We were so thrilled to feel assured that he would be safe from cross-contact and accidental exposure to hidden peanuts via cross-contact. HALLELUJAH!!!!!!!
When we first considered enrolling my son in a food allergy clinical trial, we were interested in multiple allergen oral immunotherapy (OIT) with Xolair but the trials were closed to new patients. We were fortunate to enroll him in the peanut patch trial with the mindset that at least we would make some progress on his worst allergy, peanuts, and then deal with the rest later.
After my son completed his peanut patch trial in 2015, we went full circle and he was fortunate to participate in a follow up study to desensitize him to his remaining allergens via Multi-OIT with Xolair. We packed in as many food challenges as we could in a few months and were amazed to realize that he outgrew some of his tree nuts and shellfish. HALLELUJAH!!!
My son was so brave about his xolair shots but both of us were nervous during the first few days of dosing. Dr. Nadeau reassured us that taking his dose every day would make him safer. My son trusts Dr. Nadeau absolutely and ate small measured amounts of egg, macadamia, peanut, and pine nut daily. We also give him small random amounts of his other tree nuts daily.
Six months after maintenance, he had another series of food challenges at the beginning of 2017 and passed food challenges for peanut, macadamia, and egg but not pine nut. And then 12 months after reaching maintenance, he passed pine nuts too. He graduated from food allergy clinical research trials this summer, right before he started high school. HALLELUJAH!!!
I've witnessed my son's wonderful journey of courage, resilience, and wisdom beyond what anyone would ever expect of a child. He 100% owned his decision to seek help and trusted Dr. Nadeau and the doctors, nurses, and staff at the clinic. He faced his fears when he was asked to eat his life-threatening food allergens and he embraced every hard earned new freedom fearlessly.
As a mom who is always waiting for the other shoe to drop, I caution him and others responsible for him that he might be desensitized but he's still an individual with food allergies. Just like other people with a chronic medical condition, OIT graduates must do certain things and take their medicine in order to stay healthy.
He must continue to be vigilant to carry his epinephrine auto-injector. OIT is effective most of the time, but does not guarantee 100% safety when one is overheated, sick, and/or experiencing hormonal shifts. Therefore, carrying his epi is vital for his safety.
His desensitization also depends on his diligience to eat his maintenance dose regularly. The allergens could be distasteful to someone with an allergy and it's a bit of a chore to work daily doses into a routine especially when scheduling conflicts come up, or when sick, or when traveling, or when hot.
He still needs to avoid foods that obviously contain his allergens especially when there are unknown amounts, unfamiliar circumstances, etc.. His daily dose is x amount and we know that he passed his food challenges for 8x, but what happens if a food item contains 10x or 15x or 20x? I don't want to find out and my son doesn't like his allergens enough to eat unquantified amounts.
My son just wants to be included in activities rather than be excluded because of his food allergies, to be able eat egg containing ravioli, and to be able to go out with his friends and order a snack worry-free. Mission accomplished, another one of our favorite food allergy life experiences.
Blogger Conferences & What Happens At Home
2017 was an overwhelming year due to personal issues beyond my control and I had to prioritize my work and focus on my mission to spread food allergy awareness, to encourage food allergy families to thrive not just survive, and to share life-saving information. I took some time to attend conferences, to surround myself with inspiring and supportive friends, and to learn.
In August I went to TechMunch in San Francisco which is a quick and fun 1 day conference that takes place in various locations through out the year. I highly recommend it and hope to go again next year.
In September, I went to IFBC in Sacramento and had a fun time broadening my exposure to other bloggers and topics related to blogging.
In November, I went to FABlogCon in Denver, and that's where I feel the most at home with my food allergy family, to share allergy friendly meals, hugs, tears, and laughter in person for 48+ glorious hours.
And while I was away, my husband and children had the opportunity to fend for themselves, cook their own meals, go out to eat, etc.. It's a great opportunity for all of us to grow in our food allergy life experiences in our own ways. As a former teacher, "checking for understanding" is just as important as the lessons we share with our children. As a mom, I need to know that my kids can manage different aspects of their life.
My family use this blog as an online cookbook too! I'm motivated to get my children's favorite recipes organized into a cookbook (gulp! I said it so now you'll keep me accountable) so I keep chugging along but it's wonderful to be with other bloggers and friends for inspiration.
Escape from Our Fiery Anniversary Trip
We wanted to celebrate our anniversary with a quick overnight getaway to Calistoga with our sons. However, our trip could have turned into a complete disaster except that one of my allergy mom friends posted about fires nearby and by the grace of God, despite a local internet outage, I happened to see her post right before going to sleep.
I texted my friend, who urged us to evacuate and advised us which way to drive out of the area. I will never forget seeing fires burning in the distance, with smoke and ash everywhere. We arrived home at 2:30 am feeling tired but grateful to be safe at home as a family. Our hearts grieved for the families and communities who lost so much.
It was a close call, but it was also a faith and confidence building experience. My top 3 take home food allergy life experience lessons:
Pack extra food, water, and clothes when traveling, whenever possible. Had I not seen my friend's post and didn't voluntarily evacuate, we would have awaken to no electricity, no free breakfast, no a/c, and a shelter in place order. That's hard enough for anyone, but even worse for someone with medical limitations.
Be connected to stay informed while traveling. Connect with food allergy friends on social media. Learn how to text because texts are more likely to get thru in an emergency. Learn how to use Twitter, you can connect with government agencies, news, and strangers in an emergency. Subscribe to Nixle, text your zip code to 888777 to opt in for local emergency notifications when traveling. My husband packed an emergency radio.
Life is fragile, so as best as we can, love much, live fully, and take care. Find a balance between staying home in fear vs. running away from fires. 😉
Mom Life: Be Your Best You!
It seems like I had a lot of fun in 2017 but there were stressful moments due to personal and health issues. Even just the day to day activities of managing a life with food allergies is enough to wear one down. I started off my year with by sharing my allergy mom tip to pamper yourself in order to stay strong mentally, emotionally, and physically. There were days the best thing I could do for myself is go to sleep early or stay hydrated. They were free, healthy, and within my control to do.
I joined Weight Watchers so that I would have some accountability and awareness to keep my weight in check, which is why I will add WW points to recipes when possible. I worked on creating time for exercise and friendships by taking walks with friends. Health is everything and so are friendships with trusted friends.
I gave up on using sunscreen due to allergy and sensitivity issues and the sun damage caught up to me. My friend told me about Rodan + Fields skincare and after I got over my initial hesitation, I was thrilled to find a brand that is great for my sensitive skin and gives me the results I want or didn't know I needed (haha). Simply washing my face became a comforting daily ritual.
I've shared the products with my family and they are so happy to see their stubborn skin issues resolve when steroids, lotions, and medications haven't given them the best results. It's a huge milestone for me to feel like I can get around this allergy related obstacle finally. I am happy to announce that I'm partnering with Rodan + Fields (my business page) and if you need products or residual income, email me.
Thankful
What a year!! I'm more of a stay home in my jammies and read a book kind of gal, this year was more than exciting and I'm truly thankful everything worked out. I love and appreciate the friends and family members who are so supportive and encouraging when my life is just nuts.
Thank you dear readers and friends who read and share my posts, the fact that you've made it this far in this post makes you a #1 fan, thank you. I'm also thankful for my blogger friends and business partners for helping me to grow my blog this year, I'm looking forward to see what 2018 has in store for me and you. Happy 2018!
Tell me about your 2017, what you've learned, and ways in which you are growing in your food allergy life experiences. 
Thanks for reading, please help Nut Free Wok!
The best way to see every post or recipe is to subscribe to Nut Free Wok's email subscription (be sure to respond to the confirmation email). I won't send you spam or share your email address with anyone.
If you enjoyed this post, please use the social media buttons below to share with others. I am on Facebook, Twitter, Pinterest, and Instagram as @nutfreewok and it's great to chat and interact on social media too.
Disclosure/Disclaimer:
I may mention the names of stores and/or brand names of products that I use because readers ask and I share products and sources which I use and think may be helpful to readers, all opinions are my own. Please note that manufacturing practices and ingredients can change at anytime without notice and readers are always responsible for assuring allergen safety before buying or consuming foods. NutFreeWok.com is a participant in the Amazon Services LLC Associates Program, an affiliate advertising program designed to provide a means for sites to earn advertising fees by advertising and linking to Amazon.com.