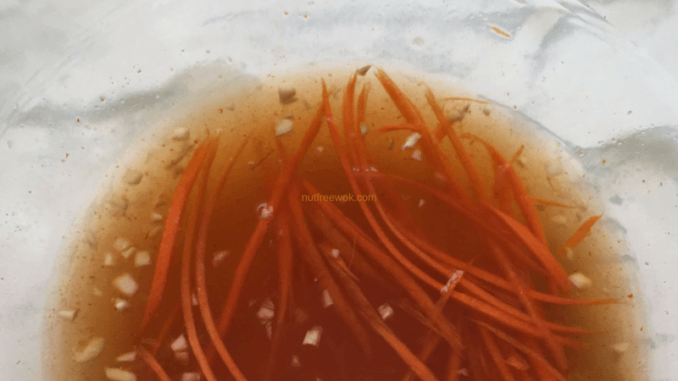 Vietnamese Dipping Sauce: Nuoc Cham
I've always wondered how to make a Vietnamese dipping sauce that goes with everything and finally learned how and it's simpler than I expected. Nuoc Cham is a the amber colored sauce that people dip their Vietnamese spring rolls, pour over grilled meat with rice dishes and summer salads, soooo delicious.
Disclosure: This post might have affiliate links. If you click on them and make a purchase, I earn a small commission which helps me to sustain the operating costs of this blog, it doesn't affect your cost. Thank you for your support. All opinions are mine and this post is not sponsored.
This Vietnamese dipping sauce is an everything sauce as nuoc cham goes so well with so many Vietnamese dishes including fresh Vietnamese spring rolls, which is why I posted the dipping sauce as a recipe by itself. The traditional way to make nuoc cham is to mash 1 Thai bird chili, sugar and garlic in a mortar and pestle or chop and then mash the ingredients with the side of a knife on a cutting board until it's a paste. Then dilute the paste in a small bowl by adding the lime juice, fish sauce, and water. You can also garnish with a little bit of julienned carrots and some chopped up chili.
I don't have a mortar and pestle and instead use sriracha sauce or use chili garlic sauce from a jar and combine all the ingredients. And some of us are sensitive to spicy foods so I need add the tiniest bit of heat with minimal effort.
I have a garlic press but don't like using it because it takes more time to clean the garlic press than it takes to mince garlic by hand. I do like using a julienne peeler (affiliate link) to make quick work of making long beautiful julienned pieces of carrots that is perfect to garnish the Vietnamese dip or other dishes.
The Vietnamese dipping sauce can keep in your refrigerator for a day or two but will lose some of the flavor over time, so I recommend making small batches as needed. This recipe makes about 1/2 cup of sauce which is probably enough for a family of 4 but double the recipe if you are preparing this for a crowd.
This recipe is inspired by Andrea Nguyen's various Nuoc Cham recipes posted on her website, Saveur, and SF Gate and adapted to my preferences (less fish sauce, more tangy, smaller amount).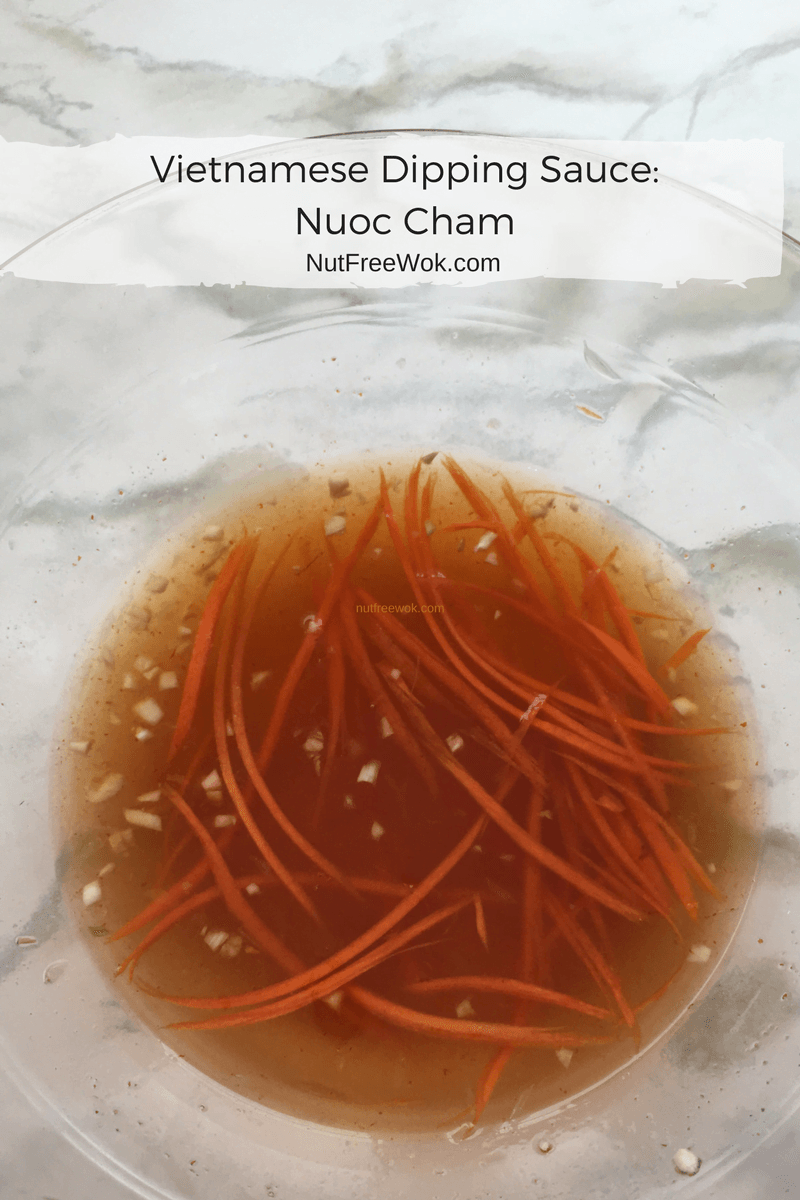 Allergy Aware Nuoc Cham
The recipe uses fish sauce. I like fish sauce by Red Boat (affiliate link) as it is made in a fish only facility and tastes very good without any offensive odors. I also found Simply Asia brand of fish sauce at Target and the friendly Simply Asia customer service rep on the phone told me that the fish sauce is made in a peanut free and tree nut free facility (except coconut). I haven't had a chance to try the Simply Asia brand yet to compare but just wanted to mention an option that is easier to buy, less expensive, and still nut free.
This recipe is free of peanuts, tree nuts, soy, egg, milk, shellfish, and wheat as written. 
Unfortunately there is no comparable substitute for the flavor of fish sauce if someone is allergic to fish. You could try using soy sauce or a soy sauce alternative but your results may vary. Another option is to make a sunflower seed butter dipping sauce which is great for dipping spring rolls and fresh cut veggies as a snack.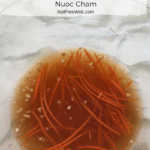 Vietnamese Dipping Sauce: Nuoc Cham
2 tablespoon lime juice (juice of 1/2 lime) 1 tablespoon sugar 2 tablespoon fish sauce 1 teaspoon Sriracha sauce 1 clove garlic, finely minced 1/4 cup hot water 1 tablespoon julienne carrots, garnish
Ingredients
2

tablespoon

lime juice

juice of 1/2 lime

1

tablespoon

sugar

2

tablespoon

fish sauce

1

teaspoon

Sriracha sauce

1

clove

garlic

finely minced

1/4

cup

hot water

1

tablespoon

julienne carrots

garnish
Instructions
Combine ingredients and adjust to taste.
Recipe Notes
You could use room temperature water instead of hot water, but be sure to stir the sauce until the sugar dissolves completely.
Sign Up for Emails from Nut Free Wok!
The best way to see every post or recipe is to subscribe to Nut Free Wok's email subscription (be sure to respond to the confirmation email). I won't send you spam or share your email address with anyone.
Disclosure/Disclaimer:
I may mention the names of stores and/or brand names of products that I use because readers ask and I share products and sources which I use and think may be helpful to readers, all opinions are my own. Please note that manufacturing practices and ingredients can change at anytime without notice and readers are always responsible for assuring allergen safety before buying or consuming foods. NutFreeWok.com is a participant in the Amazon Services LLC Associates Program, an affiliate advertising program designed to provide a means for sites to earn advertising fees by advertising and linking to Amazon.com. Thank you for your support!