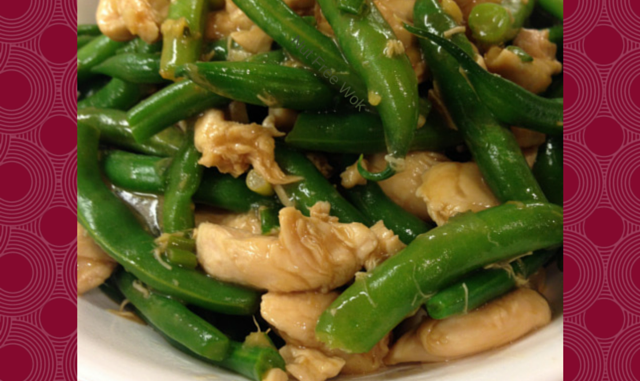 Quick & Easy Chicken with Green Bean Stir Fry Recipe
Our family had a fun winter vacation and now it's back to our usual routine with a renewed goal of being healthier in 2015 with more physical activity and healthy food choices. For that reason, I decided to make a simple, quick, and easy chicken with green bean stir fry. Whenever we go out to eat, I ask my children to pick a dish that contains vegetables and they ask for chicken with green bean stir fry. The green beans are crispy and tender, the chicken is tender and juicy, and all of it is covered with a delicious sauce. The whole dish is a bit too oily for my preference as I suspect the green beans are blanched in oil first. I know that there is a way to make crispy green beans without actually blanching them in oil but I couldn't remember in which recipe or cookbook. What I came across instead was a recipe for "Dry-Fried Green Beans with Pork" in (affiliate link) Williams-Sonoma: Food Made Fast Asian
, and decided to parboil the green beans and use the sauce portion of the recipe. The resulting stir fry had crispy green beans, tender chicken, with a light sauce that is slightly tangy and reminds me of my mom's cooking.
Stir Fry Basics
One of the most requested recipes by Nut Free Wok readers' request are allergy aware stir fry recipes. There are so many permutations of meat/tofu/fish plus vegetables plus sauce, I could write a cookbook someday. But for now, it is important to point out that the correct way to make a stir fry usually has the following basic sequential steps:
Prep your ingredients and set aside. Wash and chop vegetables, cut dense pieces like carrots small and thin so they cook quickly. Quick cooking vegetables can be cut slightly larger (for example chop a baby bok choy into 3 pieces) and added into a stir fry at a later time.
Marinate the meat if you're not using a sauce OR coat the meat with just a little cornstarch and oil if you're using a sauce, otherwise the dish will be too salty. I recommend using chicken tenders for easy prep and tasty chicken, but boneless, skinless chicken breast will work too.
Heat up a wok or large pan and when it's hot enough to make a drop of water sizzle, add oil, and swirl to coat.
Add aromatics such as shallots, onions, ginger, garlic, etc. and saute for 30 seconds until fragrant but not burnt
Add meats and stir fry until no longer pink/raw on the outside.
At this point if the vegetables are delicate, parboiled, or quick cooking, then you can just add them to the stir fry and finish with a sauce and green herbs.
But if the vegetables are slow to cook, then take the meat out, add a little more oil to the pan and stir fry the vegetables with a splash of water if needed (1-2 tablespoons) until tender crisp, add the meat back in, add the sauce and stir fry until heated through and the sauce is absorbed or thickened.
Allergy Aware Substitutions
If allergic to corn, omit cornstarch and use an equal amount of potato or tapioca starch instead. If allergic to soy, try either a) omit the soy and oyster sauce and use 1/2 cup of chicken broth instead of water or b) use a soy-free soy sauce or a soy sauce alternative to taste. For example the soy-free soy sauce might taste pretty good, but I wouldn't use an equivalent amount of fish sauce as the fish sauce might be overpowering. One can also substitute use pork tenderloin instead of chicken.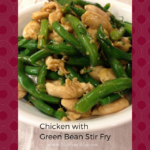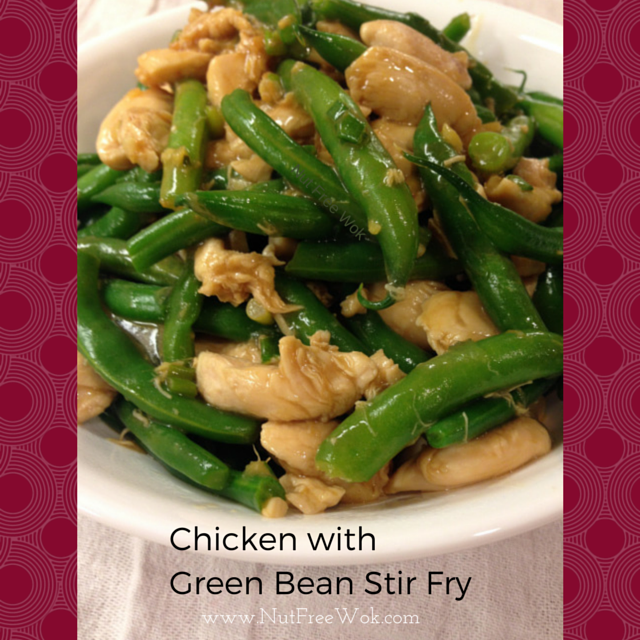 Chicken & Green Beans Stir-fry
Ingredients
1

pound

green beans

1

pound

chicken tenders or boneless skinless breasts

1

tablespoon

olive oil

divided

1

tablespoon

corn starch

divided (or tapioca or potato starch)

1/2

cup

room temperature water

2

tablespoon

soy sauce

1

tablespoon

oyster sauce

or more soy sauce

1

tablespoon

rice vinegar

1/2

teaspoon

sugar

2

cloves

garlic

minced

1

slice

ginger

peeled and minced

1-2

stalks of scallions

chopped
Instructions
Boil a large pot of water.

Wash and trim green beans into 2 inch pieces.

Parboil green beans for 2-4 minutes until desired tenderness, transfer to a bowl of cold water, drain, and set aside.

Slice chicken tenders into 1/4 inch thickness or cut chicken breasts into 1 inch strips lengthwise, slice, and place in a mixing bowl.

Add 1 teaspoon of olive oil and 1 teaspoon of cornstarch to the chicken, and mix, set aside.

Make a sauce by combining water, soy sauce, oyster sauce, rice vinegar, sugar, with remaining 2 teaspoons of cornstarch in a small bowl, set aside.

Mince garlic and ginger, set aside.

Chop scallions, set aside.

Heat wok or large frying pan on medium high heat (3-5 minutes) until a drop of water sizzles.

Add the remaining 2 teaspoons of olive oil, swirl to coat pan, add garlic and ginger, stir fry for 30 seconds.

Add chicken and spread the pieces out, allow the meat to sear for 30 seconds and then stir fry until no longer pink on the outside (2-3 minutes).

Add scallions and green beans and stir fry for a minute.

Stir the sauce a few times and add to the stir-fry, stirring until the sauce thickens (1-2 minutes), bubbly, and everything is heated through.

Transfer to a serving bowl and serve immediately.
Recipe Notes
Cooking times may vary depending on equipment used. If for some reason, your sauce seizes up and becomes lumpy, add an ounce of water and keep stirring.
 Sign up to have Nut Free Wok's Allergy Aware Asian Fare recipes delivered to your inbox!