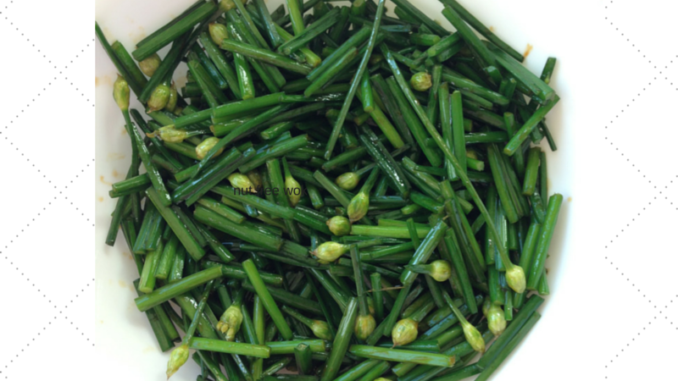 Happy new year & Happy 1st Blogiversary!
I hope that 2015 will bring much joy, peace, and happiness to you. 2014 was a really fun but busy year as I learned to blog, formed another organization, and advocated for legislation. Today marks the first blogiversary of Nut Free Wok, it was a little idea to write our family's favorite recipes for my sons, share them, and help others along the way. I'm grateful for you, your support, and encouraging comments and sharing your stories with me. Thank you for being a part of this community as we try to raise food allergy awareness and enjoy some Allergy Aware Asian Fare along the way. I'm excited about 2015, how about you?
New Year, New Resolutions
I went food shopping with my mom earlier this week and the freshest most beautiful vegetable I could find was flowering garlic chives. I know that as a wife, mom, and caretaker for my children, I have to keep myself happy and healthy with adequate sleep, exercise, and healthy foods with lots of fruits and vegetables. In that spirit, I decided to start the year by sharing a simple Asian vegetable recipe: Garlic Chive Flowers Stir-Fry. It had a little bit of bite and zesty spiciness to it because I lightly stir-fried it but an extra minute will soften it more and mellow out the zesty flavor. Tonight I plan to use the leftovers and cook it with scrambled eggs and char siu (see below for instructions).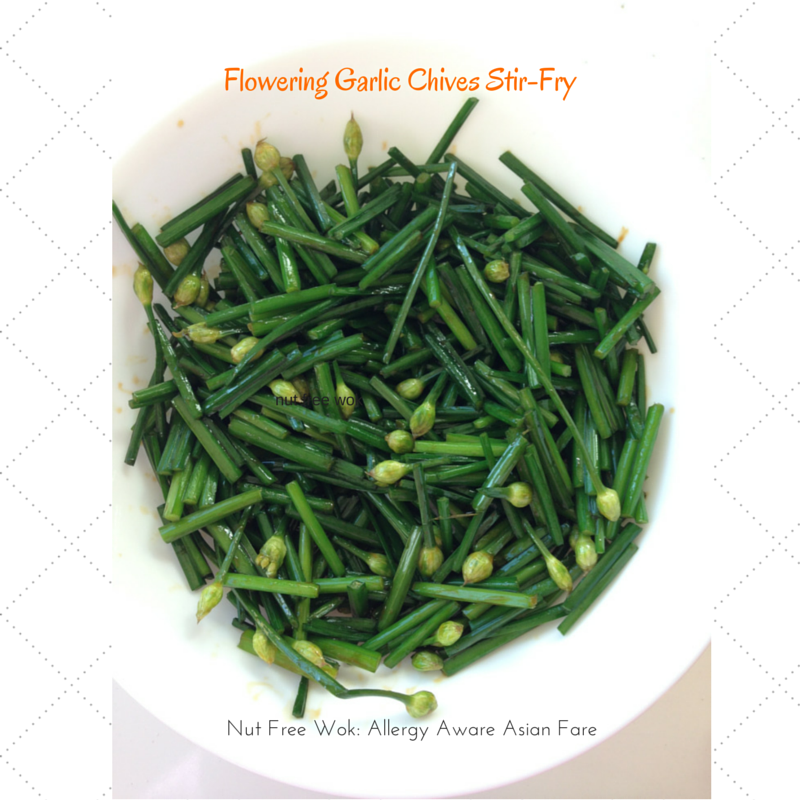 What are Garlic Chives?
Garlic chives or Chinese chives (Allium tuberosum) are flat leafed, like long blades of grass, and are also known as "gau choy" in Chinese or "nira" in Japanese. In Chinese cooking, garlic chives are usually used in stir fries by itself, with scrambled eggs, or with small amounts of meat. One of my sons loves onion, garlic, and chives and of course he loves all kinds of chive dumplings. Garlic chive flowers, "gau choy fa," are used in the same ways and are considered a delicacy.
You can buy garlic chives or flowering garlic chives at an Asian market or a farmer's market where available. To select for freshness, the bunch should feel firm (not wilted), heavy, have a consistent green color (not yellow), and I prefer that the flower buds are closed. If you don't have access to an Asian market, you can grow your own by ordering garlic chive (called "nira" in Japanese) seeds. Kitazawa Seed Company in San Jose has seeds for almost any Asian vegetable you might want to grow. My parents grew Chinese chives in their yard and kept harvesting from the same plants for years by using a knife to cut the plant at the base right at the soil line, and the chives would regrow in a few weeks.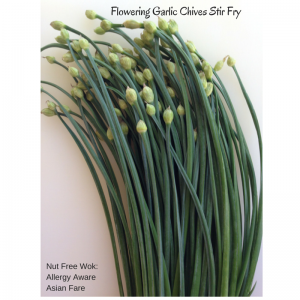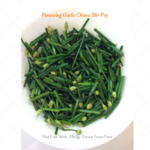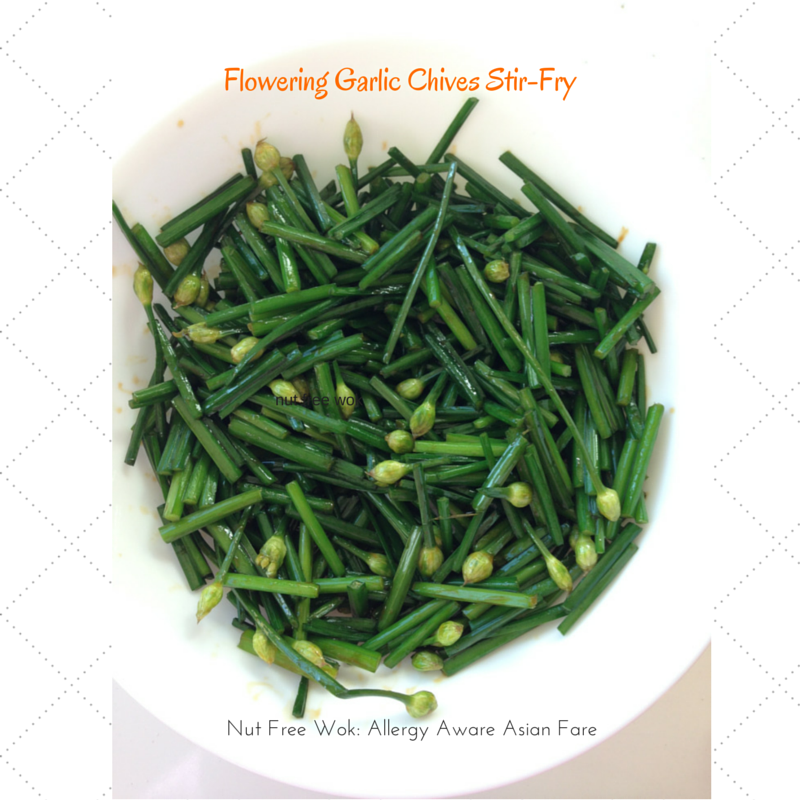 Garlic Chive Flowers Stir-fry
Ingredients
1

bunch of flowering garlic chives

2

teaspoons

olive oil

season to taste with a little salt OR 1-2 tsp of soy sauce

or similar, OR 1 tsp of sesame oil
Instructions
Trim 1/2 inch off the bottom of the stems and any tough ends, discard any yellowed stems or flowers, and wash with water.

Chop the chives into 1 to 1.5 inch lengths and set aside.

Heat up wok or frying pan until hot (3-5 minutes), add oil and swirl plan (30 seconds).

Add chives and stir fry until the stems are bright green (1-2 minutes).

Add seasoning to taste, cook another minute (or two if you prefer a milder flavor).
Additional Garlic Chive Flower Stir Fry ideas
When I need a little simple comfort food, I make garlic Chives with scrambled eggs like mom did: prepare 2 eggs for scrambled eggs and season with a dash of soy sauce, salt, and pepper. Stir fry chives as above and add scrambled eggs at step 5. Add 1 cup of cooked and chopped meat as desired (grilled chicken, rotisserie chicken, roast pork, etc.).
You can also stir fry garlic chives with meat. Prep about 6-8 oz of sliced and marinated meat of choice, stir fry until it's no longer pink/raw on the outside, add the garlic chives and continue stir frying for another 3 minutes until the chives are bright green and soften.
Are there other Asian vegetables or fruit you want to try or learn about? Let me know in the comments.