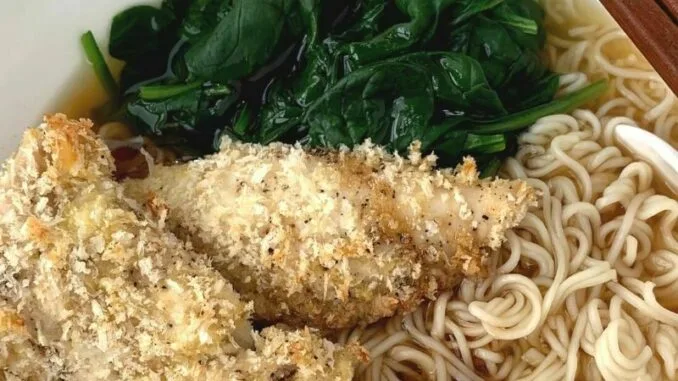 I am excited to share Robin Donovan's Shoyu Ramen with Panko Breaded Chicken and Spinach recipe from her new cookbook, Ramen for Beginners: Traditional and Modern Recipes Made Simple and a review of her cookbook. This shoyu ramen recipe is topped with panko crusted chicken tenders and spinach in a steamy hot bowl of ramen noodles and chicken broth. Robin is one of my favorite San Francisco Bay Area food blogger friends and I am so excited to help her with her cookbook launch by sharing her recipe and a free cookbook giveaway (completed).
Disclaimer: Please check that all ingredients are suitable for your allergies and be sure to ask your medical care team regarding any allergy related questions (I do not share medical advice). As an Amazon Associate I earn from qualifying purchases.
Jump to Recipe
TLDR? For less than the price of ordering bowl of ramen from a restaurant, you can learn some beginner techniques and recipe ideas from Ramen for Beginners (affiliate link). I love that some of recipes can easily be adapted and served over rice by serving the meats and vegetables with rice instead of ramen noodles and broth.
Many thanks to Robin, Rockridge Press, and Callisto Media for providing a review copy of the book, permission to share this recipe, and a giveaway for my readers to win one copy of Ramen for Beginners (see below for entry details).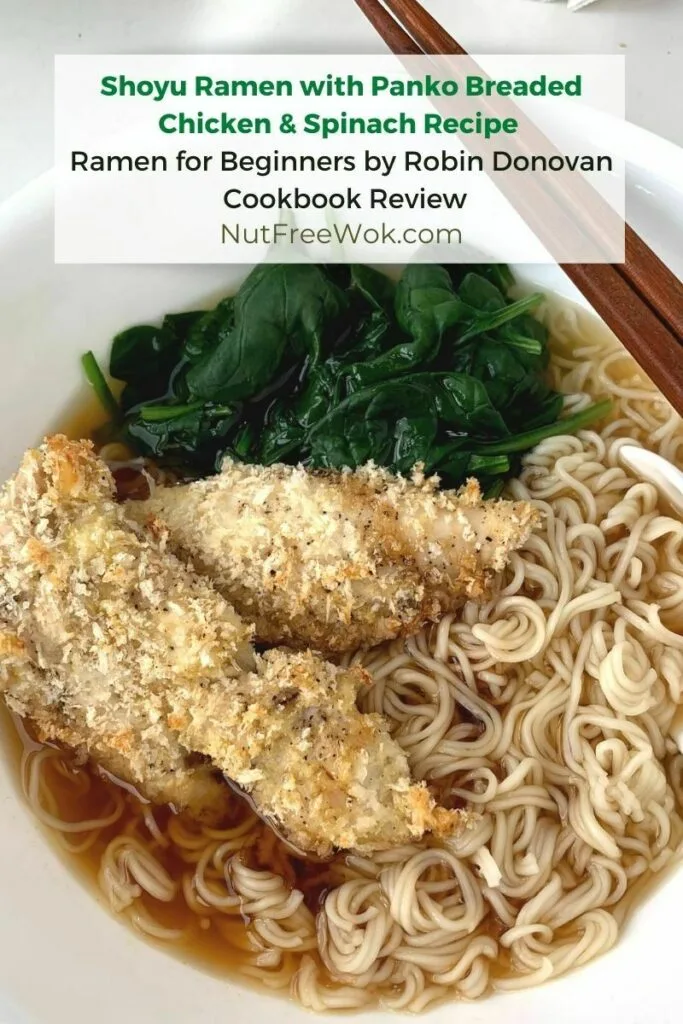 Shoyu Chicken Ramen with Panko Breaded Chicken and Spinach
I picked this particular shoyu chicken ramen recipe to share because it exactly meets all of my needs as a mom cook. This Shoyu chicken ramen is a one bowl meal with a protein, carbs, veggies, and soup which is a perfectly satisfying combination especially during colder months. Shoyu means soy sauce in Japanese and the broth is soy sauce based made from simple ingredients.
I love chicken tenders, that's the tenderloin from a chicken breast and a hot dog shaped muscle located under the chicken breast right next to the breast bone. Chicken tenders are small and cook quickly. It's a lean healthy protein like chicken breast, but the texture is much better and easier to cook. I love it in a chicken and vegetable stir fry and in a Vietnamese style chicken salad.
The chicken tenders are coated with panko which is a Japanese style bread crumb that you can find in many grocery stores. The chicken tenders are oven baked until crispy. If you don't want to make chicken tenders from scratch, you can substitute with heat and serve breaded chicken pieces.
I like Robin's simple beginners' approach to making ramen which makes it easier to adapt recipes for allergens and preferences. One could use the homemade chicken broth recipe in the book or store bought chicken broth.
I know my family only uses about 1 cup of broth per bowl of noodles, so instead of warming up 8 cups of broth, I used 4 cups of broth. Because we use less broth, I use less basic shoyu tare sauce in each bowl.
The basic shoyu tare sauce is made with soy sauce, sake, mirin, and sugar which I make ahead of time. I halved the recipe on page 18 and still have enough sauce for 2-3 more batches of shoyu ramen. I wouldn't recommend reducing the recipe by more than half because you need enough volume to cook off the alcohol from the sake.
I placed sesame oil and extra tare at the table for each person to add to their bowl according to their taste preferences.
First Impressions & How the Cookbook is Organized
The Ramen for Beginners cookbook is very well organized and simple. Ramen for Beginners is a great introduction to making ramen and includes some traditional recipes as well as some modern Asian inspired recipes. You can learn about the basics about making ramen in the first 3 chapters of the book.
The first chapter is about "assembling your ramen-ready kitchen" to help you buy any equipment and ingredients you will need.
The second chapter is about the different types of broth, ramen, and seasoning sauce (tare in Japanese).
The third chapter contains recipes for the different toppings and side dishes you can make and serve with your ramen.
Each of the chapters 4-8 introduces readers to different ways to make ramen with chicken, pork, seafood, beef, and vegan/vegetarian options.
Robin shares recipes featuring different cuts of meats. For example the chapter on chicken ramen has different recipes using chicken tenders, boneless and skinless chicken thighs, chicken drumsticks, etc..
The chapter on pork based ramen reminds me the most of what we can order at a ramen restaurant and includes some traditional recipes. Cooking recipes from the pork chapter will require making broth from pork and pork bone ingredients unless you are able to buy prepared pork broth.
Most of the chapters include ramen recipes with flavors from other Asian cultures. There's a recipe for ramen with Vietnamese style shredded chicken. If you like Korean food, you might like Pork Ramen with Kimchi, Fried Eggs, and SPAM. There's even a recipe for Shio Ramen with 5- Spice Beef Short Ribs, which definitely has a Chinese flare to it.
In the final chapter, "Ramen Remixed," the cookbook features ramen noodles served in modern and innovative ways such as a Shrimp and Vegetable Ramen Salad with Yuzu Vinegrette, a Malaysian inspired Laksa style noodle soup, Cheesy Noodle Soup, and Tsukemen dipping style, which is popular in Japan.
Is the Ramen for Beginners Cookbook Allergy Friendly?
Robin is a cookbook author and recipe developer that loves Japanese food and blogs about international recipes on her site at AllWaysDelicious.com. If you have any questions about her recipes from her cookbook, please contact her. She is not a food allergy blogger or lives with food allergy issues but I think that she makes the Ramen For Beginners book accessible to home cooks with food allergies.
Each ramen recipe calls out what allergens the recipe is free from, such as nut free, dairy free, etc.. Most of the recipes are peanut and tree nut free, there's one recipe that uses milk (cheese ramen). There's one chapter with fish and seafood, so it's easy to avoid those recipes if one is allergic to fish, seafood, or both.
Some of the recipes indicate that there's a "nut free option" because the recipe for Basic Miso Tare (on page 19) uses a Japanese sesame paste or a creamy no-sugar-added peanut butter. Our family is not allergic to sesame so we would make the Basic Miso Tare with sesame paste. People who are allergic to peanuts and sesame can make the Basic Shio Tare or Basic Shoyu Tare on pages 17 and 18 instead.
How to Make Allergy Aware Ramen
If you are avoiding a lot of different allergens, you can still adapt your recipe and end up with a hot bowl of Asian inspired soupy noodles that will satisfy. Ramen noodle soup will usually include allergens such as soy, wheat, and egg, but ramen recipes can be adapted to suit your food allergies in the following ways:
Soy – from the soy sauce in marinades and dipping sauces. You can make my soy-free soy sauce recipe as a substitute.
Wheat and gluten – from the ramen noodles and soy sauce. One could easily substitute with your favorite gluten free noodles, gluten free tamari sauce, gluten free panko, etc..
Egg – sometimes the noodles are topped with an egg, you can leave that out and add a protein rich food, perhaps with a similar texture. Some ramen noodles might contain eggs or made on shared equipment with eggs, check to be sure you are using an egg-free ramen.
Fish/Seafood – Depending on your exact allergies, people with a seafood allergy but not with a fish allergy, might be able to enjoy the ramen recipes using fish and vice versa. Sometimes you can substitute some of the seafood with chicken or swap out the fish/seafood broth and use chicken broth. Or you can read thru the chapter and incorporate some of the veggies or toppings into your allergy aware ramen. Keep in mind that "dashi" in Japanese foods will indicate that the food will most likely contain "bonito" which is a fish ingredient.
Sesame is not a top allergen yet but deserves a mention on how to adapt a recipe. Generally, if a recipe calls for sesame seeds, it's fine to simply omit. Sesame oil is usually used as a marinade or added to a recipe at the end of cooking for its fragrance and flavor. Sesame oil is hard to substitute and easier to omit in a recipe. In the recipe that uses sesame paste as an ingredient and the alternative is a no sugar peanut butter, which won't work for a nut free reader. You can try substituting the sesame paste with a soy butter or sunflower seed butter (if not allergic).
One of my sons is allergic to mushrooms and I would just leave out mushrooms if mushrooms are listed as a topping. Since mushrooms are a key ingredient in the recipe for vegetarian broth, I would substitute the vegetarian broth with a mushroom-free vegetable broth or chicken broth.
This recipe is free of peanuts, tree nuts, milk, fish, and seafood as written.
If you need help with figuring out which ingredients to buy that I trust and use, check out what's in my cupboard.
If you are allergic to egg, be sure to use an egg free ramen. Instead of dipping the chicken into egg to cover with panko, dip in flour, then in an allergy safe milk, butter, mayonaise, and then finally dip in panko.
If you are allergic to wheat, use wheat and gluten free ramen noodles, panko, and tamari sauce.
Lastly, if you are allergic to soy, you can use my recipe for soy free soy sauce. The one posted above uses pantry ingredients and my other soy free soy sauce recipe is a by-product of an Instant Pot cow tongue recipe.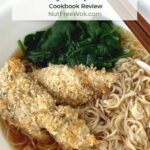 Shoyu Ramen with Panko-Breaded Chicken and Spinach
It takes about 30-45 minutes to make this delicious and healthy ramen with spinach and oven baked crispy panko breaded chicken tenders. Be sure to check the notes to make the Basic Shoyu Tare Sauce ahead of time, otherwise be prepared to add a few extra minutes to your cook time.
Ingredients
1

pound

chicken breast tenders

1/2

teaspoon

salt

1/2

teaspoon

black pepper

1

large

egg

lightly beatened

1

cup

panko

8

cups

chicken broth

1/2

cup

Basic Shoyu Tare

(see recipe note below or page 18 in the cookbook)

18

ounces

fresh ramen noodles

or 12 ounces dried ramen noodles or 2 packages instant noodles, cooked according to package instructions

6

cups

fresh spinach

I used 10 ounces baby spinach, blanched in boiling water (before cooking noodles) or wilted in a nonstick pan

4

teaspoons

sesame oil
Instructions
Preheat the oven to 375 °F, line a baking sheet with parchment paper or aluminum foil, and set it aside.

Season the chicken pieces with the salt and pepper.

Put the beatened egg in a shallow bowl and the panko in a separate shallow bowl.

Dunk the chicken pieces first in the egg and then in the panko, turning to make sure each piece is well coated.

Arrange the chicken pieces on the prepared baking sheet. Bake for 13-15 minutes, until golden brown, crisp on the outside, and cooked through. (It didn't look browned or crispy enough so I baked it for 3 extra minutes*)

In a pot, heat the broth over medium-high heat until simmering. (At this point in the recipe, I boil some water in another pot to cook the spinach by adding it to the boiling water and immediately taking the spinach out and then cook the noodles in the same pot according to the package)

Into each of the 4 serving bowls, put 2 tablespoons of tare. Divide the noodles among the bowls and ladle the broth over the noodles. Divide the chicken and spinach among the bowls. Drizzle 1 teaspoon of sesame oil all over each bowl and serve immediately.
Recipe Notes
Cook time: the recipe indicates that the prep time is 15 and the cook time is 15 minutes but it took me 45 minutes from start to finish, including having to maneuver around my husband who was making a side dish at the same time. 
I make a half recipe of the basic shoyu tare on page 18 which yields about 1 cup: combine 1/2 cup soy sauce, 1/4 cup sake, 1/4 cup mirin, and 1.5 teaspoon sugar in a small sauce pan and bring the mixture to a boil. Quickly reduce the heat to low and simmer, stirring until the sugar is dissolved, about 3 minutes. Remove the pan from the heat and let the mixture cool to room temperature. For each recipe, use 2 tablespoons of tare (1 tablespoon if you use 1 cup of broth per person) and store leftovers in the refrigerator for up to 3 weeks or in the freezer for up to 3 months.
*The chicken didn't look brown enough to me so I added a few extra minutes and the chicken was cooked through and not overcooked. The next time I make it, I recommend giving the panko coated chicken a light mist of olive oil spray before baking for better browning. I also recommend using a thermometer to check that the chicken is fully cooked instead of eyeballing it. 
Calorie count may vary depending on the type of noodle you use. The chicken, broth, spinach, and sesame oil (not including the ramen noodles) are approximately 310 calories total. 
How to Enter the Cookbook Giveaway
The giveaway period has ended! Congratulations Patrice!
Prize: I have one copy of the Ramen for Beginners to giveaway to one lucky winner with a US address.
To enter, leave a comment below and tell me what is your favorite Japanese ramen, favorite topping, and what allergen(s) you or your family avoids.
Entry deadline: I'm looking forward to reading your answers and will pick randomly after 11:59 pm PST on December 6, 2020. I will announce a winner on or around December 7, 2020.
Notification: Fill out the comment box with your real email address so that I can contact you if you are the winner. You will have 24 hours to respond with your mailing address or I will select a different winner.
The giveaway is not affiliated with any social media companies and is void where prohibited.
Thanks for reading, please help Nut Free Wok!
The best way to see every post or recipe is to subscribe to Nut Free Wok's email subscription (be sure to respond to the confirmation email). You will be notified by email next time I publish another post or recipe and I won't send you spam or share your email address with anyone.
If you enjoyed this post, please use the social media buttons below to share with others. I am on Facebook, Twitter, Pinterest, and Instagram as @nutfreewok and it's great to chat and interact on social media too.
Disclosure/Disclaimer:
I may mention the names of stores and/or brand names of products that I use because readers ask and I share products and sources which I use and think may be helpful to readers, all opinions are my own. Please note that manufacturing practices and ingredients can change at anytime without notice and readers are always responsible for assuring allergen safety before buying or consuming foods. NutFreeWok.com is a participant in the Amazon Services LLC Associates Program, an affiliate advertising program designed to provide a means for sites to earn advertising fees by advertising and linking to Amazon.com. Thank you for reading!