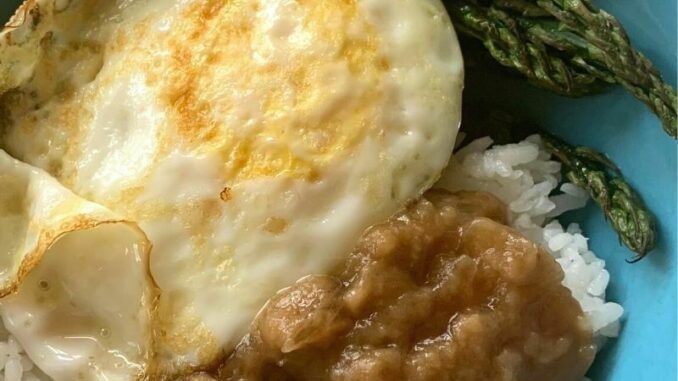 My dairy-free beef gravy uses olive oil instead of butter, so it's dairy-free and perfect for our people who are milk allergic, lactose intolerant, and need heart healthier options. It's a great make ahead recipe, so that when your main entree is ready, you are mere minutes away from sitting down to eat. I add spoonfuls of the dairy free beef gravy whenever I have leftovers and it instantly becomes comfort food.
Disclaimer: Please check that all ingredients are suitable for your allergies and be sure to ask your medical care team regarding any allergy related questions (I do not share medical advice). As an Amazon Associate I earn from qualifying purchases.
Jump to Recipe
Our Stay At Home Life
One nice thing about staying at home due to the pandemic is that our family eats lunch together almost everyday. One of our favorite lunch rotation items is Loco Moco, a Hawaiian style plate lunch with a hamburger patty with beef gravy and rice is topped with a fried egg. Who else loves a good loco moco for breakfast or lunch?
I have finally figured out that making the beef gravy ahead of time allows me to plate and serve a Loco Moco lunch quickly. I love it when the hamburger patties are still hot and the over easy eggs are still a little bit runny with a generous drizzle of beef gravy over hot steamy rice.
One day I made a yummy breakfast of leftover veggies, rice, beef gravy, and a freshly fried egg. It looked so delicious so I took a photo and posted it on Facebook simply because I was excited about breakfast. My friend zeroed in on the yummy beef gravy situation and wanted the recipe, so this recipe is for my friend, Caroline M (Grateful Foodie).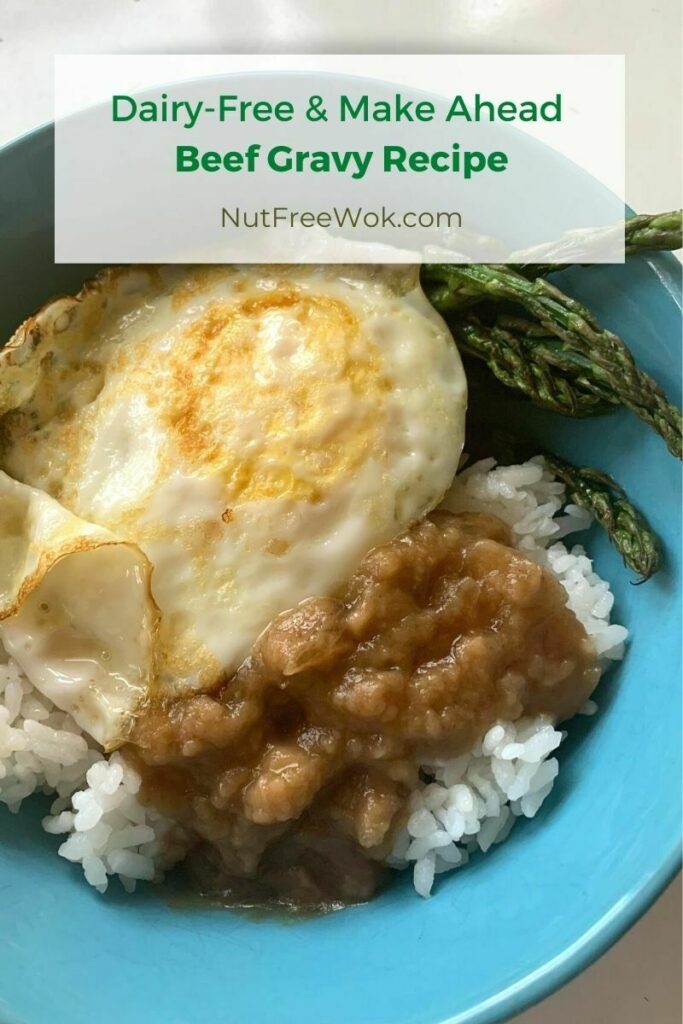 Dairy-Free Beef Gravy Adaptations
I first learned how to make gravy from my friend, G, who is a big foodie. He came over to my house during a Friendsgiving celebration and we made gravy together. This recipe is loosely based on what my friend taught me.
So the first recipe adaptation is that I'm making the recipe from pantry ingredients rather than from the browned bits and oil in a roasting pan or a frying pan. After I finish cooking, I just want to eat and am too impatient to make gravy.
A basic roux is made with flour and butter. I usually use half butter and half olive oil. I decided to try and make a 100% dairy-free beef gravy and discovered it's also possible to substitute all of the butter with olive oil. That is a better option for people who are watching their saturated fat intake and an excellent option for people with a milk allergy.
Making a Lump Free Gravy
It's quite easy to make gravy but you don't want any lumps of flour. Because my gravy includes a little bit of onions, it's hard to visually distinguish what's an onion and what's a wannabe dumpling.
The most important cooking tip for this recipe is to add the broth in gradually. After I combine the flour and oil and the flour looks toasty, I add about 1 cup of broth and quickly whisk the roux and the broth together until it's a thick paste.
Then I add more broth, stir until the broth and paste are blended, and add more broth and finally the bouillon until it's all consistently mixed together. Once all the ingredients are stirred together, simmering the beef gravy on low heat would allow the gravy to thicken gradually.
Allergy Aware Dairy-Free Beef Gravy
This recipe as written is free of peanuts, tree nuts, dairy, eggs, soy, fish, and shellfish. I haven't tried making this recipe wheat or gluten free. If I needed to, I would a gluten free all-purpose flour instead.
If one cannot consume beef, it's easy to convert the recipe to a chicken, turkey, or vegetable gravy by substituting your desired broth and bouillon. If you use chicken or turkey broth with a chicken bouillon, you can make a gravy to eat with my recipe for turkey drumsticks this Thanksgiving.
I love that this recipe uses mostly pantry staples. For this recipe, I used Swanson's beef broth. I've never contacted them regarding allergens so please check for yourself as needed.
I also use Better than Bouillon Beef (affiliate link). They do have nuts in their lunchroom, but not as an ingredient in any of their products. I appreciate their disclosure. Another brand that I like is Massel (affiliate link), they are free from common allergens and I like the taste of their products as well.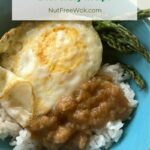 Dairy-Free & Make Ahead Beef Gravy Recipe
This dairy-free beef gravy recipe is dairy free uses olive oil instead of butter and can be made ahead and reheated right before serving.
Ingredients
1

medium sweet onion

chopped

4

tablespoons

olive oil

divided

½

cup

all-purpose flour

4

cups

beef broth

4

teaspoons

beef bouillon
Instructions
Preheat a frying pan (or 2-4 qt. saucepan) on medium heat.

When the pan is warm, add 2 tablespoons of olive oil and swirl to coat, and saute the chopped onions until slightly browned (5 minutes) with a wooden spoon.

Add the remaining olive oil (2 tablespoons), stir, and sprinkle the flour over the onions.

Stir the flour around to break up the large clumps of flour until it looks lightly toasted.

Add one cup of broth and beef bouillon and stir to break up the lumps of flour until the broth is mixed into the gravy. Gradually add more broth, 1 cup at a time, until all the broth is incorporated.

When the gravy slightly bubbles, lower the temperature to low-medium, stir every few minutes until the gravy thickens to desired consistency (about 10 minutes). When the gravy is ready, remove from heat, and the gravy will thicken some more as it cools down.
Recipe Notes
Calorie count is estimated at 107 calories per 1/2 cup. 
If you are not dairy-free and have a preference for butter, you can use all butter or half butter and half olive oil. 
Thanks for reading, please help Nut Free Wok!
If you like this recipe, please be sure to give a 5 star rating, leave a comment, and share this post! Your support means a lot to me.
Subscribe to Nut Free Wok's email subscription (be sure to respond to the confirmation email). You will be notified by email next time I publish another post or recipe and I won't send you spam or share your email address with anyone.
Disclosure/Disclaimer:
I may mention the names of stores and/or brand names of products that I use because readers ask and I share products and sources which I use and think may be helpful to readers, all opinions are my own. Please note that manufacturing practices and ingredients can change at anytime without notice and readers are always responsible for assuring allergen safety before buying or consuming foods. NutFreeWok.com is a participant in the Amazon Services LLC Associates Program, an affiliate advertising program designed to provide a means for sites to earn advertising fees by advertising and linking to Amazon.com. Thank you for reading!