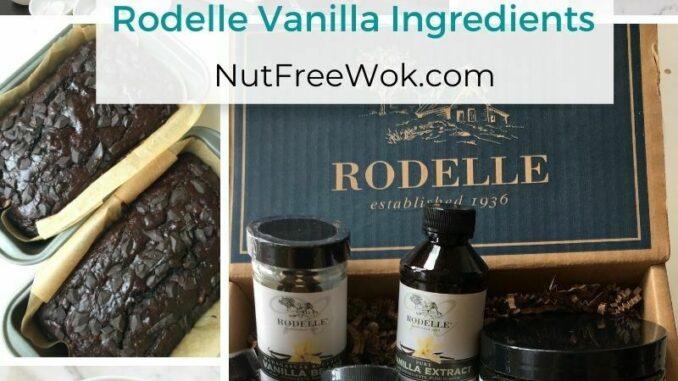 Which are my favorite Rodelle Vanilla products? Rodelle has so many different kinds of vanilla products, how do you know which one to use when? And they have so many products, how do you try just a few? To help you decide, I will share my top 5 favorite Rodelle products and why.
I love being one of Rodelle Vanilla's brand ambassadors since 2016 when I shared my first review. I love to try their different products and offer a giveaway. Yes! I have another giveaway for your holiday baking, so be sure to read all the way to the bottom to learn how to enter.
Disclaimer: I am a brand ambassador for Rodelle and receive products to use and review. Please check that all ingredients are suitable for your allergies and be sure to ask your medical care team regarding any allergy related questions (I do not share medical advice). As an Amazon Associate I earn from qualifying purchases.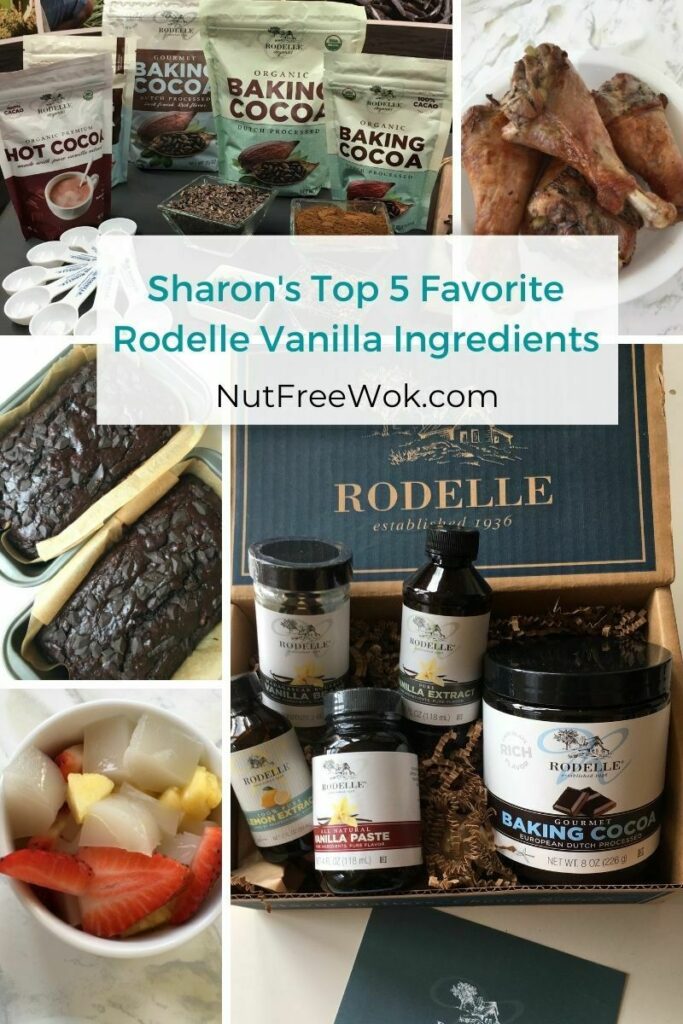 Rodelle Is Perfect For Nut Free Kitchens
One of the biggest reasons why I love Rodelle Vanilla is that they don't use any peanuts or tree nuts in their facilities, which is written on each of their product pages. If you have any additional allergies, contact their customer service department with your questions and they will help you.
Rodelle is in the middle of updating their labels with a new design and some of the products will have a new look but will be the same premium products. I can find some of Rodelle's products in supermarkets, but I love it when I find them at Costco for the best price. Otherwise, many of the products are available via Rodelle's Amazon store (affiliate link).
I also love knowing that Rodelle makes a difference in the communities they partner with in Madagascar. Rodelle works with farmers in Madagascar to source their vanilla in a responsible, sustainable, and traceable way. As consumers, we can feel good about buying high quality products at a fair price which will help Madagascar's local community thru their social programs to improve their educational and health facilities.
#1 Rodelle Pure Vanilla Extract
When we think of using vanilla, most of us think of vanilla extract. My favorite go-to vanilla extract is Rodelle's Pure Vanilla Extract. It smells wonderful and gives my baked goods a sweet vanilla aroma and can be used in any recipe that calls for vanilla extract. I used it in my very first post about Rodelle and made ice cream in a bag so that I could have quick results to taste the vanilla.
I like their vanilla extracts so much that I use it to make a nut free "almond tofu" that is free of top 8 allergens. Rodelle does make an almond extract but not from the types of almonds that people eat, please refer to my nut free almond tofu recipe for more information.
Rodelle Vanilla also makes other types of vanilla extracts as well as a baking extract that can be used interchangeably for vanilla extracts (except for the Rodelle Reserved Vanilla) with a variety of price points.
Gourmet Vanilla Extract uses other vanilla beans from around the world.
Organic Vanilla Extract uses organic Madagascar bourbon vanilla
Alcohol Free Vanilla Flavor uses pure Bourbon vanilla beans but made without soaking the vanilla beans in any alcohol
Rodelle Reserved Vanilla (aka "double strength vanilla") is their ultra premium vanilla product and you only need to use 1/2 teaspoon of the reserved vanilla extract when a recipe calls for 1 teaspoon of vanilla extract.
Organic Baker's Extract and Baker's Extract are a blend of vanilla extract, chocolate extract, and other natural flavors. This is a great option if you need good value for your money.
#2 Favorite Product – Rodelle Vanilla Paste
My second favorite Rodelle product is the Vanilla Paste. A teaspoon of vanilla paste is equivalent to one teaspoon of vanilla extract. I reach for my jar of vanilla paste when I'm making something light colored which showcases the flecks of vanilla beans and it's much more convenient than a vanilla bean. I like using it in my Lemon Vanilla Crinkle Cookie recipe. Even though a recipe calls for vanilla bean, sometimes it's much quicker to scoop a teaspoon of vanilla paste.
Vanilla Paste (affiliate link) contains sugar, water, Pure Bourbon Vanilla Extract, ground vanilla beans, and tragacanth gum (an emulsifier). The texture of the paste is similar to honey or molasses. It's slightly viscous and a spoonful of vanilla paste slowly drips into your mixing bowl. I use Vanilla Paste interchangeably with Vanilla Bean and you can see examples below.
My friend Sandi G uses vanilla paste in her Gluten Free Caramel Apple Cake recipe. She uses almond flour in the recipe but includes a nut free option to substitute with a gluten free flour instead. I'm sure it's find to use wheat all purpose flour if you aren't gluten free.
#3 Favorite Product: Rodelle Gourmet Vanilla Bean
This is where it all began for me. I bought some Rodelle Gourmet Vanilla Beans from Costco and they were amazing to use. They smelled great right out of the container. They were so soft and pliable and easy to use. You can even learn how to split a vanilla bean on their website. I was very impressed and was happy to confirm that they are also nut free.
One vanilla bean pod is the equivalent of one teaspoon of vanilla extract. I use vanilla beans and vanilla paste interchangeably whenever I want to add some vanilla flavor and showcase the vanilla bean flecks.
I would choose to use a vanilla bean over vanilla paste when I can add the scraped vanilla pod into some liquid such as an ice cream base or a custard. For example, if I'm making vanilla ice cream, I would drop the pod into the milk mixture and allow the vanilla pod to infuse its flavor into the milk mixture. Otherwise, I would save the scraped pods in my freezer to add to other dishes.
Some of my favorite recipes to use Rodelle Vanilla Beans or Vanilla Bean Paste are my lemon crinkle cookie recipe and vanilla bean ice cream recipe.
#4 Favorite Product – Rodelle Gourmet Baking Cocoa
Rodelle's Gourmet Baking Cocoa is one of the best baking cocoa available to make chocolate desserts. When I use Rodelle Gourmet Baking Cocoa to make desserts, the desserts made with Rodelle Gourmet Baking Cocoa look darker and have a richer chocolate flavor. I cannot use any other brand of baking cocoa and am officially spoiled for life.
One of the easiest ways to check that Rodelle Gourmet Baking Cocoa (affiliate link) is so much better is to use it to make a chocolate wacky cake. And if you look at my triple chocolate banana bread you can see that it looks like a chocolate bar in the shape of a banana bread loaf!
My friend Brianna from Flippin' Delicious uses the Gourmet Baking Cocoa to make a Vegan Chocolate Frosting. My friend Kortney from The Zestfull (formerly Allergic Girl Eats) uses the Baking Cocoa to make Vegan Chocolate Ginger Cookies.
Rodelle also makes a Hot Cocoa Mix which I love, but try the Gourmet Baking Cocoa first because you can always make a hot cocoa from the Gourmet Baking Cocoa.
Update: The Rodelle Gourmet Baking Cocoa is no longer made in a nut-free facility as of early 2022. I found out after I shared two recipes which use it, Chocolate Oatmeal That is Nut-Free, Filling, and Delicious and Make Champorado in a Rice Cooker Recipe. If you are managing other allergies besides nuts, be sure to contact them to check to see if it's still suitable for you.
#5 Favorite Product – Rodelle Turkey Brine
I cook dinner a lot more than I bake dessert and sometimes I just want to pop a roast in the oven for an easy meal. That's why I love Rodelle's Turkey Brine and have used it for making whole Turkey as well as Turkey Drumsticks.
However the Turkey Brine (affiliate link) is not just for turkey. You can use it all year round with turkey breast, chicken, and pork. Brining chicken, turkey, or pork will help your roasts taste more juicy and flavorful.
Rodelle has a Brined Pork Tenderloin recipe that uses Turkey Brine, butterflied and stuffed with dates, apples, and cranberries. It looks delicious and I want to try it.
A Rodelle Holiday Baking Giveaway! Winner selected
Edit: Thanks for your entries and great suggestions for allergy adaptations everyone. There were 6 entries and I asked one of my sons to pick a number between 1-6, and he picked 6. CONGRATULATIONS, IRENE! Check your email and send me your address.
************
I'm so excited to host a Rodelle Holiday Baking Giveaway.
Prize: I have one prize package of one bottle of Vanilla Extract, one jar of Vanilla Paste, one package of Baking Cocoa, and one bottle of Pure Peppermint Extract (affiliate link) for one winner with a US mailing address.
To enter: Tell me in the comments below what is your favorite holiday dessert and how do you make it work for the food allergens you avoid.
Entry deadline: I'm looking forward to reading your answers and will pick randomly after 11:59 pm PST on December 15, 2020. I will announce a winner on or around December 16, 2020.
Notification: Fill out the comment box with your real email address so that I can contact you if you are the winner. You will have 24 hours to respond with your mailing address or I will select a different winner.
The giveaway is not affiliated with any social media companies and is void where prohibited.
Thanks for reading, please help Nut Free Wok!
The best way to see every post or recipe is to subscribe to Nut Free Wok's email subscription (be sure to respond to the confirmation email). You will be notified by email next time I publish another post or recipe and I won't send you spam or share your email address with anyone.
If you enjoyed this post, please use the social media buttons below to share with others. I am on Facebook, Twitter, Pinterest, and Instagram as @nutfreewok and it's great to chat and interact on social media too.
Disclosure/Disclaimer:
I may mention the names of stores and/or brand names of products that I use because readers ask and I share products and sources which I use and think may be helpful to readers, all opinions are my own. Please note that manufacturing practices and ingredients can change at anytime without notice and readers are always responsible for assuring allergen safety before buying or consuming foods. NutFreeWok.com is a participant in the Amazon Services LLC Associates Program, an affiliate advertising program designed to provide a means for sites to earn advertising fees by advertising and linking to Amazon.com. Thank you for reading!