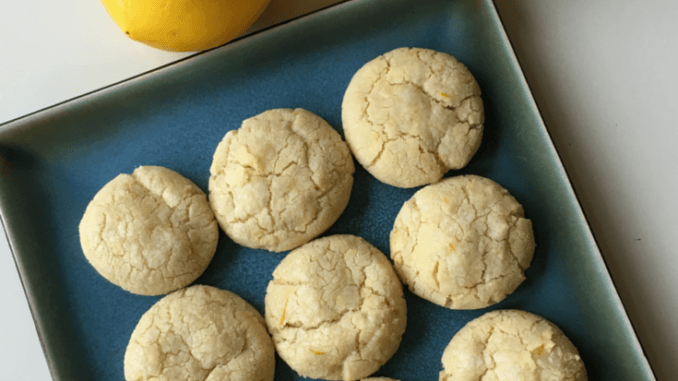 My Lemon Vanilla Crinkle Cookies Recipe is nut-free, egg-free, made from scratch with plenty of lemon zest and vanilla from vanilla beans. These Lemon Vanilla Crinkle Cookies taste delicious and are a special made-with-love treat for someone who is allergic to eggs. My family loved these cookies on the first time I made it and I'm sure your friends and loved ones will enjoy them too.
Disclaimer: Please check that all ingredients are suitable for your allergies and be sure to ask your medical care team regarding any allergy related questions (I do not share medical advice). As an Amazon Associate I earn from qualifying purchases.
Jump to Recipe
Food Allergy Mom Confession
Why am I sharing a recipe for Lemon Vanilla Crinkle Cookies when I recently shared my recipe for Chocolate Crinkle Cookies? When I made the chocolate crinkle cookies with my older son a few months ago, they were were soft, cakey on the inside, with a slightly crispy coat of powdered sugar on the outside. I didn't think I would make a variation of this cookie until I had a tenderhearted chat with my younger son…
It was a complete oversight, but I never tried making the chocolate crinkle cookies egg free for my younger son who is allergic to eggs because he doesn't like chocolate. The rest of us thoroughly enjoyed the chocolate crinkle cookies and my younger son is such a good sport and never complains about his food allergies. When he asked me if the cookies really taste good, I felt his curiosity and longing so I started thinking about making egg-free, chocolate-free lemon crinkle cookies for him.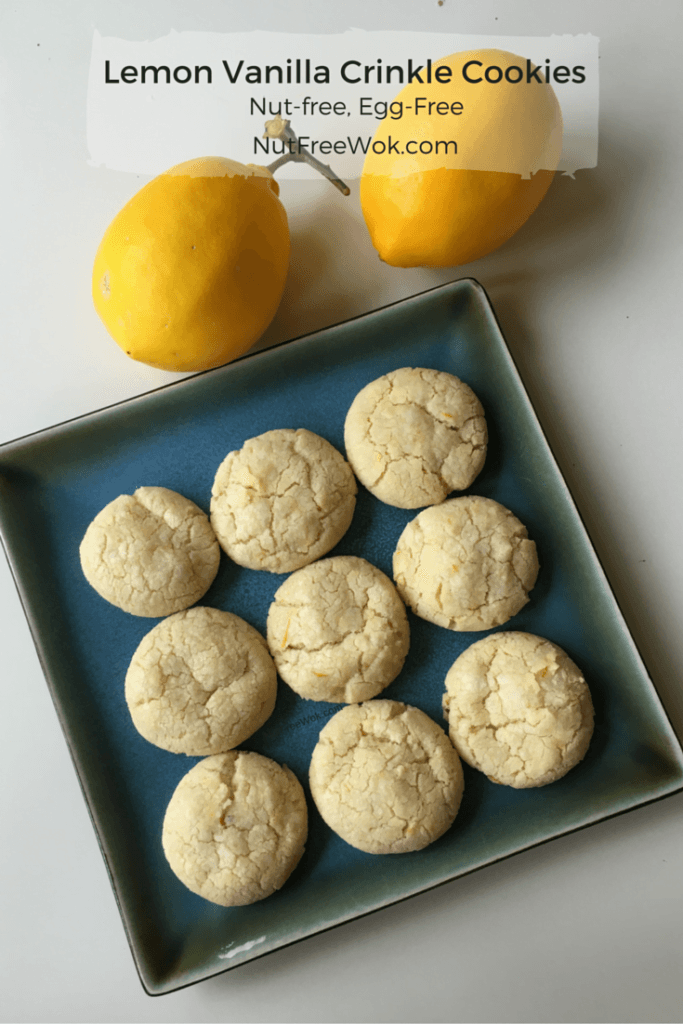 How to Make Lemon Vanilla Crinkle Cookies
I already have a great recipe for Chocolate Crinkle Cookies and figured it wouldn't be too hard to adapt the recipe into Lemon Vanilla Crinkle Cookies. I had some ideas:
Make it egg free by using the oil + water + baking powder substitute which is the best and easiest way to substitute eggs in cookie recipes. It doesn't require any special ingredients or techniques and works like a charm. Be sure to check the freshness of your baking powder by throwing a pinch into a small amount of water and look for some fizzy action. If the baking powder doesn't fizz in the water, then you need to replace your baking powder.
Create a wonderful lemon flavor without throwing off the ratio of wet to dry ingredients. I wanted to use lots of lemon zest. Some recipes call for up to 1/4 cup of lemon juice which is too much liquid to add to a cookie recipe so I opted to use lemon extract because one teaspoon of extract is equivalent to 4 tablespoons of fresh lemon juice.
I also wanted to enhance the sweetness of the cookies by using vanilla from a fresh vanilla pod. I split the bean and scraped out the seeds and reserved the pod for infusing flavor into ice cream or other uses at a later time. Or if you have vanilla bean paste, you could use that instead.
Other recipes use boxed cake mix and dairy free whipped topping as short cuts, but I prefer a from-scratch recipe using simple ingredients which make it easier to adapt the recipe to be gluten free and/or dairy free.
The recipe as written is free of peanut, tree nuts, egg, soy, fish, and shellfish.
Please always check all ingredient labels before using and when in doubt, call the manufacturer. If you are dairy free, use a dairy free buttery stick (I like Earth Balance's buttery baking sticks). If you are gluten free, use your favorite 1:1 gluten free flour substitute such as Cup 4 Cup. If you are not avoiding eggs, you can certainly use 2 eggs instead (I've updated the recipe on how to use eggs, see recipe notes below).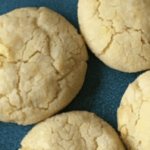 Lemon Vanilla Crinkle Cookie Recipe
My Lemon Vanilla Crinkle Cookies Recipe is nut-free, egg-free, made from scratch with plenty of lemon zest and vanilla from vanilla beans. These Lemon Vanilla Crinkle Cookies taste delicious and are a special made-with-love treat for someone who is allergic to eggs.
Chill the dough
15
minutes
Ingredients
2

cups

and 3 tablespoons all purpose flour

1 1/2

teaspoons

baking powder

1/4

teaspoon

salt

3

Meyer lemons

4 if the lemons are small

1

vanilla bean

1/2

cup

unsalted butter

1 stick, 8 tablespoons, softened

1

cup

sugar

3

tablespoons

oil

3

tablespoons

water

2

teaspoons

baking powder

1

teaspoon

lemon extract

1/3

cup

powered sugar

more if needed
Instructions
Preheat oven to 350 °F (check that you have an oven rack in the middle position) and line two cookie sheets with non-stick parchment paper or silicon baking sheets.

Combine flour, 1 1/2 teaspoons baking powder, and salt in a medium sized bowl.

Wash your lemons well and dry them with a paper towel, then zest them directly over the bowl of flour (reserve the lemons for other uses).

Use a sharp pointy knife to split your vanilla bean lengthwise and scrape the seeds and add to the flour mixture (reserve the pod shell for other uses).

Whisk the flour mixture well and set aside.

Beat the butter and sugar together until they are combined and look fluffy (2-3 minutes using a stand mixer, 5 minute with a hand mixer), scraping down the sides of the bowl as needed.

Combine the oil, water, and 2 teaspoons of baking powder in a small bowl and add to the butter and sugar mixture, add the lemon extract, and mix on low speed until combined.*

Add flour mixture and mix on low speed until combined, scrape down sides of the bowl as needed, stop when the flour is mixed it but do not overmix.

Gather the dough into a ball and cover with plastic wrap and refrigerate the dough for 15-30 minutes.

Place powdered sugar in a bowl (I used the flour mixture bowl).

Use a tablespoon sized measuring spoon to measure the dough and a regular teaspoon to scrape the dough out into the bowl of powdered sugar.

Use your fingers to roll the dough in the powdered sugar and shape it into a ball.

Place the powdered sugar covered dough on your prepared cookie sheet about 2 inches apart from each other, repeat measuring and rolling the dough

Bake for 12-13 minutes until the cookies are puffy, slightly cracked, and golden brown at the bottom.

Allow the cookies to cool on the tray for a few minutes then transfer to a wire rack to cool completely.
Recipe Notes
It is important to check that your baking powder is fresh. Add a pinch to a small amount of water, you want to see the baking powder fizz. *IF USING EGGS: omit the oil, water, and baking powder in step 7 and use two slightly beatened eggs instead.
Thanks for reading, please help Nut Free Wok!
The best way to see every post or recipe is to subscribe to Nut Free Wok's email subscription (be sure to respond to the confirmation email). You will be notified by email next time I publish another post or recipe and I won't send you spam or share your email address with anyone.
If you enjoyed this post, please use the social media buttons below to share with others. I am on Facebook, Twitter, Pinterest, and Instagram as @nutfreewok and it's great to chat and interact on social media too.
Disclosure/Disclaimer:
I may mention the names of stores and/or brand names of products that I use because readers ask and I share products and sources which I use and think may be helpful to readers, all opinions are my own. Please note that manufacturing practices and ingredients can change at anytime without notice and readers are always responsible for assuring allergen safety before buying or consuming foods. NutFreeWok.com is a participant in the Amazon Services LLC Associates Program, an affiliate advertising program designed to provide a means for sites to earn advertising fees by advertising and linking to Amazon.com. Thank you for reading!