The origins of these chocolate chip cookies is actually based on an urban legend that circulated widely via email in the mid-1990s. I loved the recipe and adapted the recipe to be nut-free and egg-free. It's also easy to make dairy-free as needed.
Disclaimer: Please check that all ingredients are suitable for your allergies and be sure to ask your medical care team regarding any allergy related questions (I do not share medical advice). As an Amazon Associate I earn from qualifying purchases.
Jump to Recipe
Urban Legend: $250 Chocolate Chip Cookies
Here's a quick summary in case you haven't heard about the $250 Chocolate Chip Cookies from the mid-1990s. A woman and her daughter were dining at a Neiman Marcus cafe in Dallas and they enjoyed some chocolate chip cookies so much, they asked the server if they could have a copy of the recipe. The server told them that it would cost "two fifty" and they agreed.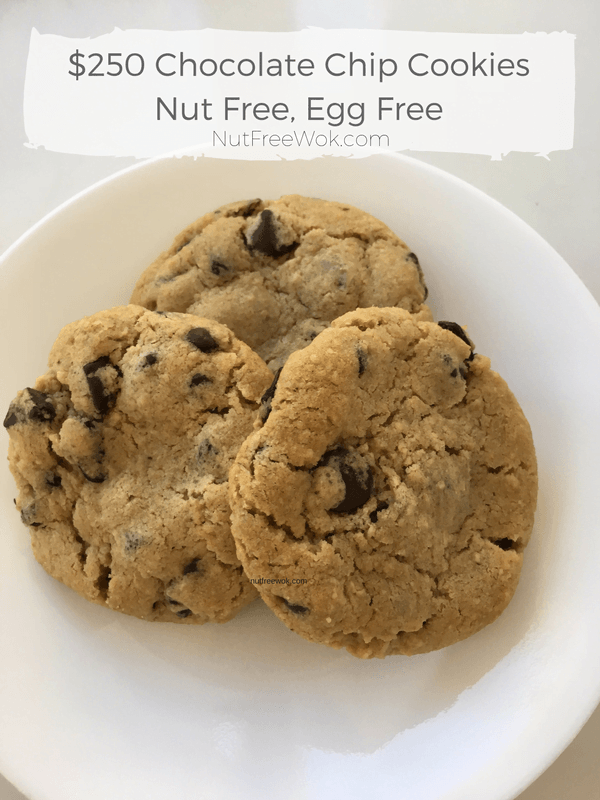 The woman eventually discovered that the charge was actually $250 but she couldn't get her money back. The woman decided to get even by sharing the recipe with all chocolate chip cookie lovers and encouraged everyone to make copies to share and people forwarded the recipe to everyone they knew via email until the story was debunked as an urban legend hoax.
Out of curiosity I made the $250 chocolate chip recipe back in 1996 and loved it so much. The $250 chocolate chip recipe is different from typical chocolate chip cookie recipes for a few reasons:
The $250 chocolate chip cookie uses ground up oats to replace some of the wheat flour so you get some extra fiber but without the coarse texture of typical oatmeal cookies. I use my blender to pulse some oatmeal to make the oat flour.
My original copy of the $250 chocolate chip cookie makes an enormous amount of cookies. I've halved the recipe and it barely fits inside my stand mixer. I also want to get in and out of the kitchen quickly so I make giant cookie dough balls which bake into immensely satisfying cookies.
I realized that the reason that the cookies turn out great is that I don't follow the recipe exactly and added some of the chocolate chip cookie baking tips I learned in my middle school home economics class (LOL).
Be sure to chill the dough, the cookies will taste and look a lot better if you chill them at least 30 minutes.
Make ahead tip – shape the dough into balls and freeze them on a cookie sheet. When the cookie dough balls are frozen, transfer them into a freezer bag. Be sure to label the bag with the cookie name, date, baking temperature, and how long to bake them.

Allergy Aware Chocolate Chip Cookies
This recipe is free of peanuts, tree nuts, eggs, soy, fish, and shellfish as written.
I've adapted the recipe so that it's egg free by replacing eggs with my favorite egg substitute for cookies, a combination of oil, water, and baking powder. It's also easy to omit the nuts to make the cookie nut-free. I added raisins to make up for the volume and for extra flavor and chewiness.
When I need to bake milk-free, I replace butter with Earth Balance buttery sticks. Of all the products I've tried, that has the best taste and performs the best but contains soy. (Out of curiosity, what do people with milk and soy allergies like to use to replace butter?)
If you don't like raisins, you can make this recipe with cranberries and swap the chocolate chips with white chocolate chips for a completely different cookie experience. If that sounds delicious to you, definitely read my recipe for Cranberry White Chocolate Chip Cookies & Friendships.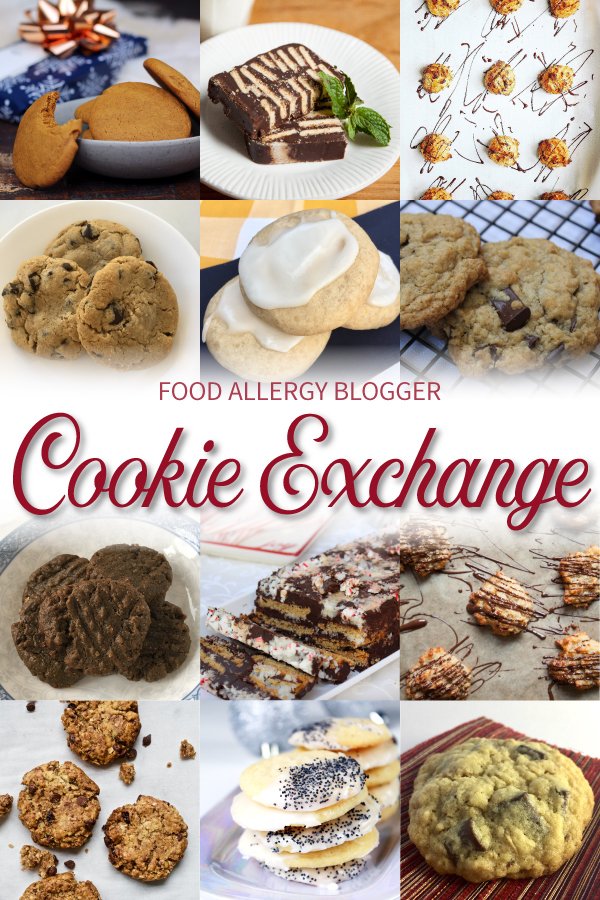 Nut Free and Allergen Friendly Holiday Cookie Exchange!
Kourtney, at Allergy Girl Eats, coordinated a cookie recipe exchange among a group of food allergy bloggers so go visit her site to see what we all shared. We swapped recipes and made each other's recipes. That was really fun to do and gave me a push to try something new. I made Amanda's Spiced Sunbutter Cookie recipe.
Amanda's recipe is a relatively small batch, so I used a hand mixer to mix the dough. It's really fast to make, probably took me less than 30 minutes from start to finish. The cookies are really soft when they're fresh out of the oven but the firm up to a nice chewy texture the next day with a nice nutty taste from the Sunbutter but without any actual nuts. The recipe calls for a sprinkle and a pinch of different spices, I recommend generous sprinkles and a big pinch for more flavor.
Some of our food allergy blogger friends stopped blogging but you can find the remaining recipes here: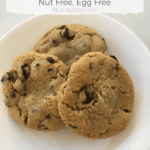 Chocolate Chip Cookies aka $250 Cookies Recipe
chill the dough
30
minutes
Total Time
1
hour
5
minutes
Ingredients
2.5

cup

old fashioned rolled oats

2

cups

all purpose flour

1

teaspoon

baking powder

1

teaspoon

baking soda

1/2

teaspoon

salt

1

cup

unsalted butter

2 sticks

1

cup

brown sugar

1

cup

granulated sugar

3

tablespoons

oil + 3 tablespoons water + 2 teaspoons baking powder

equivalent to 2 eggs

2

teaspoons

vanilla extract

12

ounces

chocolate chips

I used 6 oz chips and 6 oz chopped

4

ounces

chocolate bar

grated (I subbed in mini-chips)

1

cup

raisins

optional
Instructions
Preheat oven at 375 degrees Fahrenheit and line 3 cookie sheets with parchment paper or silicon liners.

Measure 2.5 cups of oats and blend/pulse in a blender or a food processor until the oat is finely ground into a powder.

Add flour, baking powder, baking soda, and salt and pulse, set aside until ready to use.

Cream the butter in a large mixing bowl with an electric mixer or stand mixer for about 1 minute until creamy.

Add granulated and brown sugars and cream until fluffy (about 5 minutes), scrape down sides as needed.

Combine oil, water, and baking powder in a small bowl, add to the butter mixture, add vanilla extract and cream until blended.

Add half of the flour and oats mixture and mix, add the rest and mix.

Scrape down the sides, add the chocolate chips, grated chocolate, and raisins (if using), and mix on low speed.

Cover the bowl with plastic wrap and refrigerate for at least 30-60 minutes (or longer).

Scoop about 2 tablespoons of dough, roll into a ball, and place about 2 inches apart on a cookie sheet.

Bake for about 14-15 minutes until golden brown, take the cookie sheet out of the oven and allow the cookies to cool slightly for 5-10 minutes, then transfer to a wired rack to cool completely.

Makes about 36 3-inch cookies.
Recipe Notes
This cookie dough is a great make ahead recipe if you wrap and store in your refrigerator. You can also roll out the dough into balls and freeze on a cookie sheet, when the dough balls are frozen you can transfer them to a freezer bag. When you are ready to bake the frozen cookie dough, you do not need to defrost the dough, just arrange them on a cookie sheet while you are pre-heating your oven.
Thanks for reading, please help Nut Free Wok!
The best way to see every post or recipe is to subscribe to Nut Free Wok's email subscription (be sure to respond to the confirmation email). You will be notified by email next time I publish another post or recipe and I won't send you spam or share your email address with anyone.
If you enjoyed this post, please use the social media buttons below to share with others. I am on Facebook, Twitter, Pinterest, and Instagram as @nutfreewok and it's great to chat and interact on social media too.
Disclosure/Disclaimer:
I may mention the names of stores and/or brand names of products that I use because readers ask and I share products and sources which I use and think may be helpful to readers, all opinions are my own. Please note that manufacturing practices and ingredients can change at anytime without notice and readers are always responsible for assuring allergen safety before buying or consuming foods. NutFreeWok.com is a participant in the Amazon Services LLC Associates Program, an affiliate advertising program designed to provide a means for sites to earn advertising fees by advertising and linking to Amazon.com. Thank you for reading!