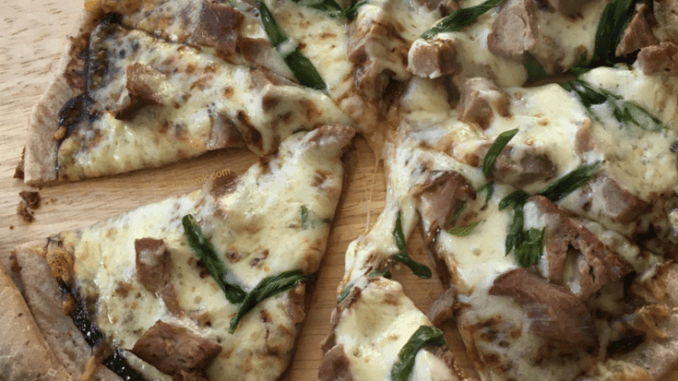 This Smoked Duck with Hoisin Sauce Pizza Recipe is inspired by a Peking Duck Pizza that I used to order at California Pizza Kitchen (CPK). Since one of my sons cannot have tomato, I created a pizza using hoisin sauce instead. Our family loved the Smoked Duck with Hoisin Sauce Pizza and I'm sharing this quick and easy Asian inspired recipe with you.
Disclosure: Smart Flour Foods reached out to me about their gluten free pizza products and sent me some coupons to try their products. It was easy to make once I had all the right ingredients at home at the same time. All opinions are my own.
Update: Since I first wrote this post, Smart Flour Foods has updated their website and removed any indication that their products are nut-free, so I recommend that you double-check with them before purchasing. Also my local grocery story discontinued carrying Mary's Smoked Duck Breasts and they're available online, $48 for 0.7 pounds (wow!).
Disclaimer: Please check that all ingredients are suitable for your allergies and be sure to ask your medical care team regarding any allergy related questions (I do not share medical advice). As an Amazon Associate I earn from qualifying purchases.
Why a Gluten Free Recipe When Our Family is Mainly Nut Free? To Be a Compassionate Bystander
Most friends can enjoy dinner and then a show together and we tried to do that with friends during a snow getaway to Reno. We checked with every restaurant at the hotel and either they couldn't seat us before our show or we were concerned about their use of nuts or peanut oil. We resorted to checking the fast food options and while they were safe for our kids, our friend could not find anything gluten free. In the remaining 30 minutes, we resorted to snacks in our rooms and made it to the show.
As a result, I often think about what would I serve if this friend came to our house for dinner. I try to understand what it means to be gluten free, dairy free, etc. so that I can be a gracious hostess and compassionate bystander to the friends with allergies different from ours. Next time they come over, I will be serving this Smoked Duck with Hoisin Sauce Pizza for them.
You can make your own delicious Smoked Duck with Hoisin Sauce Pizza in minutes because the recipe is so easy and fast. The hard part is selecting allergy safe ingredients.
Start with a premade crust that is safe for you. I used Smart Flour Foods gluten free crusts which are made in a facility which does not use any of the top 8 allergens.
Use a spoon or a pastry brush to spread a small amount of an allergen safe hoisin sauce. I usually use Lee Kum Kee's hoisin sauce but ran out. Lee Kum Kee also makes a gluten free hoisin sauce. My local Whole Foods carries a brand called Wok Mei (gluten and nut free, per email) but not the hoisin flavor. I ended up using a hoisin sauce by Dynasty, which I do not recommend because it tasted "spicy" to one of my sons. The hoisin sauce by Dynasty does not indicate any allergen advisories on the label but per an email their hoisin sauce is made on shared equipment with nuts and gluten.
Add thinly sliced or shredded pieces of pre-cooked duck. I'm always hopeful we would have leftover roast duck but it never happens. Finally I found some smoked duck breasts at Whole Food's refrigerated meat section that are ready to heat and serve. They were tender, moist, and flavorful. I used a smoked duck breast by Mary's Free Range Duck. You can also substitute with shredded pieces of rotisserie chicken or smoked tofu slices if you don't eat duck.
Sprinkle thinly sliced scallions and a handful of shredded mozzarella cheese (use what works for you) and bake until the cheese is melted and bubbly. Eat. It took me less than 30 minutes to make these pizzas from start to finish.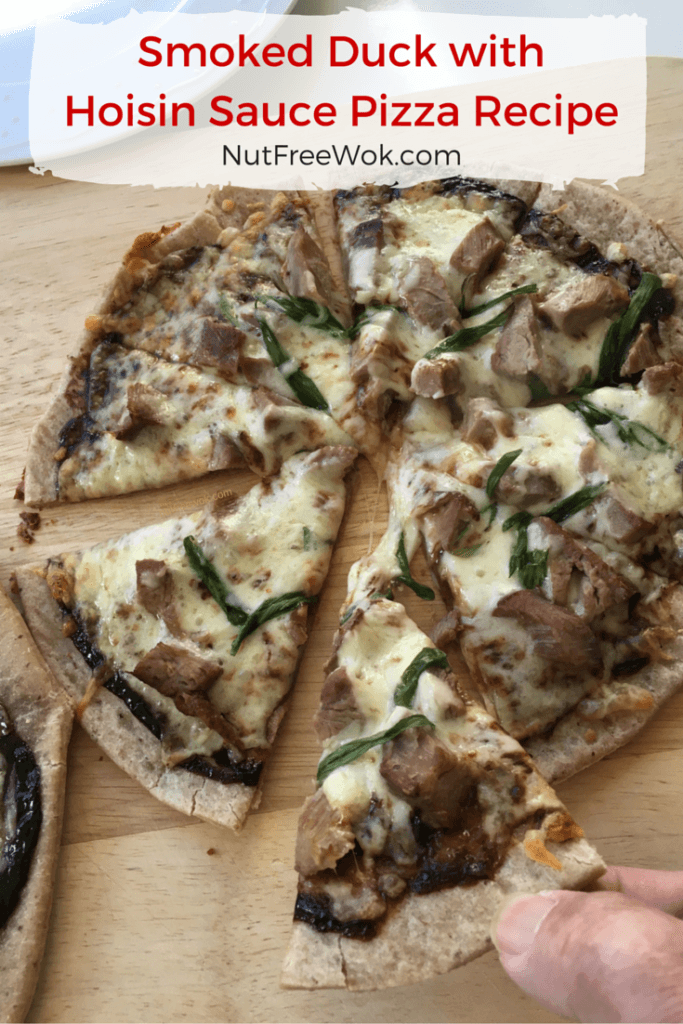 Smart Flour Foods Review
Classic Cheese Pizza & Garden Margherita
I have sampled Smart Flour Foods at the Gluten Free Allergen Free Expo as well as at the Winter Fancy Food Show and I made the cheese & margherita pizzas for my family. The cheese pizza is very nice, the thin crust stands up well to the sauce and cheese. The margherita pizza also has a thin crust but it also has a lot of sauce and tomatoes, so the pizza was softer and too messy to eat with fingers. I recommend that if you like a crispy thin crust pizza to adjust the timing and temperature accordingly or bake with a preheated baking stone. Their frozen pizzas are free of wheat/gluten, egg, soy, and rice and per an email, "The Smart Flour Foods facility is not certified as nut-free. However, all of Smart Flour Foods' ingredients are nut free and no nuts or tree nuts are processed in the company's facilities." Sounds good enough to me!
Original Pizza Crusts
Pay attention to the pizza crusts. Each pack comes with 2 pizzas and are free of gluten/wheat, dairy/casein, eggs, soy, nuts, and rice. That eliminates many of the top 8 allergens and can't imagine that they would be processing fish or shellfish either (check if you have concerns). These pizza crusts are perfect for our family so that I can make tomato free pizzas for our entire family to share and I can control how much sauce to use to optimize the texture of the crust. One of my sons feels better when he eats gluten free so making our own pizzas with a frozen crust is a nice alternative to pizza delivery. My local readers may be interested that I can only find these pizza crusts at the Whole Foods in Redwood City but not at the San Mateo store.
Allergy Aware Smoked Duck with Hoisin Sauce Pizza
This recipe as written is free of peanuts, nuts, gluten, soy, shellfish, fish, and egg. The Smart Flour crusts are dairy free too and you can substitute with an allergen safe dairy-free cheese if necessary. Check what is in my cupboard for ingredient ideas.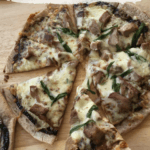 Smoked Duck with Hoisin Sauce Pizza Recipe & Smart Flour Foods Review
This Smoked Duck with Hoisin Sauce Pizza Recipe is inspired by a Peking Duck Pizza that I used to order at California Pizza Kitchen (CPK). Since one of my sons cannot have tomato, I created a pizza using hoisin sauce instead. Our family loved the Smoked Duck with Hoisin Sauce Pizza and I'm sharing this quick and easy Asian inspired recipe with you.
Ingredients
1

package Smart Flour Foods Original Pizza crust

or 2 pizza crusts, your choice

2-3

tablespoons

gluten free hoisin sauce

2

smoked duck breasts

2

scallions

1

cup

shredded mozzarella cheese

adjust amount to taste and preference

Non-stick cooking spray or gluten free corn meal
Instructions
Preheat oven according to package's instructions (I have a conventional oven, 400F).

Prepare a large baking sheet by lining with foil and prevent sticking with non-stick cooking spray or a sprinkle of corn meal.

Place the crusts on the baking sheet and use a spoon or a pastry brush to spread the hoisin sauce on the crust.

Remove the skin from the duck breasts (discard or reserve for other use), thinly slice the duck breast or shred by hand into bite sized pieces, place on the pieces on the pizza crusts.

Thinly slice the scallions diagonally and sprinkle over the pizzas.

Sprinkle on the mozzarella cheese.

Bake in the oven according to instructions on the package (I have a conventional oven, 13-15 minutes) until the cheese is melted and bubbly.

When the pizzas are ready, transfer them to a cutting board and wait 1 minute to allow the cheese to set.

Slice and serve (I like to slice with a large cleaver).
Recipe Notes
If you like a crispier crust, either a) increase the oven temperature to 425F or b) bake on a lower rack or c) use a preheated baking stone. Be sure to start watching the pizza after 10 minutes or when your kitchen smells like pizza!
Calorie estimate includes duck skin. Actual calories might be less if you omit the duck skin.
Please help me out!
The best way to see every post or recipe is to subscribe to Nut Free Wok's email subscription (be sure to respond to the confirmation email). You will to be notified by email next time I publish another post or recipe and I won't send you spam or share you email with anyone.
If you enjoyed this post, please use the social media buttons below to share with others. I am on Facebook, Twitter, Pinterest, and Instagram as @nutfreewok and it's great to chat and interact on social media too.
Disclosure/Disclaimer:
In addition to receiving coupons for Smart Flour Foods, I may mention the names of stores and/or brand names of products that I use. I have not been paid or solicited by any of the above companies to mention them. I share products and sources which I use and think may be helpful to readers, all opinions are my own. Please note that manufacturing practices and ingredients can change at anytime without notice and readers are always responsible for assuring allergen safety before buying or consuming foods. NutFreeWok.com is a participant in the Amazon Services LLC Associates Program, an affiliate advertising program designed to provide a means for sites to earn advertising fees by advertising and linking to Amazon.com.