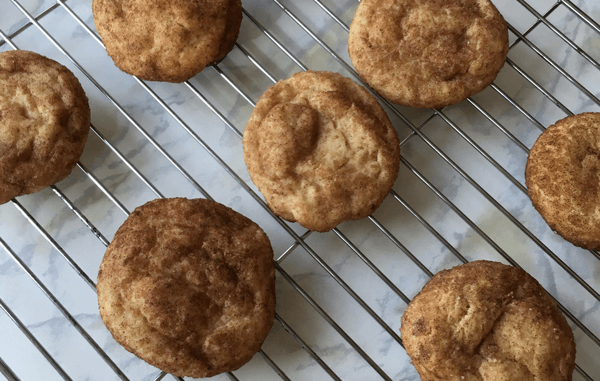 These soft and chewy snickerdoodle cookies are magical because they vanish shortly after baking! They're yummy, nut-free, and egg-free. You can also make the cookie dough balls ahead of time and freeze them for a make-ahead option. And they're easy to adapt for a dairy-free variation.
Disclaimer: I am a brand ambassador for Rodelle and receive products to use and review. Please check that all ingredients are suitable for your allergies and be sure to ask your medical care team regarding any allergy related questions (I do not share medical advice). As an Amazon Associate I earn from qualifying purchases.
Jump to Recipe
When I shared my recipe for Christmas Crinkles, I wrote about how much I loved baking with my kids when they were little. This magical snickerdoodle cookie recipe is an easy, no fuss, favorite to make and share with loved ones. It's all about baking, spending time together, and, of course, eating cookies.
I adapted this recipe from a traditional sugar cookie recipe in Food Allergies for Dummies (affiliate link). I'm really challenged when it comes to rolling cookie dough and decorating, which is why I gravitate to scoop and roll types of cookies. You can make these cookies extra festive by pressing the cinnamon covered and rolled dough balls into a small saucer of sprinkles before baking.
Sometimes I only bake a dozen cookies, freeze the rest of the rolled cookie dough on a cookie sheet, and when they are frozen, transfer them to a freezer bag to bake later. It's a great make-ahead option for when you want a small batch of fresh cookies or when you are preparing to make dozens and dozens of cookies.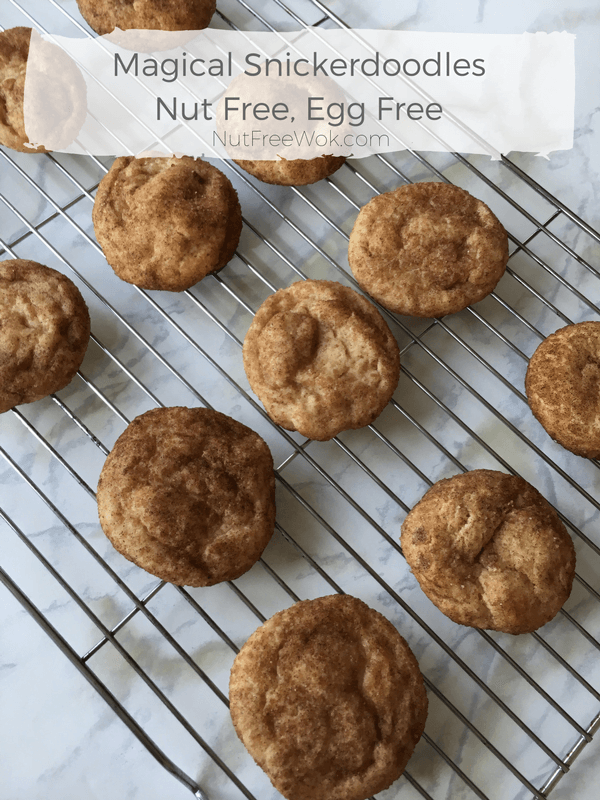 Easy Egg Substitute for Cookies
One of my sons is allergic to eggs and I've tried several kinds of egg substitutes. But my favorite egg substitute for making cookies is a combination of water, oil, and baking powder. Using a combination of water, oil, and baking powder as an egg substitute doesn't add any flavor or allergen to the cookies. This combination is very simple to use whereas some other egg substitutes require some special handling.
It's important to check that your baking powder is fresh. Combine a small amount of baking powder and water together and if the baking powder is fizzy, then you know that the baking powder is fresh. Discard and create a new mixture of 1.5 tablespoon water, 1.5 tablespoon oil, 1 teaspoon baking powder after you cream the butter and sugar.
Rodelle Vanilla Brand Ambassador Cookie Exchange
I'm happy to be a Rodelle Vanilla brand ambassador because I love that they have peanut and tree nut free facilities and are very transparent about disclosing other allergens. So far I've shared a recipe for ice cream in a bag (perfect as an activity) and a review of some of the Rodelle products, Ma Lai Go, a Chinese sponge cake that is served for dessert at dim sum restaurants, and the creamiest vanilla bean ice cream (I take one extra step to make the ice cream super creamy). If you want to learn more about their products, you can find more information on Rodelle's website or order from Amazon (affiliate link).
Many of Rodelle Vanilla's brand ambassadors are enjoying the holiday season with a virtual cookie celebration. These amazing bloggers are the best of the best, so head over to Rodelle's Holiday Cookies to enjoy all the different recipes.
This recipe as written is free of peanuts, tree nuts, egg, shellfish, fish, soy, and sesame.
If you are baking for someone with a milk allergy, you can easily use a milk free buttery substitute. I use Earth Balance's buttery baking sticks but be sure to check all the ingredients (includes soy).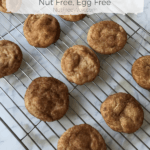 Magical Soft Snickerdoodle Cookie
These soft snickerdoodle cookies are magical because they disappear quickly after they're baked. 😉
Chill the dough
30
minutes
Ingredients
1 1/2

cup

powdered sugar

1

cup

butter

2 sticks, softened

1

tablespoon

vanilla extract

1 1/2

tablespoons

oil

1 1/2

tablespoons

water

1

teaspoon

baking powder

2 1/2

cups

flour

1

teaspoon

baking soda

1

teaspoon

cream of tartar

1

tablespoon

+ 1/2 teaspoon ground cinnamon

divided

1/4

cup

granulated sugar
Instructions
In a large mixing bowl, beat the butter and powdered sugar until the butter mixture looks lighter.

Add vanilla extract and combine.

In a small bowl, add the oil, water, and baking powder, stir (should be fizzy), and add that to the butter mixture, and mix well.

Add flour, baking soda, cream of tartar, 1/2 teaspoon cinnamon and combine until well mixed.

Cover the dough with plastic wrap and refrigerate 30 minutes to 1 hour.

Preheat oven to 375°F and lightly grease 2 cookie sheets or use parchment paper or a silicon baking sheet, set aside.

Combine sugar and cinnamon in a small mixing bowl.

Scoop about 1 heaping tablespoon, place into the bowl of cinnamon sugar, and use your fingertips to roll the dough into a ball, place on a cookie sheet about 2 inches apart, repeat.

Bake 8-10 minutes or until edges are light brown, let it rest for a few minutes and then transfer to a wire rack until cool.
Recipe Notes
Your cookies may turn out differently depending on how long you chill the dough, how long you bake them, and how long you leave them on the baking sheet after baking. Adjust the times accordingly depending on whether you like them soft and chewy or crisp.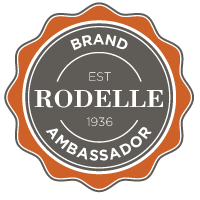 Thanks for reading, please help Nut Free Wok!
The best way to see every post or recipe is to subscribe to Nut Free Wok's email subscription (be sure to respond to the confirmation email). You will be notified by email next time I publish another post or recipe and I won't send you spam or share your email address with anyone.
If you enjoyed this post, please use the social media buttons below to share with others. I am on Facebook, Twitter, Pinterest, and Instagram as @nutfreewok and it's great to chat and interact on social media too.
Disclosure/Disclaimer:
I may mention the names of stores and/or brand names of products that I use because readers ask and I share products and sources which I use and think may be helpful to readers, all opinions are my own. Please note that manufacturing practices and ingredients can change at anytime without notice and readers are always responsible for assuring allergen safety before buying or consuming foods. NutFreeWok.com is a participant in the Amazon Services LLC Associates Program, an affiliate advertising program designed to provide a means for sites to earn advertising fees by advertising and linking to Amazon.com. Thank you for reading!