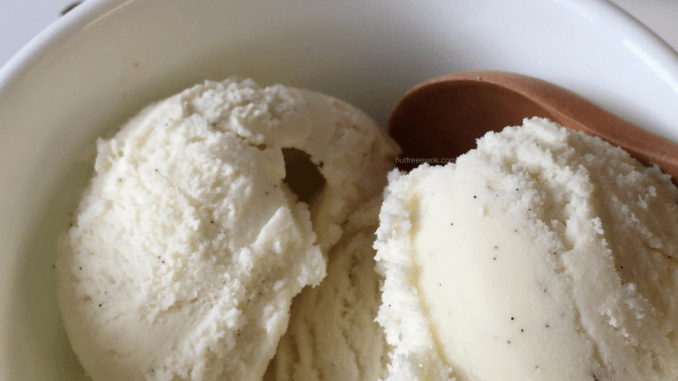 The Creamiest Vanilla Bean Ice Cream Recipe
Take your homemade ice cream to the next level of deliciousness and watch your friends and family members help themselves to seconds and thirds with enthusiasm. The Creamiest Vanilla Bean Ice Cream Recipe will become your family favorite.
Disclosure: I am a brand ambassador for Rodelle Vanilla and the giveaway below is sponsored by Rodelle. This post also contains affiliate links, which do not affect your purchase price but will allow me to earn a small commission, thanks for your support.
Those of you who follow my blog closely know that I recently shared a recipe for vanilla ice cream in a bag and maybe you're wondering, "ANOTHER vanilla ice cream recipe"? Yep, yep, and this one is absolutely divine because it is the creamiest vanilla bean ice cream recipe because of a simple little step that will change how you make homemade ice cream.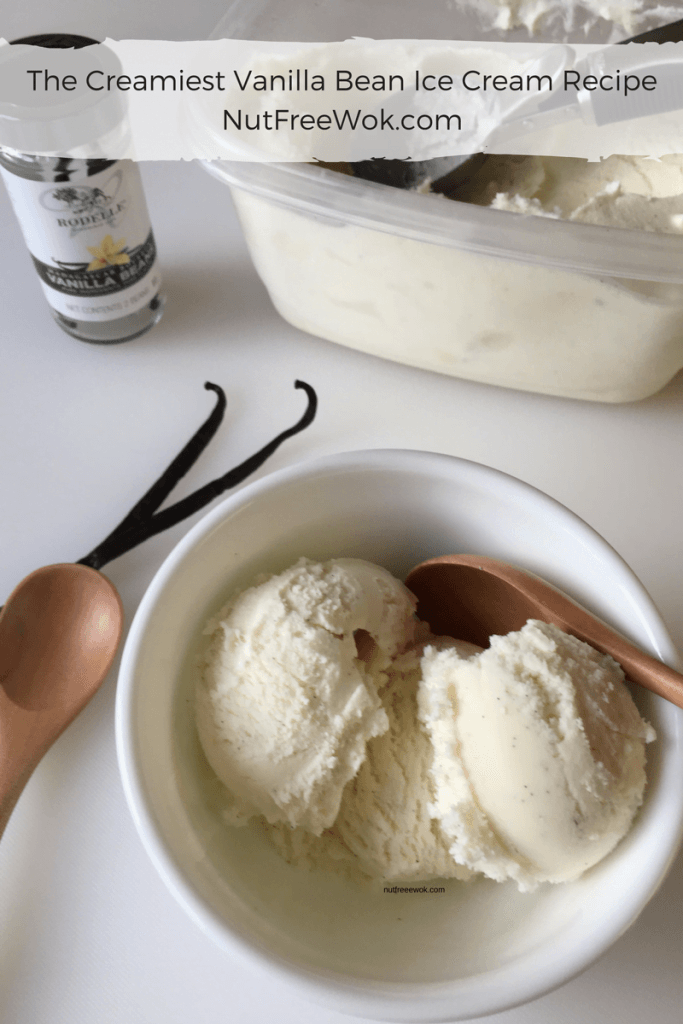 Those of us who love someone with food allergies will go to great lengths to make an allergy safe treat for our loved ones. Ice cream is probably one of the most difficult products to buy free of cross-contact with peanuts and tree nuts and of course can be a special challenge for those with milk and/or egg allergies.
When we first received our Cuisinart ice cream maker (affiliate link) as a gift, I used simple and high quality ingredients and we followed the instructions in the recipe booklet that came with the machine exactly. The resulting ice cream was ok but I wasn't 100% happy with the results and other than being in complete control of the quality and allergen safety of the ingredients, I couldn't see any additional advantages.
Then I started feeling concerned about the amount of heavy cream and sugar that goes into making ice cream and started adjusting the recipes willy nilly and we ended up with hard as a rock and difficult to scoop ice cream. We would leave the ice cream out on the counter to soften a bit but the constant defrosting and refreezing did not improve the texture of the ice cream.
The Quest for the Creamiest Vanilla Ice Cream
Lesson #1 – By chance I found "On Food and Cooking: The Science and Lore of the Kitchen" (affiliate link) at the library and learned that in order to make the creamiest ice cream, the base needs to be 20% fat and 15% sugar to have a creamy texture. Now I've settled on a basic ice cream recipe of 2 cups heavy cream, 2 cups whole milk, and 3/4 cups sugar with some flavor boosts with infusions, extracts, or mix-ins.
Lesson #2 – But we still longed for the creamiest vanilla bean ice cream from a supermarket or an ice cream shop. I had been reading about no-churn ice cream recipes. The basic recipe is make whipped cream, add sweetened condensed milk and any flavoring variations, and freeze to make ice cream without an ice cream maker. That was the final inspiration that I needed for this recipe, rather than simmer the milk, cream, and sugar together, simmer only milk and sugar together and later combine it with whipped cream.
Lesson #3 – Along the way, I learned that if I heat the heavy whipping cream, it won't thicken and become foamy. I am guessing that the heat affects the cream's ability to foam. Along the same lines, I would guess that ultra-pasteurized heavy cream would not whip very well either. I also learned that if I overmix the whipped cream, the ice cream ends up with pockets of air that turn icy in texture or I end up with some buttery bites of ice cream. I have the best results by whipping cold heavy whipping cream until it's thickened, doubled in volume, but before it starts to form peaks. I'm like Goldilocks when it comes to making the creamiest vanilla bean ice cream…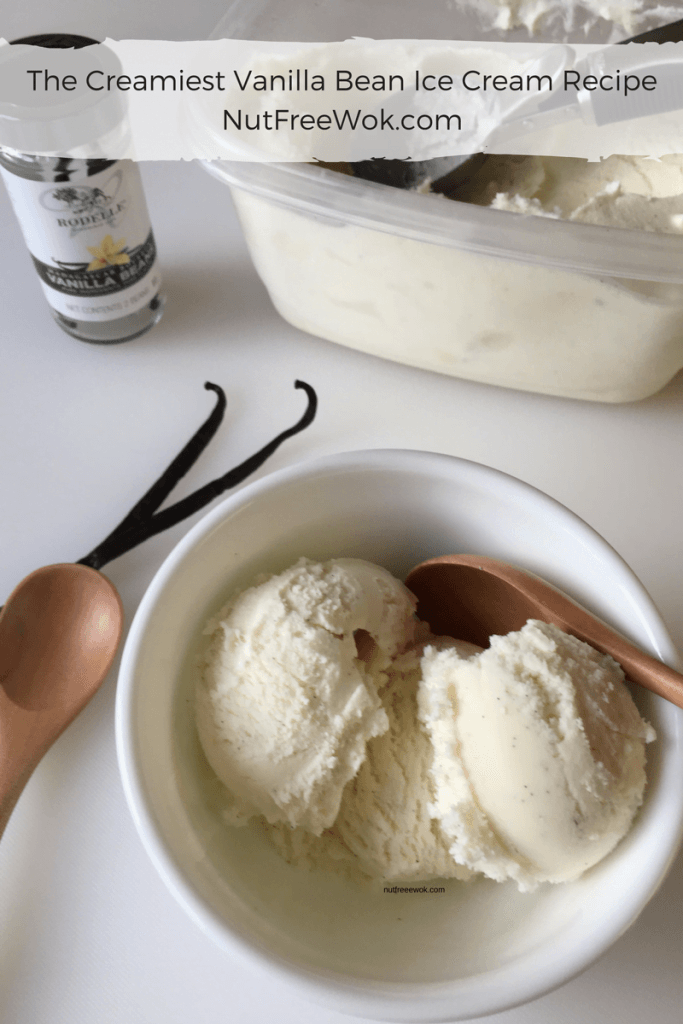 Vanilla Matters!
I am so happy with my Rodelle ingredients that I became one of their brand ambassadors because they are an allergy friendly company. I'll cut to the chase and tell you that Rodelle's whole vanilla beans is hands down the best ingredient to use for the creamiest vanilla ice cream. The ice cream has a lovely vanilla taste and it looks beautiful, creamy white with black flecks of vanilla bean.
The next best choice is Rodelle's vanilla paste, all the flavor of a whole vanilla bean and as easy to use as vanilla extract. Of course, if you only have vanilla extract on hand, that would be very suitable as well. If you had to switch between the three products 1 vanilla bean is the equivalent to 1 teaspoon of vanilla extract or 1 teaspoon of vanilla bean paste.
The price of whole vanilla beans is high but for the best value, check the spice aisle at Costco the next few weeks and months. I don't know if Costco will carry Rodelle vanilla beans this year during the holidays, but if you see their vanilla beans, do yourself a favor and buy a pack (or two), enough to last you until the next holiday season. I bought mine nearly a year ago and store them in their airtight glass tubes and they're still moist and pliable and smell amazing. Be sure to check out Rodelle's FAQ for tips on how to store them (cool and dark place, never in your refrigerator or freezer).
If you've never tried splitting and scraping a vanilla bean, use a sharp knife and split it down the middle lengthwise and then use the flat edge of the knife to scrape the seeds. Try to be as clean and neat as possible so you don't waste anything. Rodelle's website has more information on how to split and scrape. Since vanilla is in such short supply, I do not waste the vanilla pod and will reuse it the next day in a second batch of a fruit flavored ice cream (usually I find some vanilla specks in the base) or at the very least put the vanilla pod in my tea or coffee (oh yum!).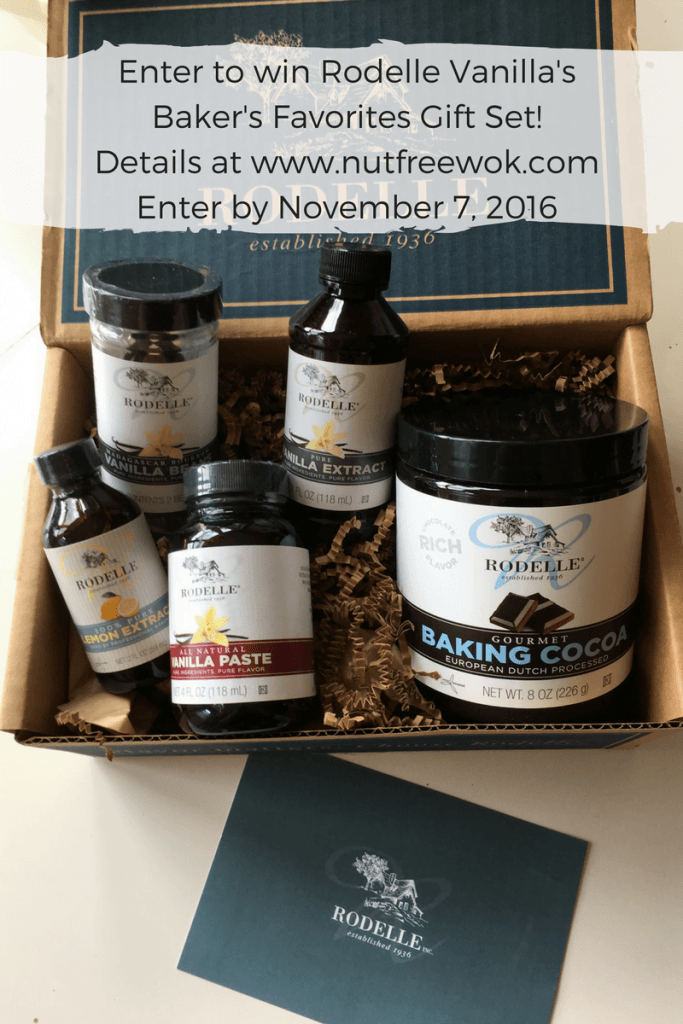 Giveaway!
I want to share the love! One lucky winner will win Rodelle Vanilla's baker's favorites gift set, which includes one each of vanilla beans, vanilla extract, vanilla paste, lemon extract, and baking cocoa. The giveaway begins Wednesday, October 26, 2016 and ends Monday, November 8, 2016 at 12:00 a.m. PST. I will be at the Food Allergy Blogger's Conference toward the end of the contest period, so I won't be around to remind you to enter, just enter now. No purchase is necessary and contest is limited to US residents only open to everyone (US & international too, thank you Rodelle!).
Please enter by using the Rafflecopter widget below and leave a comment in the blog below by answering the following question: What are your favorite holiday cookies? I might use your favorites to inspire my next cookie recipe.
a Rafflecopter giveaway

Thanks, Rodelle, for sponsoring this giveaway.
Please visit Rodelle's website and check out their products available on Amazon.
This recipe as written is free of peanuts, tree nuts, soy, egg, fish, shellfish, and wheat.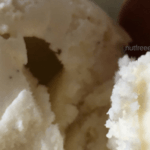 The Creamiest Vanilla Bean Ice Cream Recipe
Ingredients
2

cups

whole milk

3/4

cup

sugar

1

vanilla bean

I use Rodelle Vanilla

1

pint

2 cups heavy whipping cream
Instructions
Freeze ice cream maker freezer bowl overnight.

Add milk and sugar to a small sauce pan.

Use a sharp knife and split the vanilla bean in half lengthwise and scrape the black seeds and add the paste and vanilla bean to the milk.

Simmer the milk on low heat until the milk starts to bubble and the sugar is dissolves, remove from heat, and allow the milk to cool to room temperature.

Place the vanilla milk, the heavy cream, and a large clean mixing bowl in the back of your refrigerator for a few hours or overnight.

When you are ready to make your ice cream, vigorously shake the carton of cream for 1 minute and place in the freezer for a few minutes.

Plug in the ice cream maker, have all your parts ready, and leave the frozen ice cream freezer bowl in the freezer until the last minute.

Shake the whipping cream container again and empty it into the whipping cream into the chilled mixing bowl (scoop out any lumps of cream that might still be in the container).

Use an electric hand mixer to whip the whipping cream until it's thickened and doubled in volume, 1-2 minutes, stop before it makes peaks.

Add the vanilla milk mixture and mix for 1 minute (discard or reserve the vanilla bean for other purposes).

Pour the vanilla base into the freezer bowl and set it up according per your machine's instructions.

Churn for 20-25 minutes until the ice cream thickens.

Transfer the partially frozen ice cream mixture into a 6 cup or larger capacity container, cover, and freeze for 4 hours or more before serving.
Thanks for reading, please help Nut Free Wok!
The best way to see every post or recipe is to subscribe to Nut Free Wok's email subscription (be sure to respond to the confirmation email). You will to be notified by email next time I publish another post or recipe and I won't send you spam or share your email address with anyone.
If you enjoyed this post, please use the social media buttons below to share with others. I am on Facebook, Twitter, Pinterest, and Instagram as @nutfreewok and it's great to chat and interact on social media too.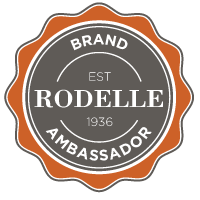 Disclosure/Disclaimer:
I am a brand ambassador for Rodelle and the giveaway is sponsored by Rodelle. I may mention the names of stores and/or brand names of products that I use because readers ask and I share products and sources which I use and think may be helpful to readers, all opinions are my own. Please note that manufacturing practices and ingredients can change at anytime without notice and readers are always responsible for assuring allergen safety before buying or consuming foods. NutFreeWok.com is a participant in the Amazon Services LLC Associates Program, an affiliate advertising program designed to provide a means for sites to earn advertising fees by advertising and linking to Amazon.com. Thank you for your support!