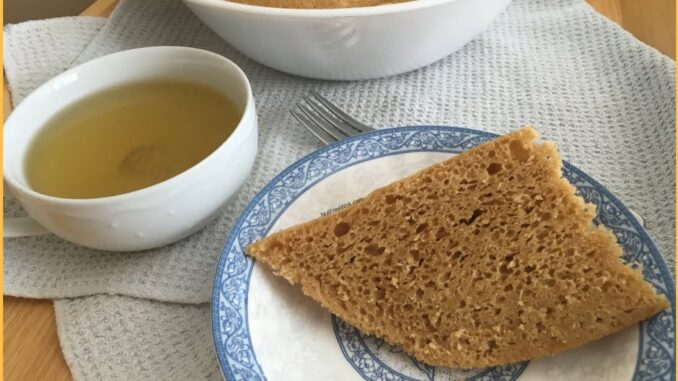 Ma Lai Go is often served as a dessert at Chinese dim sum restaurants. It's a perfectly light and sweet punctuation to an often savory dim sum lunch despite the cake's plain and unassuming appearance.
Update 2/3/2023: This post has been edited for clarity.
Disclaimer: I am a brand ambassador for Rodelle and receive products to use and review. Please check that all ingredients are suitable for your allergies and be sure to ask your medical care team regarding any allergy related questions (I do not share medical advice). As an Amazon Associate I earn from qualifying purchases.
Jump to Recipe
Ma Lai G0, a Dim Sum Dessert
Ma Lai Go, also known as Malaysian Cake or Malay Cake, is a beloved traditional Chinese dim sum dessert ("lai" sounds like lie). Heads turn when a server walks around a dim sum restaurant and yelling "Ma Lai Go!" It's one of my mom's favorite desserts and one of our family friends, Auntie Karen gave me her recipe years ago (thank you!!). It makes me so happy to see my family enjoy this treat worry-free.
I have adapted Auntie Karen's ma lai go recipe to perfection over the years. I think that her addition of using sweet rice flour (also known as glutinous rice flour or mochiko) is brilliant and gives the cake a nice texture.
Also her original recipe uses 1 teaspoon of almond extract and 1 teaspoon of vanilla extract, instead I use 2 teaspoons of Rodelle's vanilla extract (affiliate link) out of precaution to avoid almond extracts. I wrote more about using almond extracts or not in a separate post about making "almond" tofu.
Allergy Aware Ma Lai Go and More!
You can expect that this ma lai go recipe will be moist and delicious even when served plain, without frosting. The flavor is light and simple so you can enjoy the taste and smell of the vanilla and brown sugar. Ma Lai Go is typically made without any intentional addition of nuts in the ingredients however, it does contain wheat, milk, and eggs, some recipes may use almond extract or coconut milk for flavoring. If one is allergic to milk, I think it's an easy substitution to use any non-dairy milk substitute.
Tips to Ma Lai Go Success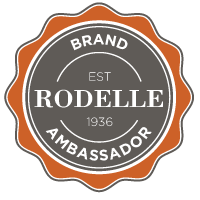 I'm a Brand Ambassador for Rodelle!
I'm proud to announce that I will be a brand ambassador for Rodelle, a company which I recently told you about in my post about making Ice Cream in a Bag and my review about some of their products. I'm excited because it's my first time being an official Brand Ambassador and Rodelle is wonderful:
Now that I am a happily one of Rodelle's newest brand ambassadors, what this really means for you is that I will have more reasons to share with you my favorite allergy mom approved dessert recipes.
This recipe for ma lai go as written is free of peanuts, tree nuts, soy, fish, shellfish and sesame.
If you are avoiding dairy, substitute with any non-dairy milk but I recommend using 1 cup initially and gradually adding more until the batter is about the consistency of pancake batter. I haven't tried making this recipe gluten free or egg free but have some ideas for future posts.
Let me know what you think of the recipe in the comments below.
If you love it, share with your friends!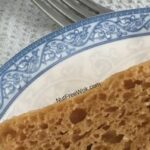 Auntie Karen's "Ma Lai Go" Chinese Sponge Cake
Ma Lai Go is often served as a dessert at dim sum restaurants. It's a perfectly light and sweet punctuation to an often savory dim sum lunch despite the cake's plain and unassuming appearance.
Total Time
1
hour
30
minutes
Ingredients
4

eggs

non-stick cooking spray

or parchment paper squares

2

cups

all purpose flour

can also substitute 50/50 AP and whole wheat

1/2

cup

glutinous rice flour

2 1/2

teaspoon

baking powder

1/2

teaspoon

baking soda

1

teaspoon

cream of tartar

1 1/2

cup

brown sugar

packed (I prefer organic dark brown sugar)

2

tablespoons

extra virgin olive oil

or canola oil

1 12

oz

can of non-fat evaporated milk

shake for a minute before using

2

teaspoons

vanilla extract (I used Rodelle's
Instructions
Take 4 eggs out of your refrigerator and place them in a bowl of warm water for 10 minutes, dry them with a paper towel, and set aside so they can air dry.

Spray an 8 cup (2 quart) capacity bowl or large casserole with a nonstick cooking spray (or line with parchment paper squares), set aside.

Set up your steamer with at least 1.5 inches of water and boil the water at low heat while you make the cake.

Mix the flour, rice flour, baking powder, and baking soda in a medium size bowl with a fork or a whisk.

Separate the egg whites and egg yolks into two large mixing bowls.

Use an electric mixer to whip the egg whites slowly until they start to foam, gradually increase the speed and keep beating until the egg whites start to form swirls and stiff peaks.

Add cream of tartar and keep mixing for another minute, set aside.

Beat the egg yolks, add brown sugar, and mix until fully incorporated.

Add oil, mix.

Add evaporated milk, mix.

Add vanilla extract, mix.

Add about half of the flour mixture and mix the batter on low speed, add the remaining flour, and mix.

Check that the steamer has enough water to steam for one hour (at least 1.5 inches of water, add water if needed) and that it is boiling at medium to medium high heat.

Add the egg whites to the cake batter and use a spatula to gently fold in the egg whites until the batter looks even.

Transfer the cake batter to the large bowl that has been prepared for steaming, gently smooth the batter with a spatula so that it's even (refrain from tapping the bowl), and place in the steamer.

Meanwhile place a piece of cheesecloth on the steamer, place the steamer lid on top of it, and secure all the edges and corners with a clothespin or two,and steam the cake for one hour (do not get distracted during this step!).

ALTERNATIVELY if you have safety concerns regarding using cheesecloth on a gas stove or don't have cheese cloth, steam the cake for one hour and then lift the lid quickly and be careful not to allow any condensation to drip onto the cake.

You can serve the cake warm or at room temperature, in 2-3 inch sized rectangular or parallelogram shaped blocks.
Other Nut Free Dessert Recipes You Might Like:
Thanks for reading, please help Nut Free Wok!
The best way to see every post or recipe is to subscribe to Nut Free Wok's email subscription (be sure to respond to the confirmation email). You will be notified by email next time I publish another post or recipe and I won't send you spam or share your email address with anyone.
If you enjoyed this post, please use the social media buttons below to share with others. I am on Facebook, Twitter, Pinterest, and Instagram as @nutfreewok and it's great to chat and interact on social media too.
Disclosure/Disclaimer:
I may mention the names of stores and/or brand names of products that I use because readers ask and I share products and sources which I use and think may be helpful to readers, all opinions are my own. Please note that manufacturing practices and ingredients can change at anytime without notice and readers are always responsible for assuring allergen safety before buying or consuming foods. NutFreeWok.com is a participant in the Amazon Services LLC Associates Program, an affiliate advertising program designed to provide a means for sites to earn advertising fees by advertising and linking to Amazon.com. Thank you for reading!