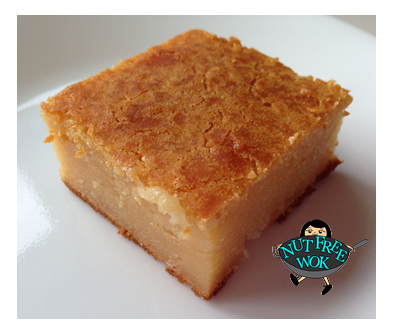 My recipe for Better For You Butter Mochi is a butter mochi recipe that I adapted to be as tasty as possible using just enough of the sweet, rich, and delicious ingredients to make a tasty treat. This post was updated with minor edits on June 22, 2023.
Disclaimer: Please check that all ingredients are suitable for your allergies and be sure to ask your medical care team regarding any allergy related questions (I do not share medical advice). As an Amazon Associate I earn from qualifying purchases.
Jump to Recipe
Love for Shared Recipes
During one of our trips to Hawaii, I bought a fundraiser cookbook, 50th Anniversary Best of Our Favorite Recipes published by the Maui Association for Family and Community Education. I love cookbooks with recipes by everyone's grandmother and auntie, showcasing traditional and everyday recipes such as malasadas, pork adobo, and laulau. I did do a double take and chuckled when I read "Garbage Cookies," "Sex in a Pan", such creative recipe names. 😉 As I flip through the cookbook, part of me longs for a record of recipes from my mom and dad, my aunts, and my grandmother and that longing inspires me to I continue on with my project to write recipes for my children, which I happily share with my Nut Free Wok readers.
I don't recall eating butter mochi as a child but grew to love it while spending time with Japanese-American friends who were from Hawaii. Butter mochi is a Hawaiian style dessert made with sweet glutinous rice flour baked with coconut milk or cow's milk, eggs, butter, and coconut. I decided to try making butter mochi many years ago because my mother in law loves it and now my children enjoy it too.
Making it healthier:
Most traditional butter mochi recipes involve coconut milk, whole milk. 5 eggs, 1 stick of butter, 2 1/2 cups of sugar, 1 cup shredded coconut, all of which are super rich for 24 servings! So through the years I've made many variations of butter mochi. Instead of using two cans of coconut milk, I use fat free coconut milk. Instead of using any coconut milk, I use fat-free evaporated milk. How would it taste with half the sugar? How would it taste with 4 eggs, with 3 eggs? Can I get away with less butter? I've tried using as little as 2 tablespoons which is okay but 4 tablespoons is just enough for a wonderful aroma and a crispy crust when eaten while still warm and fresh from the oven. I am very happy with this lightened up recipe that tastes like a treat.
Allergy Aware Asian Fare suggestions:
If coconut is not an allergen concern, then use the canned coconut milks. I personally like using the reduced fat coconut milk from Trader Joe's (as discussed in another post, call Trader Joe's to check about your family's allergens before using). Native Forest produces an Organic Coconut Milk (affiliate), you can download the allergen table on Edwards & Son's website. If one doesn't want to use coconut, then substitute with two cans of non-fat evaporated milk (NOT the thick sweetened condensed milk) or other equivalent dairy substitute.
Eggs makes the butter mochi airy and you will see that it looks puffy toward the end of the baking time in the oven. This last time I made it, I had no eggs in my refrigerator and an egg substitute worked perfectly. I used Ener-G Egg Replacer (affiliate) but I'm sure the oil, water, and baking powder substitute (1.5 tablespoons oil, 1.5 tablespoons water, 1 teaspoon baking powder and mix together = 1 whole egg) would work just as well to leaven the butter mochi. To avoid strong aftertastes, I use the equivalent of 2 eggs rather than 3. My younger son who is allergic to eggs tried it for the first time and his response makes my efforts so worthwhile:
"Mmmm….Wow….This is better than I thought it would be….Can I have another piece?"
Milk is not one of our family's allergens, but since I've made butter mochi at least a dozen different ways with reasonable success, I think you could make it with any dairy substitute of your choice. You just need 3 cups of liquid soy milk, rice milk, coconut milk, etc. and a milk allergy safe butter substitute. I have had great results with other recipes and like the taste of Earth Balance's Buttery Sticks, it is peanut and tree nut free but it contains soy.
As mentioned in my post about Chinese New Year rice cake, I recommend using Mochiko sweet rice flour by Koda Farms (affiliate). Koda Farms' website has an allergen statement (top 8 allergen and gluten free). Even if one doesn't have food allergies, it's a superior product and grandmother approved.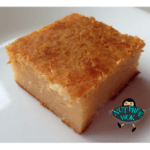 Better For You Butter Mochi
Butter mochi is very delicious but I have lightened up a typical butter mochi recipe so that it is better for you but still very tasty. And I have included some allergy friendly substitutions so that everyone can enjoy!
Total Time
1
hour
10
minutes
Ingredients
4

tablespoons

butter

or non-dairy butter alternative

3/4

cup

sugar (organic)

use a little more if using regular sugar

2

cans of non-fat evaporated milk (12 oz each)

or 2 cans of coconut milk or 3 cups of milk allergy safe substitute

3

eggs

beatened (or egg substitute of choice for *2* eggs)

1

box

Koda Farms sweet rice flour

16 ounce

2

teaspoons

baking powder

1

teaspoon

vanilla extract

1/4

teaspoon

salt

1/2

cup

grated coconut

optional, additional 1/4 cup for garnishing if desired
Instructions
Preheat oven to 350 °F and spray a 13 x 9 glass baking pan with nonstick cooking spray.

Microwave the butter in a large bowl, 30 seconds at a time until it is 75% melted (a quick stir will melt it the rest of the way).

Add sugar, evaporated milk (or coconut milk or milk substitute), and eggs (or egg substitute) and beat with a mixer on low for 1 minute.

Add rice flour, baking powder, vanilla extract, salt, and grated coconut (if desired) and beat with a mixer until the batter is smooth and free of lumps.

Pour into the baking dish and bake for 1 hour, or until golden brown.

Allow to cool and cut into 24 pieces.
Recipe Notes
1 box of sweet rice flour is 1 pound (464 grams)
The calorie count is an approximation and includes coconut, which is optional.
Party theme ideas:
I had previously shared recipes for Sweet Cucumbers, Kalua Pork, Turkey Spam Musubi, and this Hawaiian dessert would round out the theme. Cut up some pineapples and you can host a Hawaiian themed party!
Thanks for reading, please help Nut Free Wok!
The best way to see every post or recipe is to subscribe to Nut Free Wok's email subscription (be sure to respond to the confirmation email). You will be notified by email next time I publish another post or recipe and I won't send you spam or share your email address with anyone.
If you enjoyed this post, please use the social media buttons below to share with others. I am on Facebook, Twitter, Pinterest, and Instagram as @nutfreewok and it's great to chat and interact on social media too.
Disclosure/Disclaimer:
I may mention the names of stores and/or brand names of products that I use because readers ask and I share products and sources which I use and think may be helpful to readers, all opinions are my own. Please note that manufacturing practices and ingredients can change at anytime without notice and readers are always responsible for assuring allergen safety before buying or consuming foods. NutFreeWok.com is a participant in the Amazon Services LLC Associates Program, an affiliate advertising program designed to provide a means for sites to earn advertising fees by advertising and linking to Amazon.com. Thank you for reading!