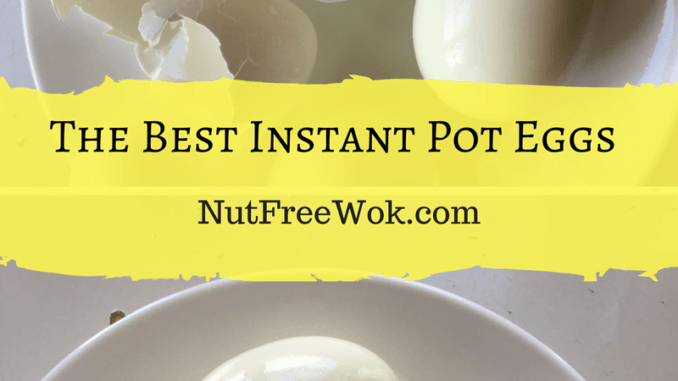 Making hard boiled eggs in an Instant Pot is easy and removing the shell is a breeze. If you already have an Instant Pot, you must try this method. I regularly make some IP eggs as part of my weekly meal prep routine and because the IP is basically clean, I use it to cook other dishes in my IP. This post was updated on 9/4/2023 with minor edits for clarity.
Disclaimer: Please check that all ingredients are suitable for your allergies and be sure to ask your medical care team regarding any allergy related questions (I do not share medical advice). As an Amazon Associate I earn from qualifying purchases.
Jump to Recipe
Easy Instant Pot Success
My family was at a friend's house for brunch recently and my friend had an Instant Pot tucked away in a corner because she didn't know how to use it. Another friend offered to show her how to use it by making hard boiled eggs and the Instant Pot eggs turned out great.
I tried our friend's step by step instructions at home and the eggs were so perfect, I love making hard boiled eggs in my Instant Pot (affiliate link). None of the eggs are cracked and the shells slip right off. The egg yolks are perfectly yellow, cooked through, without turning gray or green.
My kids aren't into hard boiled eggs but I make it for busy days when I am on the go all day and need a hearty breakfast or a portable snack. I put the eggs into the Instant Pot when I wake up, get dressed, and the eggs are ready for an ice bath by the time I'm back in the kitchen.
They are ready for making deviled eggs because the egg shells are easy to peel and the yolk is perfectly centered. 
Use them for egg salad types of recipes.
Best of all, I can make one of my favorite Chinese snacks, Tea Eggs, which I featured in my cookbook, Chinese Instant Pot Cookbook (affiliate).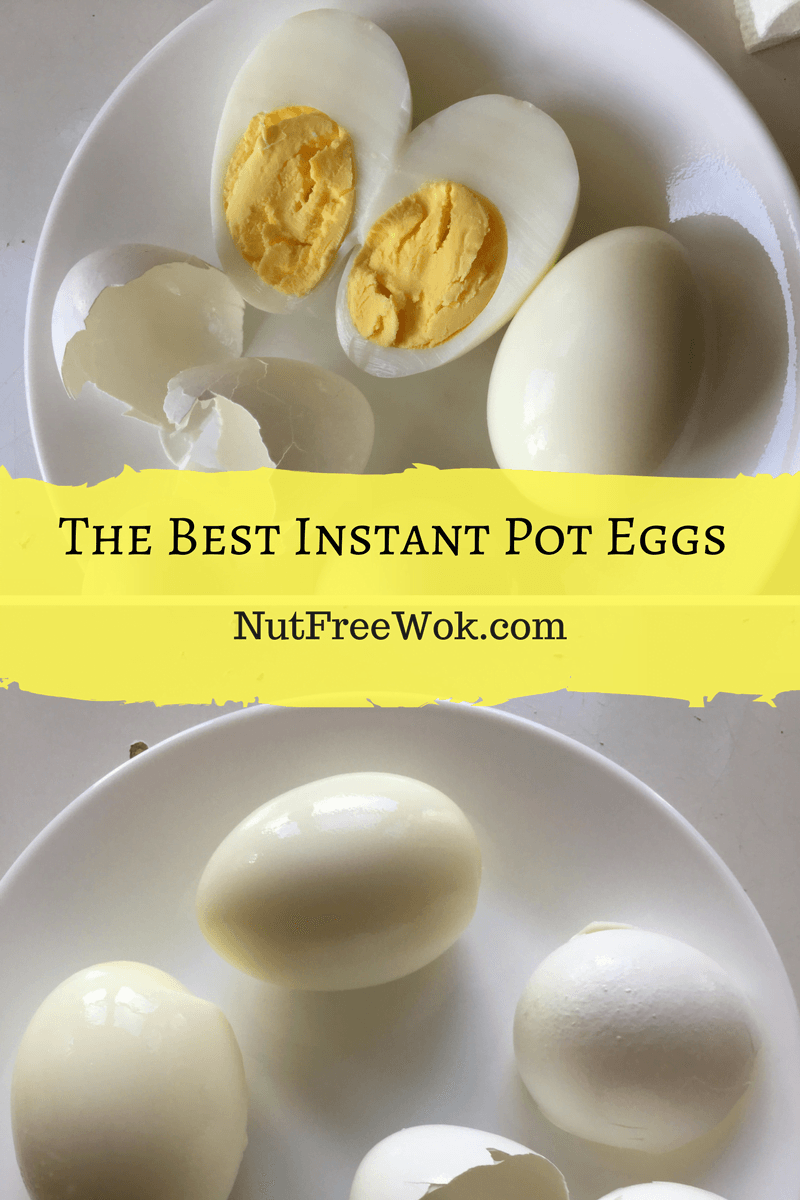 Instant Pot Love
If you don't have an Instant Pot (affiliate link), you need to know that it's the solution to the problem of making many healthy and delicious meals for your family quickly. You can read my full review in my recipe for chicken teriyaki thighs. I love making my top 9 allergen free carrot soup in a fraction of the time.
I had heard about the Instant Pot from friends and I'm so grateful they kept telling me about it. My aunts stop by when I happen to be using it and I show them how to use it, what I'm making, etc.. They asked me to order additional Instant Pots for them when they go on sale (usually on Amazon Prime Day in July or Black Friday). I learned how to make hard boiled eggs from one friend showing another friend. If you try making hard boiled eggs in your Instant Pot and love it, share this post with a friend.
From the time I started this post until the time I actually finished, I actually forgot the timing for the recipe, forgot that I already started this post, and had to guess. So here's the best instant pot egg recipe for your sake as well as mine! 😉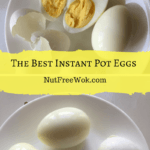 The Best Hard Boiled Eggs: Instant Pot Recipe
It's so easy to make the best "hard boiled" eggs in an Instant Pot, you could make a few at a time or make a dozen for quick grab and go snacks, deviled egg appetizers, or Chinese tea eggs. One large egg is approximately 78 calories.
Ingredients
1-9

large eggs

3/4

cup

water
Instructions
Place steamer rack that comes with the Instant Pot inside the liner and arrange eggs on the rack and add water.

Cover with the lid, turn the knob to seal, and set the Instant Pot on Manual for 6 minutes. Prepare a large bowl of ice water.

When the timer goes off, release the pressure, and transfer the eggs to a bowl of ice water and chill in the ice water bath for 5 minutes.
Recipe Notes
It's possible to cook more eggs but the results will be more consistent if you cook all of the eggs in one layer.
Nut Free Wok Instant Pot Recipes
I love using my Instant Pot and ended up writing a cookbook of Chinese recipes (affiliate) adapted for the Instant Pot. If you enjoy using your Instant Pot as much as I do, here's a list of my favorite recipes.
Thanks for reading, please help Nut Free Wok!
If you like this recipe, please be sure to give a 5 star rating, leave a comment, and share this post! Your support means a lot to me.
Subscribe to Nut Free Wok's email subscription (be sure to respond to the confirmation email). You will be notified by email next time I publish another post or recipe and I won't send you spam or share your email address with anyone.
Disclosure/Disclaimer:
I may mention the names of stores and/or brand names of products that I use because readers ask and I share products and sources which I use and think may be helpful to readers, all opinions are my own. Please note that manufacturing practices and ingredients can change at anytime without notice and readers are always responsible for assuring allergen safety before buying or consuming foods. NutFreeWok.com is a participant in the Amazon Services LLC Associates Program, an affiliate advertising program designed to provide a means for sites to earn advertising fees by advertising and linking to Amazon.com. Thank you for reading!