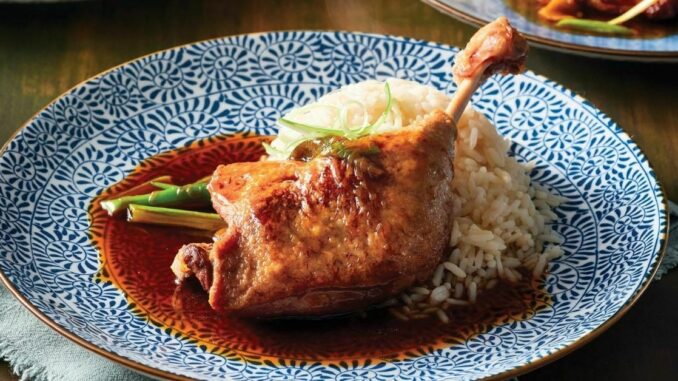 Soy-braised duck legs with ginger and scallion that's pressure cooked in an Instant Pot is a quick and easy adaptation of a special dish, Luo Shui Ya. Luo shui ya is a whole duck braised in a master sauce with ginger and scallion that is worthy of a family gathering. My recipe uses duck legs that can be cooked in an Instant Pot with a fraction of the effort. Excerpt from Chinese Instant Pot Cookbook by Sharon Wong, published by Rockridge Press. Copyright © 2022 by Callisto Media, Inc. All rights reserved.
Disclaimer: Please check that all ingredients are suitable for your allergies and be sure to ask your medical care team regarding any allergy related questions (I do not share medical advice). As an Amazon Associate I earn from qualifying purchases.
Jump to Recipe
Luo Shui Ya, Soy-Braised Duck Legs
I wanted to include a braised duck recipe in the Chinese Instant Pot Cookbook (affiliate) because it's such a special dish for me. My parents and grandparents usually served duck on special occasions. Sometimes they purchased a roast duck or a braised duck from the Chinese roasted meat take out places (siu mei) for family gatherings. I like making this dish at home because it's so good when freshly made. I also like being able to adjust the seasonings to suit our dietary preferences.
Braising a whole duck would require a large pot and lots of ingredients. As with cooking a whole chicken or whole turkey, the breasts and legs cook at different rates. In this recipe from the cookbook, every duck leg is perfectly and consistently cooked.
The words luo shui actually means "old water" in Chinese literally but is an expression for a master sauce. When we braise a meat in soy sauce, spices, and aromatics the resulting sauce is very flavorful and saved to use again for other dishes as a master sauce for braises.
However, this soy-braised duck legs prepared in the Instant Pot uses a smaller amount of sauce ingredients and if desired, you could reserve the leftover sauce to flavor your vegetables, stir-fries, etc..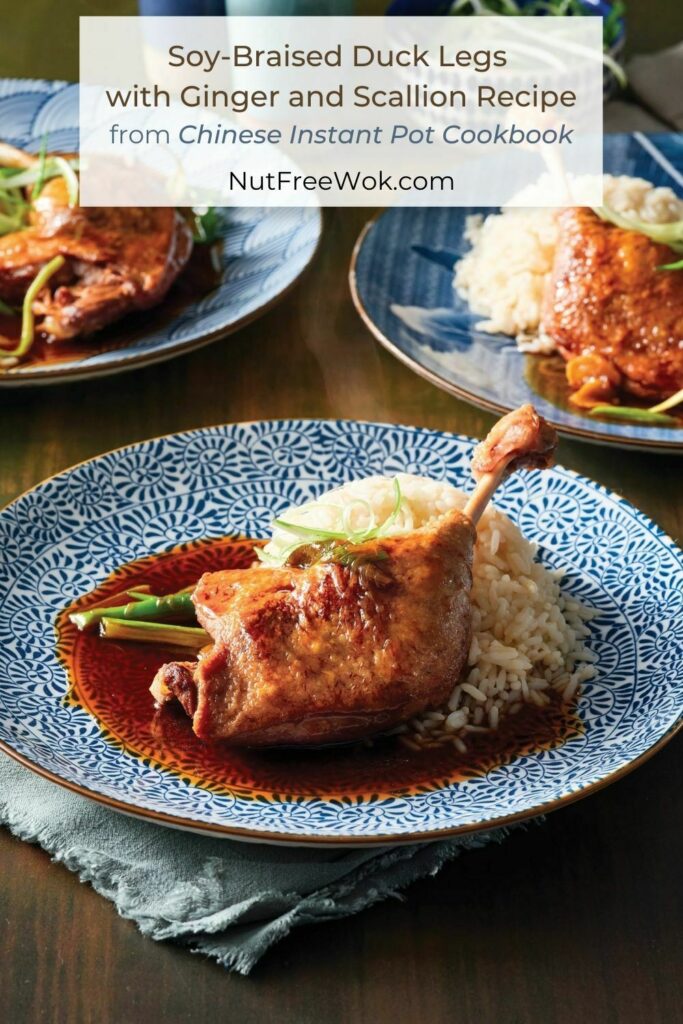 Red Cooking with Thin and Thick Soy Sauces
Red cooking refers to a cooking technique that adds "red color" to foods by using soy sauces. Chinese people consider red a lucky color and foods prepared this way are considered auspicious, which is a great dish to consider for Chinese Lunar New Year and other festivities. Usually people use thin and thick soy sauces, also known as light and dark soy sauce.
An all-purpose soy sauce would be labeled thin soy sauce or light soy sauce or sang chau 生抽. I know 生 means raw or alive and this type of soy sauce is from the first batch of soy sauce (like the first press for extra-virgin olive oil). It's perfect for stir fries and making into a dipping sauce. Thin soy sauce is the first product made from fermented soy beans and it is saltier and lighter in color.
Dark soy sauce or thick soy sauce or lao chou 老抽 is produced with a longer fermentation time. I know just enough Chinese to know the word lao 老 means old and that helps me to remember that this is the type of soy sauce that takes a long time to make. It will taste sweeter, look darker and more viscous and used for braises. Sometimes manufacturers might add caramel coloring, sugar, or other ingredients, which I prefer to avoid.
If you can buy both types of soy sauce and have room to store them, definitely try both. I went for years using only thin soy sauce but it's not a 1:1 substitution for dark soy sauce otherwise your dishes will be too salty. If a recipe calls for dark soy sauce, I would substitute it with half thin soy sauce and half water, more or less depending on whether anyone is sensitive to sodium in their food.
Chinese Instant Pot Cookbook Pre-Orders
Wow, thank you for your kind comments and enthusiastic pre-orders for the Chinese Instant Pot Cookbook (affiliate). I consider it a great honor that so many of you pre-ordered the cookbook and supported my efforts to be a published cookbook author. If you haven't ordered the cookbook (affiliate) yet, you can order it from wherever books are sold.
And some of you even mentioned that you don't even have an Instant Pot and want to order an Instant Pot. If that's your situation, you can read about why I am In Love With My New Instant Pot Pro – Review (2021) And in my cookbook announcement, I compared a few Instant Pot models and shared my top three essential accessories to maximize the versatility of cooking with an Instant Pot. If you like the cookbook, please write a review on Amazon and tell your friends.
I've also posted two other recipes from the cookbook so that you can preview some recipes, Baby Bok Choy Instant Pot Recipe, which is a great side dish for these yummy duck legs, and Lu Rao Fan, Braised Pork and Egg Rice Bowl.
Instant Pot for Beginners
I first reviewed my Instant Pot when I shared my recipe for Instant Pot Chicken Thighs with Teriyaki Sauce Recipe & Review. I love that recipe, it's so delicious and you can use the leftovers (if any) to make my recipe for Chicken Pineapple Fried Rice.
Once you purchase an Instant Pot, don't hesitate and just open the box, read the manual. Then wash the inner pot, lid, and accessories according the the directions in the manual. Follow the instructions for a hot water test and then taste the water to be sure it only tastes like hot water. Repeat the water test until you are comfortable with the settings.
Some easy beginner Instant Pot recipes:
February 8 is still a few weeks away and if you haven't tried using an Instant Pot before it might be intimidating. Here are some easy Instant Pot recipes to start with and enjoy some Instant Pot success while you wait for the cookbook.
If you aren't allergic to eggs, make The Best Instant Pot Eggs. It's a low cost, low risk way to practice using the Instant Pot. It's so easy to peel eggs made in the Instant Pot!
I love and recommend Crazy Good Carrot Soup Instant Pot Recipe as an easy recipe. It's free of the top 8 allergens as written, budget-friendly, and a fabulous way to make a dent into a 5 pound bag of carrots from warehouse stores!
I also love making Instant Pot Chicken Congee (Chicken Jook). This recipe pressure cooks the congee in 40 minutes, which is good. When I have more time or want to cook overnight or want a creamier congee, I set the pressure timer for 60 minutes which is reflected in the congee recipes in the cookbook.
I recently added another recipe from the Chinese Instant Pot Cookbook, Baby Bok Choy Instant Pot Recipe, which is another easy recipe to try and the results are amazing.
Allergy Aware Soy-Braised Duck Legs
This recipe for soy-braised duck legs is free of peanuts, tree nuts, eggs, dairy, fish, shellfish, and sesame as written.
If avoiding gluten, use tamari sauce and a gluten-free rice wine or equivalent. Rice wine can be fermented with wheat or other ingredients. I like to use a clear rice wine (How to Choose an Allergy Friendly Chinese Rice Wine) but if you don't have that you can substitute with cooking sherry or even broth or water for deglazing the Instant Pot.
If avoiding soy, use a soy-free soy sauce. You could add all the ingredients for soy-free soy sauce into the pot and then after the duck legs are finished cooking, reduce the sauce for a few minutes, strain, and save it for use as a soy-free soy sauce (with a little duck flavoring in the sauce!). I haven't tested this idea out but I think it would work. If you try it, let me know in the comments. If you need help with selecting any ingredients, refer to What's in Nut Free Wok's Cupboard? Allergy Aware Ingredients.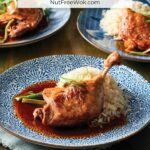 Soy-Braised Duck Legs with Ginger and Scallions Instant Pot Recipe
Soy-braised duck legs with ginger and scallion that's pressure cooked in an Instant Pot is a quick and easy adaptation of a special dish, Luo Shui Ya. Luo shui ya is a whole duck braised in a master sauce with ginger and scallion that is worthy of a family gathering. My recipe uses duck legs that can be cooked in an Instant Pot with a fraction of the effort. This is a free recipe shared with permission from the publisher, Rockridge Press, from my new cookbook, Chinese Instant Pot Cookbook. Photo credit: Darren Muir
Ingredients
4

duck legs

thawed, if frozen

1/2

teaspoon

salt

1

(1-inch)

fresh ginger

thinly sliced

2

tablespoons

rice wine

3

scallions

trimmed and halved

2

tablespoons

dark soy sauce

1

tablespoons

light soy sauce

(thin soy sauce)

1

tablespoon

sugar

1/2

cup

water

cooked rice

for serving (optional)
Instructions
Use scissors to trim off any excess duck fat and skin and reserve. Pat the duck legs dry with paper towels and sprinkle the meat side with the salt.

On the Instant Pot, select Saute and adjust the heat to high. Add the duck fat and duck skin pieces, they should sizzle within a minute. Stir frequently until they render enough fat to cover the bottom of the pan and the control panel indicates Hot.

Place 2 duck legs in the pot, skin-side down, and sear for 3 minutes. Flip and sear the other side for 2 minutes. Remove and repeat with the remaining 2 duck legs.

Select Cancel. Remove the duck lets and pour the excess duck fat into a small storage container or jar to reserve for other uses.

Place the liner back into the base. Add the ginger and pour in the wine to deglaze the pot, scraping up any browned bits from the bottom.

Add the scallions and place the duck legs on top. Pour in the dark and light soy sauces, sugar, and water.

Lock the lid. Program to pressure cook for 20 minutes on high pressure.

When the timer sounds, let the pressure release naturally for 5 minutes, then quick release the remaining pressure Serve as is, or with rice.
Thanks for reading, please help Nut Free Wok!
The best way to see every post or recipe is to subscribe to Nut Free Wok's email subscription (be sure to respond to the confirmation email). You will be notified by email next time I publish another post or recipe and I won't send you spam or share your email address with anyone.
If you enjoyed this post, please use the social media buttons below to share with others. I am on Facebook, Twitter, Pinterest, and Instagram as @nutfreewok and it's great to chat and interact on social media too.
Disclosure/Disclaimer:
I may mention the names of stores and/or brand names of products that I use because readers ask and I share products and sources which I use and think may be helpful to readers, all opinions are my own. Please note that manufacturing practices and ingredients can change at anytime without notice and readers are always responsible for assuring allergen safety before buying or consuming foods. NutFreeWok.com is a participant in the Amazon Services LLC Associates Program, an affiliate advertising program designed to provide a means for sites to earn advertising fees by advertising and linking to Amazon.com. Thank you for reading!