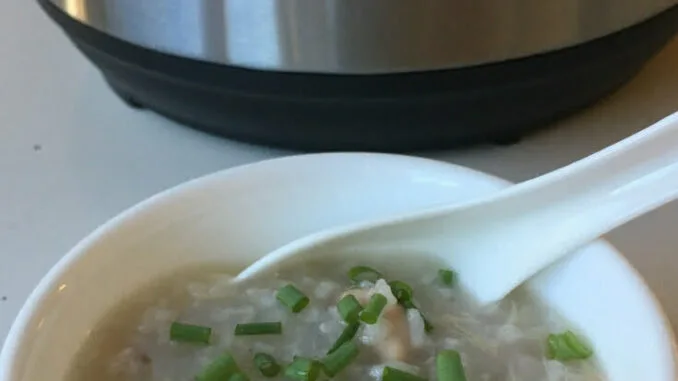 Chicken Congee is the Chinese mom's antidote for cold winters and winter colds. I've been making Chicken Congee in my Instant Pot and LOVE the ease and taste! There is nothing easier than putting all the ingredients into the pressure cooker, pushing a button, and walking away.
Disclosure: This post has affiliate links.
I have made a lot of congee since I started cooking for myself over 30 years ago. I shared a traditional congee recipe before which requires stirring and checking every 15-20 minutes for a couple of hours. It's a simple recipe but time consuming. I love the relative freedom to do other things when I make chicken congee in my 6 qt Duo Instant Pot (affiliate link). Even though it takes about 20 minutes to come to pressure, 30-40 minutes to cook, and 30 minutes to release pressure, it still frees up 90 minutes of feeling tethered to the kitchen and finishes 30-60 minutes faster than the stovetop method.
My family likes to eat congee for breakfast especially on a cold winter morning but I also don't want to get up 2 hours earlier to make congee. I have used a thermal pot that I bought at an Asian supermarket (similar to this thermal pot model on Amazon, affiliate link). I place all the ingredients into the stainless steel liner and bring it to a boil for 20-30 minutes (stir occaisionally) on the stovetop. When it looks more like congee than rice and water, I cover the pot with a lid and place the pot inside the thermal liner overnight. The congee is perfect by morning. The thermal pot is very energy efficient as it doesn't need to be plugged in and is portable for potlucks, picnics, and camping. But the Instant Pot method is much easier.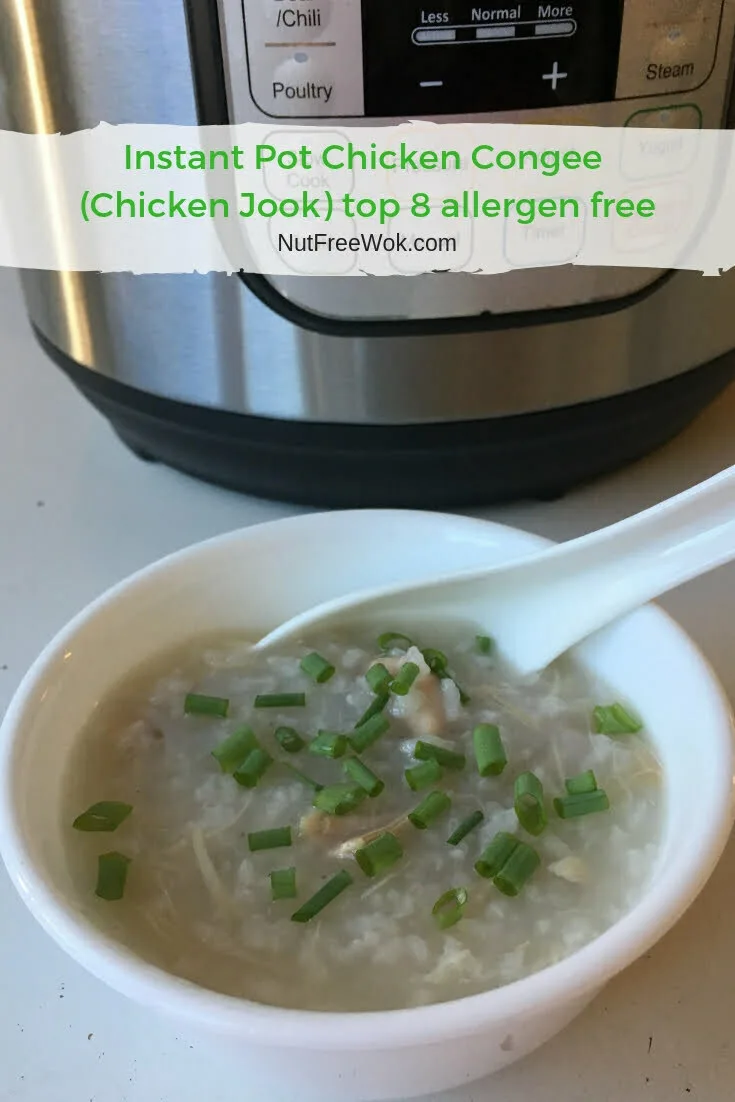 Advantages of Cooking Congee in an Instant Pot
When it comes to making congee, I am an Instant Pot convert now. I love it so much more because I don't have to stir every 15-20 minutes and I can skip the 30 minutes of hands on time needed when using a thermal pot. There's zero chance of scorching the congee or making a mess and clean up is breeze.
I place all the ingredients into the Instant Pot, put the lid on, push a button, and it's ready to eat in about 90 minutes tops. Another advantage of using an Instant Pot is that the shorter cooking time preserves the nutrients, taste, and texture of the chicken.
The best reason to use an Instant Pot is that the clean up is easy compared to possible scorched pots (not stirring enough in a pot) or porridge all over stovetop (sometimes the lid doesn't stay ajar) or the counter (slow cooker messes!). The stainless steel liner and the Instant Pot lid can go into the dishwasher and is easy to wash by hand if needed.
Tips to Make a Simple Chicken Broth
You will have the best results if you make chicken congee with a simple homemade broth. You can make your chicken broth in a way that works for you. The broth can be as simple as the resulting broth from cooking a "white cut chicken" or boiling a whole chicken.
I buy 1 or 2 whole chickens for some prep-ahead meals and then debone some chicken for other meals and save all the bones for making my own homemade chicken broth. If I don't have time to make the broth on the same day, I put the chicken bones into a freezer bag and freeze them until I'm ready. Admittedly this can feel like a big production but I get a lot of food prep out of the way.
Sometimes I buy free range chicken bones or chicken backs for making broth. I put 2-3 pounds of bones, 1-2 chicken breasts, and fill an 8 quart stock pot with water and bring to a boil and then a gentle simmer. After about 20 minutes I take the chicken breasts out for other purposes and continue simmering the chicken bones for another 30 minutes. This makes about 4 quarts of broth, which is more than enough for two batches of congee or soup. Additional tips:
You can also make the chicken broth in the Instant Pot too but be sure to wash the liner to remove the scum and impurities from the sides of the liner before making congee in it.
Be sure to skim the broth to remove the fat and foam and strain the broth for small bones. You can use a Chinese skimmer ladle and/or a gravy separator. I usually use a skimmer ladle and pour it into a gravy separator so that I don't waste any broth.
Multi-task to save time, I let the chicken broth simmer while doing other things in the kitchen or around the house.
If you aren't using the broth immediately, add 1/2 teaspoon of salt per quart and then refrigerate it for a few days or freeze it for a few months. Remember to adjust the amount of salt when you use the broth in your recipe.
Or Make Congee with Canned or Boxed Broth or Water
You can also use canned or boxed chicken broth but sometimes they're made with carrots, celery, or other vegetables and flavors which will make your chicken congee have more color and more flavors than a traditional congee.
If you use boxed broth in aseptic packaging, be sure to check with the manufacturer about any allergen advisories or cross contact concerns. As I had mentioned in my post about the Winter Fancy Food Show, there are very few aseptic food packaging facilities in the US so there's a strong likelihood that boxed broths are made on shared equipment with nut milks and other top allergens. Kitchen Basics is the only boxed broth that I know of that is free of the top 8 allergens.
It's also perfectly fine to make chicken congee with water and 2 skinless chicken legs. It will need a little more salt or toppings for more flavor.
White Meat vs. Dark Meat Chicken
Do you like chicken breasts or chicken thighs and/or drumsticks? I tried making chicken congee both with white meat and dark meat so you don't have to. 😉
Our family prefers dark meat so we liked the chicken congee made with 2 chicken legs. The chicken congee is very flavorful and the dark chicken meat is very tender and unobstrusive. I like the extra flavor and nutrients of cooking with bones in our soups and it's so much safer using chicken legs because the bones are big and obvious compared to the rest of the chicken.
I also made chicken congee with 2 chicken breasts and it was better than I expected. But two breasts tastes like too much chicken. It's almost like a bowl of congee with a scoop of pulled chicken stirred in. I would recommend using 1 chicken breast and cutting it into 4 pieces to minimize the large stringy pieces of chicken before cooking.
Instant Pot Tips
The number one problem people have about using an Instant Pot is when it sits in the box, unopened. If that's you, open it, wash it, and do the water test. I explain why more thoroughly in my Instant Pot review post. The water test is a great way to break in your Instant Pot, familiarize yourself with the buttons and features, without the cost or commitment of cooking any food. Then when you are comfortable, you can steam some "hardboiled eggs" or corn (4 minutes) to see how easy it is to use an Instant Pot.
For the purposes of this chicken congee recipe, you will want to add all of your ingredients into the stainless steel liner, place the lid on the Instant Pot and turn to lock it. Check that the steam release handle is turned to "seal," press the "porridge button" and then tap the "+" button to add 10 minutes so that the total cooking time is 40 minutes. You can cook it for 30 minutes per the "porridge" setting, but the congee will have a more watery consistency.
When the Instant Pot is done cooking, let it naturally release pressure until the valve drops (that's the little pin next to the venting knob). If you are waiting to eat chicken congee right away, you can turn the steam release handle after 30 minutes to release the rest of the pressure, and the congee is ready to stir and serve. Otherwise let it release naturally and keep warm (up to 10 hours).
When I dip a spoon into the congee, I want to see that it has a little bit of shape and viscosity, the congee has a little mound on the spoon and it drips down slowly like oatmeal or cream of wheat. If it dribbles off the spoon then that's too watery for me (some people like it, try it you might like it) and you can turn the Instant Pot off, turn it back on sautee mode to thicken it for a few minutes. Do not walk away when the congee is on sautee mode in the Instant Pot, give it a gentle stir every minute or else the congee will become scorched and burnt at the bottom.
Favorite Congee Toppings and An Allergy Alert
Adjust to taste with a sprinkle of salt and provide your favorite toppings on the side. We usually have chopped scallions, furikake (might contain sesame), and fried onions because they're relatively simple to put on the table when we're sleepy and in a hurry in the mornings.
Some examples of traditional toppings include roasted peanuts, which is a big no for people for peanut allergy, but it's important to keep in mind when someone makes congee for you.
Other less nutty topping options might include a Chinese donut called you tiao, cilantro, finely julienned ginger, dried goji berry, chopped preserved turnips or mustard greens, shredded iceberg lettuce, preserved duck eggs, etc..
Fresh produce items such as ginger, iceberg lettuce, and cilantro are usually wonderful but require prep work right before serving. I suggest caution with regards to some traditional toppings:
Chinese donut  – it's deep fried, so check what kind of oil is used and what else is deep fried in the oil
goji berry – might be packaged on shared equipment with peanuts and unless it's organic, they might have food coloring and preservatives to make them look bright red
preserved turnips, preserved mustard greens – might be packaged on shared equipment with peanuts; they're ususally washed or rinsed before chopping but there's still a small risk of cross-contact
This recipe is top 8 allergen free as written (with the exception of some of the optional toppings).
If some one has a chicken allergy, you can substitute with a vegetable broth (or water) and a pork tenderloin (cut it into 4-6 pieces and sprinkle some salt on it for a few hours before cooking) as an alternative. The pork tenderloin would need to be removed, shredded with forks, and added back into the congee.
My mom used to make fish congee for me using thinly sliced fish filets (my favorite) that's added in during the last few minutes of cooking. In an Instant Pot, you would "cancel" the keep warm setting and push sautee to simmer for a few minutes until the congee is bubbly and the fish is cooked thoroughly.
If I'm sick or anemic, she used to make plain congee for me and add a few ounces of tiny uncooked beef meatballs or chopped steak and frozen peas during the last 10 minutes of cooking. In an Instant Pot, you would "cancel" the keep warm setting and push sautee to simmer for a few minutes until the congee is bubbly and the beef is cooked thoroughly.
It's also possible to make plain congee with no meat and using just water but it will be plain and need some vegetables or toppings to make it tastier.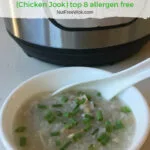 Instant Pot Chicken Congee (Chicken Jook)
Chicken Congee is the Chinese mom's antidote for cold winters and winter colds. I've been making Chicken Congee in my Instant Pot and LOVE the ease and taste! There is nothing easier than putting all the ingredients into the pressure cooker, pushing a button, and walking away.
Cook Time
1
hour
20
minutes
Total Time
1
hour
25
minutes
Ingredients
1.5

cups

of white rice

2 scoops of a standard rice measuring cup

2

quarts

chicken broth (fat free)

homemade, canned/boxed, or water

2

chicken legs*

remove skin and any visible fat

1

teaspoon

salt

more to taste as desired

water

optional toppings

chopped scallions or cilantro, thinly julienned ginger, furikake, fried onions, shredded iceberg lettuce, etc.
Instructions
Rinse rice and drain rice, add to the pressure cooker stainless steel liner.

Add chicken legs, broth, salt, and additional water up to the 10 cup line.

Close and lock lid on the Instant Pot, turn steam release handle to "seal", press "porridge" button and press "+" button to set the timer for 40 minutes for a thicker, smoother congee.

When it's done, let the Instant Pot naturally release pressure.

If you're serving the congee right away, wait at least 30 minutes and then turn the steam release handle to "vent" otherwise let it "keep warm" until ready to eat (the Instant Pot can keep warm for 10 hours).

Stir the chicken meat into the congee and remove the bones, add salt to taste, and serve with optional toppings.
Recipe Notes
*If desired, use 1 skinless, boneless chicken breast cut into 4 pieces instead of 2 chicken legs. 
**Stovetop Instructions**
In case you do not have an Instant Pot, place all of the ingredients plus 2 cups of water into an 8 qt stockpot with a lid. Bring everything to a boil with the lid off, when the water boils and you turn down the heat to low-medium until it's bubbling gently and place the lid on the pot slightly ajar. You can prop a wooden spoon between the lid and pot to keep the lid from accidentally sliding on. Stir the congee every 15 to 20 minutes to prevent the rice from sticking to the pot. When the congee starts to look more like congee rather than rice and water, lower the temperature to a gentle simmer until the congee reaches a desired consistency, check and stir every 15-20 minutes, takes about 2 to 2.5 hours total. 
Thanks for reading, please help Nut Free Wok!
The best way to see every post or recipe is to subscribe to Nut Free Wok's email subscription (be sure to respond to the confirmation email). You will to be notified by email next time I publish another post or recipe and I won't send you spam or share your email address with anyone.
If you enjoyed this post, please use the social media buttons below to share with others. I am on Facebook, Twitter, Pinterest, and Instagram as @nutfreewok and it's great to chat and interact on social media too.
Disclosure/Disclaimer:
I may mention the names of stores and/or brand names of products that I use because readers ask and I share products and sources which I use and think may be helpful to readers, all opinions are my own. Please note that manufacturing practices and ingredients can change at anytime without notice and readers are always responsible for assuring allergen safety before buying or consuming foods. NutFreeWok.com is a participant in the Amazon Services LLC Associates Program, an affiliate advertising program designed to provide a means for sites to earn advertising fees by advertising and linking to Amazon.com. Thank you for reading!