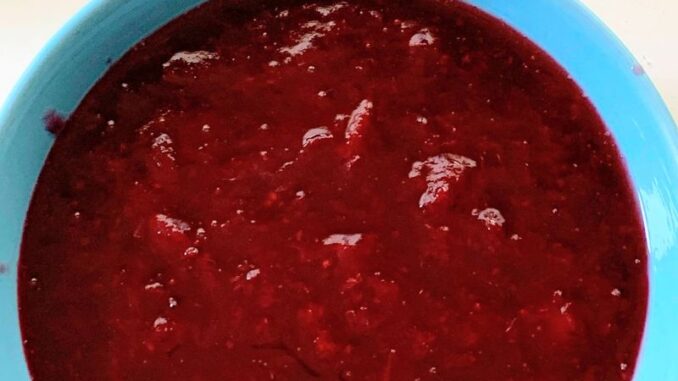 You can make this easy Instant Pot Cranberry Sauce recipe using 3 ingredients in less than 30 minutes. This recipe is free of the top 9 allergens and is a must-have sauce for your next turkey dinner. I've also included stovetop instructions in the recipe notes below.
Disclaimer: Please check that all ingredients are suitable for your allergies and be sure to ask your medical care team regarding any allergy related questions (I do not share medical advice). As an Amazon Associate I earn from qualifying purchases.
Jump to Recipe
Making Cranberry Sauce in an Instant Pot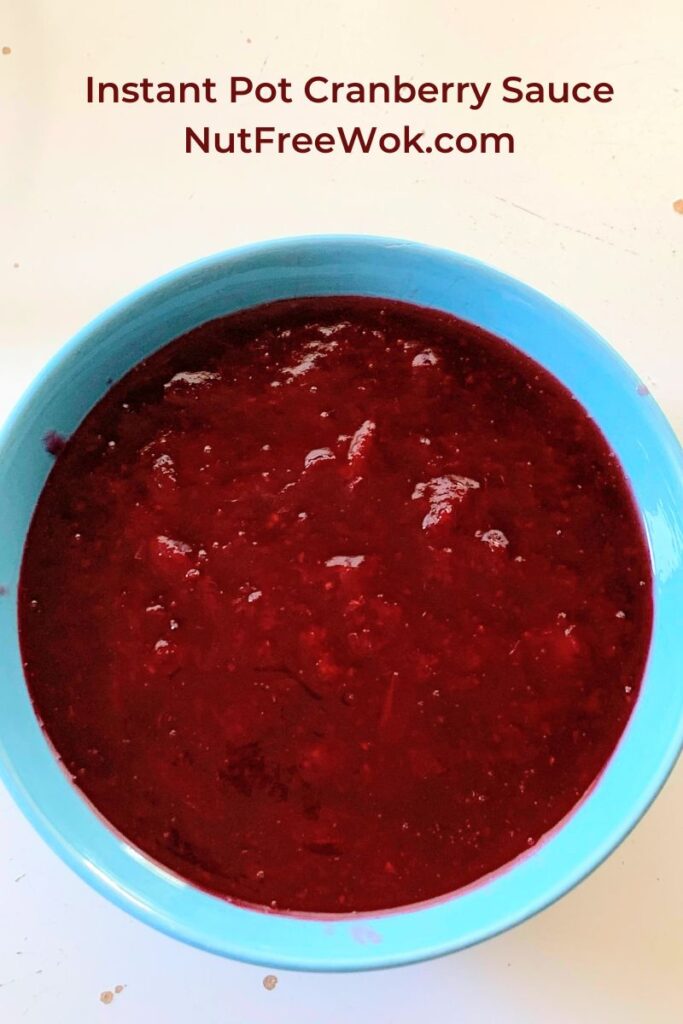 My husband told me this morning that our friend asked for an Instant Pot Cranberry Sauce recipe so this recipe is for her (Happy Thanksgiving, Jodi!).
The Instant Pot cranberry sauce recipe will make a delicious condiment or side dish for your Thanksgiving turkey (or Roasted Turkey Drumsticks For Everyone) dinner. It's so easy to make cranberry sauce in an Instant Pot, which will free up space on your stove for other dishes and free up your hands-on time because the Instant Pot will stop cooking and keep your sauce warm until you are ready.
This generous recipe makes approximately 2.5 cups. Since cranberries are a seasonal ingredient, you can easily double this recipe or make another batch of cranberry sauce to freeze some for later to enjoy with any dishes that needs some sweet and tangy flavors. Clean up is very easy which allows you to use your Instant Pot for another recipe with minimal effort.
Even though cranberries isn't typically included in Chinese or Asian cuisines, I highly recommend making some cranberry sauce because it's a very healthy ingredient that has a lot of antioxidants which I wrote about more in my recipe for Super Cranberry Orange Muffins, Dairy & Nut Free.
Preparation and Storage Tips
Wash: When you wash your cranberries, swish them around in a large bowl of water and feel for any cranberries that are soft and mushy and discard. Look for and discard any cranberries that are discolored and remove any stems attached to the cranberries.
Orange and Spices: I like cranberries and orange together, but you can leave out the orange juice and zest and use water instead. If you like fall spices, you can optionally add fall spices such as a cinnamon stick or 1-2 cloves to the Instant Pot but remove them before serving.
Adjust sweetness: After you cook the cranberry sauce and natural pressure release the pot, taste the cranberry sauce with a clean spoon, and add more sugar if you prefer it a little bit sweeter. The orange juice I added to the sauce wasn't particularly sweet so I added a few more tablespoons of sugar one spoonful at a time and stirred it in while the pot and sauce were still hot so that the sugar could melt.
Make Ahead: You can make this sauce the day before if you want to save some time on Thanksgiving day. Transfer the sauce to a storage container and allow it to cool to room temperature before refrigerating. The sauce will thicken naturally as it cools.
Freeze Extra Sauce: Since cranberries are a seasonal ingredient, you can make another batch and freeze it to enjoy the rest of the year. If you want to freeze some of the sauce, wait for the sauce to cool down to room temperature before freezing in quart-size freezer bags. I like to freeze approximately a cup in each bag and freeze in a thin layer so that I can easily break off small amounts as needed.
Allergy Aware Cranberry Sauce
This recipe is free of the top 9 allergens as written.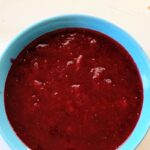 Instant Pot Cranberry Sauce
You can make this easy Instant Pot Cranberry Sauce recipe using 3 ingredients in less than 30 minutes. This recipe is free of the top 9 allergens and is a must-have sauce for your next turkey dinner. Allow about 5-7 minutes to come to pressure and 8-10 minutes to natural pressure release, 25 minutes total.
Ingredients
1 12-

ounce

bag fresh cranberries

½

cup

granulated sugar

1/4 cup more as needed

½

cup

orange juice
Instructions
Wash cranberries in a bowl of water (check for soft, discolored cranberries and stems), drain, and put into the Instant Pot.

Add the orange juice and ½ cup sugar. Lock the lid, program the Instant Pot to pressure cook for 2 minutes, and then allow the pot to natural pressure release (approximately 10 minutes).

Open the lid and stir the cranberry sauce, use a clean spoon to taste and add more sugar one tablespoon at a time, as desired, and stir to melt the sugar.

Transfer the cranberry to a serving bowl and allow to cool to room temperature to thicken. Refrigerate if making ahead.
Recipe Notes
Stove top instructions: Combine ingredients and cook over medium heat until the sauce bubbles. Lower the temperature and simmer on low until the cranberries are soft, approximately 20 minutes. Stir every few minutes.
This recipe makes approximately 2.5 cups, 1/4 cup per serving.
Thanks for reading, please help Nut Free Wok!
If you like this recipe, please be sure to give a 5 star rating, leave a comment, and share this post! Your support means a lot to me.
Subscribe to Nut Free Wok's email subscription (be sure to respond to the confirmation email). You will be notified by email next time I publish another post or recipe and I won't send you spam or share your email address with anyone.
Disclosure/Disclaimer:
I may mention the names of stores and/or brand names of products that I use because readers ask and I share products and sources which I use and think may be helpful to readers, all opinions are my own. Please note that manufacturing practices and ingredients can change at anytime without notice and readers are always responsible for assuring allergen safety before buying or consuming foods. NutFreeWok.com is a participant in the Amazon Services LLC Associates Program, an affiliate advertising program designed to provide a means for sites to earn advertising fees by advertising and linking to Amazon.com. Thank you for reading!