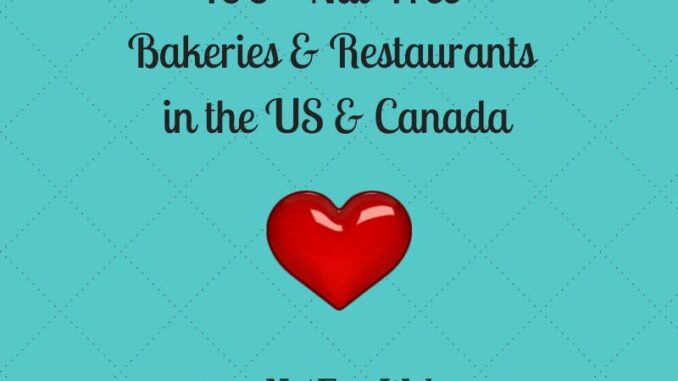 Allergy aware and nut-free bakeries and dining establishments give families living with nut allergies peace of mind that is just priceless. I'm proud to say that there are over 100 options on this list, including bakeries and restaurants in 30 US states, DC, Canada, as well as online or supermarket options. Many thanks to all of my readers who have made some really great recommendations.
Disclaimer: I have not been compensated by any of the following nut-free bakeries or restaurants. I have noted any personal connections below, all opinions are my own. As an Amazon Associate I earn from qualifying purchases.
This post was orginally published on 1/26/2015 and republished with updates on 1/2/2023.
How to Use This List of Nut-Free Bakeries
Obviously, I haven't been to many of the following nut-free bakeries and cannot vouch for their allergen safety procedures, ingredients, taste, or value. Keep in mind that nut-free bakeries can change owners, ingredients, or recipes at any time.
And because I do not know the nature of the allergies you are avoiding, please visit their website, call and ask questions to verify safety before serving or consuming. I've created this list as a general resource for Nut Free Wok readers to use to begin their own research.
Keep scrolling below to see my list of nut-free bakeries in the United States and Canada as well as some mail order and retail store options. I added some new bakeries to the list, noted by *new* but that doesn't mean they are a new business, just that they're new to this list.
If you find a bakery that's not on the list, I have some suggestions on how to decide for yourself on whether it's safe or not for your family. And if you love them, please share below in the comments.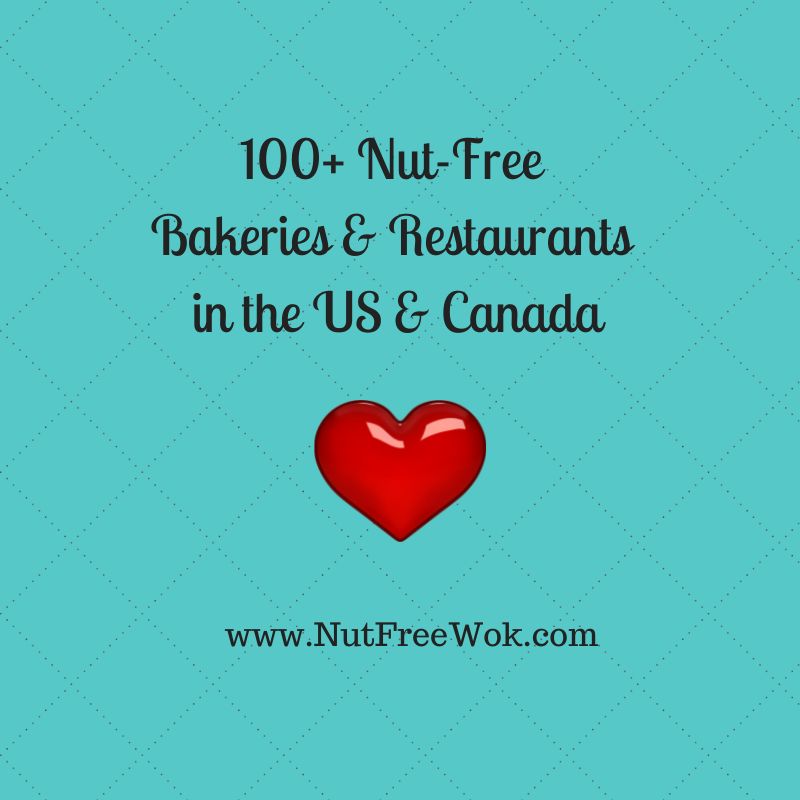 Nut-Free Bakeries in the United States
Arizona
Mesa – Intentional Foods – top 8 allergen free (including sesame-free) restaurant, bakery, and caterer!
Arkansas
California
Capitola – Melinda's Gluten Free gluten and peanut-free (not tree nut-free) with dairy-free and vegan options. They will accommodate people with tree nut allergies but they do bake with tree nuts.
Fountain Valley – Sensitive Sweets gluten, dairy, egg, soy, nut, and sesame-free. Ships nationwide
Long Beach – Noble Bird Rotisserie, specializes in rotisserie chicken. Their menu is dairy-free, peanut-free and tree nut-free (excluding coconut). "We do source products that share facilities with ALL of the TOP 10 allergens." They recommend checking with their chef at every visit. *new*
Oakland & Emeryville locations- Monster Pho peanut and tree nut-free Vietnamese restaurant, read my review about our dining experience. Note that the Oakland location has moved to a nearby location, 360 40th St OAKLAND CA 94609. The Emeryille location is still open but only as a second kitchen.
San Diego – Starry Lane Bakery new location in San Diego (they moved from Santee). Free from top 10 allergens including gluten, peanut, tree nut, egg, dairy, soy.
San Francisco – Dandelion Chocolate Factory – ONLY the single origin chocolate bars are nut-free (not the confections made with chocolate, not the pastries, not the baking ingredients, just the chocolate bars). They aren't intentionally an allergy friendly company, I highly recommend double checking with every order/purchase.
San Francisco (2 locations) & multiple north bay locations – Johnny's Donuts – nut-free donuts except for almond milk for espresso drinks (people who are highly sensitive to almonds might want to stay further away from the espresso machines).
San Mateo – Sibby's Cupcakery Nut-free (uses coconut). This is where I buy nut-free cupcakes for my family. Egg-free and gluten-free options are also available. I needed dairy-free cupcakes in a hurry and purchased carrot cakes and chocolate cakes without frosting, Sibby's saved the day!
San Francisco Bay Area & Southern California locations – Uncle Tetsu makes Japanese cheesecakes, which is a fluffy, cake-like cheesecake. They don't use any peanut or tree nut ingredients but they don't brand themselves as a nut-free company. They do have a black sesame flavored cheesecake (seasonal flavor).
Colorado
Centennial – The Makery Cake Company peanut and tree nut-free, owner has nut allergies. They also have an allergen chart on their website.
Colorado Springs – Mochi Thai'm Donuts, nut-free and gluten-free donuts made from sweet rice (glutinous rice) flour. I linked to their FB page. *new*
Colorado Springs – Sweet Elizabeth Organics, free of top 8 allergens except for coconut. Bakery items and baking mixes are available.
Morrison – Allergy Free Baking Company – dedicated gluten-free and nut-free (except coconut) bakery with options made without dairy, egg, wheat, and/or corn.
Connecticut
Fairfield – Bonkers Cupcakes – nut-free cupcakes, with gluten-free and vegan options. *new*
Glastonbury – Dee's One Smart Cookie gluten, tree nut, peanut, and soy-free, and non-GMO with dairy-free and egg-free options.
Norwalk – Izzi B's Allergen Free Bakery (website no longer works, might be closed?) – wholesale bakery, invividual orders available by appointment only; free of gluten, wheat, soy, dairy, eggs, all nuts, and casein. Check website for retail locations in Connecticut, New York, New Jersey.
Ridgefield & Westport locations – The Cake Box – nut-free (except coconut), merged with Swoon, a gluten-free bakery and their website no longer belongs to The Cake Box (don't search for it, trust me). Swoon's gluten-free products will be made in a separate area on dedicated equipment.
Wilton – The Painted Cookie – Peanut, tree nut, & sesame-free. Available online as well. Note new location in 2023 (101 Old Ridgefield Rd in Wilton Town Center).
Florida
Miami – Bunnie Cakes – vegan bakery, uses coconut only, some of their ingredients are not from dedicated nut-free facilities. Talk with them. Their home page now indicates that they are free of dairy, gluten, soy, tree nut, peanut, and kosher/parve.
St. Pete (4 locations in FL) – HaleLife Bakery – GF and vegan bakery, free from dairy, egg, soy, peanut, and tree nut (except for coconut). *new*
Georgia
Atlanta – Cake in the Box Bakery is Atlanta's 1st Nut-Free Bakery, 100% nut-free with some gluten-free and vegan (dairy and egg-free) options.
Hawaii
Lahaina, Maui – We were able to safely dine out in Maui, the restaurants we picked were nut-free or very accommodating. See my reviews from our trip to Maui.
Illinois
Belleville – Beast Craft BBQ – They do not use any peanuts, tree nuts (including coconut), shellfish on their St. Louis style BBQ menu. Check out their "Custom Menu Planner" and be sure to talk with a manager.
Chicago (3 locations in the area) – Frio Gelato – Argentine style gelato, very allergy friendly. *new*
Indiana
Warsaw – Creighton's Crazy Egg – peanut and tree nut-free (except for coconut) with gluten-free option café & banquet venue. The coffee syrups (hazelnut, peanut butter & almond) are nut safe using a synthetic flavor. Coconut is the only coffee flavor they use.
Kentucky
Louisville – Silly Axe Cafe – dedicated gluten-free (celiac), nut-free, and lactose-free restaurant, may possibly accommodate other allergies (depending on your severity/preferences). *new*
Maine
Portland (multiple locations) – Holy Donut – Nut-free (except for coconut) donut shop, with gluten-free options but not certified. My friend, Jenny, took me and my family to this donut shop, so yum! *new*
Maryland
Annapolis – Carrol's Creek Cafe – nut-free restaurants, do not allow outside foods to be brought in by guests, including cakes. *new*
Rockville – Sunflower Bakery – peanut-free only, they do use tree nuts but are careful to limit cross-contact. Be sure to discuss with them if you have any concerns. *new*
Massachusetts
Boston – Jennifer Lee's Bakery vegan bakery and restaurant and free of gluten, eggs, dairy, peanuts, tree nuts, coconut, and sesame (check ingredients). Multiple locations & available at local farmer's markets.
Burlington & Mills – Twist Bakery Cafe – free from all gluten, peanuts, tree nuts and soy (except for coconut and soy lecithin), most items are also free from dairy.
Newton – Blacker's Bakeshop Nut-free, dairy-free, kosher and parve. They updated their websiteto reflect their allergen info.
Peabody & Salem – Ziggy and Son's Donuts – peanut and tree nut-free according to their Facebook page. They seem to have some health issues, check or call before going to their store.
Somerville & Boston locations – Tipping Cow Ice Cream – peanut, tree nut (some flavors contain coconut), and sesame-free ice cream. There are some dairy-free, vegan, and gluten-free options (be careful, cross-contact is still possible).
Wilmington (Greater Boston area) – Jeni Cakes Nut Free – peanut and tree nut-free home based bakery (licensed and ServSafe certified)
Michigan
Detroit area – The Bake Station (locations at Southfield and Farmington Hills) Peanut, tree nut, dairy-free and kosher. Egg-free and gluten-free options are available.
Harrisville – Alcona Brew Haus Peanut, tree nut, and shellfish-free (possibly sesame too). Upscale dining, restaurant staff is trained, and owner has food allergies in their family. *new*
Royal Oak – Motown Freedom Bakery free of the top 8 most-common allergens: wheat, dairy, egg, soy, peanuts, tree nuts, fish and shellfish. MFB treats are also free of corn, sesame, xanthan and guar gums.
St. John – Oh Mi Organic – chocolate shop that is free of peanuts, tree nuts (except coconut oil), and top allergens. *new*
Minnesota
Minnetonka – YoYo Donuts & Coffee Bar peanut and tree nut-free, they do use coconut. One reader mentioned egg-free ice cream.
Missouri
Kansas City – Safe Bakes – top 8 allergen and gluten-free, they provide treats for schools and business, retail orders available online, products are made in a commercial kitchen.
Nevada
Las Vegas – South Point Hotel is

not nut-free

but my friend, award winning Chef Keith Norman, has developed an food allergen management program at South Point that is innovative with delicious results.
New Hampshire
Merrimack – Bite Me Kupcakez – dedicated gluten-free and nut-free bakery and cafe, with dairy-free, soy-free, and vegan options available. Outdoor seating is also availalble. *new*
New Jersey
Beach Haven (Jersey Shores) – The WooHoo – Their kitchen is peanut and tree nut-free. Their ice cream station does have peanuts and tree nuts in sealed containers and they have a designated area and procedures for handling nut-free and ice cream orders. Be sure to let them know if you have food allergies, they will give you a form to fill out your order.
Denville – Mo'Pweeze Bakery Top 8 allergen and sesame-free. Also available my mail order and farmers market in surrounding areas in northern NJ.
Hoboken – Joey No-Nuts coffee shop with nut-free pastries, owner's daughter has a peanut allergy.
Northvale – D'Ercole Donuts – peanut and tree nut-free, they carry A La Mode ice cream and make milkshakes with them!
Shrewsbury – Liv Nut Free peanut, tree nut-free cupcakes and cookies, available online also.
New Mexico
Albuquerque – Fano Bread Company nut-free, see Ivy's comment below.
New York
Lynbrook – The Sweet Peace Peanut, tree nut, and seed-free facility with options to accommodate other allergens.
New York City & retail locations – A La Mode Shoppe – Free from peanut, tree nut (coconut free too!), egg, and sesame ice cream.
New York City (East Village & Harlem) – Baked Cravings nut-free, the bakery is run by two dads who understand food allergies. Shipping, catering, and corporate gifts available.
New York City – Donut Pub – "Nut Aware" they don't use nuts in their ingredients and check their supplies as best as possible. They now ship their donuts. Two locations
Staten Island – Cutest Cookies – nut-free decorated cookies, mail order and local pick up *new*
Watervliet – Schuyler Bakery – peanut and tree nut-free, dairy-free, Kosher Pareve bakery
North Carolina
Raleigh – Daylight Donuts appears to be a chain but this specific francise on Credmore Rd. is peanut and tree nut-free (except coconut – call ahead to order if you have a coconut allergy). The company's main page has a peanut covered donut on it but the Raleigh store is peanut and tree nut-free.
Raleigh – Videri Chocolate Factory – their chocolate is nut-free and free "from all known tree nuts, and many common legumes, as well as soy, gluten, corn, and egg products." Read my review about their products! They also have a cafe area with music and events, check to see if the food served in that venue is allergy safe before consuming.
North Dakota
Fargo – Mehl's Gluten Free – gluten-free, nut-free bakery with dairy-free, vegan, soy-free, and sugar-free options. They sell their baking mixes. Be sure to check whether their gluten-free flour has cross contact or allergen advisories for nuts.
Ohio
Cincinnati – Blossim Donuts – nut-free donut food truck, operates only seasonally (April until ?) *new*
Worthington – Peace Love Donuts – Caveat alert! The Peace Love Donuts chain is NOT nut-free but the Worthington location is nut-free (see recommendation in the comments). Because owners can change without notice, it's important to verify that these donuts are nut-free everytime and do not assume that other Peace Love Donuts bakeries are nut safe.
Pennsylvania
Conshohocken (must pre-order) – Pretty Tasty Cupcakes – peanut and tree nut-free cupcakes, cookies, and cake pops
Ohiopyle – Ohiopyle Bakery & Sandwich Shoppe – peanut and tree nut-free. This family also has 3 other resturants that are also peanut and tree nut-free and can accommodate other food allergies with advance notice. They no longer have a website but still seem to be in business otherwise.
Perkasie – C&C Cafe – peanut and nut-free breakfast restaurant according to a statement on their menu. They do have some brownies and cookies on their menu, double-check if their desserts are nut-free or not before ordering or eating. *new*
Perkasie – Hassis Gluten Free – Gluten-free and nut-free. Their website doesn't have a lot of information but I found that they are indeed nut-free on their Facebook page. Please reach out to them if you have any questions. *new*
Rhode Island
Cranston – A&J Bakery Nut-free, gluten-free, sesame-free
Johnston – 3 Wishes Bakery – dedicated nut-free, gluten-free bakery with dairy and soy-free options. *new*
South Carolina
Tennessee
Columbia – The Dotted Lime – Gluten-free, peanut and tree nut-free bakery and restaurant (restaurant uses coconut wraps). They are willing to accommodate other allergies too.
Powell – Free Reign Bakery – Free from gluten, dairy, soy, egg, peanut, tree nut, fish, shellfish & corn. *new*
Texas
Houston – Awesome Bites – dairy, egg, soy, and nut-free (except coconut) bakery and ice cream shop by an allergy mom. Shipping options available. *new*
Vermont
Grand Isle – Vermont Nut Free Chocolates – I love their nut-free chocolates and have ordered them by mail but recently found out from VNFC that they have a retail location at 10 Island Circle!
Virginia
Delivery to DC area – The Lemonade Bakery Peanut, tree nut, egg, and sesame-free; dairy and soy-free options available upon request. Gluten-free option available but the facility is not wheat free.
King George area – Cool Cats Cupcakes peanut, tree nut, egg, dairy-free. Licensed home based kitchen, pick up at local butchers shop. See Kari's comment below. Two local pick up locations.
Salem – Corbin's Confections – gluten-free, peanut and tree nut-free. Website doesn't work, link goes to their Facebook page.
Springfield – Out of the Bubble – dairy-free and nut-free bakery with gluten-free and vegan options, home based business that is inspected and has food safety certifications.
Washington
Seattle (retail locations, expanded to west coast and beyond, 9 states!) – Little Rae's Bakery peanut and tree nut-free. My friend Lori brought some Brownie Cookies for my kids, they loved it, thanks!!
Washington, DC
Georgetown – Dog Tag Bakery – nut-free bakery. Note that products distributed in national coffee shops are produced in a shared facility with nuts and is not allergy safe at this time.
Washington, DC – Baked By Yael – nut-free, offers cake pops and bagels and more. Has gluten-free and vegan options (dairy and egg-free) available.
Nut-Free Bakeries, Available in Stores or Online
Better Bites Bakery gluten-free, nut-free (some items contain coconut), top 8 allergen free items available in retail locations and online orders, including Amazon (affiliate link).
Corsos Cookies – Allergen statement says now says tree nut

and

peanut-free.
Fancy Pants Bakery – online & in grocery stores, nut-free, GMO-free. I shared a review of their cookies. I recently checked their Amazon pages and their cookies are not available to order online, I hope that's just a temporary situation and we can find them at our local stores.
Eleni's peanut and tree nut-free, in a dedicated facility. NYC delivery available. Retail locations and online sales available.
Just Desserts – a San Francisco based company, their cupcakes are available at local supermarkets, Target, and all over the United States. Nut-free with vegan options, very delicious
Madeline's Pantry – online bakery, peanut and tree nut-free facilities, additional Muffintown products maybe available at retail locations in MA and surrounding states.
Raised Gluten Free – (formerly Natural Decadence) gluten, eggs, dairy, & nut -ree (some products contain soy), available at retail locations and by mail. Check that their gluten-free flour works for you.
Rebecca's Nut Free – nut-free, available in stores and venues in Massachusetts and by mail.
Nut-Free Bakeries in Canada
Barrie, ON – Cakes by Design 100% peanut and tree nut-free facility; can also make some products without the use of eggs, milk or gluten (shared facility)
Calgary, AB – Bliss Cupcakes peanut and tree nut-free (except some recipes use coconut); smaller shop located inside a mall, they also have a second location that is larger.
Calgary, AB – Cake Bake Shop Peanut and tree nut-free, with "gluten-wise" options.
Halifax, NS – East Coast Bakery Peanut, tree nut, dairy-free, and kosher parve bagels and various challah bread products. The owner has family members and some employees with food allergies and understands the need to be careful regarding cross contact.
Ottawa, ON – Strawberry Blonde Bakery Free of peanut and tree nut (with the exception of coconut), dairy, egg, and gluten, with some soy-free options. I love that they try to use organic ingredients whenever possible.
Regina, SK – Asha Rose Bakery Peanut and tree nut-free bakery, food allergy family *new*
Toronto, ON – Hype Food Co. – Bakery and fast casual restaurant is free from gluten and top allergens including peanuts, tree nuts, wheat, milk, eggs, soy, sesame and seafood.
Toronto, ON, – It's the Icing on the Cake peanut and tree nut-free bakery, they check for allergen advisories according to their website. The owner's nephew has food allergies. Gluten-free treats available upon request but there's a risk of cross contact with wheat.
Toronto, ON, Thornhill, and Pearson Airport – Grodzinski Bakery – Kosher, nut-free bakery
Toronto, ON area – Sweets from the Earth they have two lines, either a Nut-Free line or a Gluten-Free line. Everything is free of sesame, dairy, and egg. Their products are available at retail locations in the Toronto area but you can special order custom products in advance to pick up at their office.
Westmount, QC – Patisserie Petit Lapin free from peanuts, tree nuts, sesame, milk, egg, seafood, soy, sulfites, mustard, wheat, gluten.
Winnipeg, MB – Sweet Impressions, 100% peanut and tree nut-free (except coconut) with some egg and dairy-free options.
Multiple locations – Pacini – a reader recommended this Italian chain due to positive dining experiences. Quebec locations have allergen free dishes in sealed microwaveable containers. And every restaurant is stocked with epinephrine autoinjectors.
Multiple locations & retail – Mrs. Dunsters in Sussex, NB is peanut and tree nut-free, their retail products can also be found in New Foundland, Nova Scotia, and Maine (US). Look for products with their logo. *new*
Nut Free Chain Restaurants
Chipotle – nut-free, "We do not use eggs, mustard, peanuts, tree nuts, sesame, shellfish, or fish as ingredients in our food."
Islands – no peanuts, tree nuts, and shellfish on their allergen information page. Our server was very knowledgeable and helpful when taking our order. Restaurants in California, Arizona, Hawaii, and Nevada.
Mod Pizza –nut free pizza, including their pesto sauce. The wrapped desserts are most like purchased from a bakery, not nut-free. Double check at your local locations.
How to Decide If a Bakery Is Nut-Free?
We need to know about nut-free bakeries in our communities regardless of whether you need an allergy safe treat to send for a school party, desserts for a special occasion, meeting a friend for coffee or lunch, or just passing through while on vacation. I love that there are owners of nut-free bakeries who are committed to nut allergy safety procedures to provide an invaluable service to people who live with life threatening nut allergies and their friends and family.
I think for most people "nut-free" means that there is no intentional addition of nuts in the ingredients. But for a person with life threatening allergies, "nut-free" has to mean free of nuts as well as traces from potential cross contact from a wandering spatula, shared equipment, ingredients with allergen advisories, etc.. It's important to learn how to evaluate any bakery or dining establishment and then to vet them to establish safety.
Are They REALLY Nut-Free Bakeries or Restaurants?
Most bakeries have some risk of cross contact with allergens. However there are some allergy friendly or nut-free bakeries available and I look at their website for more information.
Look at their menu options and see if any of their products contain obvious allergens that I need to avoid.
Do they use any red flag items such as candy toppings which are known to be labeled with allergen advisories, such as "may contain peanuts"?
Then I look at their home page, about page, FAQ, and/or nutrition page to look for an allergen or ingredient statement that describe what allergens they are free from.
Do they share their reasons for having a nut-free or other allergen-free bakery? Do they or their loved ones live with life threatening food allergies?
I have come across some bakeries that are peanut-free but not tree nut-free, some are tree nut-free but not peanut-free, some are gluten and nut-free, some are gluten-free but use almond flour as a gluten-free flour substitution. There are all kinds of permutations of how they might be allergen-free so we have to be alert to the possibilities and don't assume anything! If the bakery still looks promising then I will ask questions.
Double Check Nut-Free Bakeries With a Conversation:
When talking with nut-free bakeries or restaurants, it goes without saying to always be polite and to respect their time. Call or visit during non-peak times to speak with a manager. We need to pay it forward and make it easy for the next person to have their questions answered.
Since we are a nut-free family, here are some questions I might have when looking at a website or talking with a bakery owner. You can substitute or add other allergens you are avoiding, and depending on the answers and your personal comfort level, you either keep asking or thank them for their time and say goodbye. Don't be afraid to ask questions, your questions are a reflection of consumer needs and can shape the restaurant and food industries.
Do any of your pastries/dishes

contain

peanuts or tree nuts (such as almonds, walnuts, pecans, hazelnuts, etc..)?
Do you use ingredients that are

derivatives

of peanuts or tree nuts such as peanut butter, almond extract, chocolate hazelnut spreads, etc.?
Do you use ingredients with

allergen advisories

or call your suppliers or distributors to check for allergen advisories for any chance of cross-contact from being made on shared equipment or shared facilities?
Be aware that some gluten-free products have allergen advisories for nuts and other allergens. Be sure to ask gluten-free bakeries and restaurant which brand of flour they use and then check on the manufacturer's website to be certain that they're also safe for your nut allergies.
What procedures do you have in place to limit cross contact of allergens? This is an example of an

open ended question

and some examples of great responses that I have heard include

we bake the most allergy sensitive items first thing in the morning
we bought all new equipment without seams (so that allergens aren't lodged in the cracks)
we have visited the manufacturer (of a company that makes gluten-free flour and nut flours) and are assured that their gluten-free flours are free from cross contact with the nut flours.
Triple Check by Cross Referencing
City or county health inspection reports are important. If a dining establishment can't keep up with the basics of health and safety, they won't be able to meet the needs of a food allergic customer.
Check online restaurant review sites and see what others have to say, hit "control + F" and search results for "allergy" and see if any allergic diners had comments.
Have you heard of Allergy Eats or Spokin? Both are great fantastic resources. When I travel, I use Allergy Eats to quickly zero in on allergy friendly restaurants. I've also downloaded the Spokin app to search for recommendations and their blog often has great lists organized by cities.
Check Yelp for other health and safety measures and decide whether you are comfortable with dining in, outdoor dining, or takeout.
Why Care About Nut-Free Bakeries and Restaurants?
Nut Free Wok reader Lucy shared an adorable photo of her son intently looking at allergy friendly pastries, "…he's in front of the glass case looking in. He looks at me and says "Mama, I can have anything??- in disbelief- Are you sure??" 🙂 Their story was truly really sweet and resonated with many readers, a few confessed to being teary-eyed (me too!).
Nut-free bakeries make kids and grown-ups happy and they touch our lives. These bakeries and restaurants are a part of our birthdays, weddings, baby showers, graduations, and every other celebration.
Nut-free bakeries deserve our support. I asked Nut Free Wok's readers on Facebook and Twitter for their suggestions, please go visit the thread and this thread from May, 2015 to read each others comments and discussion (THANK YOU!!). But there were so many great places all mixed in together, I decided to create a page here organized by country and/or state.
Is Coconut a Tree Nut?
I refer to information listed on ACAAI's website and for the purposes of this list, bakeries that use coconut aren't excluded but if I know that coconut is used in the bakery, I will note it. If you are avoiding coconut (or any other allergens), please clarify with the nut-free bakeries before ordering or eating.
Coconut is not a botanical nut; it is classified as a fruit, even though the Food and Drug Administration recognizes coconut as a tree nut. While allergic reactions to coconut have been documented, most people who are allergic to tree nuts can safely eat coconut. If you are allergic to tree nuts, talk to your allergist before adding coconut to your diet.
Latest update: December 31, 2022
I update this post about once a year. This year I added more recommendations and reorganized the post so that it's easier to find a location near you and moved my tips on checking a bakery to the bottom.
If you find any new bakeries that you think others will like, please leave a comment below. That's the best way for people to find your recommendations in between updates! I prefer to add reader recommended bakeries and not owner submitted recommendations.
Many bakeries have changed their hours and some have closed, so be sure to check their website or call for hours. Also many bakeries have added mail order options , so be sure to look at options from nearby cities and states.
I also added *new* to any listings that are new to this page, does not mean that they are a new business. Thanks!
What is your experience with the nut free bakeries or restaurants listed? Do you have a nut free bakery or restaurant in your community? Tell us about it in the comments below. What other questions do you ask? Share this post to help others.
Thanks for reading, please help Nut Free Wok!
The best way to see every post or recipe is to subscribe to Nut Free Wok's email subscription (be sure to respond to the confirmation email). You will be notified by email next time I publish another post or recipe and I won't send you spam or share your email address with anyone.
If you enjoyed this post, please use the social media buttons below to share with others. I am on Facebook, Twitter, Pinterest, and Instagram as @nutfreewok and it's great to chat and interact on social media too.
Disclosure/Disclaimer:
I may mention the names of stores and/or brand names of products that I use because readers ask and I share products and sources which I use and think may be helpful to readers, all opinions are my own. Please note that manufacturing practices and ingredients can change at anytime without notice and readers are always responsible for assuring allergen safety before buying or consuming foods. NutFreeWok.com is a participant in the Amazon Services LLC Associates Program, an affiliate advertising program designed to provide a means for sites to earn advertising fees by advertising and linking to Amazon.com. Thank you for reading!