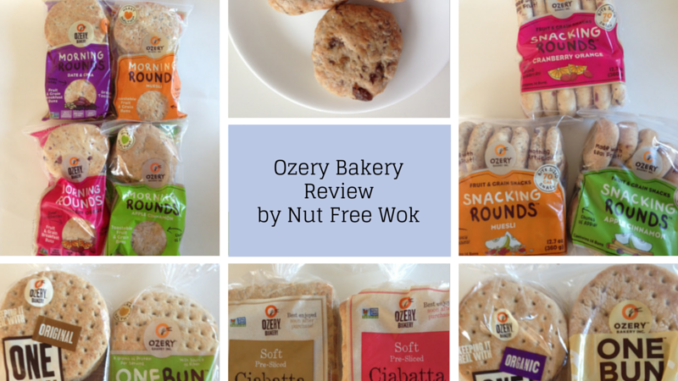 I love these tasty, wholesome nut-free, sesame-free, and other top allergen-free pita breads from Ozery Bakery. They deserve a little extra attention from the food allergy community because the only top allergen in their facility is wheat and might be an excellent option for people with a sesame allergy. This post was originally posted 2/11/2015 and has been updated on 3/13/2023.
Disclaimer: Please check that all ingredients are suitable for your allergies and be sure to ask your medical care team regarding any allergy related questions (I do not share medical advice). As an Amazon Associate I earn from qualifying purchases.

Ozery Bakery Allergen Policy
Ozery Bakery offered to ship some samples (full disclosure below) and I was thrilled when they said Ozery products were "allergy-friendly; each is soy free, dairy free, peanut and nut free (made in a nut-free facility), vegan and non-GMO." Their website states that their products are also certified Kosher, free of artificial flavors, additives, and preservatives which is even better!
When a huge box of Ozery products arrived at my doorstep, I spent some time reading the packages and ingredient labels, and noted few observations:
Wheat is the only top 8 allergens in all of their products. The multigrain varieties have a mixture of wheat, rye, flax, millet, triticale, barley, sunflower seeds, oats, and durum semolina.
They have some Lavash crackers with sesame seeds which must be now manufactured in a different facility. This is their current allergen statement: "Other allergens such as: dairy, eggs, sesame, soybean, mustard, fish, crustacean, shellfish, sulfites, and others are not present in any of our products."
According to an email from Alon, one of the two brothers who own Ozery Bakery, "All ingredients are purchased from approved suppliers (certified by a regulatory 3rd party) who provide us with an allergen declaration that clearly states what allergens, if any, are present in the ingredients, in the plant or were made on a line that on which the ingredient was produced. The statements are reviewed and approved by QA before the ingredients can be used in our products. Checks are done to ensure that items are labeled and legible as well as for any possible cross contamination with other allergens at our receiving dock. Please note that there are no fruits in our multigrain mix. However, fruits used in our products are tested for allergens." I love the attention to detail.
Delicious Pitas
There was no way around it, I had to open every package and pinch off a piece to taste every variety and every flavor and I invited my children, husband, and a few friends to do the same. We were all impressed and there was one variety that I really loved.
One Buns – The One Buns are thin buns that come in a different variations of shape or size (regular, mini, or hot dog bun shaped), organic or not, and type of grain (wheat, sprouted, spelt, or mutligrain). I liked the sprouted wheat the best as that tasted soft and moist. Besides making sandwiches and burgers, I think they would be great for mini pizzas or hot open faced sandwiches, such as a tuna melt.
Morning Rounds/Snacking Rounds – The Morning Rounds are puffy pita-like buns and the Snacking Rounds are a smaller version of them. When served at room temperature, I liked the morning rounds more because they were soft and moist compared with the snacking rounds. But the snacking rounds are great for little hands, portion controlled, and taste great when toasted.
I toasted a Morning Round for breakfast the next day and was nicely surprised by how they were slightly chewy on the outside, soft and steamy on the inside. Both varieties also taste wonderful when microwaved for 10-15 seconds. Cranberry Orange – the orange flavor pops, this was my favorite. Apple Cinnamon – my kids loved the bread that tastes like apple pie. Date & Chia – mild and sweet with a tiny crunch from the chia seeds. Muesli – tastes like raisin bread with great texture from the multigrain blend which contains sunflower and flax.
Overall Review
The morning rounds and snacking rounds are very unique and delicious, it's a must try. As a mom, I love that all of their products are non-GMO, free of preservatives and artificial junk and the One Buns tastes better than similar sandwich thins you can buy off supermarket shelves. They are top allergen free except for wheat.
I'm so glad I found Ozery Bakery in a sea of vendors at the Fancy Food Show in San Francisco this year and wanted to highlight the companies which are suitable for Nut Free Wok readers. I think that many people can enjoy these breads except those who must avoid wheat and gluten.
People with flax and sunflower seed allergies need to be aware that it is possible that the non-multigrain varieties have a chance of cross contact with flax and sunflower seeds. Readers are advised to check Ozery's FAQ and contact them directly with any additional questions to determine if their products suit your dietary needs. You can find their products in the bakery or freezer sections of your supermarket, Amazon (affiliate), or order online from Ozery Bakery's website (Ontario and Quebec).
They demonstrate how they don't use any preservatives when the ingredient label for their apple cinnamon flavored products include "sulfite free apples."
I like that some of the breads are lower in calories (70 cals per 100 g), low in fat, and high in fiber.
Related Posts
If you are still looking for other baked goods, you might want to check my list of nut-free bakeries. Many of the local bakeries have mail order options.
If you want to read more about my other fabulous nut-free food finds from the Winter Fancy Food Show 2015
If you need help with stocking your cupboards for making allergy aware Asian fare, you can see what I have in my cupboards.
Do you love cranberry-orange flavors as much as I do? I have recipes!
Disclosure of Material Connection: I received one or more of the products or services mentioned above for free in the hope that I would mention it on my blog. Regardless, I only recommend products or services I would use personally and believe will be good for my readers. I am disclosing this in accordance with the Federal Trade Commission's 16 CFR, Part 255: "Guides Concerning the Use of Endorsements and Testimonials in Advertising."
Thanks for reading, please help Nut Free Wok!
The best way to see every post or recipe is to subscribe to Nut Free Wok's email subscription (be sure to respond to the confirmation email). You will be notified by email next time I publish another post or recipe and I won't send you spam or share your email address with anyone.
If you enjoyed this post, please use the social media buttons below to share with others. I am on Facebook, Twitter, Pinterest, and Instagram as @nutfreewok and it's great to chat and interact on social media too.
Disclosure/Disclaimer:
I may mention the names of stores and/or brand names of products that I use because readers ask and I share products and sources which I use and think may be helpful to readers, all opinions are my own. Please note that manufacturing practices and ingredients can change at anytime without notice and readers are always responsible for assuring allergen safety before buying or consuming foods. NutFreeWok.com is a participant in the Amazon Services LLC Associates Program, an affiliate advertising program designed to provide a means for sites to earn advertising fees by advertising and linking to Amazon.com. Thank you for reading!