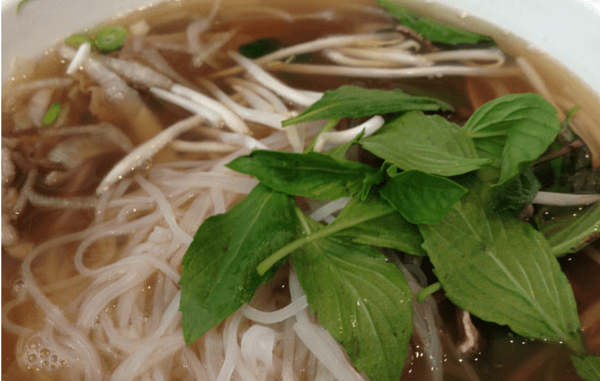 I recently read "Monster Pho," an article written by Anna Mindess and published on Bay Area Bites. It's a feel good story about a guy who wanted to start his own restaurant using his mom's recipes. Despite many challenges, his restaurant is a huge success and 100% peanut free for those with food allergies…peanut free??…a PEANUT FREE Vietnamese restaurant! *scream with delight*
Usually Vietnamese restaurants incorporate peanuts in many of their dishes. Chopped peanuts are sprinkled on as garnish and some dishes are served with a peanut butter based dip on the side. The potential for cross contact is great and Vietnamese restaurants are off limits for those who are highly sensitive or react to airborne nuts.
Finding out about a peanut-free Vietnamese restaurant is simply phenomenal news and an amazing resource for those of us who have peanut and nut allergies. We took a quick day trip to eat pho in Oakland during a long Labor Day holiday weekend. It was a 70 mile/2 hour round trip in typical Bay Area traffic but totally worth it.
This post has been updated regarding their new location (3/15/2023).
(Disclosure: I was not solicited, paid, or received anything in exchange for this review. We paid for our own meal and I am sharing our experience and my opinions because I think you might find it interesting.)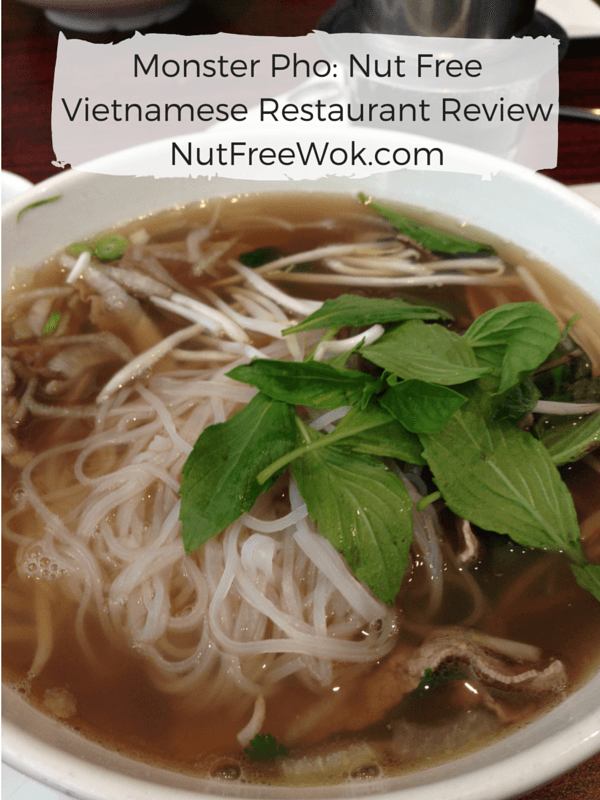 First Impressions of Monster Pho
We slept in, had breakfast, and headed to Oakland because Monster Pho is known for long lines. We arrived a few minutes before Monster Pho opened and to our delight, we entered a medium sized restaurant that was clean, sunny, and decorated with thoughtful design and simplicity. I immediately noticed on the menu the following statement:
*** 100% PEANUT FREE RESTAURANT ***
Perfect, right?
Even though the menu had other items such as vermicelli noodles and rice plates, we only wanted to have pho: a big bowl of beef broth with rice noodles, tender pieces of meat, and served with bean sprouts, lime wedges, and chili on the side. We also wanted to share an order of spring rolls. I would have loved ordering additional dishes but we just had a breakfast! Not to worry, we have more reason to go back again. I don't often see nuts such as almonds, walnuts, cashew, or other tree nuts in Vietnamese cuisine and we were able to verify with the waitress that the restaurant is also nut free.
Most Vietnamese restaurants have a canister of chopsticks and stacks of soup spoons and sauce dishes for their customers to help themselves. Instead Monster Pho would bring them out for each table on a little tray which is much more hygienic than the help yourself way. They also have bottles of hoisin sauce and sriracha (read my allergy aware review about sriracha here) available at the table and my husband noticed the bottle tips were clean.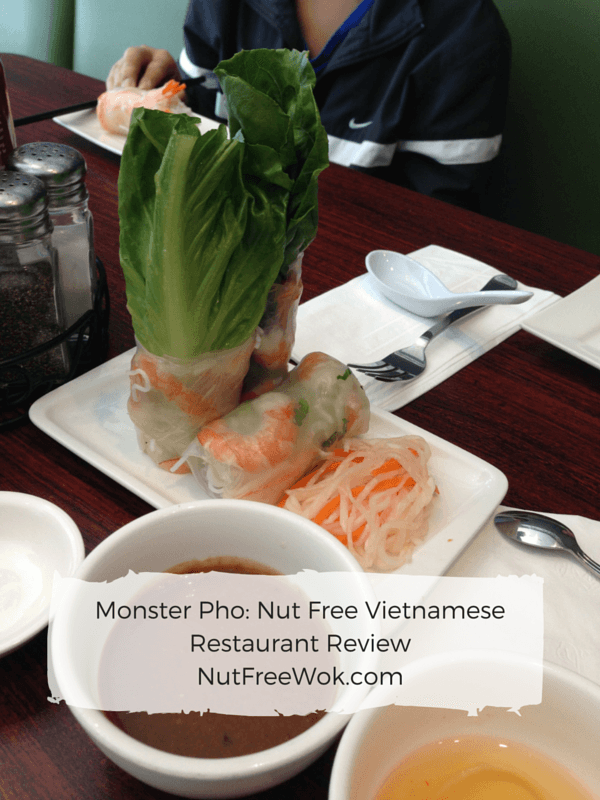 The Ultimate Comfort Food for People with Peanut Allergies
When our orders arrived, our Vietnamese food deprived family thoroughly enjoyed every bite. The spring rolls had a bit of a flair with the pretty end of a lettuce leaf sticking out. The bean sprouts and basil were very fresh and the pho broth was light and clean, with very little fat floating on the top, low in salt or MSG, exactly the way I like it. Best of all, our food was NUT FREE, the ultimate comfort food that is free of worry.
Meet Mr. Tee Tran
I had the pleasure of meeting Tee Tran, the owner of Monster Pho, who was interviewed in the Bay Area Bites article. I thanked him for having a nut-free Vietnamese restaurant and his answer is so humble, compassionate, and thoughtful. He explained that he has family members and friends with severe food allergies and he wanted to do something that hasn't been done before, a nut-free Vietnamese restaurant so that people with peanut allergies may enjoy Vietnamese foods. I think his restaurant is an expression of compassion for those who have food allergies.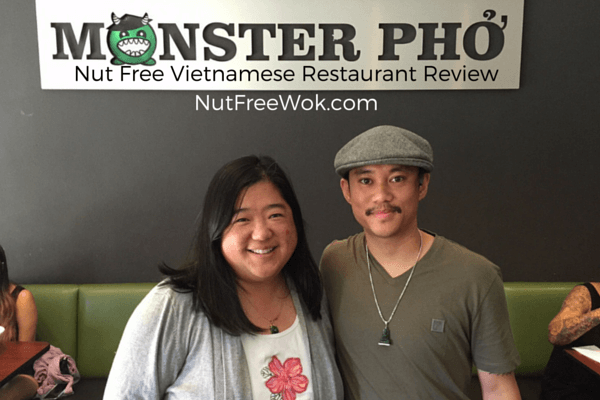 I also asked how he limits cross-contact and whether people with allergies to other foods can dine there. Tee's answer reassured me that he knew what he was talking about as he described how each broth is prepared separately (vegetable pho is 100% vegetables and chicken pho is made of chicken without beef, as described by Anna Mindess).
Another allergy aware example is that they don't add fish sauce to the beef pho. All the foods are separated in the back to prevent cross contact. It's hard to generalize whether Monster Pho is right for you unless you call to ask about the allergens you are avoiding but it seems to me that there is a certain level of awareness that is very promising.
I am so happy to learn about Monster Pho, a nut-free Vietnamese restaurant. Our family feels so grateful for Tee's forward thinking about making his restaurant safe and inclusive for those with nut allergies. I loved meeting him, and despite his success, he's gentle, humble, and kind. I believe he's our new BFF, please be sure to thank him if you have the chance to meet him. I hope other restaurants will see that it's possible to be allergy friendly and successful.
Thank you, Tee and staff at Monster Pho, for making it possible for this peanut allergic and Vietnamese food deprived family to be able to enjoy your wonderful meals, we'll be back!
Thank you, Anna Mindess and Bay Area Bites, for telling Tee's story!
Verify Safety Before You Dine Out
If you have allergies to any of the ingredients present at Monster Pho, call ahead of time to discuss with Tee or his staff. If you only have nut allergies, I feel comfortable in sharing our positive experience at Monster Pho. Regardless, it's always prudent to verify safety before you dine out. In general, I do the following before trying any new restaurants:
Call during non-peak times and ask to speak to a manager and keep the conversation brief.
Ask questions such as "My child is allergic to xyz, are there dishes we should avoid ordering?"
Or ask "Do you have a procedure in place on how to prepare a meal safely for someone with food allergies?" and ask additional follow up questions as needed and as time permits.
I always thank them for their time and help regardless of their answers to make it easier for the next person who calls about food allergies.
Arrive early or at non-peak times for most optimal attention and service.
Order simply and be wary of sauces, deep fried foods, and desserts as well as hidden allergens inside stews or foods that are wrapped, covered, or layered.
Always let the the waitstaff or manager know about food allergies when ordering and verify again when the food arrives.
Tell a friend or share a review on Allergy Eats or Yelp.
Are you as excited as I am about Monster Pho and Tee Tran? Are there additional questions that you ask when dining out? Tell me what you think in the comments!
Update: New Location
Monster Pho is moved and their new location is at 360 40th St, Oakland, CA 94609. This new location is way cool, they have robot servers, fun activities for kids, and merch to buy. It's also very spacious and airy so it's never too loud or crowded.
You can also call them at 510-788-4459 or email them at care@monsterpho.com (that email address is a big clue about what kind of people they are, they care!). Check out their menu on their website, www.monsterpho.com
Monster Pho opened a second location in Emeryville in 2017 but that location is no longer open for dining because they use it as a secondary kitchen for delivery orders.
Thanks for reading, please help Nut Free Wok!
The best way to see every post or recipe is to subscribe to Nut Free Wok's email subscription (be sure to respond to the confirmation email). You will be notified by email next time I publish another post or recipe and I won't send you spam or share your email address with anyone.
If you enjoyed this post, please use the social media buttons below to share with others. I am on Facebook, Twitter, Pinterest, and Instagram as @nutfreewok and it's great to chat and interact on social media too.
Disclosure/Disclaimer:
I may mention the names of stores and/or brand names of products that I use because readers ask and I share products and sources which I use and think may be helpful to readers, all opinions are my own. Please note that manufacturing practices and ingredients can change at anytime without notice and readers are always responsible for assuring allergen safety before buying or consuming foods. NutFreeWok.com is a participant in the Amazon Services LLC Associates Program, an affiliate advertising program designed to provide a means for sites to earn advertising fees by advertising and linking to Amazon.com. Thank you for reading!