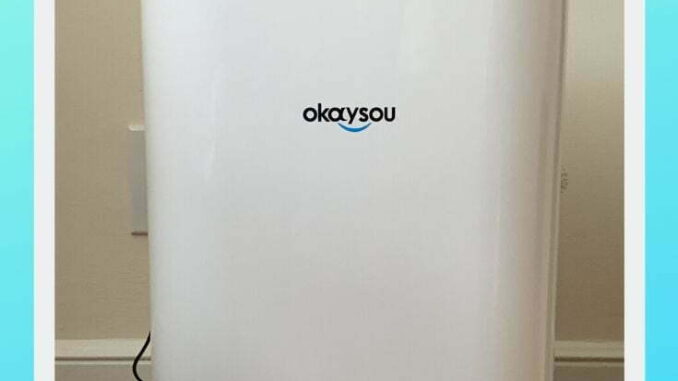 I happened to be shopping for a new air purifier for our family due to environmental allergies, asthma, and poor air quality when Okaysou contacted me to see if I would be interested in reviewing their Okaysou AirMax8L air purifier. The timing was perfect. Long story short, even though my husband and I are very picky about air purifiers, we love the Okaysou AirMax8L air purifier! Let me tell you why.
Disclosure: Okaysou sent their AirMax8L Air Purifier free of charge for me to review. I only agree to review products which might help my family and I always share my honest opinions to help you and your family. Added an update regarding customer service below (1/3/2022). I love that they went viral on TikTok in 2021 (see below)!
Disclaimer: Please check that all ingredients are suitable for your allergies and be sure to ask your medical care team regarding any allergy related questions (I do not share medical advice). As an Amazon Associate I earn from qualifying purchases.
Why Air Purifiers are Essential in Our Home
I was interested in reviewing Okaysou's products (affiliate link) because we needed additional air purifiers in our home. I'm so glad that I decided to review their product before they went viral on TikTok in 2021. And I love that air purifiers can go viral on TikTok, suddenly us asthma folks are ahead of the curve on being cool.
The last two years have been very stressful due to the California wildfires. The smoke and poor air quality made it very difficult to breathe, sometimes I was at risk of an asthma flare up and sometimes I was so sick. Even though we close our doors and windows when the pollen count is high or during fire season, pollen, particulates, or pollutants can still seep through closed windows and doors. We run the house fan all day for extra filtration and changed our very dirty HEPA filter frequently. We purchased a second air purifier for our bedroom due to all the extra wildfire related smoke and pollution which helped.
We also have had a great air purifier in our sons' bedroom for 10+ years to help with their environmental allergies. That model was discontinued after a few years and the company recently discontinued making filters, so we needed a replacement air purifier for the kids' room. In the meantime, we moved our air purifier to their bedroom but we couldn't reorder our air purifier due to new California restrictions about air purifiers with ionizers. We needed to shop around for new air purifiers.
Avoid Ionic Air Purifiers That Make Ozone
If you didn't know, ionic air purifiers create particles which become harmful ozone gas. Air purifiers are meant to improve our health, but ozone generators are a health hazard and, according to the EPA, may cause lung damage which people with asthma or other respiratory issues may want to avoid or check with their medical care team. The air purifier that we moved into my sons' room has an ionizer but it has an on/off switch which we leave off all the time but there's still a small risk of accidentally turning it on.
I recommend reading AAAAI's latest research news about how lung function can drop after a few hours of exposure to small amounts of ozone. "This data further illustrates how low level ozone has an impact not only on those with health conditions such as asthma, but also those who are in good health, even when they're not physically active. "We urge everyone to do what they can to limit exposure to ozone and other harmful pollution," said Dr. Hernandez."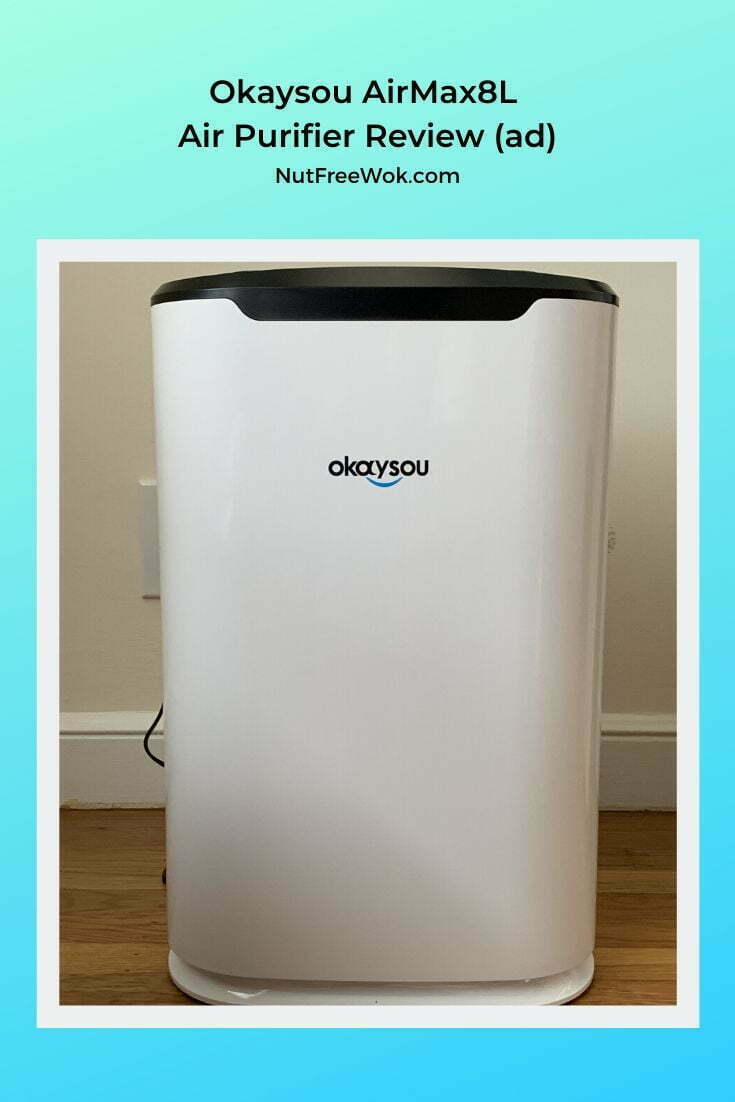 What do we look for in an air purifier?
We need to shop again for a new air purifier and be better prepared for wildfire season with one air purifier in each of the frequently used areas of the home. And we consider the needs of our parents' in their homes and our son in his college dorm (apartment next year). Buying a bunch of air purifiers is a big investment and we want to be sure we buy air purifiers that meets our health needs at a reasonable price point. Some of the specifications that my husband and I consider when searching for an air purifier include the following:
Health Considerations:
What can an air purifier filter? A true HEPA filter can filter out very small particles without creating ions, which become ozone, an irritant for people with asthma. Does it have carbon to filter out odors? Does it have an antimicrobial filter to bacteria, viruses, and mold?
Is the air purifier an ionic purifier that generates byproducts which become ozone? If yes, consider whether the default mode is on or off when the air purifier is powered on (for example after a power outage).
Air Purifier Features:
What's the CADR (clean air delivery rating) number, which refers to the number air changes per hour? If you multiply a CADR rating by 1.55 then you can estimate the square footage of a room that the device will clean.
How quiet is it? How loud can it become? Usually the manufacturer will give a range in decibels. Normal conversation is about 60 decibels, a quiet working environment would be about 50 decibels. A decibel rating between 25-45 would be comfortably quiet.
What's the energy efficiency? My husband remarked that the specification for energy efficiency might be when the air rate exchange rate is lowest and the noise is quietest. But the CADR number would reflect when the air purifier would be working hardest and using more power and be louder.
Is the air purifier unobtrusive in size or shape? Is it easy to move around?
Does it have a nighttime or sleep mode to dim the lights on the control panel, which is more optimal for bedrooms?
Does the air purifier have an automatic air quality sensor? That's a great feature to have for better air quality and better energy usage.
Cost Considerations:
How long is the warranty period? That usually indicates the manufacturer's confidence in the product and a good estimate on when you may need to replace your air purifier. My husband prefers a minimum of a two year warranty period or longer.
What's the total cost of the unit plus filters over the expected use of the air purifier? If you know the warranty period, then you can estimate the total cost of the purifier plus supply of filters over a certain number of years.
Hopefully these general considerations for an air purifier will help you find an air purifier that meets your needs. I was amazed when I realized that the Okaysou AirMax8L is nearly perfect and meets our most important criterias. And it's no surprise that this air purifier went viral on TikTok!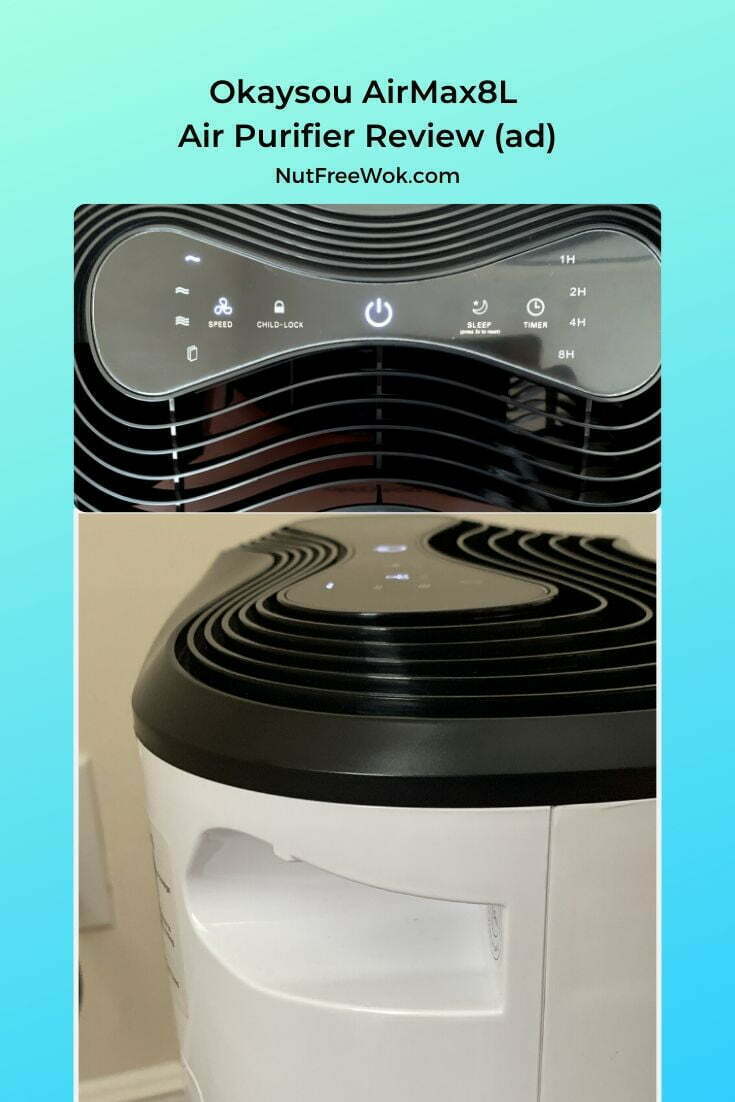 How did the Okaysou AirMax8L Air Purifier meet our expectations?
The Okaysou AirMax8L air purifier (affiliate link) is easy to set up, hums along quietly, and does its job which is perfect. But it also has a lot of great features that impressed my husband, who tracks each air purifier that he's looked at on a spreadsheet. We have been using the air purifier for three weeks now, if there are any significant issues or kudos over the next few years, I will update this post.
The most important features for us include the following:
The CADR is 210 which can clean a room that is 325 sq. ft., which is more than adequate for any of our rooms.
The Okaysou AirMax8L filters needs to be replace about every 6 months (may vary with use) and you need to buy two sets of filters.

The Okaysou AirMax8L Ultra True Filter (affiliate link) has three layers, a pre-filter to catch big things like hair, pollen, pet dander, a HEPA filter for dust and mold, and an anti-microbial layer for viruses, bacteria, and germs.
The Okaysou AirMax8L DUO-Filter Carbon Filter (affiliate link) has two layers, active carbon and cold catalyst filters to absorb volatile organic compounds and further removes toxic substances such as formaldehyde and household odors, and decomposes and captures ammonia, etc.

It doesn't have an ionizer that can generate harmful ozone. It is CARB (California Air Resources Board) certified for sale in California.
Additional features that we love:
It's easy and intuitive to use. There are four 5 simple buttons on the Okaysou AirMax8L air purifier that are labeled. 1) to select the speed, 2) child lock, 3) power, 4) sleep mode to dim all the buttons and set at the lowest setting, and 5) timer so you can decide how long you want the air purifier to run.
It's relatively light, weighs less than 14 pounds. The Okaysou AirMax8L air purifier has cut out areas on the side which make it easy to move from room to room as needed.
Its dimensions are 12.9 x 7.1 x 19.4 inches and very inobtrusive in size.
It's also quiet enough for a bedroom or study.
The Okaysou AirMax8L air purifier has a 5 year warranty.
Caveats:
The only feature that I wish the Okaysaou AirMax8L would have is an automatic sensor to increase the filtration when the air quality suddenly declines or to slow down when the air quality improves. It's a nice feature to have but it's also not difficult to adjust the settings as needed. Hopefully they will consider adding that feature in their next model.
This is a relatively new company, it's been in business since 2018. If you have space to store extra filters and you like the air purifier, consider buying and keeping an extra set of filters on hand depending on how long you think the air purifier would last. I recommend having at least one extra set of filters to use in case there are any supply chain issues.
Would we buy another Okaysou Airmax8L and filters?
Definitely yes! It's just a matter of how many and when. Now that we have a great air purifier, I'm hopeful that our family will be safer and healthier this year.
For more information, please visit Okaysou's store (affiliate link). This review is specifically for the Okaysou AirMax8L (affiliate link). The AirMax8L is also available in black (affiliate link), which is great if you want your air purifier to have a more discrete look in a corner.
My husband usually orders our replacement filters through Amazon (remember to look for the two sets). Some times Amazon is out of stock so I recommend checking Okaysou's website for replacement filters directly from the manufacturer for availability and additional promotions.
How well does Okaysou handle customer service and warranty issues?
In late 2021 my husband ordered some filters for the and they arrived damaged due to shipping. And since I had to reach out to Okaysou's customer service anyways, I decided to let them know that the fan in the air purifier suddenly became very loud. I contacted Okaysou via their home page and they very promptly helped me replace the damaged filters and honored their 5 year warranty by sending a new AirMax8L. That's outstanding customer service which I appreciate and can strongly recommend their brand.
Thanks for reading, please help Nut Free Wok!
The best way to see every post or recipe is to subscribe to Nut Free Wok's email subscription (be sure to respond to the confirmation email). You will to be notified by email next time I publish another post or recipe and I won't send you spam or share your email address with anyone.
If you enjoyed this post, please use the social media buttons below to share with others. I am on Facebook, Twitter, Pinterest, and Instagram as @nutfreewok and it's great to chat and interact on social media too.
Disclosure/Disclaimer:
I may mention the names of stores and/or brand names of products that I use because readers ask and I share products and sources which I use and think may be helpful to readers, all opinions are my own. Please note that manufacturing practices and ingredients can change at anytime without notice and readers are always responsible for assuring allergen safety before buying or consuming foods. NutFreeWok.com is a participant in the Amazon Services LLC Associates Program, an affiliate advertising program designed to provide a means for sites to earn advertising fees by advertising and linking to Amazon.com. Thank you for your support!