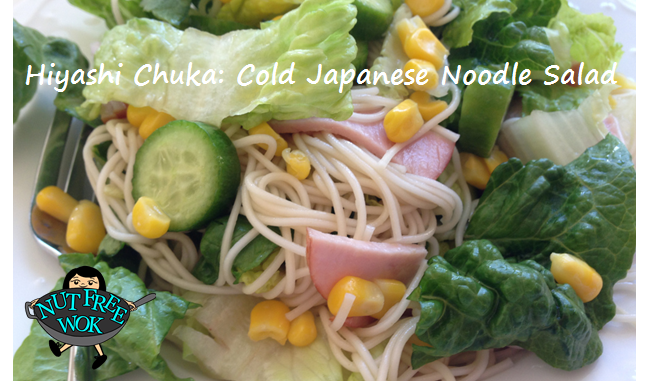 Hiyashi Chuka is the perfect meal on a hot day!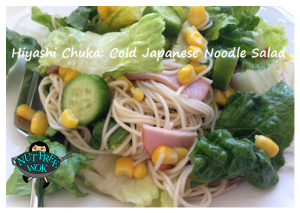 Hiyashi Chuka is a cold Japanese Noodle Salad is the inspiration for this cold noodle salad recipe. Hiyashi Chuka is easy to make, loaded with vegetables, and easy to adapt for food allergies. You can make it the way you like it, cold noodles plus your choice of cold toppings with a light dressing. It is the perfect Allergy Aware Asian Fare. I pick 5-6 different toppings to serve with the noodles. Ham is the least allergenic protein topping for us, but one could also use shrimp, imitation crab sticks, or egg crepe. I pick a few vegetables: grated carrots, cucumbers, cut organic corn, bean sprouts and then top with optional garnishes such as green onions or toasted sesame. As my boys got older, I started adding more salad greens with a mild flavored salad green such as romaine hearts, iceberg or butter lettuce. This is a great dish to serve as a main meal for 4 people and great to bring for a potluck.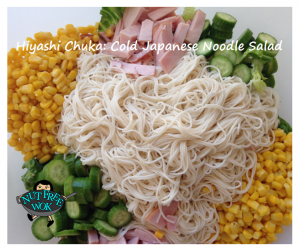 Allergy Aware Asian Noodles
I buy fresh ramen from our local Japanese market rather than use instant ramen but that is not as convenient as pulling a package of noodles from my pantry. I have used Hakubaku's organic dried noodles for many years and their noodles have the most incredible flavor and texture. Somen is a thin wheat based noodle, similar to capellini. Udon is a thicker and wider wheat based noodle, similar to linguine. Soba is the dark brown noodle, made from buckwheat, with a little more bite, fiber and flavor. All are delicious. According to Hakubaku's FAQ, their products are made on shared lines with wheat, egg, soy, and buckwheat. If you can't find Hakubaku products, look for similar products by Wel-Pac in the Asian section of conventional supermarkets. They're good and have the same shared lines (wheat, egg, soy, and buckwheat).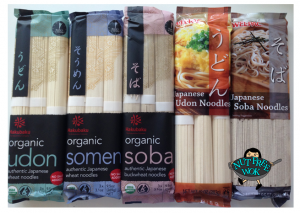 Allergy Aware Asian Dressing
Tsuyu Tennen is a bonito flavored soy sauce soup base and seasoning sauce that I buy from Nijiya, a Japanese grocery store located in several states. I've never called them about cross-contact but haven't ever experienced any cause for concern either. If you can't find a noodle soup base or have allergies to fish, the recipe also has instructions on how to make something close enough. Seasoned Rice Vinegar has a touch of sugar (ready to use for making sushi for other meals). I buy the same brand, Marukan which seems to be a vinegar only company, but I have never called to check about any possible cross contact. Sesame Oil adds a nice flavor but is truly optional. I use Lee Kum Kee brand, which posts allergen information on their FAQ along with a phone number to contact them. I also don't use a lot of dressing, so readers might need to make a little extra and adjust to taste.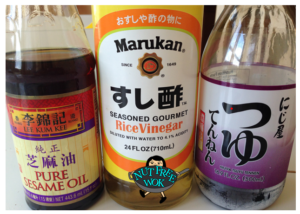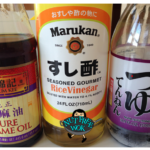 Hiyashi Chuka: Cold Noodle Salad
Perfect for a cool refreshing meal on a hot summer day. This serves 4-6 as a main meal and 8-12 as a side dish. It's also a great make-ahead meal for a potluck.
Ingredients
1

package of fresh ramen

8 oz or dry packaged Japanese noodles (soba, somen, udon, or ramen)

4

cups

of lettuce

iceberg or romaine hearts or baby spinach

4

cups

of chopped or julienned vegetables

Persian or English cucumbers, carrots, blanched bean sprouts, cut corn, edamame, grated carrot, halved cherry tomatoes, etc.

8

oz

of sliced ham or Canadian bacon

chopped and/or imitation crab, bay shrimp, and/or scrambled eggs (approximately 2 cups total)

1/2

cup

chopped green onions

optional garnish

1

tablespoon

toasted sesame

optional garnish

Dressing

I prefer less dressing, you can double the amount, toss the salad with half and serve the other half on the side

1/4

cup

tsuyu tennen

bonito soup base for noodles*

1/4

cup

water

1

tablespoon

seasoned rice vinegar

1 1/2

teaspoon

sesame oil

or olive oil
Instructions
Boil water in a 4 qt or larger pot, cook noodles according the package, drain in a colander and rinse with cold water.

Wash and prepare the vegetables while waiting for the water to boil.

Chop sliced ham or Canadian bacon and prepare other toppings if using.

Combine dressing ingredients.

Place lettuce at the bottom of a large salad bowl.

If the noodles are stuck together, rinse with cold water, shake off extra water and add to salad.

Arrange the other toppings on top of or around the noodles (this is a good stopping point if the salad will be consumed later).

Toss with dressing and serve immediately

*If you can't find tsuyu tennen soup base or are allergic to fish, you can make a close substitute: 3 tablespoons soy sauce (or soy sauce alternative), 2 teaspoon sake or mirin, 1 teaspoon sugar, 1 teaspoon seasoned rice vinegar, adjust to taste.
Do you love this post and want an email every time I share a post or recipe? Sign up for Nut Free Wok's newsletter