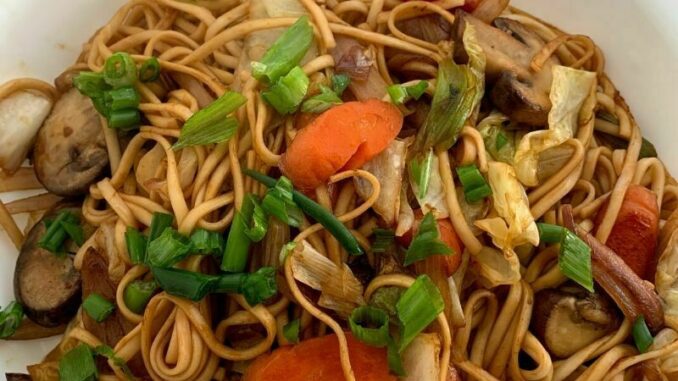 We ordered yakisoba almost everyday during our 2019 winter break in Japan and have to share the dish with you. Japan is such a beautiful, clean, and orderly country and also fun and whimsical at the same time. We went to Tokyo and Osaka and ate and ate and ate some more. All you can eat Japanese breakfast buffet. Lunch. Second lunch or snack or dessert. Dinner. Second dinner or snack or dessert.
I realized that one of my sons likes yakisoba very much. We ordered it almost daily while we were in Japan, usually at a teppanyaki style restaurant which have a grill for each table. The restaurant staff bring the cooked and ready to eat yakisoba and transfer it onto the hot griddle at our table where the yakisoba sizzles to perfection.
Disclaimer: I am a brand ambassador for Rodelle and receive products to use and review. Please check that all ingredients are suitable for your allergies and be sure to ask your medical care team regarding any allergy related questions (I do not share medical advice). As an Amazon Associate I earn from qualifying purchases.
Update: Rodelle has discontinued making their ground ginger and other cooking spices. I updated this post on 3/20/2023 with minor edits.
Jump to Recipe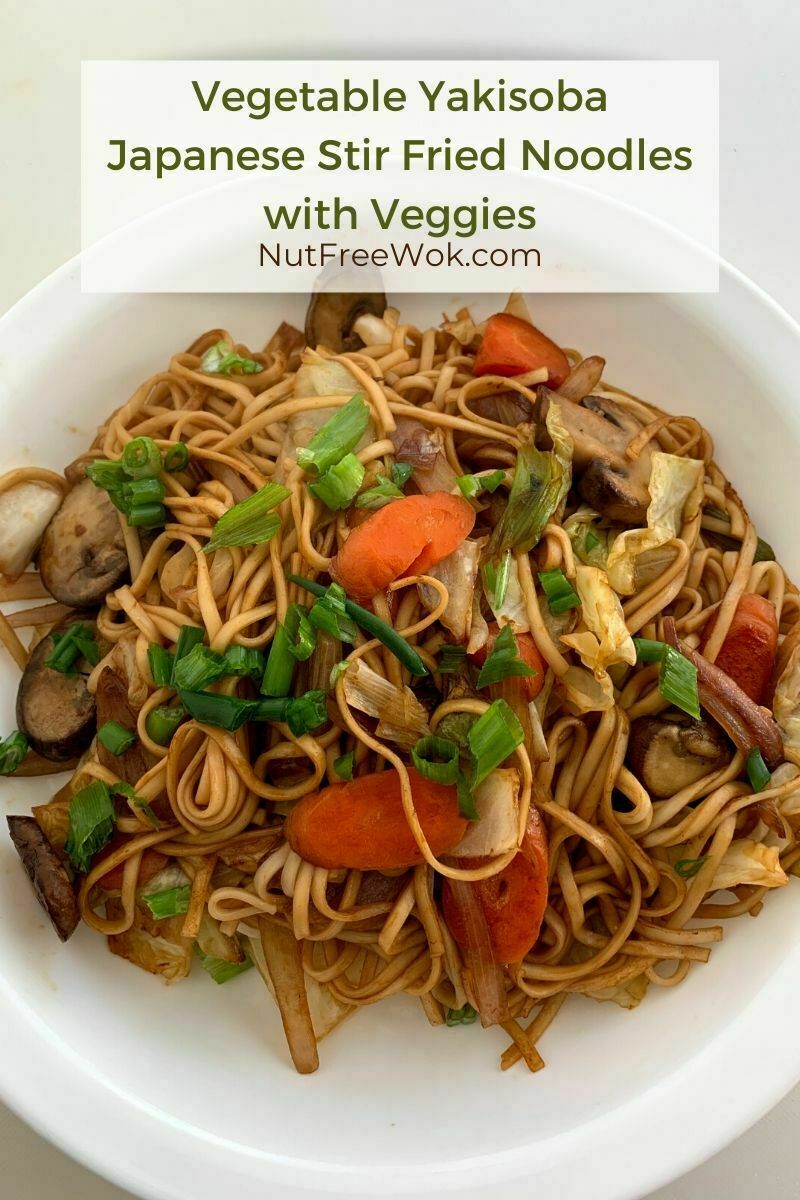 Easiest Yakisoba option: use a fresh yakisoba kit!
When we came home I decided to try and make yakisoba at home when I saw a package of Maruchan's Nama Yakisoba, a fresh yakisoba kit at the Asian supermarket in the refrigerator or freezer section. There are not nuts according to the ingredient label and did not receive a response when I contacted them. I made a simple vegetable yakisoba which I shared about in this Instagram post.
The refrigerated yakisoba kit is super easy to use. I love that it doesn't need to be parboiled, just add the noodles to the vegetable stirfry, add a splash of water, and sprinkle on the the powdered sauce packet, stir until the noodles soften, and it's ready in a few minutes. It's satisfying and perfect when you want a simple, quick, and easy meal. I mostly love it but I don't like food coloring in the noodles.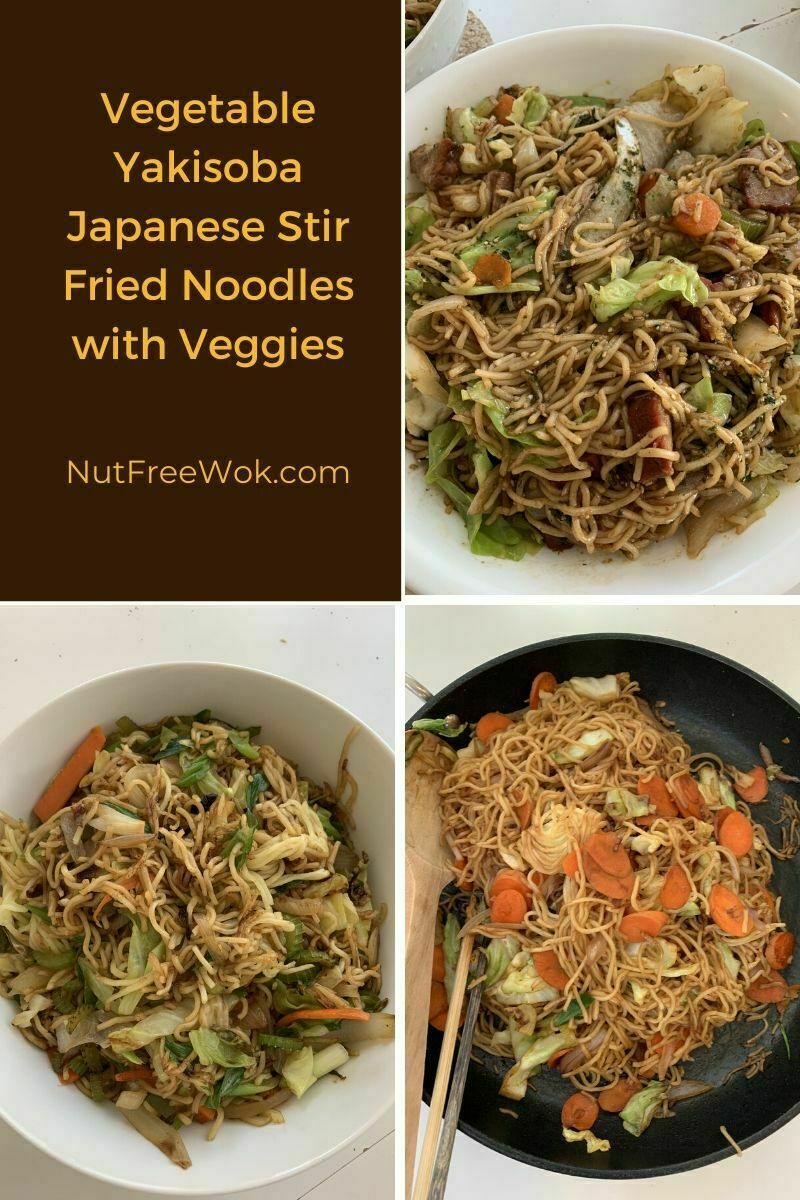 Semi-homemade Yakisoba options: use dry or fresh Japanese style noodles and bottled yakisoba sauce
If your local stores do not carry yakisoba kits in the refrigerator or freezer sections of your supermarkets, then making yakisoba with semi-homemade ingredients is another option for families with food allergies.
I use my favorite organic dry ramen, soba, or udon noodles by Hakubaku which are shelf-stable and waiting for me in my cupboard for when a yakisoba craving hits. If you have access to fresh ramen or fresh Chinese chow mein style noodles, that's even better.
The other main ingredient is the bottled yakisoba sauce which has a long shelf life and can be refrigerated when opened. Otafuku (affiliate link) seems to be the most popular brand of yakisoba sauce. I buy some of their other products and notice that while there are allergen advisories, there are none for peanuts and tree nuts.
When I contacted Otafuku, they informed me that they have one peanut containing product and their products are made on shared equipment with peanuts according to the manufacturing laws in Japan. They clean the machine per their protocol and the products which do not contain peanuts are tested for traces of peanuts after production. We have used their yakisoba and okonomiyaki sauces without issue but you would have to decide for yourself if that's within your comfort range.
I made some yakisoba with the Otafuku sauce and my family loved the flavor. The sauce is more viscous than my homemade version below because the bottled sauce has some emulsifier ingredients. It's convenient but it also has high fructose corn syrup and caramel color in the ingredients.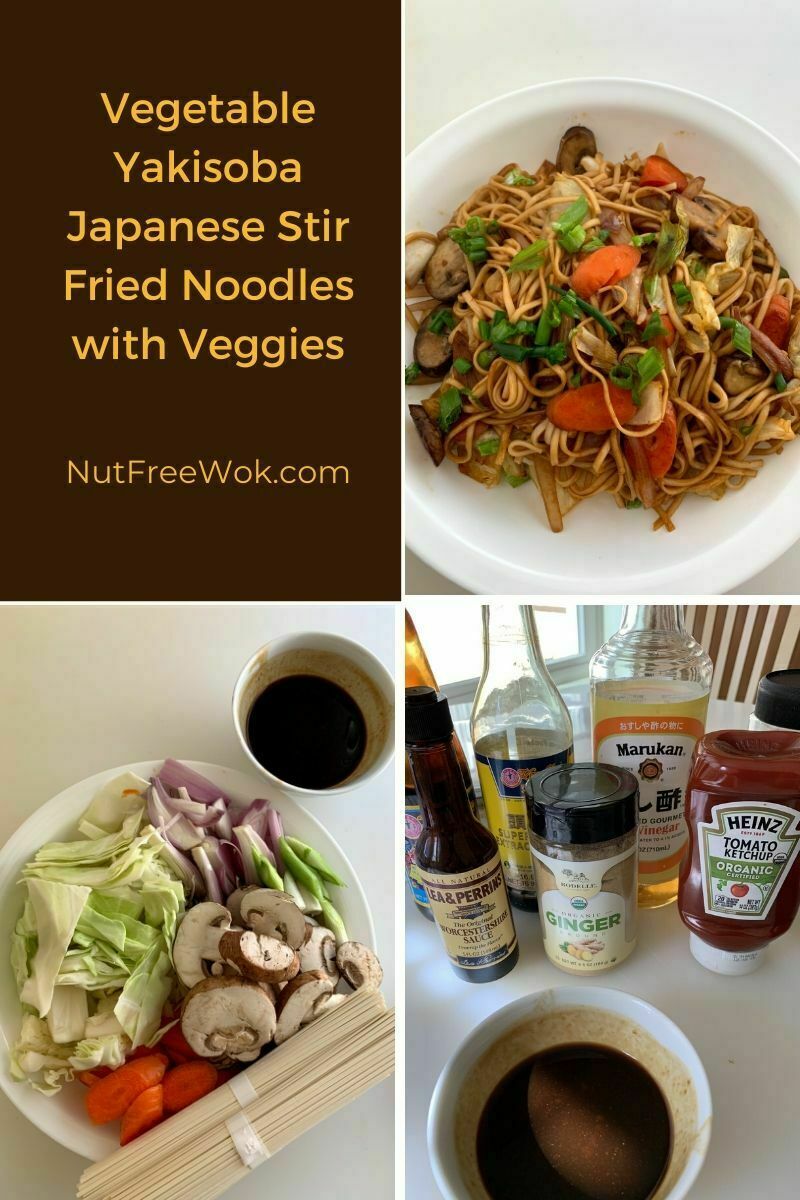 Allergy Aware Asian Fare Option: make Japanese inspired stir fry noodles
This is where we can have a lot of fun adapting the recipe for food allergies or because your stores don't carry the right ingredients to make an authentic yakisoba. But you can still come close with some smart adaptations.
I looked online for a yakisoba sauce recipe and decided to test a few recipes. Just One Cookbook has a recipe that tastes the most like the Otafuku yakisoba. It uses worcestershire sauce, ketchup, soy sauce, oyster sauce, and sugar. I adapted it a bit by adding some vinegar, garlic powder, ginger powder, and paprika for more flavor and it is quite delicious.
If you want to swap out the noodles, you can consider using rice stick noodles, mung bean vermicelli for some wheat free, egg free options (check the labels!). Each of those types of noodles need to be parboiled for a couple of minutes before adding to your stir fry. You can also use egg free spaghetti but as I discovered in a Chinese lo mein post, angel hair or cappelini pasta cooked al dente are the best substitutes for Asian noodle stir fry dishes.
This recipe is free of peanuts, tree nuts, egg, and milk as written.
If you need help figuring out what ingredients to buy, be sure to check what is in my cupboard. Please double check your ingredient labels for the products you buy since we might have different allergies and comfort levels.
You can easily adapt the recipe to be shellfish free by omitting the oyster sauce and substituting with a mushroom vegetarian sauce.
Adapt the recipe to be soy free by trying a soy-free substitute or use soy free soy sauce.
To make the recipe wheat free or gluten free, use a gluten free noodle and tamari sauce.
Adapt the recipe to be fish free by omitting worcestershire sauce.
I love Rodelle Vanilla's products in general because everything they make is peanut and tree nut free and they have a wonderful customer service team to help with questions. One of my favorite products is Rodelle's Organic Ginger Powder, their ginger smells so wonderful and tastes great. It adds a nice gingery kick to our food that I love so much without the super zesty bites of ginger. It's especially convenient to use in the stir fry sauce. If you can't find their amazing organic ginger powder (affiliate link) in your local store, you can order via online. They have discontinued this product, you can see what's in my cupboard for my recommendations for spices.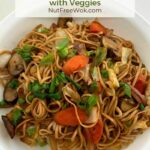 Vegetable Yaki Udon: Japanese Stir Fried Noodles with Veggies
This Japanese inspired stir fried noodle dish is packed with veggies and made with a homemade yakisoba sauce using ingredients that you probably already have.
Ingredients
4

tablespoons

worcestershire sauce

4

teaspoons

ketchup

4

teaspoons

oyster sauce

4

teaspoons

rice vinegar

2

teaspoons

soy sauce

2

teaspoons

sugar

1

teaspoon

garlic powder

1

teaspoon

ginger powder

1/2

teaspoon

paprika

9

ounce

package of dry Japanese noodles

(udon, soba, somen, or ramen) cooked according to package

8

ounces

of cabbage

sliced into 2×1 inch pieces (approximately 4 cups)

2

carrots

sliced (approximately 1 cup)

4

ounces

mushrooms

sliced (approximately 1.5 cups)

2

shallots or 1/2 sweet onion

sliced (approximately 1 cup)

2

scallions

chop whites into 1 inch pieces, chop greens into 1/4 inch pieces

2

teaspoon

olive oil
Instructions
Combine the sauce ingredients (worcestershire sauce, ketchup, oyster sauce, rice vinegar, soy sauce, sugar, garlic powder, ginger powder, and paprika) and whisk, set aside.

Boil water in a medium sized (4 qt) pot and cook the dry udon according to package. Drain in a colander, rinse with cold water, and set aside. If the noodles are stuck together when you are ready to add them to the vegetable stir fry, rinse and drain again.

Preheat a large non-stick frying pan at medium heat for a few minutes until a sprinkle of water on the pan sizzles. Add oil and swirl to coat.

Add the cabbage, mushroom, carrots, shallot, and scallion whites and stir fry until they start to brown slightly (about 4 minutes).

Add the cooked noodles and drizzle the sauce over the noodles and vegetables and stir to toss the noodles and vegetables in the sauce until everything is evenly cooked. Garnish with the remaining scallions and serve.
Thanks for reading, please help Nut Free Wok!
The best way to see every post or recipe is to subscribe to Nut Free Wok's email subscription (be sure to respond to the confirmation email). You will to be notified by email next time I publish another post or recipe and I won't send you spam or share your email address with anyone.
If you enjoyed this post, please use the social media buttons below to share with others. I am on Facebook, Twitter, Pinterest, and Instagram as @nutfreewok and it's great to chat and interact on social media too.
Disclosure/Disclaimer:
I may mention the names of stores and/or brand names of products that I use because readers ask and I share products and sources which I use and think may be helpful to readers, all opinions are my own. Please note that manufacturing practices and ingredients can change at anytime without notice and readers are always responsible for assuring allergen safety before buying or consuming foods. NutFreeWok.com is a participant in the Amazon Services LLC Associates Program, an affiliate advertising program designed to provide a means for sites to earn advertising fees by advertising and linking to Amazon.com. Thank you for your support!