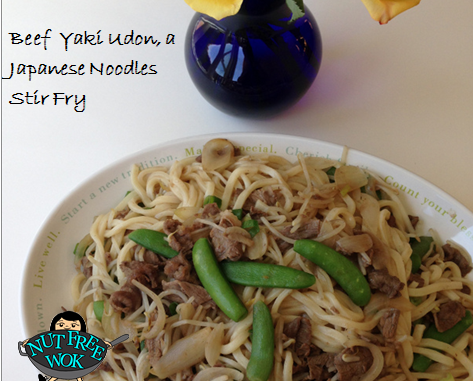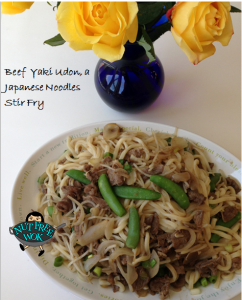 My first taste of Beef Yaki Udon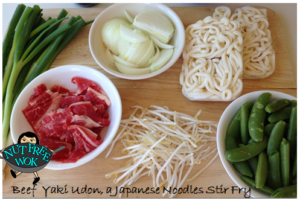 Have you ever walked into an Asian restaurant and not know what to order because the menu is in another language? I was a tired and hungry college student who needed a cheap and fast meal and decided to walk into a Japanese fast food place because it smelled delicious from the outside. It was a fast food place so they had pictures next to the menu rather than plastic models of the food that are commonly found in traditional Japanese restaurants. I ordered Yaki Udon, which seemed different but somewhat familiar at the same time. Yaki udon is so delicious: slightly chewy, thick, wheat based noodles stir fried with crisp veggies and flavored by a little bit of meat and sauce, topped with ginger, bonito (fish) flakes, and/or shredded nori (seaweed). I loved it.
Family style
I buy frozen sanuki udon that come in packs of 5 individually wrapped bricks of noodles. I usually use the entire package so we have some leftovers for lunch the next day. As you can see in the photo, I end up with a platter of that is a fantastic side dish to feed a crowd. Cooking for one person in small quantities yields the best results in terms of flavor and getting a delicious smoky sear in the food. You can make this dish super delicious by halving the recipe or working in batches. I'm usually rushing to get dinner on the table and l love to make this dish because it's fast, loaded with vegetables, and really flexible because you could make it with almost any combination of meat/tofu and vegetables.
Allergy Aware Yaki Udon
I buy most of our Japanese groceries from Nijiya Market (stores in CA, HI, and NY and online). Many of their products are labeled for cross-contact, for example the Udon by Nissan says that the noodles are made in a facility that processes milk and eggs. I've used the udon soup base for years without any issues, so I've never thought to call them about any potential cross contact with nuts. It's important to note that the sauce contains wheat, soy and fish and I included a suggestion in the recipe notes on how to make a simple substitute. Nijiya Soup Base is also called Tsuyu Tennen. If you don't have access to a Japanese store, you could search for a recipe for "mentsuyu," which is a multipurpose noodle sauce but it also requires the use of dried bonito (fish) shavings. I included some simple substitutions for the noodle soup base in the notes of the recipe. UPDATE: There are two kinds of noodle soup base, the kind that needs to be diluted before use as a dipping sauce and the kind that one could use as is without diluting. I use the kind of soup base that requires diluting but it's fine to use a small amount as seasoning in this stir fry. Udon is a wheat based noodle. However, I did find a recipe online for a gluten free udon, making a dough out of tapioca, brown rice flour, water and extruding it out of a plastic bag into a pot of hot boiling water. That sounds like a really interesting recipe to test out.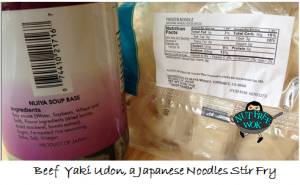 Kids and husband tested recipe
One of my purposes of having this blog is document my children's favorite recipes so that they have the ability to eat whatever they enjoy and not be limited by their food allergies or not knowing how to cook. One day I had to take a family member to the ER and left Jimmy and the boys to fend for themselves. When things finally stabilized, I texted Jimmy from the hospital about their plans for dinner and he told me that the boys were looking on Nut Free Wok for ideas on what to make. YES! I had a better plan: I wanted them to test this recipe. I had scribbled down the recipe the day before and happen to have the ingredients for Beef Yaki Udon. They made it together and enjoyed it together! Success! I later realized that they used a different kind of noodles in the refrigerator but they enjoyed the meal anyways. Win-win!
The recipe as written is peanut free, tree nut free, egg free, dairy free, shellfish free.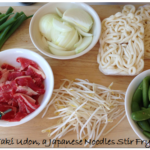 Beef Yaki Udon Recipe
Ingredients
1

package udon

5 pieces, sanuki style

2

tablespoons

olive oil

divided

1

medium sized sweet onion

sliced

1

pound

thinly sliced beef

4

cups

mung bean sprouts

2

cups

sweet peas

trimmed

3-4

tablespoons

udon soup base

tsuyu tennen*, adjust to taste

1/4

cup

chopped green onions
Instructions
Cook udon in boiling water according to package, drain and set aside.

Heat up wok or 6-8 qt stock pot on medium high heat and when a drop of water sizzles, add 1 tablespoon oil.

Stir fry onions for 2-3 minutes until soft.

Use a spatula and push the onions to the sides of the pot and add another tablespoon of oil and stir fry beef until almost all browned (2-3 minutes)

Add sprouts and stir fry for 2-3 minutes or until soft.

Add udon, soup base*, and green onions and gently stir fry, using a spatula to lift the meat and vegetables up to allow the noodles to heat thoroughly and cook in the sauce.
Recipe Notes
*If you can't find tsuyu tennen soup base or are allergic to fish, you can make a close substitute: 3 tablespoons soy sauce (or soy sauce alternative), 2 teaspoon sake or mirin, 1 teaspoon sugar, 1 teaspoon seasoned rice vinegar, adjust to taste.
If you are in a hurry to eat, I recommend blanching the sprouts in boiling water for 30 seconds. Bring the water back to a boil and start cooking the udon when you add the vegetables to the meat and onion stir fry. Transfer the hot noodles directly into the meat and vegetable stir fry (or drain but do not rinse) and season.
Do you love this post and want an email every time I share a post or recipe? Sign up for Nut Free Wok's newsletter