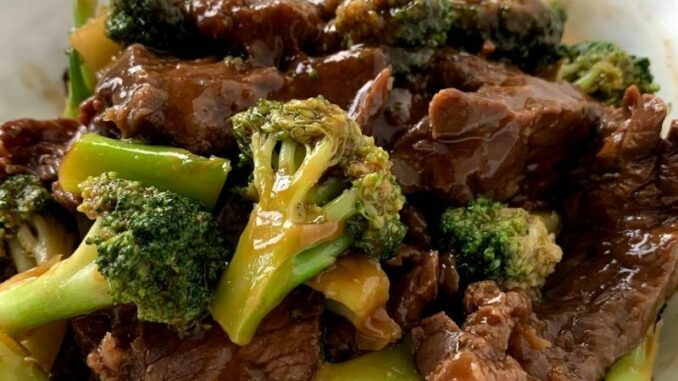 One of my favorite Chinese take out comfort foods is Broccoli Beef. I love perfectly stir fried pieces of bite size beef, tender crisp broccoli, with just the right amount of sauce over freshly cooked white rice. I usually cook our stir fry without making a sauce but because we can all appreciate comfort food, I make it take out style with lots of sauce but not as oily.
Disclaimer: Please check that all ingredients are suitable for your allergies and be sure to ask your medical care team regarding any allergy related questions (I do not share medical advice). As an Amazon Associate I earn from qualifying purchases.
Jump to Recipe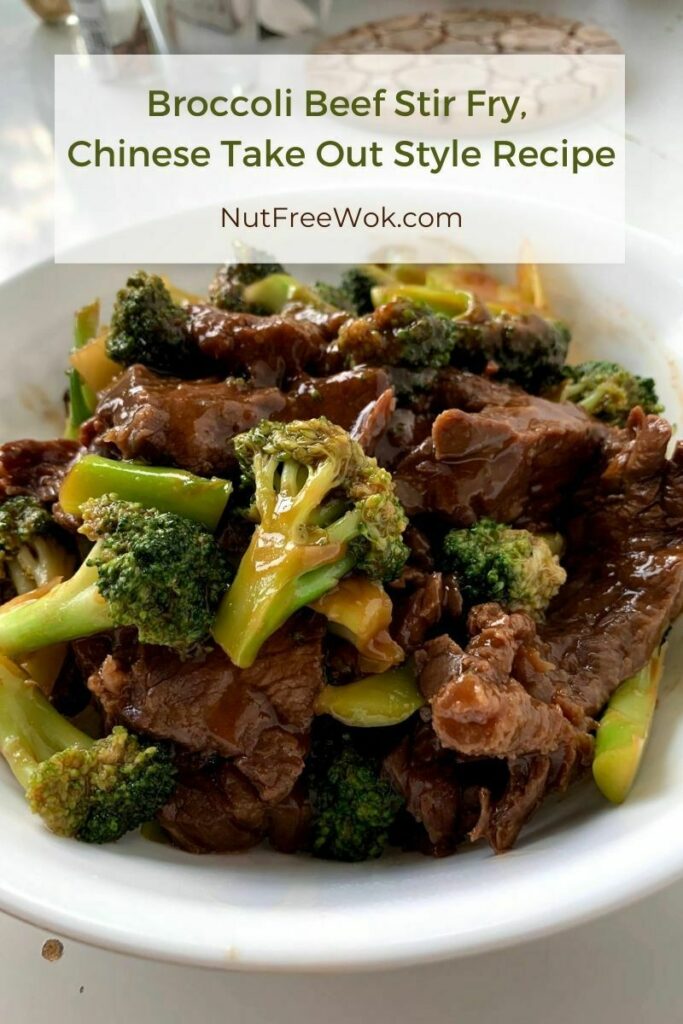 Authentic Cantonese Style Stir Fry Basics
I am very particular about how to make broccoli beef and it has to be made like a Cantonese style stir fry in a frying pan or wok. Master this technique and you can make almost any kind of veggie + meat stir fry.
marinate the beef, prep the veggies, and prep the sauce
stir fry the beef until browned on both sides, remove from pan
add veggies and a splash of water, stir, cover, and steam for 1-2 minutes
add the beef back to the broccoli, add the sauce and stir fry until everything is cooked thoroughly and the sauce thickens.
Broccoli Beef Ingredient Tips
You can use broccoli florets but be sure to cook them right after you buy them, otherwise the cut stems will turn black. I like whole broccoli including the stems (my favorite part). I use a paring knife to strip the tough outer layer around the stem and then slice, they're so pretty that way. If you aren't a fan of broccoli, I have a similar stir fry recipe for Asparagus Beef Stir Fry with more stir fry tips.
My favorite cuts of meat to use for a beef stir fry are either flat iron steak or flap meat. Flat iron steaks are tender and easy to cut across the grain. Beef flap meat is also called "chow gno yook" which means stir fry beef in Cantonese. You can use other cuts of beef, but results will vary.
To read more tips on how to choose and prepare beef for a stir fry, read my post on Beef Stir Fry Secrets. Looking back on my post (originally posted in 2014 and updated in 2018) I see that the cost has sharply increased, I recently paid $14 per pound for flat iron steak!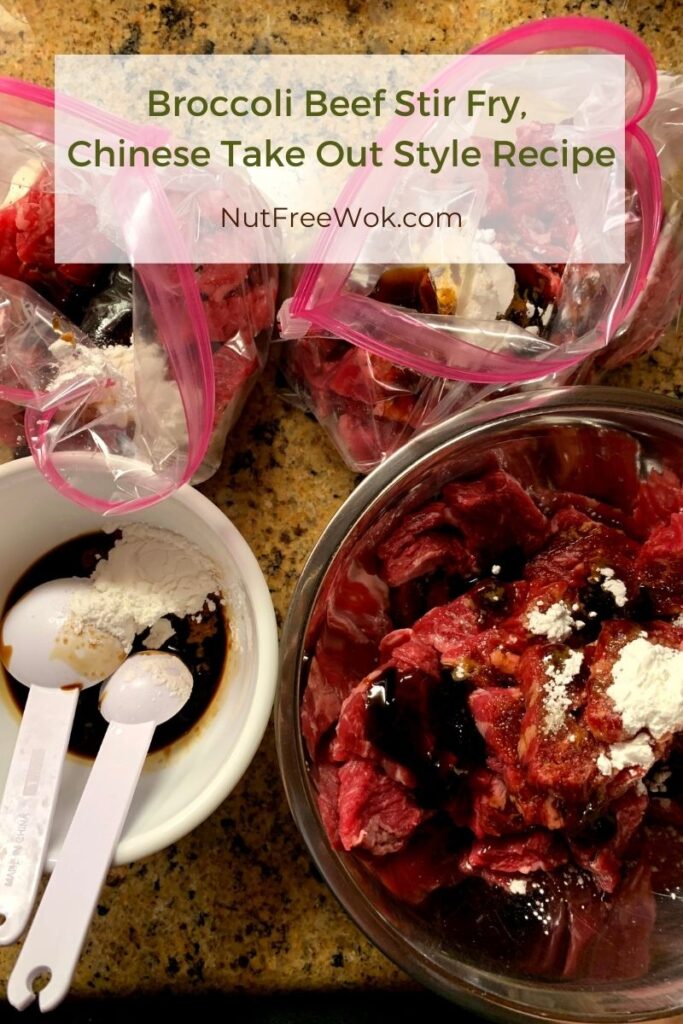 Allergy Aware Broccoli Beef Stir Fry
The basic marinade ingredients for a Cantonese style stir fry are as follows: soy sauce, oyster sauce, sugar, and cornstarch. If you avoid soy, you can make your own soy-free soy sauce. Folks who are gluten free or who avoid wheat, use tamari sauce instead. If you avoid shellfish but soy is ok, omit the oyster sauce and use some soy sauce (maybe 50% the amount of oyster sauce) and an extra 1/2 teaspoon of sugar. If you avoid cornstarch, try substituting with tapioca starch, which is a great thickener. If you need help finding other ingredients, check out what is in my cupboard.
This recipe as written is free of peanuts, tree nuts, eggs, fish.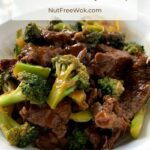 Broccoli Beef Stir Fry, Chinese Take Out Style
This broccoli beef stir fry recipe is Chinese comfort food at it's best with plenty of sauce to eat with freshly cooked steamed rice. This recipe is saltier than my usual recipes, you can adjust according to your personal preference.
Ingredients
12

ounces

stir fry beef, thinly sliced

preferably flat iron or flap meat cuts

2

tablespoons

oyster sauce

divided

4

teaspoons

soy sauce

divided

1

teaspoon

sugar

divided

3

teaspoons

cornstarch

divided

1

clove

garlic

minced (or 1 teaspoon garlic powder)

1

teaspoon

olive oil (or other stir fry oil)

1

pound

broccoli (approximately 2 medium crowns)

cut into bite sized pieces

water
Instructions
Place the sliced beef into the medium bowl and add 1 tablespoon of oyster sauce, 2 teaspoons of soy sauce, ½ teaspoon sugar and stir. Sprinkle 1 teaspoon of cornstarch over the beef , add the minced garlic, and stir, set aside for 15 minutes to marinate.

Prepare the sauce by adding the remaining ingredients, 1 tablespoon of oyster sauce, 2 teaspoons soy sauce, ½ teaspoon sugar, 2 teaspoons cornstarch, and 2 tablespoons water and stir, set aside. Measure out 2 tablespoons of water, set aside.

Select a large frying pan (preferably with a lid*) and preheat the frying pan on medium heat for 3-5 minutes, the frying pan is ready when a drop of water sizzles in the pan.

Add 1 teaspoon olive oil, swirl the pan to coat, add the beef and garlic and spread the beef out and don't touch it for 1 minute to give it a chance to sear.

After a minute, stir fry the beef so that both sides are browned (1 minute) and when approximately 75% cooked through, remove the beef from the frying pan and place in a clean bowl.

Add the broccoli to the frying pan (no need to clean), add 1-2 tablespoons of water (depends on how much liquid you have in the pan or clinging to the broccoli), and cover with a lid for 2 minutes for crisp broccoli or continue cooking for 1 more minute for softer broccoli.

Remove the lid, stir the broccoli, stir the sauce and add the sauce to the pan, return the beef to the frying pan and stir fry until the sauce thickens, it will take one minute and the sauce will be bubbly. During this time, push any pinkish pieces of beef to the bottom of the pan. Remove from heat and serve. If your sauce is too thick or thickens too fast, you can add a tablespoon of water to the sauce and stir.
Recipe Notes
*If you don't have a frying pan with a lid, boil some water in a medium sized pot (3-4 qt) and parboil the broccoli for a minute and drain. When the beef is browned on both sides, you can skip steps #5 and #6 and proceed to step #7 and combine the beef, broccoli, and sauce. 
Thanks for reading, please help Nut Free Wok!
The best way to see every post or recipe is to subscribe to Nut Free Wok's email subscription (be sure to respond to the confirmation email). You will be notified by email next time I publish another post or recipe and I won't send you spam or share your email address with anyone.
If you enjoyed this post, please use the social media buttons below to share with others. I am on Facebook, Twitter, Pinterest, and Instagram as @nutfreewok and it's great to chat and interact on social media too.
Disclosure/Disclaimer:
I may mention the names of stores and/or brand names of products that I use because readers ask and I share products and sources which I use and think may be helpful to readers, all opinions are my own. Please note that manufacturing practices and ingredients can change at anytime without notice and readers are always responsible for assuring allergen safety before buying or consuming foods. NutFreeWok.com is a participant in the Amazon Services LLC Associates Program, an affiliate advertising program designed to provide a means for sites to earn advertising fees by advertising and linking to Amazon.com. Thank you for reading!