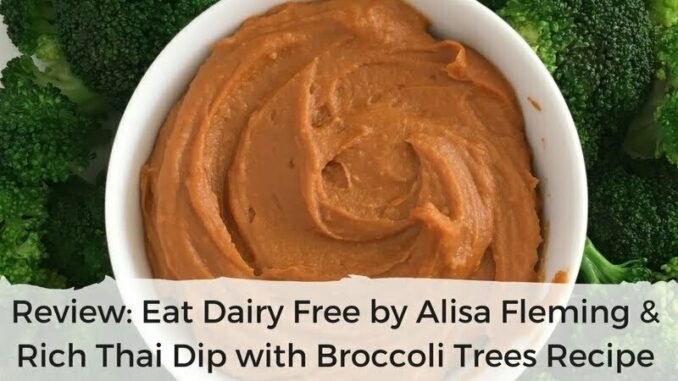 This delicious Rich Thai Dip with Broccoli Trees uses an ingenious and nutritious ingredient to make this easy and tasty dip recipe. You can find this recipe and more from Alisa Fleming's new cookbook, Eat Dairy Free. I received a free copy of Eat Dairy Free to review, all opinions are mine.
This post was updated on 2/22/2023 with minor updates.
Disclaimer: Please check that all ingredients are suitable for your allergies and be sure to ask your medical care team regarding any allergy related questions (I do not share medical advice). As an Amazon Associate I earn from qualifying purchases.
Credit for this Recipe: This recipe is reprinted with permission from Eat Dairy Free: Your Essential Cookbook for Everyday Meals, Snacks, and Sweets by Alisa Fleming (BenBella Books, 2018). Photo by Nicole Axworthy.
Jump to Recipe
Rich Thai Dip with Broccoli Trees Recipe
I love to eat veggies as a snack and am always looking for easy ways to encourage healthy snacking. What's extraordinary about Alisa's recipe is that she uses sweet potatoes in the recipe! It's a great example of how she uses nutritious ingredients to make dairy free versions of delicious food. I followed Alisa's recipe for Rich Thai Dip with Broccoli Trees exactly as written except for the following:
I used broccoli florets to save time.
I used roasted sweet potatoes, I baked a whole bag of them for another meal and had a few leftover.
I used sunflower seed butter, a nut free alternative.
I used 2 tablespoons of soy sauce as written. I probably would have preferred a tiny bit less (readers who like the way I season my recipes take note, otherwise it's just right for others who prefer more salt).
I didn't have any red chili flakes so I used a squirt of sriracha sauce which is just right for my family.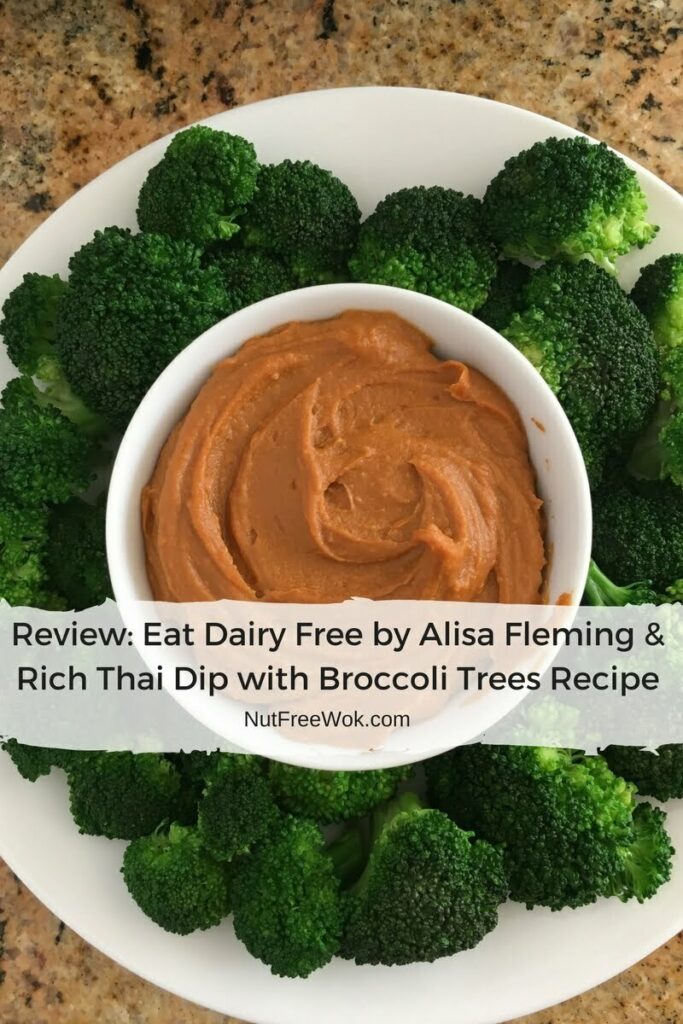 Alisa Makes It Easy to Eat Dairy Free
I first stumbled upon Alisa's website, Go Dairy Free, when my son was first diagnosed over 11 years ago and I learned how to keep my child safe and to find additional resources. When she asked me if I would like a copy of her new dairy free cookbook Eat Dairy Free (affiliate) to review, to share a recipe (I picked her Rich Thai Dip with Broccoli Trees) and to host a giveaway, of course I said YES!!
You will LOVE her new Eat Dairy Free: Your Cookbook and Guide for Everyday Meals, Snacks, and Sweets with over 100 Dairy Free and Allergy-Friendly Recipes! If your family is dairy free, this is the perfect book for you.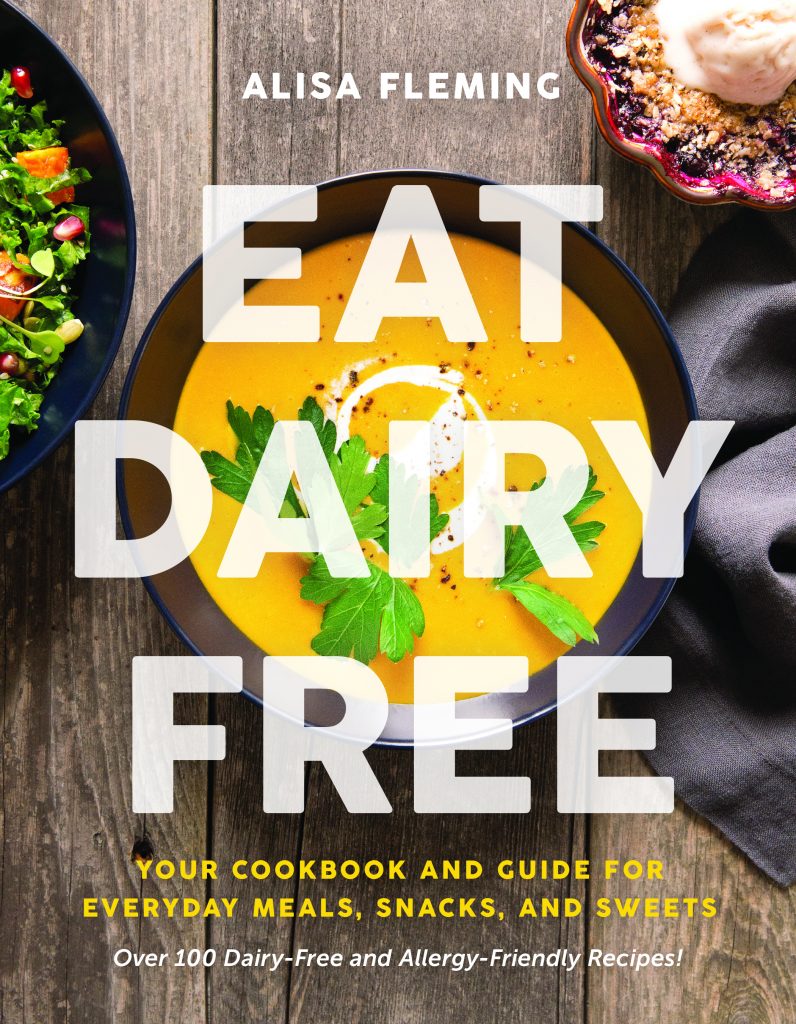 Eat Dairy Free Highlights:
The recipes in

Eat Dairy Free

are ingeniuous, she uses regular foods as dairy-free alternatives and recreates the flavor and texture of milk, cheese, or yogurt. How does one make dairy-free Vegan Quiche and Cheesy Twice Baked Potatoes? The recipes are in the cookbook!
There are recipes for dairy free beverages and smoothies, breakfast and brunch recipes, snacks, vegetables, American comfort food, Mediterranean and Asian inspired recipes, desserts, and more.
The recipes are satisfying, nutritious, budget-friendly, and tested and approved by both kids and adults. The book is filled with beautiful photos of food that I want to make and eat.
Each chapter has a speciality diet reference chart so you can quickly narrow down the recipes that are just right for you.
Many of the recipes are fully tested with gluten-free and egg-free options and there are many nut-free, soy-free dishes.
Many of the recipes include notes regarding cooking tips, altitude adjustments, various flavor options, and/or nutritional information about key ingredients.
Alisa also takes great care to photograph and give specific information about ingredients, such as the different kinds of coconut milk (how it looks like, how it's used, etc.).
Readers also have the option to download weekly lifestyle menu plans for busy weekdays, make-ahead meals, and entertaining, with a printable shopping list. Alisa makes living a dairy free life easy.
If you are a fan of Alisa, you can enter the giveaway below or order her book now (affiliate). Also be on the lookout for an updated 2nd edition version of her book

Go Dairy Free

, to be released later this year.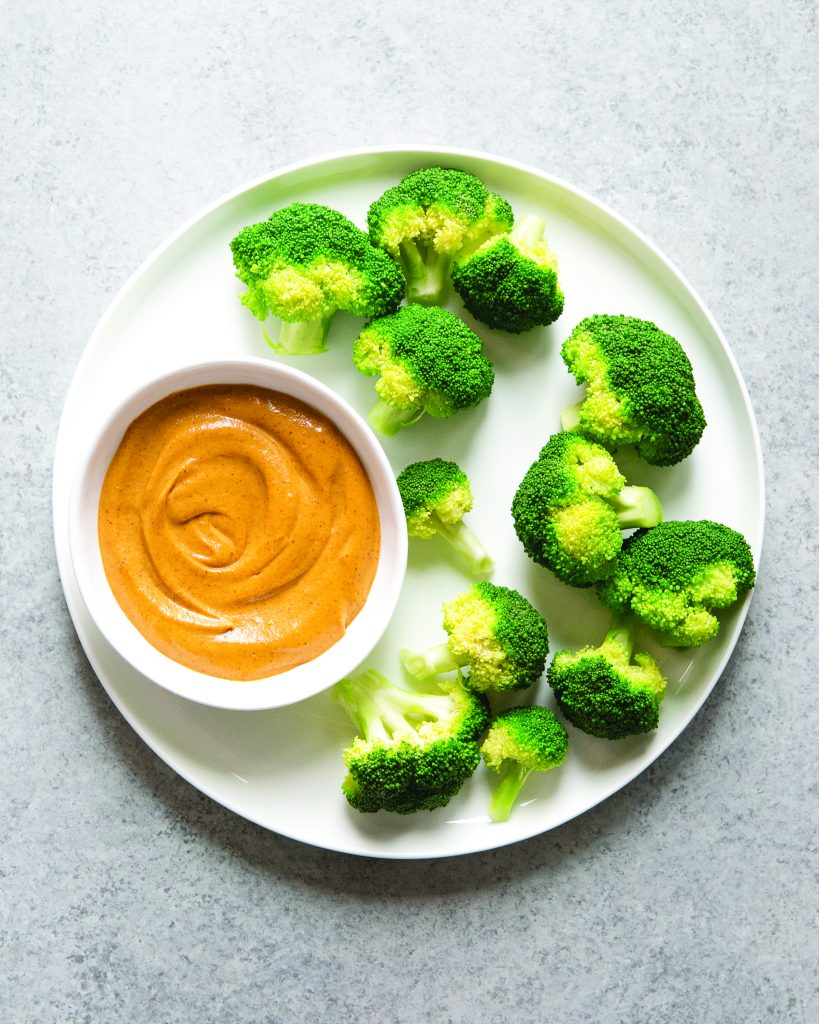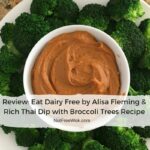 Rich Thai Dip with Broccoli Trees from Eat Dairy Free by Alisa Fleming
While I truly enjoy this savory, sweet, and spicy thick dip with steamed broccoli, it also goes nicely with bell pepper strips, baby carrots, snap peas, or blanched cauliflower.
Ingredients
3

or 4 broccoli crowns

1/2

cup

cooked mashed sweet potato

see Sweet Potato Tips below

6

tablespoons

creamy unsalted almond butter

use sunflower seed or pumpkin seed butter for nut free

2 to 2 1/2

tablespoons

lime juice or rice vinegar

2

tablespoons

non-GMO soy sauce

wheat-free tamari (for gluten free), or coconut aminos (for soy free)

2

tablespoons

coconut sugar or loosely packed brown sugar

1

teaspoon

sesame oil

1

teaspoon

minced or grated fresh ginger

1/8

teaspoon

crushed red pepper

Water or unsweetened plain dairy-free milk beverage

as needed
Instructions
Cut the broccoli into stalks and steam for 3 to 5 minutes. For dipping purposes, broccoli stalks that are relatively crisp-tender work best.

Put the sweet potato, nut butter, 2 tablespoons lime juice or vinegar, soy sauce, sweetener, oil, ginger, and crushed red pepper in your blender or food processor and blend until smooth, about 1 minute. Taste, and if desired, blend in the remaining 1/2 tablespoon lime juice or rice vinegar.

Serve the dip immediately with the steamed broccoli stalks, or cover and refrigerate it for 1 hour to thicken before serving. If it becomes too thick, whisk in water or milk beverage, 1 teaspoon at a time, to thin.

Store leftovers in an airtight container in the refrigerator for up to 2 days.
Recipe Notes
Sweet Potato Tips: To cook whole sweet potatoes, peel and cut them into 1/2-inch disks, then steam for about 15 minutes. Steaming preserves more of the flavor and nutrients than boiling. For a super-fast dip, you can use canned sweet potato puree. If you don't have sweet potatoes or sweet potato puree on hand, squash, carrot, or pumpkin puree makes a tasty substitute
Credit for this Recipe: This recipe is reprinted with permissions from Eat Dairy Free: Your Essential Cookbook for Everyday Meals, Snacks, and Sweets by Alisa Fleming (BenBella Books, 2018). Photo by Nicole Axworthy.
Eat Dairy Free Cookbook Giveaway (completed)
I will always appreciate how Alisa's website helped me as a newbie food allergy mom get a grip on how to live life with food allergies. It's only fitting that to share your helpful insights, tips, and positive encouragement to help each other. Your best food allergy tips will be your entry to this giveaway of Alisa's new book, Eat Dairy Free, see entry rules below. If you can't wait, order the book today via Amazon.
Share your best food allergy related tip in the comments below and enter the giveaway by clicking this link –> ENTER GIVEAWAY <—
Giveaway Rules:
This giveaway begins today and ends on March 20th, midnight.
Winner will be notified on or about March 21st by email and will have 24 hours to respond with a shipping address.
US shipping address only.
CONGRATULATIONS KATIE D, she is the winner for the cookbook giveaway!
Thanks for reading, please help Nut Free Wok!
The best way to see every post or recipe is to subscribe to Nut Free Wok's email subscription (be sure to respond to the confirmation email). You will be notified by email next time I publish another post or recipe and I won't send you spam or share your email address with anyone.
If you enjoyed this post, please use the social media buttons below to share with others. I am on Facebook, Twitter, Pinterest, and Instagram as @nutfreewok and it's great to chat and interact on social media too.
Disclosure/Disclaimer:
I may mention the names of stores and/or brand names of products that I use because readers ask and I share products and sources which I use and think may be helpful to readers, all opinions are my own. Please note that manufacturing practices and ingredients can change at anytime without notice and readers are always responsible for assuring allergen safety before buying or consuming foods. NutFreeWok.com is a participant in the Amazon Services LLC Associates Program, an affiliate advertising program designed to provide a means for sites to earn advertising fees by advertising and linking to Amazon.com. Thank you for reading!