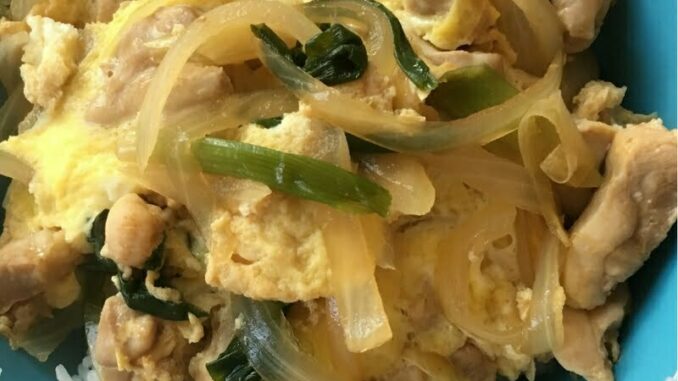 My recipe for oyako donburi is Japanese inspired comfort food: chicken that is tender to perfection, flavorful, with lots of yummy sauce over fresh hot steamy rice. You can prep this dish ahead of time and it is easy to make for busy weeknight dinners. This post was updated on 9/4/2023 with minor edits.
Disclaimer: Please check that all ingredients are suitable for your allergies and be sure to ask your medical care team regarding any allergy related questions (I do not share medical advice). As an Amazon Associate I earn from qualifying purchases.
Jump to Recipe
What is Oyako Donburi?
The Japanese dish, Oyako Donburi, literally means "parent-child rice bowl" because it's made with chicken (parent) and egg (child). It's a one bowl meal: fresh steamed rice topped with tender pieces of chicken and onions cooked with egg in a soy-based sauce.
Restaurants usually cook smaller amounts in a 6-inch frying pan and then slide the whole thing over a large bowl of rice. One order is typically too much for me but too small to share. This recipe is served family style, cook the chicken and egg in a large pan and then spoon individual portions over smaller bowls of rice.
My son is allergic to eggs but since he had OIT for egg after his peanut patch trial, we need to find creative ways to incorporate egg into our diet. This entree as an egg OIT dose is much tastier and less egg-intense than eating scrambled eggs, but requires more planning and work on my part.
Is a very simple recipe. Cook the chicken with some sauce and broth until it's 75% cooked, add some egg and cover it to steam the eggs, and voila! Serve it over rice.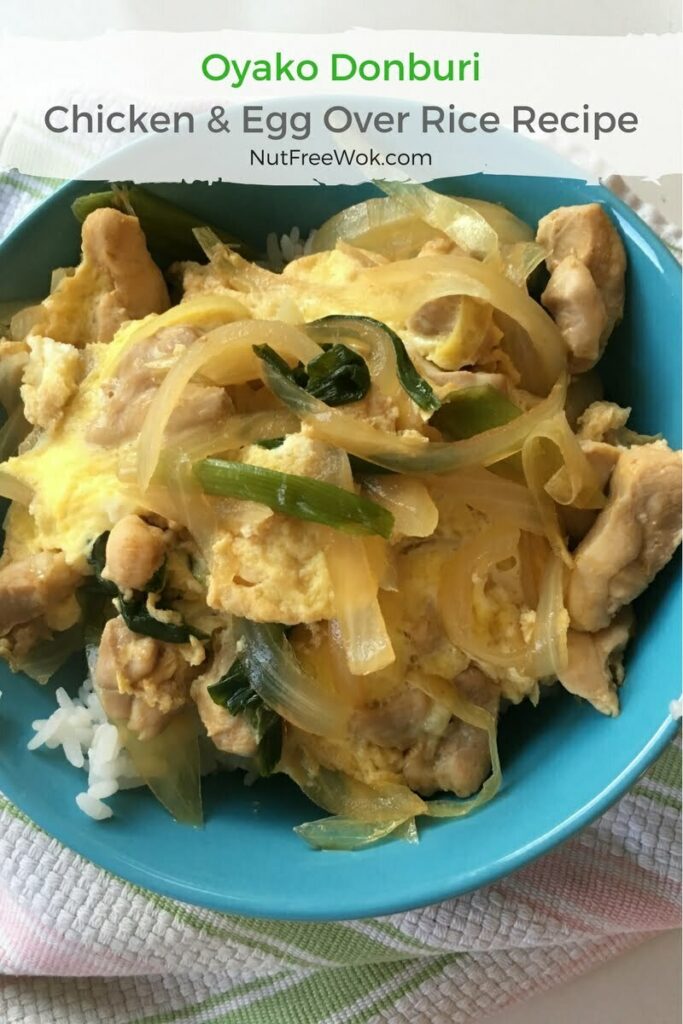 Allergy Aware Oyako Donburi
This recipe is free of peanuts, tree nuts, milk, fish, sesame, and shellfish as written.
By definition oyako donburi will contain egg. It might be possible to make this dish using a vegan egg product, but I haven't tested them enough. You might experiment by adding some vegan egg into the braising sauce and/or cooking it according to package instructions in a separate pan.
If you are allergic to egg but would like a Japanese style chicken recipe, I highly recommend my recipe for Broiled Teriyaki Chicken Thighs Recipe because you can marinate the night before and it takes only 8-10 minutes to broil. I also have an Instant Pot version of the same recipe, it's even easier if you like using an Instant Pot: Instant Pot Chicken Thighs with Teriyaki Sauce Recipe & Review.
This dish is typically nut-free but does use soy sauce. If avoiding soy or wheat, you can substitute the soy sauce with soy-free soy sauce or coconut aminos. Coconut aminos are a little bit sweet, I recommend reducing the amount of sugar in the recipe.
People usually make oyako donburi with dashi, a fish based broth. If someone is allergic to fish or if you can't find the ingredients to make it, vegetable or chicken broth are great substitutes.
If you need recommendations on which brands of mirin or soy sauce I use, check to see what is in my cupboard.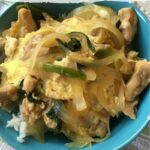 Oyako Donburi (Chicken & Egg with Rice)
Oyako Donburi literally means "parent-child rice bowl" because it's made with chicken (parent) and egg (child). It's a one bowl meal: fresh steamed rice topped with tender pieces of chicken and onions cooked with egg in a soy based sauce. If you have a family of big eaters, make extra rice.

Ingredients
1

pack

boneless, skinless chicken thighs

5 pieces

1

sweet onion

peeled, sliced and separated

4

scallions

trimmed and cut into 1 inch pieces

2

tablespoons

mirin

2

tablespoons

soy sauce

1

teaspoon

sugar

1

cup

chicken broth

or dashi, if available and not allergic to fish

4

eggs

3

cups

of freshly prepared steamed rice
Instructions
Trim the fat off of the boneless skinless chicken thighs (if there are any tiny bits of bone, give it a rinse and drain as necessary), cut each thigh into 6-8 pieces, and place into a large bowl

Add onions, scallions, soy sauce, mirin, and sugar and mix; if prepping ahead, cover and refrigerate to marinate 30 minutes or overnight.

Use a large frying pan or a braiser with a lid and heat it up for 1 minute at medium heat.

Crack eggs into a medium mixing bowl and scramble, set aside.

Add chicken into the pan, add dashi or chicken broth, cover with a lid, and cook at medium heat for 5 minutes.

Stir the chicken and add prepared eggs, cover with a lid and simmer on low heat for 5 more minutes. Serve with rice.
Thanks for reading, please help Nut Free Wok!
If you like this recipe, please be sure to give a 5 star rating, leave a comment, and share this post! Your support means a lot to me.
Subscribe to Nut Free Wok's email subscription (be sure to respond to the confirmation email). You will be notified by email next time I publish another post or recipe and I won't send you spam or share your email address with anyone.
Disclosure/Disclaimer:
I may mention the names of stores and/or brand names of products that I use because readers ask and I share products and sources which I use and think may be helpful to readers, all opinions are my own. Please note that manufacturing practices and ingredients can change at anytime without notice and readers are always responsible for assuring allergen safety before buying or consuming foods. NutFreeWok.com is a participant in the Amazon Services LLC Associates Program, an affiliate advertising program designed to provide a means for sites to earn advertising fees by advertising and linking to Amazon.com. Thank you for reading!