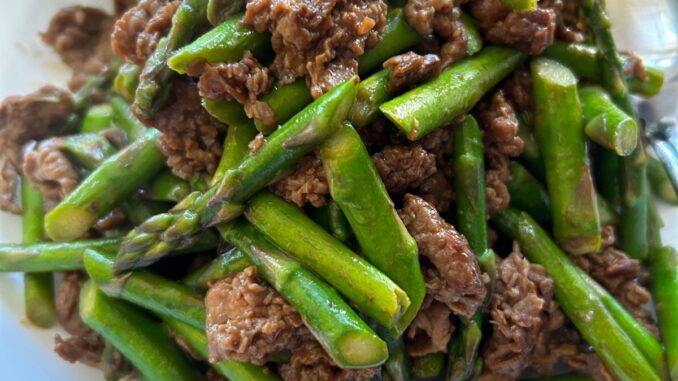 Learn how to make this Asparagus Beef Stir Fry as well as some general stir frying techniques to make your stir fries taste amazing. This post was updated on 3/23/2023 for minor readability edits and with a new photo.
Disclaimer: Please check that all ingredients are suitable for your allergies and be sure to ask your medical care team regarding any allergy related questions (I do not share medical advice). As an Amazon Associate I earn from qualifying purchases.
Jump to Recipe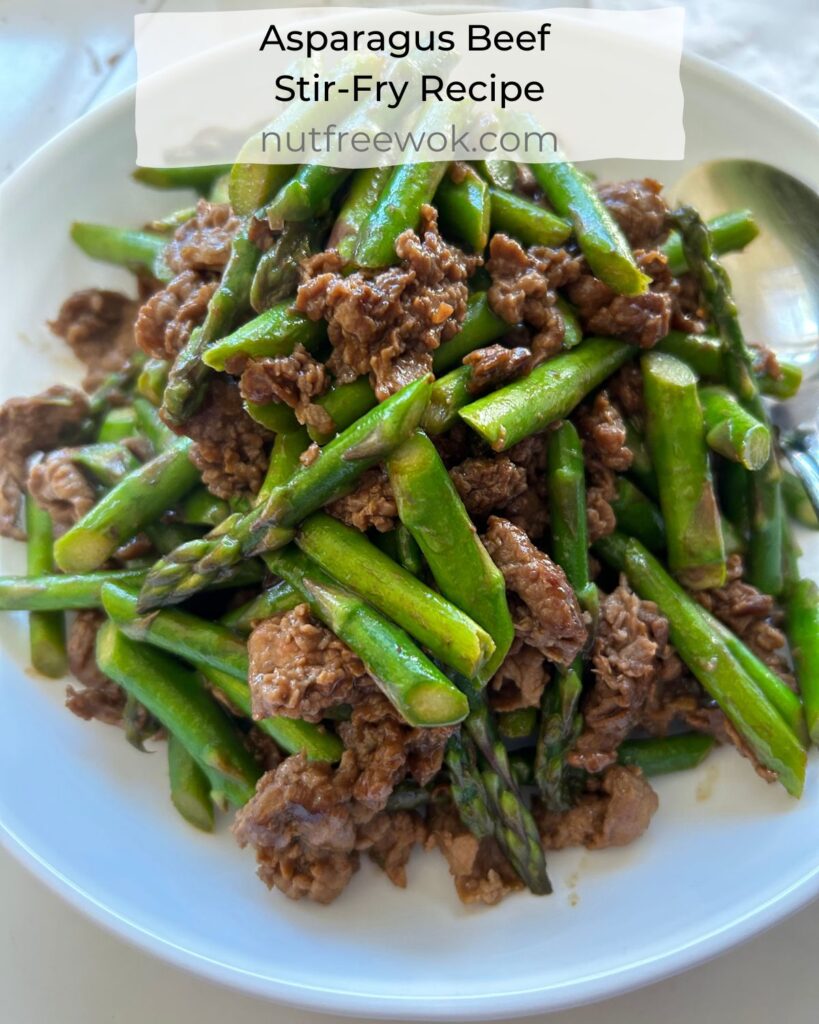 Easy Asparagus Beef Stir Fry
One of my first cooking lessons is how to marinate meat and stir-fry. Learn how to make Asparagus Beef and be sure to read some of the stir-fry tips I share below. I happen to love asparagus but it's also high in fiber, vitamin C, and iron and has other nutritional benefits.
Asparagus is usually in season during the early spring months. When I shop for them I look for bunches that are heavier than they look, squeak when I give them a squeeze, and have intact asparagus tips. Also look for tender shoots that are all green, if the bottoms are more white than green, then the asparagus will be tough and you will need to peel or discard the ends.
Asparagus is also easy to wash and prep. Notice that I cut the asparagus diagonally, this is so that the thin tapered ends will cook quickly and the asparagus pieces will be tender crisp due to the short cooking time.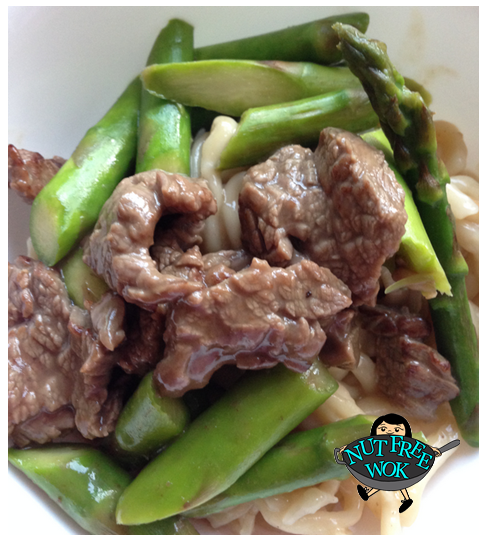 Tips for Stir Fry Success:
Cook too much at once or in a pan that's too small and you will end up with a stir-braise. No need to look that up, it's just my made up phrase for what happens when stir fry ingredients are too crowded, the juices run out and the food ends up being braised in their own juices. Don't double recipes unless you cook with two pans on two burners or cook in batches.
Cut the meat into even bite-size pieces so they will cook evenly. Cut the harder to cook veggies (carrots, green beans, etc.) into smaller pieces and add delicate, quick to cook vegetables later (spinach, celery, etc.).
Always heat up your frying pan or wok. Otherwise, you won't be able to sear the meat and the yummy juices will leak out and you'll end up with a stir-braise.
Make sure your pan or wok is a dry otherwise the oil will splatter on you, your stove top, your floor, your counter, etc.. Shake or spin dry your veggies.
Some recipes direct you to clean out your frying pan or wok before stir frying vegetables. I think that is a tremendous loss of flavor. The additional time spent washing and reheating the pan will also slow you down.
Oops, you ended up with a stir-braise? You can thicken up the sauce after you combine the meat and veggeis by adding 1 1/2 teaspoon of cornstarch mixed with 2 tablespoons of water. Stir the cornstarch mixture in and the sauce will thicken up nicely. Be sure to use cold water otherwise you'll end up with lumps of cornstarch.
Oops, you added your final cornstarch mixture and it immediately congealed into a shiny sauce glob? No problem, add a tablespoon or two of water, give it a stir, and the sauce will loosen up.
Asparagus Beef Stir Fry Recipe!
I started thinking about this post at the beginning of spring when asparagus first arrived in stores. In fact, I started on March 22, which is when I wrote a little post on how to buy and slice beef!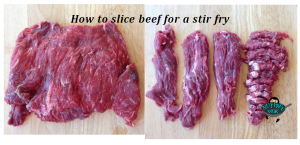 I was able to buy some super squeaky asparagus with compact heads this week, so it's still not too late to share my recipe for Asparagus Beef Stir Fry. Asparagus Beef is so delicious over rice or noodles. You can enjoy the pure beef and asparagus flavors simply or with a touch of black bean sauce OR sesame oil.
You could also substitute chicken or pork instead of beef but I think chicken or pork will taste better with a little more flavor such as a flavorful cornstarch slurry at the end (1 1/2 teaspoon cornstarch, 1 tablespoon soy sauce, 1 tablespoon water/chicken broth), black bean sauce, or sesame oil.
If you need help figuring out which stir fry ingredients to use, be sure to check out what's in Nut Free Wok's cupboard for more information.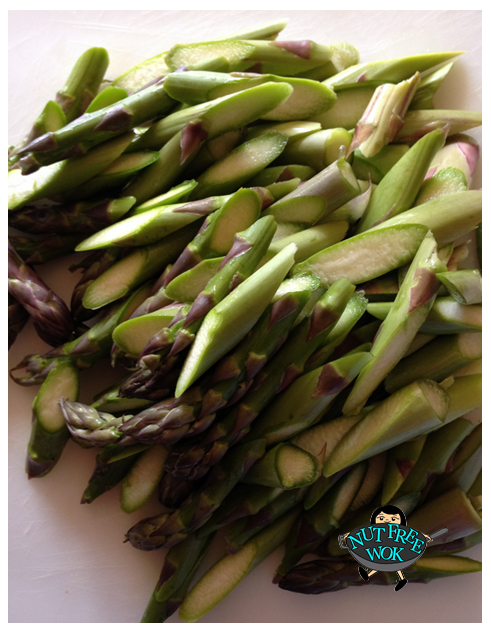 This recipe as written is free of peanuts, tree nuts, egg, dairy, fish, shellfish.
If you like to stir fry, check out these recipes: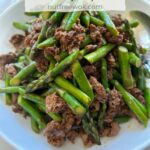 Asparagus Beef Stir Fry Recipe
Asparagus is in season during the spring, make this easy stir-fry using some of the stir-fry success tips that I share in the blog post.
Ingredients
12

oz

beef flap steak

(or shaved beef steak or flat iron steak)

2

tablespoons

soy sauce

or alternative

1

tablespoon

rice wine or mirin

2

teaspoons

corn starch

1/2

garlic powder or 1 minced garlic

1/2

teaspoon

sugar

1 to 1 1/2

pounds

of asparagus

1 1/2 pounds if the bottoms are pale

1

tablespoon

olive oil

or canola

1

teaspoon

black bean sauce

optional
Instructions
Slice beef along the grain into strips (approximately 1.5-2 inches wide), and then slice the strips into bite size pieces about 1/4 inch thickness.

Mix the beef with the soy sauce, rice wine, cornstarch, garlic powder (or minced garlic), and sugar and set aside to marinate at least 15 minutes.

Snap off any tough, woody (pale white sections at the bottom) ends of the asparagus and wash. Cut the asparagus into 1 1/2 inch long pieces diagonally and set aside until ready to start cooking.

Heat up frying pan or wok on medium high heat until it is very hot and a drop of water sizzles. Add olive oil to pan and swirl to coat.

Add beef and spread out into a thin layer, allow to sear for 30 seconds to 1 minute and then stir fry until all sides are browned. Use a slotted spoon to transfer the beef to a clean serving dish.

Add the asparagus to the frying pan and stir fry for 1 minute. Add 1-2 tablespoons of water (you should hear a sizzle) and immediately cover with a lid for 2 minutes. Uncover, if the asparagus still looks dull green, cover again for another minute.

If the asparagus looks bright green add the beef back in with black bean sauce (optional) and stir fry until the mixture is hot and the beef is cooked.
Thanks for reading, please help Nut Free Wok!
The best way to see every post or recipe is to subscribe to Nut Free Wok's email subscription (be sure to respond to the confirmation email). You will be notified by email next time I publish another post or recipe and I won't send you spam or share your email address with anyone.
If you enjoyed this post, please use the social media buttons below to share with others. I am on Facebook, Twitter, Pinterest, and Instagram as @nutfreewok and it's great to chat and interact on social media too.
Disclosure/Disclaimer:
I may mention the names of stores and/or brand names of products that I use because readers ask and I share products and sources which I use and think may be helpful to readers, all opinions are my own. Please note that manufacturing practices and ingredients can change at anytime without notice and readers are always responsible for assuring allergen safety before buying or consuming foods. NutFreeWok.com is a participant in the Amazon Services LLC Associates Program, an affiliate advertising program designed to provide a means for sites to earn advertising fees by advertising and linking to Amazon.com. Thank you for reading!