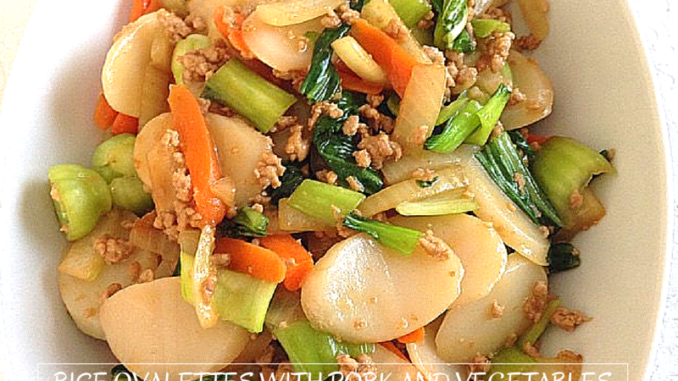 This pork and vegetable stir fry with rice ovalettes is loaded with colorful vegetables and it tastes very satisfying. It's free of 6 out of 8 top allergens and can be easily adapted to be soy free and/or gluten free as needed.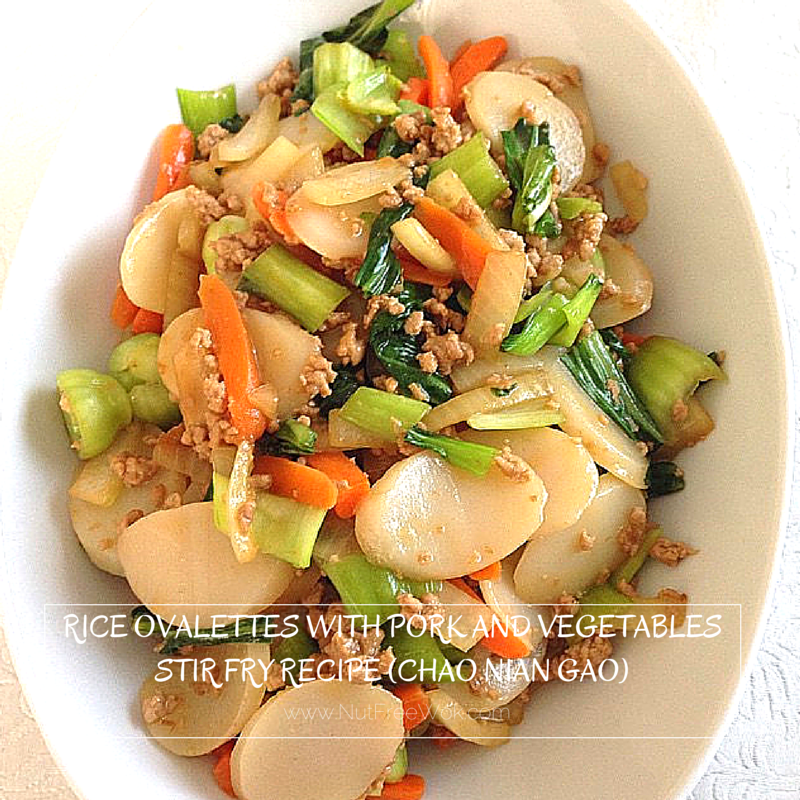 A Favorite Taiwanese Style Stir Fry
Every time my mom and I went to her favorite Taiwanese restaurant on Clement St. in San Francisco, she always ordered Chow Nian Gao, a sticky rice cake (nian gao) stir fry with meat and vegetables. This dish is always hot and steamy, always delicious and comforting, and always our routine at least once or twice a week for 4 months.
My father was hospitalized or in and out of skilled nursing facilities at the time and because he was clinging to life and we were on survival mode visiting him at least daily. Despite the stress, our meals at the Taiwanese restaurant was a necessary mental health break from the hospital and the cafeteria food. It was our time to talk and hope for the best outcome for my father. My dad ended up surviving his illness, walked me down the aisle, and held his grandson before he passed away a few years later.
Personal Lessons from a Stir Fry
Chow nian gao is just a stir fry, but it's a dish where a little bit of chopping, high heat, and hot water transform hard and dry rice cakes into delicious bites that are slightly charred, soft, but chewy savory goodness.
In the same way, my dad's life threatening illness transformed my life and death fears into emotional resilience, pushed me into advocacy, and my only option was to have faith and hope for healing and restoration.
Who would have thought that I needed these qualities as a mom? Whenever I make my own version of this dish, I am reminded that the figurative heat and hot water in our lives can transform the hard times into beautiful moments. Do you have dishes or recipes that remind you of a transforming moment or a special person in your life? Share your story in the comments.
What are Sticky Rice Cakes?
Sticky rice cakes (nian gao in Chinese and tteok in Korean) are made from ground up glutinous sweet rice that is formed into a dough that is steamed, pounded, shaped, and sliced. There are two different kinds, dried hard ones in the dried noodle section of an Asian market and fresh vacuumed sealed ones in the refrigerated area with other fresh noodles.
I personally find the fresh ones a little bit easier to use but the dried ones are shelf stable in a pantry for convenience. Some people just rinse and throw the fresh ones into their stir fry with a splash of water or broth but my results are inconsistent and sometimes too chewy even when I cook in smaller batches.
I like to boil the fresh ones for a couple of minutes, scoop them out with a strainer (affiliate link)
or a large slotted spoon
(affiliate link), and then add them directly into the stir fry. If you can only find the dried ones, just soak them for 24 hours before using.
Allergy Aware Asian Fare
The only top 8 allergens in this recipe as written are soy and wheat due to soy sauce or stir fry sauce.
If one is allergic to gluten or wheat, look for tamari soy sauce (made without wheat) or gluten free soy sauces.
If one is allergic to soy, then try my soy-free soy sauce recipe or check out some options for soy sauce alternatives.
You can also substitute different vegetables, a traditional version of this recipe would contain rehydrated shitake mushrooms and cabbage cooked with lots of oil and soy sauce.
I prefer a lighter and reduced sodium stir fry and one of my sons can't eat mushrooms which leaves pale cabbage with pale noodles, tasty but lacks visual appeal so I added some carrots and baby bok choy for color and texture. You can stir fry vegetables that take longer to cook at step 9 and crunchy fast cooking vegetables at step 12.
I added product information for a rice ovalette made in a rice only facility, thus top 8 allergen free and gluten free in "What's In Nut Free Wok's Cupboard?"
The recipe as written is peanut free, tree nut free, dairy free, egg free, shellfish free, and fish free. Please check ingredient labels carefully for allergen safety before consuming.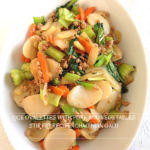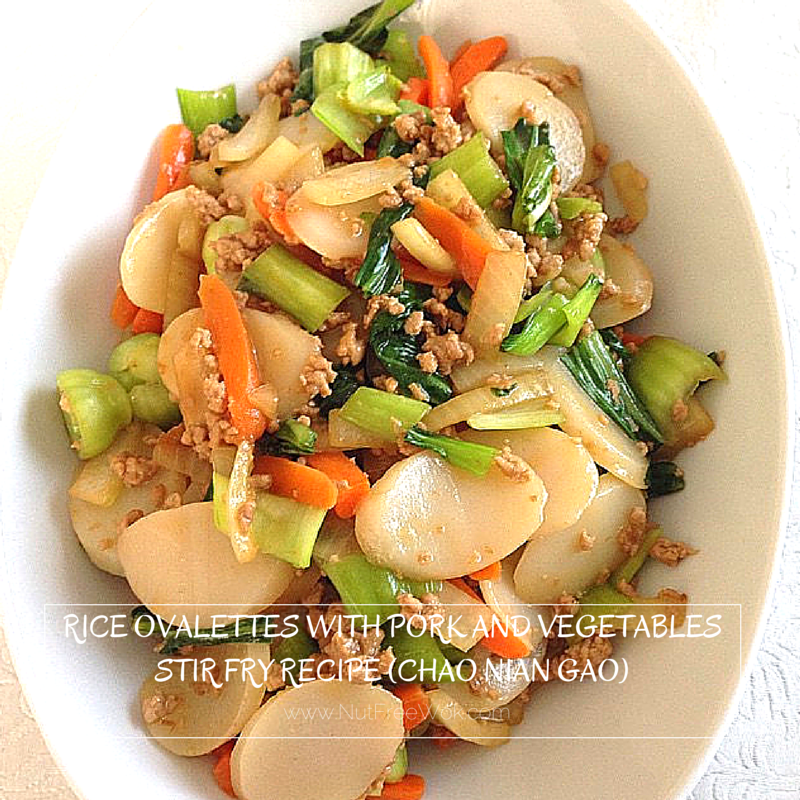 Rice Ovalettes with Pork and Vegetables Stir Fry Recipe (Chao Nian Gao)
This delicious and satisfying stir fry can feed a crowd! A family of four can enjoy and then have leftovers the next day.
Ingredients
2

pounds

rice oval cakes

fresh, refrigerated

1

pound

ground pork

1

tablespoons

soy sauce

1/2

teaspoon

sugar

1

teaspoon

cornstarch

1

sweet onion

chopped

3-4

carrots

julienne (1.5 cups)

2-3

cloves

garlic

minced

10-12

baby baby bok choy chopped

4

scallions

chopped

2

teaspoons

olive oil

2

tablespoon

dark soy sauce

or light/thin soy sauce
Instructions
If using dried rice cakes, soak in a large bowl of cold water for 24 hours and drain.

If using fresh rice cakes, separate the pieces of rice cakes that are stuck together and set aside.

Start boiling a large pot of water.

Combine ground pork with 2 tablespoons of soy sauce, sesame oil, and sugar and mix.

Add cornstarch to the pork, stir, and set aside.

Wash and prep vegetables (onion, carrots, baby bok choy, and scallions) and mince garlic.

Heat up wok, large stainless steel frying pan (need to work in 2 batches), or 6 qt or larger pot on medium heat until a drop of water sizzles.

Add oil and swirl pan to coat, add onions, stir fry for 2 minutes until slightly browned.

Add carrots, stir fry for 1 minute.

Add garlic stir fry for 1 minute.

Raise temperature to medium high, add pork mixture, stir fry for 5-6 minutes until no longer pink.

Meanwhile boil the rice cakes in water for 3 minutes, stirring once in awhile.

Add scallions and bok choy to the pork and vegetables and stir fry 1 minute.

When the rice cakes start floating, use a slotted spoon or strainer to transfer the noodle cakes directly into the wok.

Add 2 tablespoons of dark soy sauce or stir fry sauce and keep stir-frying for a minute or two until the sauce is absorbed.

Serve family style in a large platter.
Thanks for reading, please help Nut Free Wok!
The best way to see every post or recipe is to subscribe to Nut Free Wok's email subscription (be sure to respond to the confirmation email). You will be notified by email next time I publish another post or recipe and I won't send you spam or share your email address with anyone.
If you enjoyed this post, please use the social media buttons below to share with others. I am on Facebook, Twitter, Pinterest, and Instagram as @nutfreewok and it's great to chat and interact on social media too.
Disclosure/Disclaimer:
I may mention the names of stores and/or brand names of products that I use because readers ask and I share products and sources which I use and think may be helpful to readers, all opinions are my own. Please note that manufacturing practices and ingredients can change at anytime without notice and readers are always responsible for assuring allergen safety before buying or consuming foods. NutFreeWok.com is a participant in the Amazon Services LLC Associates Program, an affiliate advertising program designed to provide a means for sites to earn advertising fees by advertising and linking to Amazon.com. Thank you for reading!